We're making furniture repairs today. I have three chests of drawers with missing drawers. There's obviously a drawer thief who loves to make furniture painters crazy. I bet there's a big heaping pile of unclaimed drawers somewhere.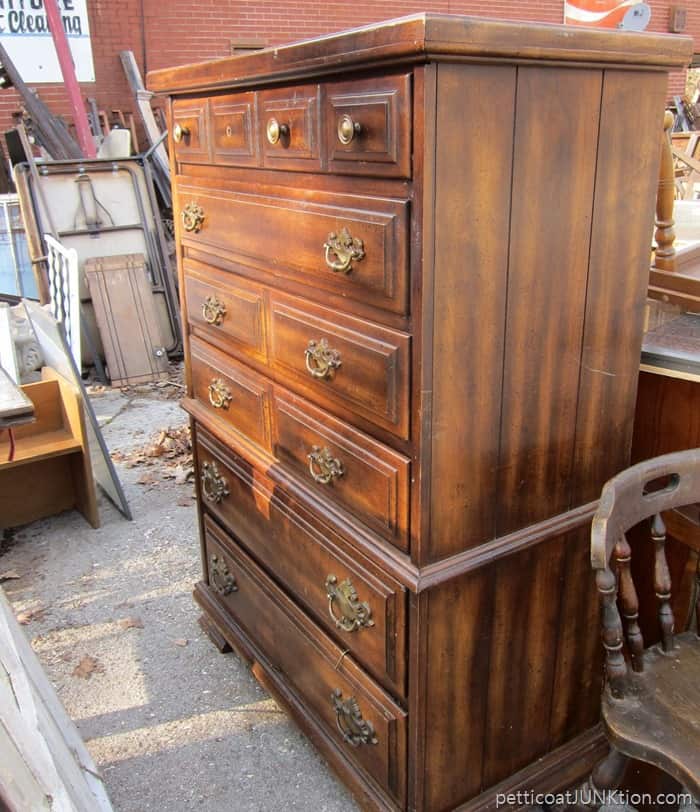 $15 Chest of Drawers
Yesterday I bought two chest of drawers minus one drawer each. I went back to my fav junk shop. The weather was nice and I was tired of cleaning and organizing the workshop. Time to fill it up again. The chest above looks pretty good doesn't it.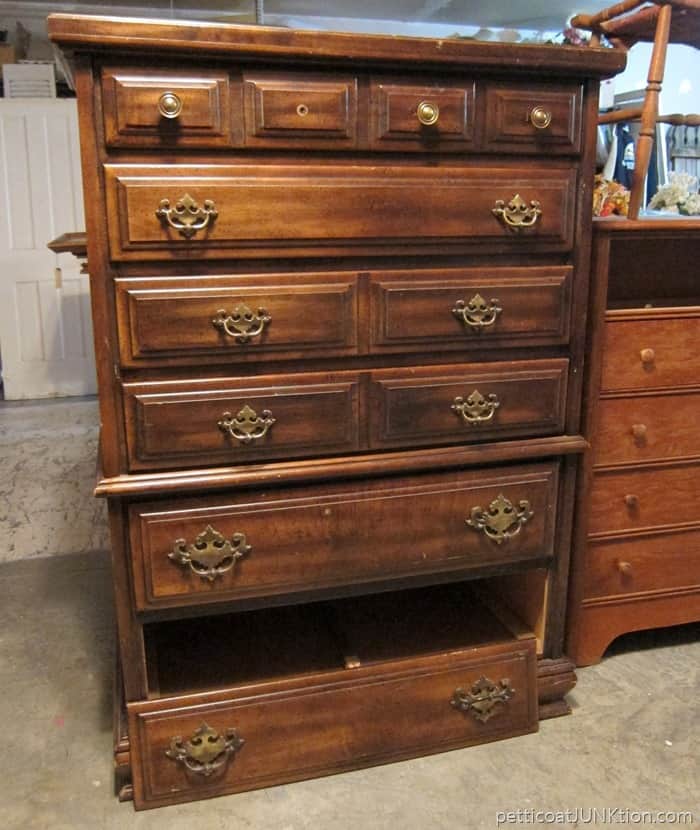 Looks can be deceiving. The bottom drawer isn't a drawer….just a drawer front.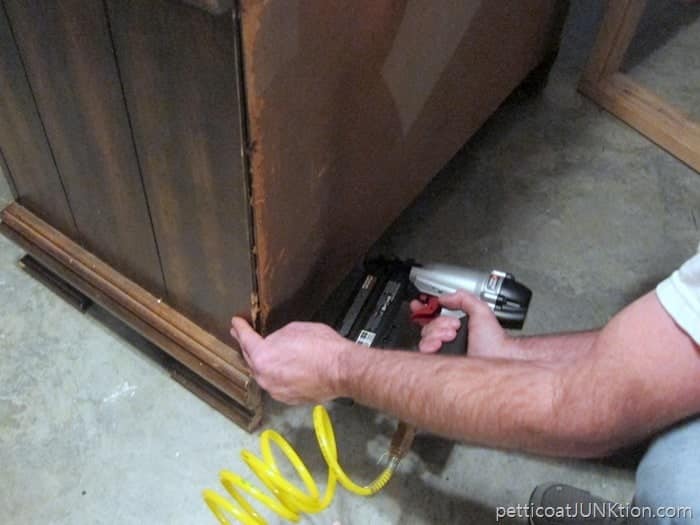 The back of the chest was loose in several places so the JTS grabbed the nail gun and went to work. He just loves making furniture repairs.
Also most of the drawers (except for the missing one) needed the runners and blocks glued back into place.
Another job for the JTS and Elmer's Wood Glue.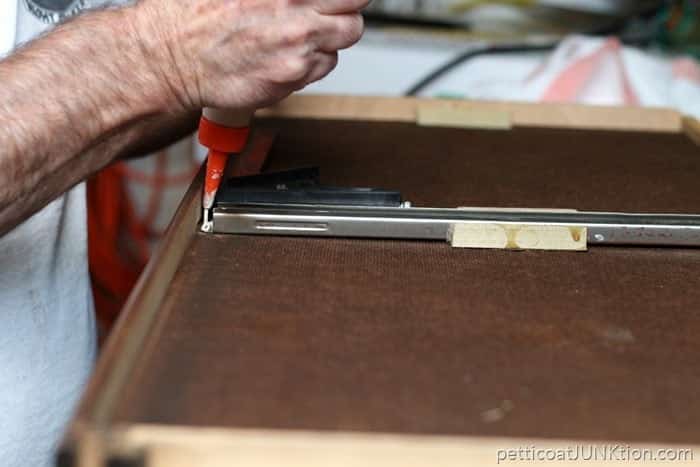 Four of the drawers needed repairs. Still, I couldn't pass on the chest up because it was only $15.
I'm not sure what I'm going to do about the missing drawer in this chest. I'm thinking of just nailing the drawer front to the chest and calling it good. The JTS could cut a wood shelf but a shelf on the bottom of the chest doesn't make sense. Even if I put baskets on the shelf it would look odd. The missing drawer is not the same size as the top 4 so I can't switch them out. What to do….what to do.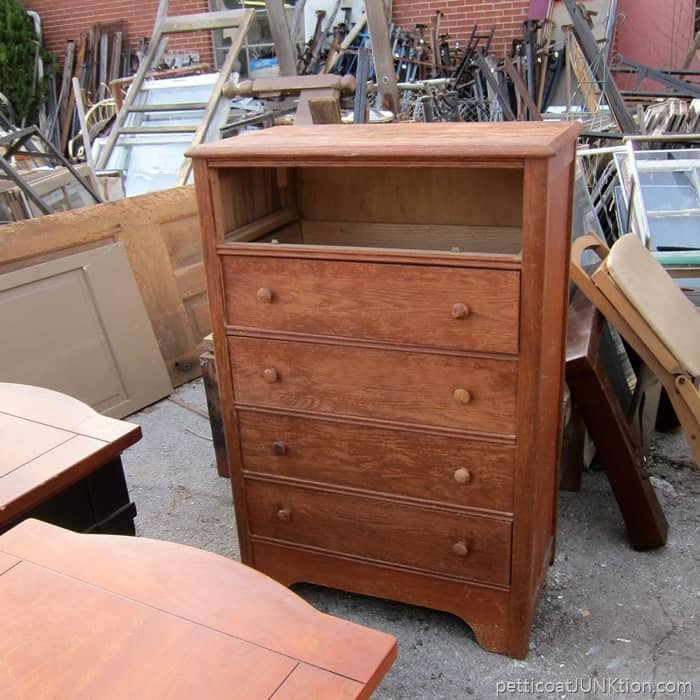 I bought this chest yesterday too. The price…… $10. Another good deal. The drawer thief strikes again. The JTS is going to cut a wood shelf for this one. I think the chest will look fine since the shelf will be in the top slot.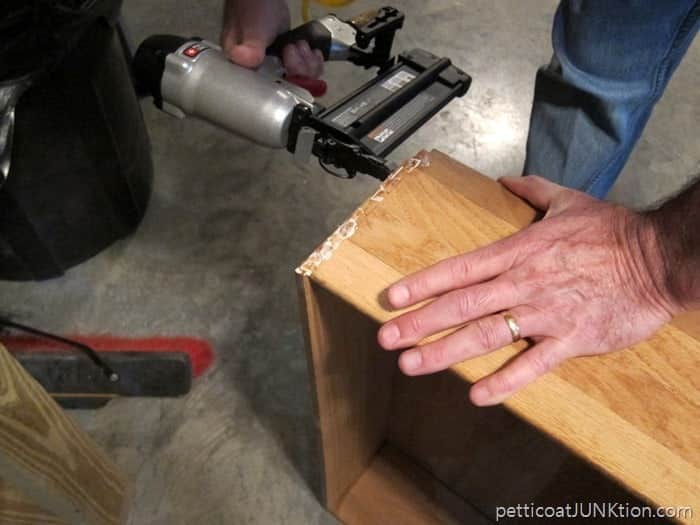 A couple of the drawers needed repairing. The JTS is good at making furniture repairs isn't he. Everyone needs a JTS in their life.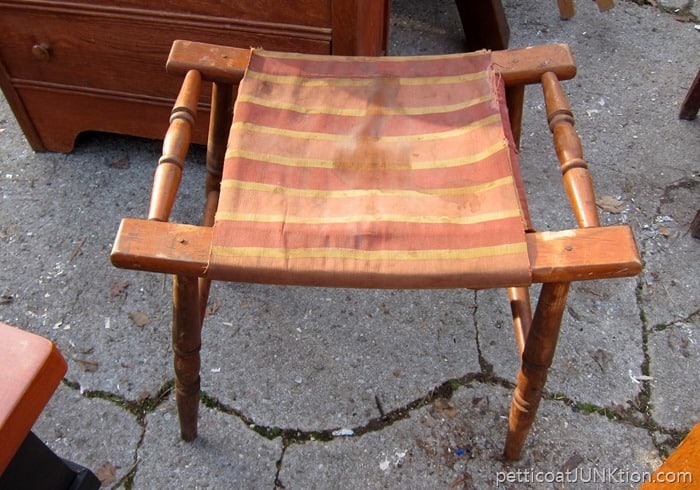 I bought the cute little stool too. It needs some new fabric…… and a coat of paint.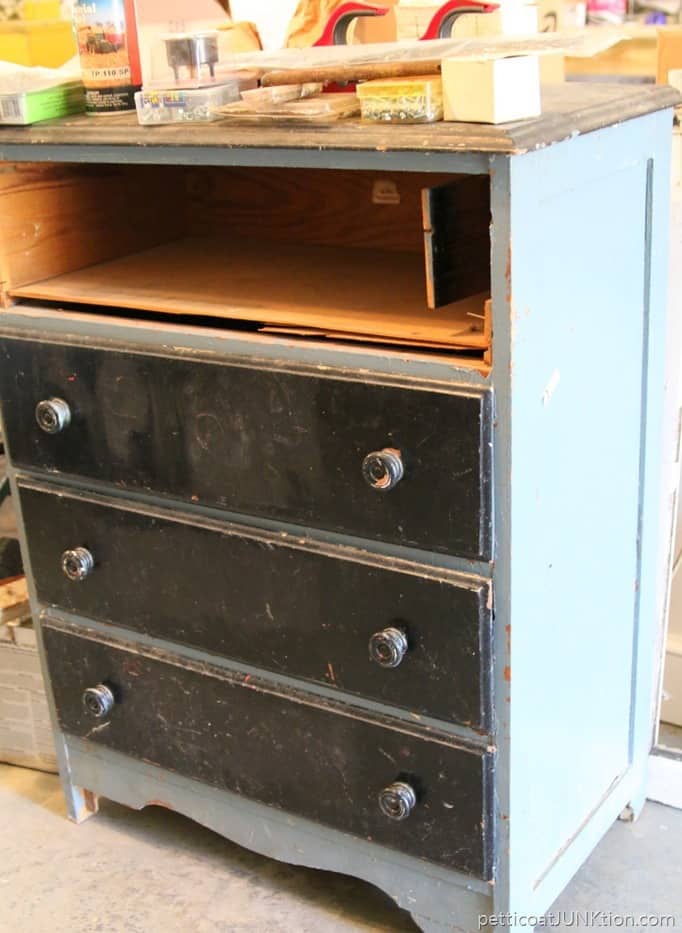 You guys may remember this piece the JTS (aka hubby, aka Junktion Technical Specialist) bought at an auction. The drawer front is missing and the rest of the drawer is a mess so it will be a shelf.
I plan to paint or finish all of these pieces this week. Wish me luck. I'll need it. You guys have a good weekend and think about me doing all this work (insert Kathy smiley face).