Amazing Furniture Makeovers.
My friend Jen who blogs at Girl In The Garage wrote an amazing DIY book! I met Jen several years ago at a blog conference and we have been friends ever since. Her furniture transformations are one-of-a-kind. If you guys have visited here very much you will know Jen from our Furniture Fixer Upper Tours. We've been sharing furniture transformation ideas from the day we met.
Her book Amazing Furniture Makeovers walks you through  transforming thrifted furniture finds into beautiful custom pieces. The book is available for pre-sale and at the bottom of this post I have instructions on how to enter a big giveaway that includes a copy of the book, tote bag, tape measure, Miss Mustard Seed's Milk Paint, Annie Sloan Chalk Paint, stencils, décor transfers and more.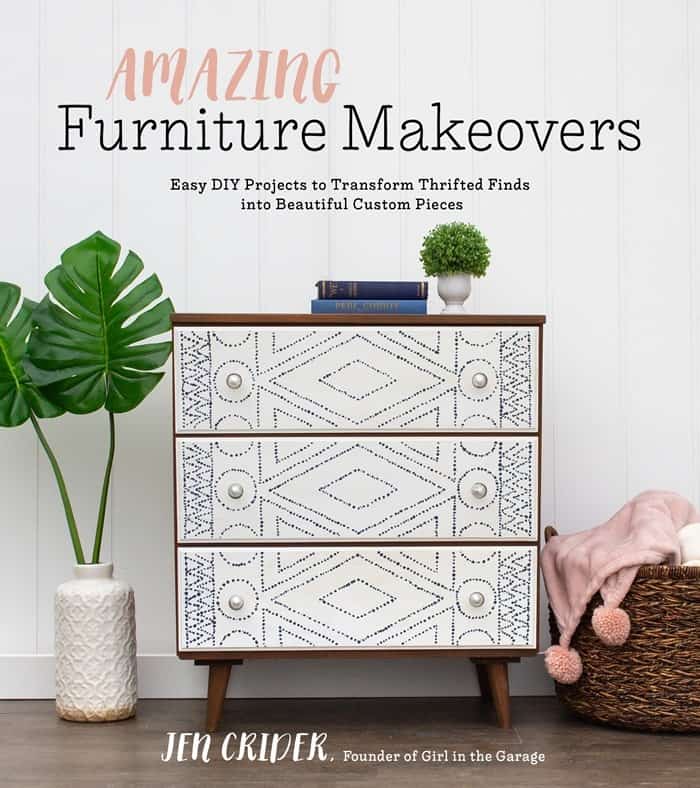 DIY Book – Amazing Furniture Makeovers
The book has 25 furniture projects with step by step instructions including photos for each furniture makeover. I'm sharing a couple of my favorites from the book here.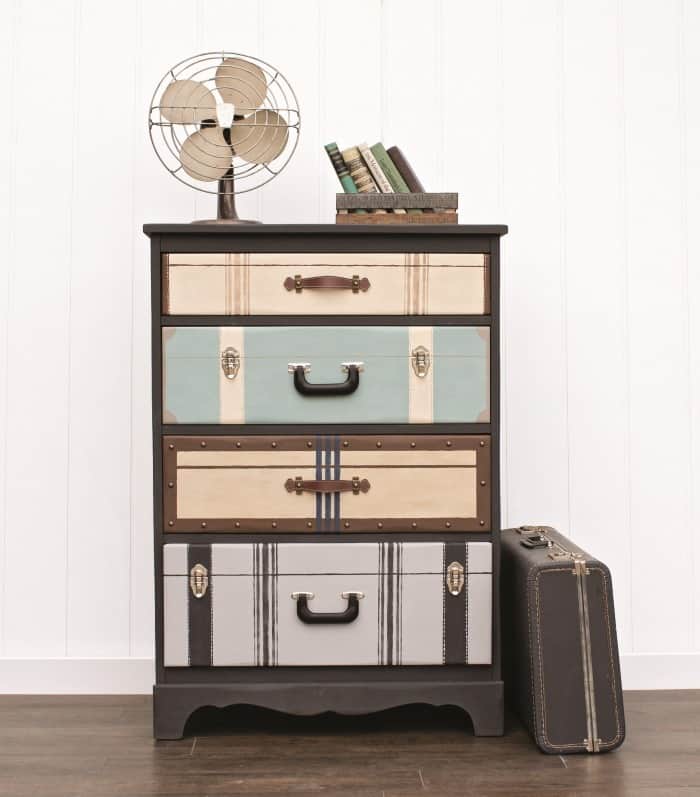 Can you believe the "suitcase" chest? Look at the attention to detail. I have never looked at a plain drab 4 drawer wood chest and thought of suitcases. Jen did. You can paint one just like this because Jen gives you all the steps with detailed photos.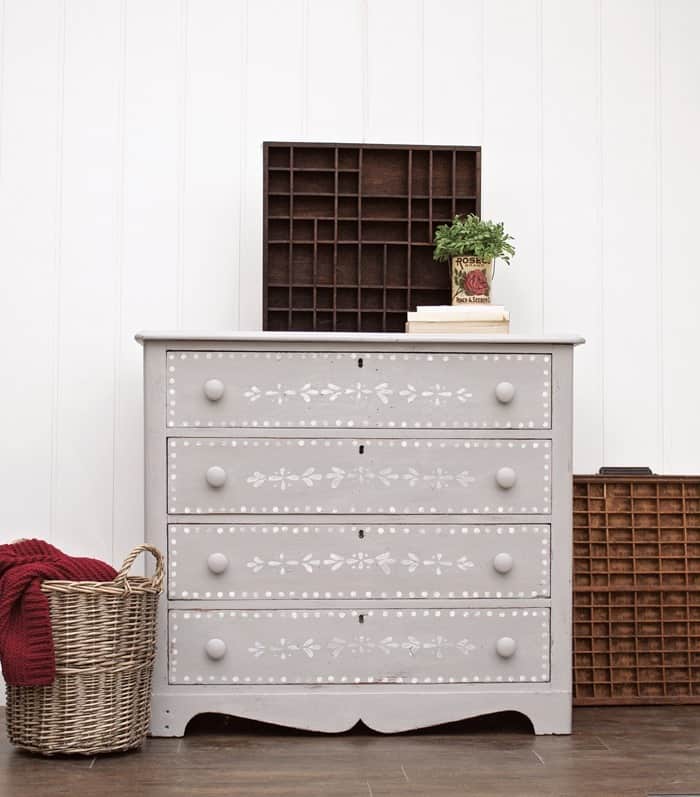 I think this rustic stenciled chest is at the top of my favorite list. The stencil design is perfect and the overall look is soft and calming.


Take a look at the graphic below and see what is included in the giveaway then enter in the Rafflecopter below.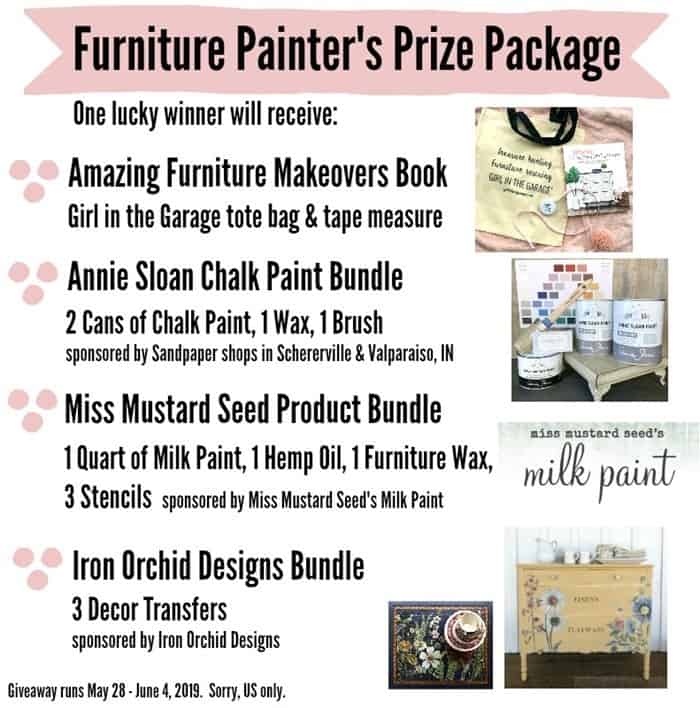 Thank you to Sandpaper shops, Miss Mustard Seed's Milk Paint, Iron Orchid Designs, and Girl in the Garage for sponsoring this giveaway.
If you don't see the rafflecopter for the giveaway click this link ……Giveaway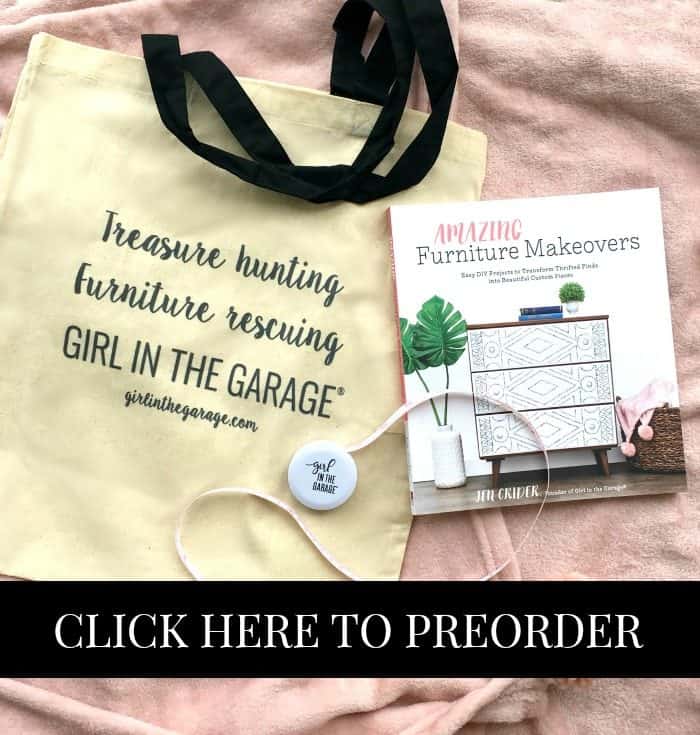 You can find more information on Jen Crider's new book Amazing Furniture Makeovers: Easy DIY Projects to Transform Thrifted Finds into Beautiful Custom Pieces and the exclusive preorder bonus gifts by June 4, 2019 at Girl In The Garage here.
As always, thanks for being here, Kathy