disclosure: affiliate links may be used in this post.
You can make these simple Dollar Tree Candy Tray Gifts for less than $2 each. The gifts are perfect for anyone at any time of the year.
I made the little sweet gift trays for the nursing home residents and staff at the facility where my Mom lives. If you've been around here very long you know my Mom has Alzheimer's.
Anyway, I have a couple of funny stories about how many trips to the Dollar Tree it takes to find Llamas and how many pieces of candy are in the peanut butter cup bag. Read on….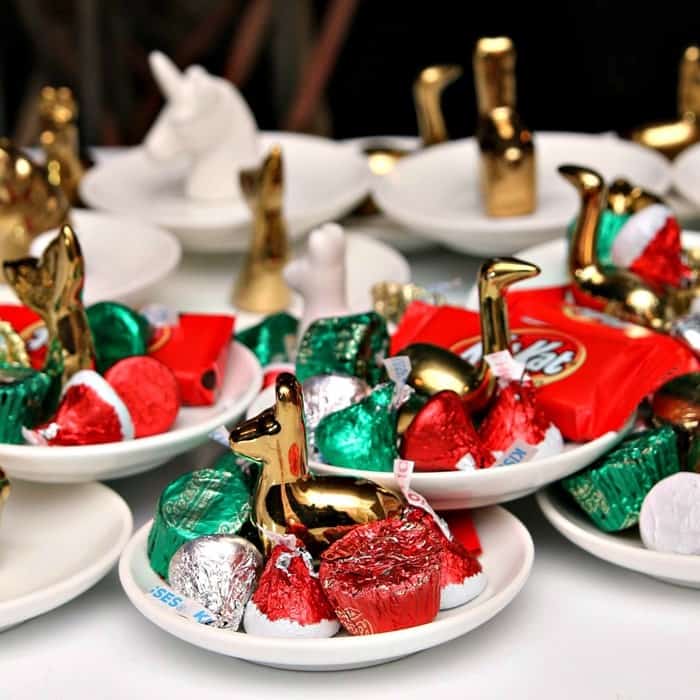 You can make really inexpensive gifts using Dollar Tree finds. (this is not a sponsored post for Dollar Tree) It's almost impossible to get a gift for everyone on your list unless you go the budget route.
And that's perfectly okay because these little gifts are awesome. In fact they look a little classy if I do say so myself.
Think about your friends or your kids teachers or you neighbors when looking at the gifts I put together. This gift idea is good for any and everyone.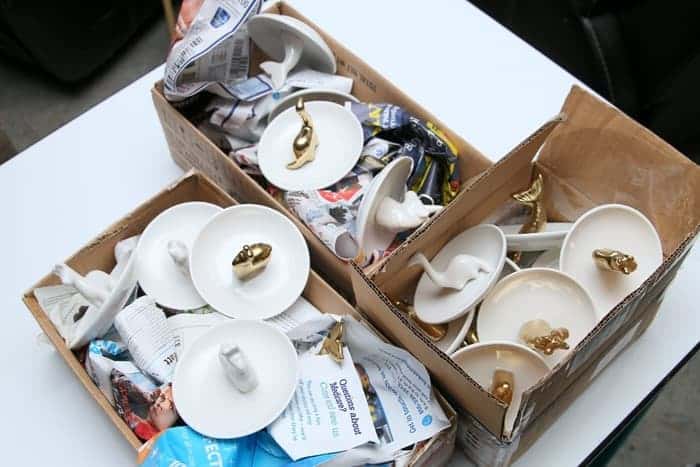 We've come to know a lot of the residents at the nursing home and I really wanted to get them a little something for the holidays. We made goodie filled coffee cups for all of the staff a couple of years ago and they were a big hit. At least it let them know we appreciate them.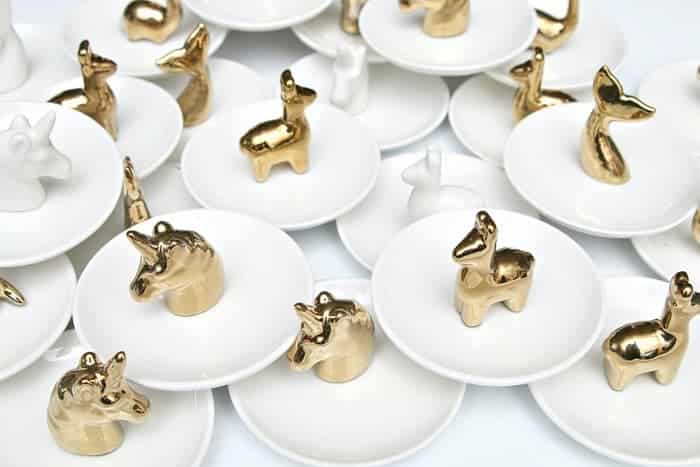 I went to the Dollar Tree last week just to see what they had. I didn't have a gift plan at all so when I spotted these ring holders that was it.
The white plates with the gold tone Llamas, Unicorns, Whale Tails, and Dinosaurs were just too pretty.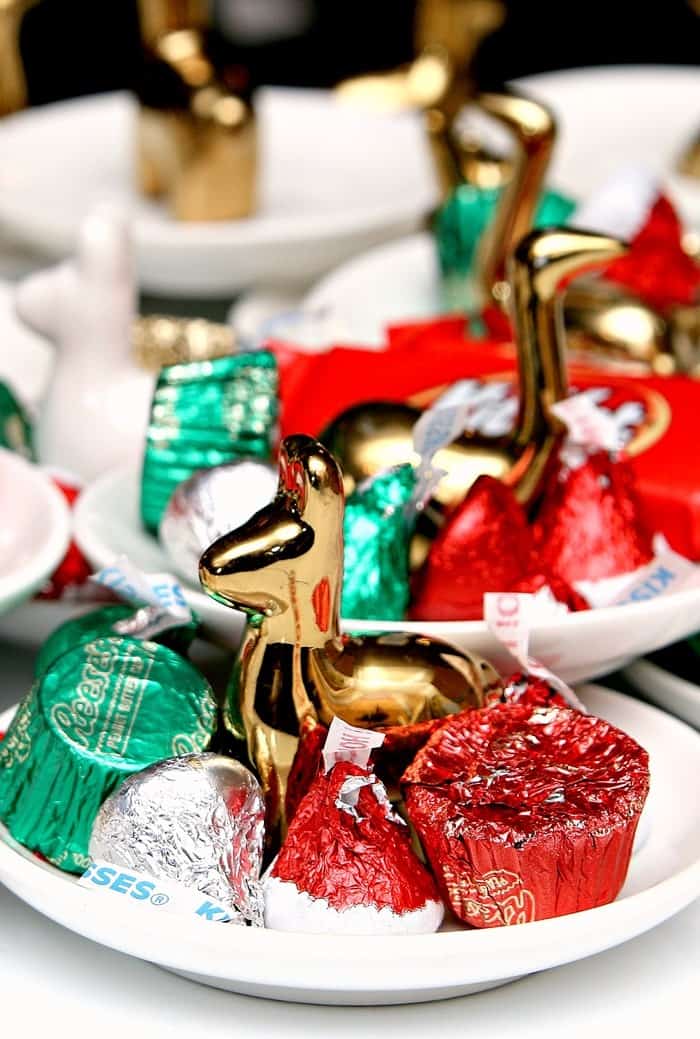 I could see them filled with candy just like this. Everyone loves chocolate, right?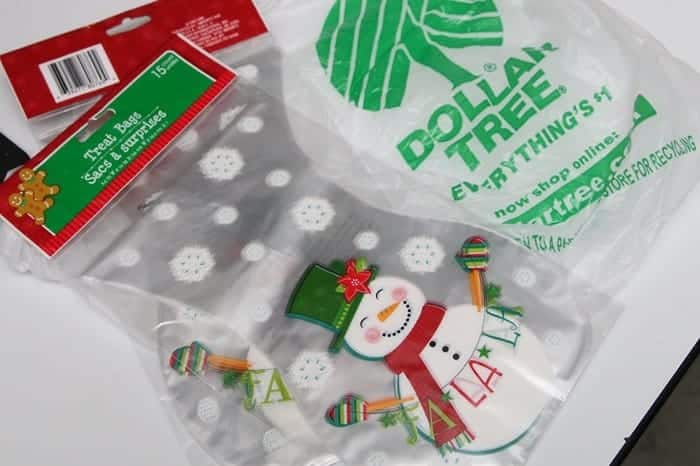 I also bought gift bags to hold the candy filled dishes. There were 15 bags in each set for $1. I had an issue with the bags I chose but more on that later.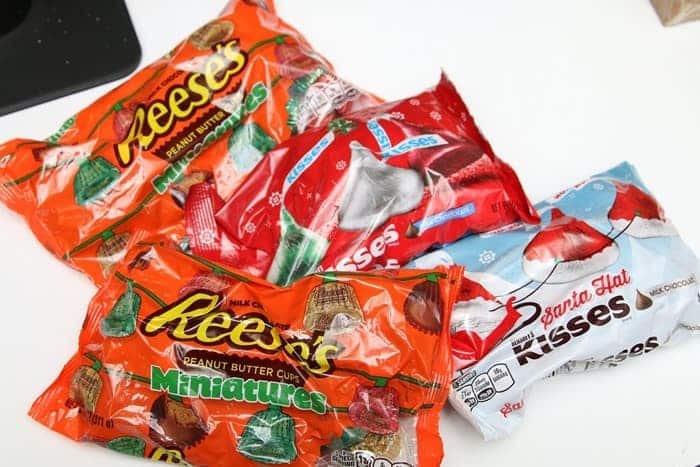 I'm a big fan of Reese's Peanut Butter Cups and Hershey's Kisses and I got those at WalMart.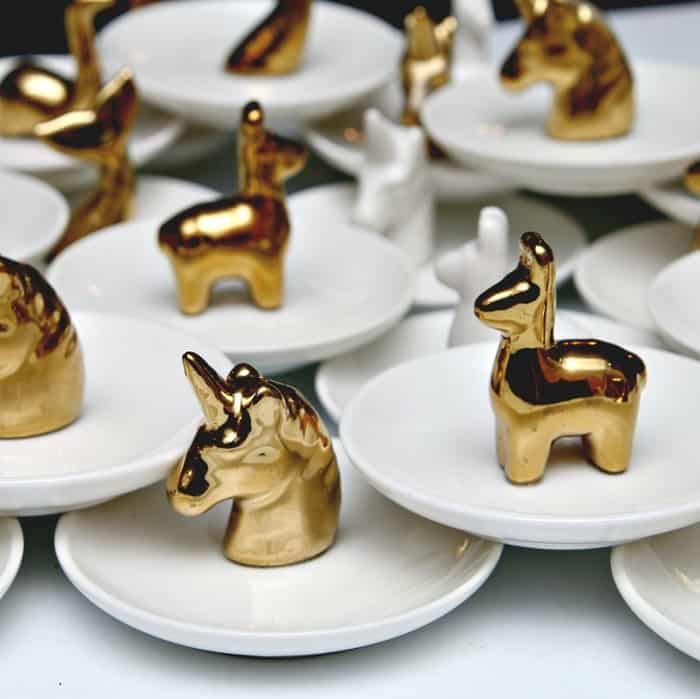 When I have a plan I will go to any lengths to make sure it happens. The Dollar Tree where I spotted the ring holders only had 10 gold tone ring holders.
They had 12 all white ring holders. The all white wasn't nearly as pretty as the combination white and gold tone ring holders.
Well, Clarksville has 5 Dollar Trees and I hit all of them in 3 days trying to find more of the pretty gold tone ring holders.
I ended up with a total of 30 ring holders including 5 white ones. I know that sounds like a lot of trouble to go to for such small gifts but I didn't mind.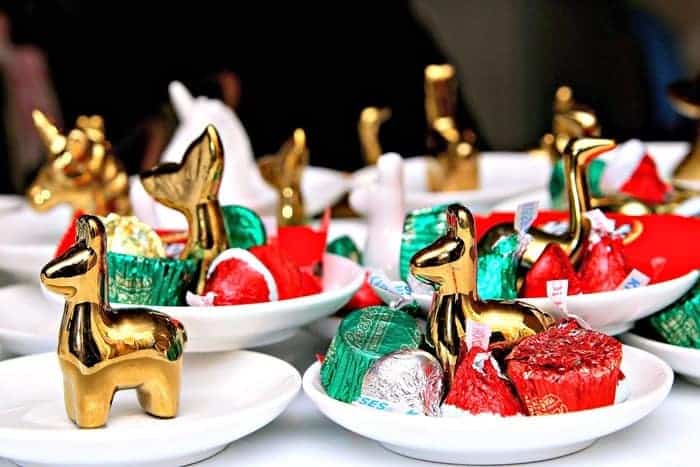 Now that I had everything the next thing to do was fill the ring holders with candy. If you guys want to know how many peanut butter cups are in the bag and how many kisses are in the bag…..I can tell you……..there are 35 peanut butter cups give or take 1 or 2 and 66 kisses give or take 1 or 2. You're welcome.
I decided I needed more candy so I raided our leftover Halloween candy pulling out all the red wrapped Kit Kats.
Going with a theme here guys. It is Christmas.I poured all of the candy into a cardboard box then I put 6-8 pieces of various kinds of candy in each dish.
When it came time to put the candy filled dishes in the bag I ran into a small problem. When looking at the bags in the store I decided they would be big enough for the dishes.
And they were……if I cut one of the seams half way down. I forgot about the skinny neck towards the top of the bag and the dishes wouldn't fi past the neck. Always something.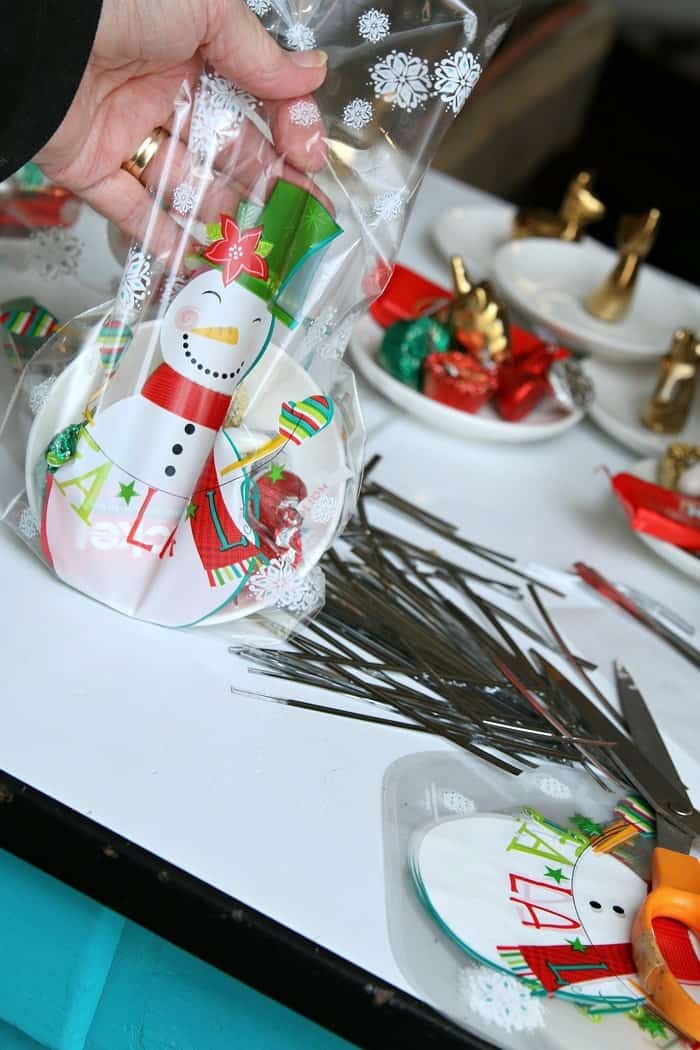 I was able to stuff the dishes in the bags, swirl them closed, and twist the little thingies around the bag and nothing fell out!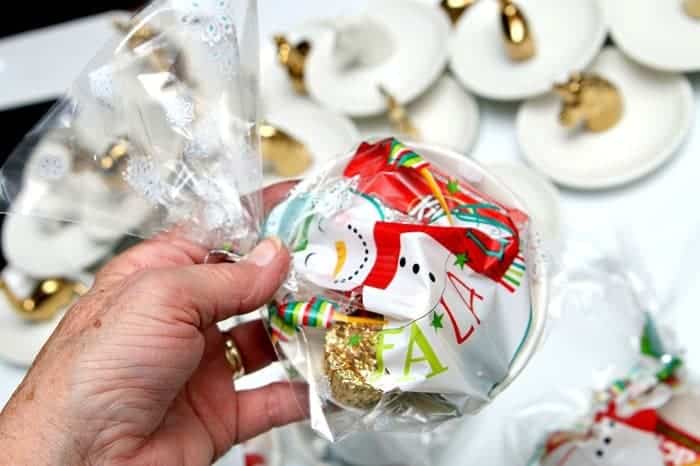 I kind of had an assembly line going when I put the bags together. I made 10 candy filled ring holders putting a certain number of each kind of candy in each dish,then stuffed the ring holders in the bag and tied it up….then I repeated this cycle 2 more times for a total of 30 gift bags.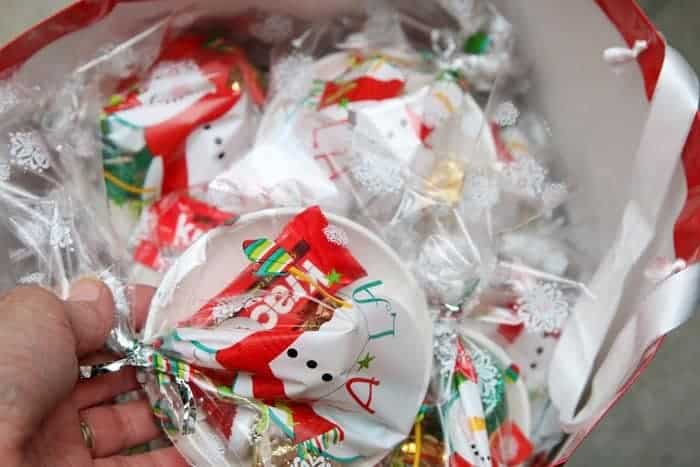 Dollar Tree Candy Tray Gifts
I tossed them all in a Christmas bag ready for delivery when we got to Arkansas, which we did this past Sunday. I delivered the goodies Monday and they were a hit.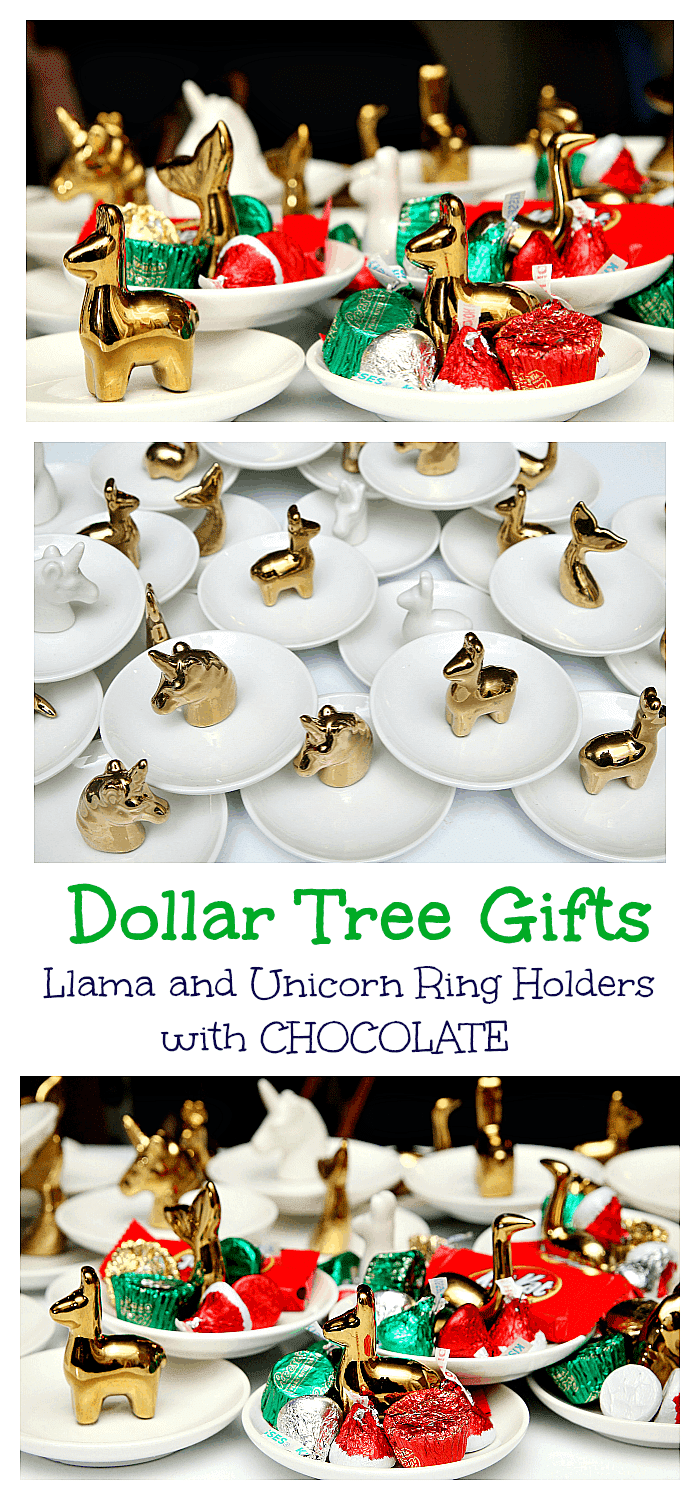 What do you guys think of this gift idea? Do you have a Dollar Tree in your town and do you shop there? No, this is not a sponsored post for Dollar Tree although they can call me anytime, lol.
Sofi and I love Dollar Tree and I give her a limit of $3-$4 when we shop Dollar Tree together. She would break me if I didn't give her a limit.
You can find the goodie filled coffee cups (candles, candy, and ornaments) I made a couple of years ago here.
I've shared a few stories about Mom and Dad and Arkansas over the past few years but it's been a while since I've shared an update. Not going to do that today either. Maybe in a few weeks.
The holidays will be over before you know it and time to start on home improvements. My number one posts is about painting my front door and metal storm door. See it here.
Thanks for being here, Kathy