Talking About My Eclectic Mantel Decor and What I Want To Be When I Grow Up
Some people buy a junk treasure or two and incorporate it into their home decor. I do just the opposite. I buy one or two new home decor items occasionally and mix them in with my junk treasures, example….my eclectic mantel decor.
Our home isn't fancy. It's comfy casual and it's just right. I love to decorate…..when in the mood……but I decorate on the cheap. I tend to keep the junk treasures or thrift store finds for years. They might show up in every room of the house at one time or another in my decorating endeavors. When redecorating or changing things up with the season I shop my house or workshop.
I don't have an interior design degree or anything close. I wish I did. Maybe that will be my next adventure. My dream job, or dream volunteer job, would be to go into homes and redecorate a room or the whole house with what they have on hand. Doesn't that sound fun? Maybe that isn't your cup of tea but it sure sounds like fun to me. I'm not saying I would be great at it but I might.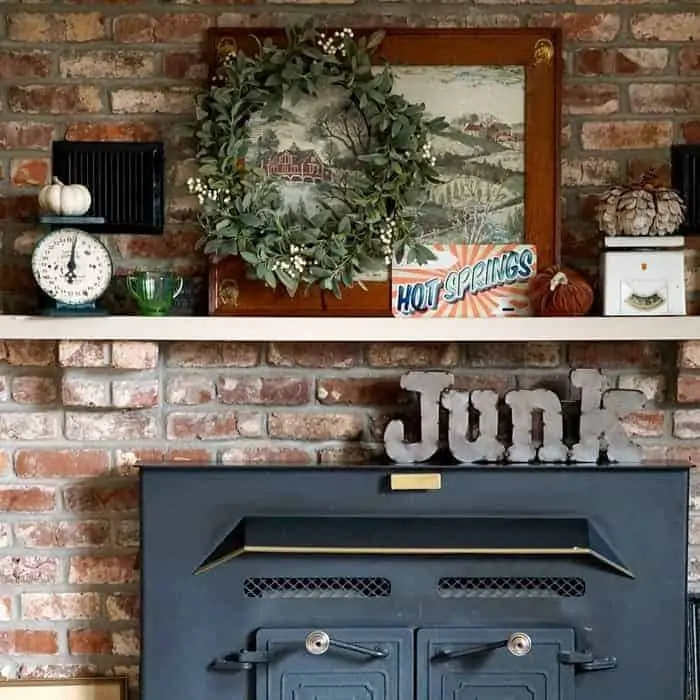 Eclectic Mantel Decor
I still like to paint furniture and I sure love to junk shop. I enjoy blogging and connecting with you guys. But lately I feel I need try something new. Don't know why. It might just have to do with my age and things going on in my life.
After talking with friends that are in the same age group and in similar circumstances, I find they are having the same feelings. Guess what I'm going through is normal.
How about you? Feeling a bit rudderless lately? You can leave a comment or if it's too personal email me, kathy@petticoatjunktion.com. Just felt like sharing some of my thoughts and feelings today. Now I guess I better get on with today's project.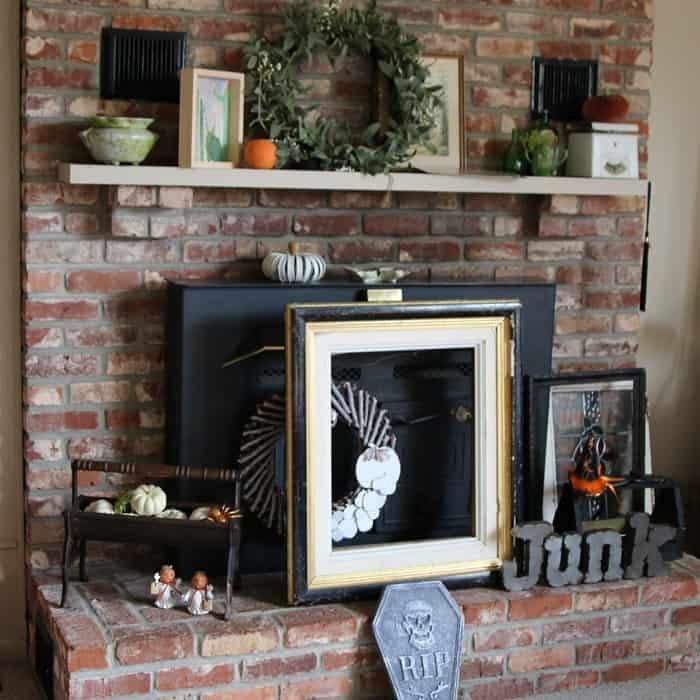 This is how our fireplace has looked for the past few weeks. I started taking a piece or two off of the mantel to use in photos and then dropping things off on the hearth as I brought them in to the house. Poor JTS, he never knows what to expect when he walks in a room. Sometimes a whole room will be in disarray because I'm talking photos of a project. And the room might stay that way for days.
Yesterday I decided it was time to take care of the fireplace mess. The push to redo the mantel came when I bought a new junk treasure at my favorite junk shop on Saturday.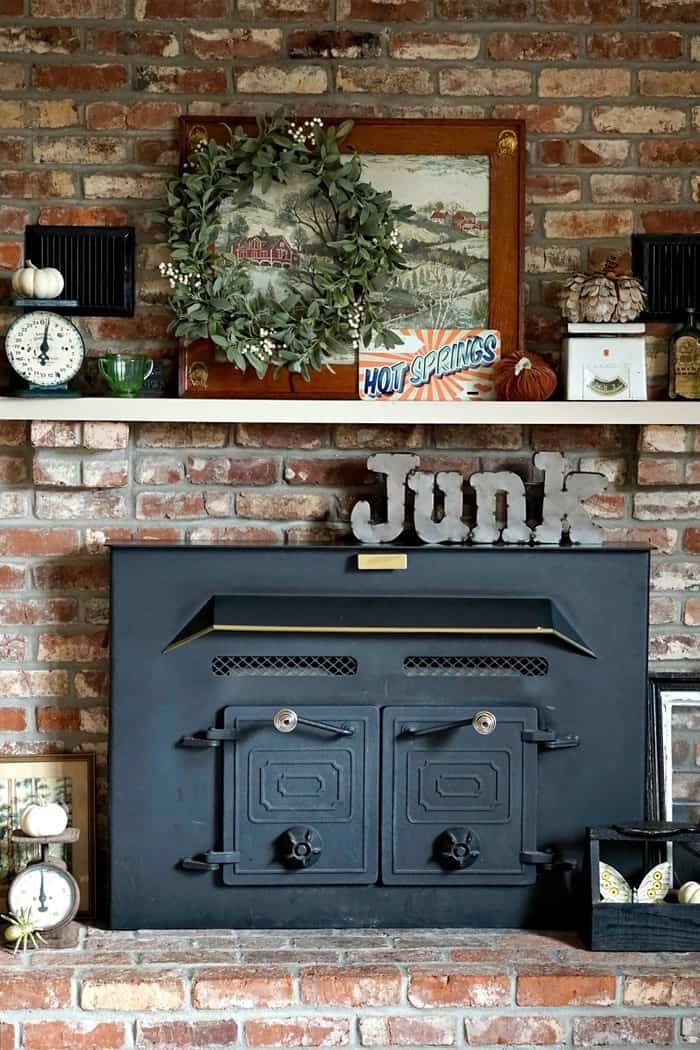 This is how the mantel and hearth look now. It took me about an hour to put it together. Once upon a time it would have taken hours and hours. The metal junk sign is brand spanking new. The JTS and I hit the road for a few days on a mini vacation. I bought the JUNK sign in Pigeon Forge, TN at a flea market. I mean…..it's me. The price was $12.
The framed tapestry is my latest junk shop purchase. It was $15 and the colors are what caught my eye. The brass pieces on the corners of the frame are horse heads. The piece came from an estate in Hopkinsville, Ky. That's all I know about it. The green wreath has been on the mantel for a few months now. Why not hang it off center over the framed tapestry. You can see the red barn in the center of the wreath.
When decorating the mantel I usually start with the focus piece which in this case is the framed tapestry. Then it's all about the colors. I shop my house to find fun unique pieces that go with the color scheme of the focus piece.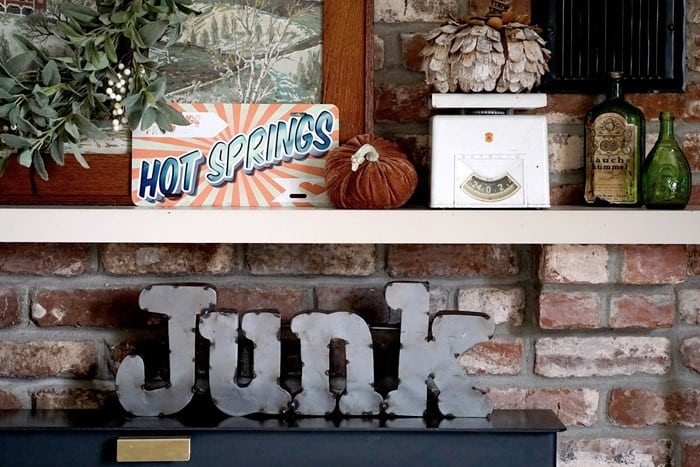 The hubby and I were married in Hot Springs, Arkansas 37 years ago. I bought the Hot Springs license plate at a flea market in Arkansas earlier this year. The green bottles are also from the junk shop. This is there second (maybe third) appearance on the mantel.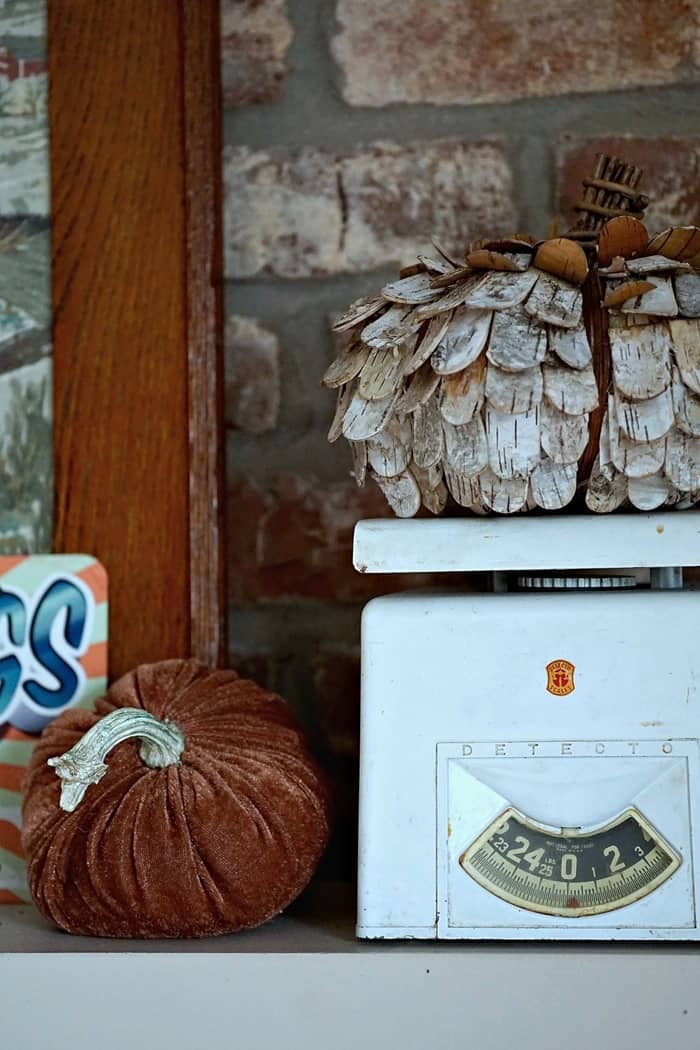 The faux pumpkins are thrifty purchases from a couple of years ago. The vintage scale found at a local flea market/antique shop best I remember was around $10. Really good price. Moving on to the hearth…..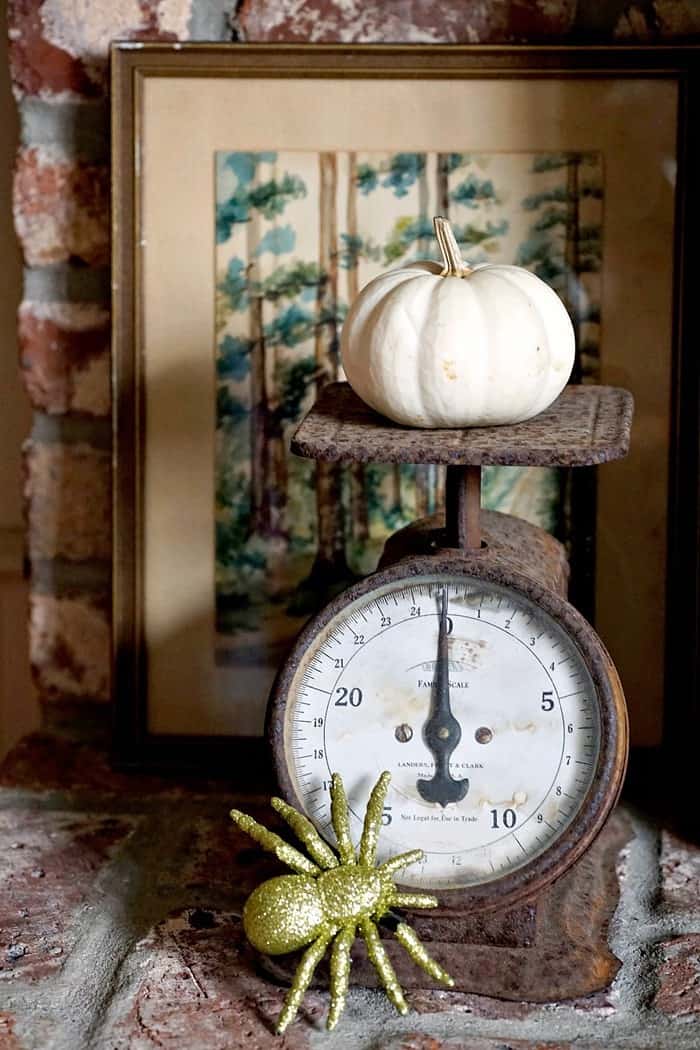 I bought this rusty vintage scale at Alyssa's Antique Depot in Pace, Florida (where my painting furniture/junk booth adventures started). The framed print is from Habitat Restore.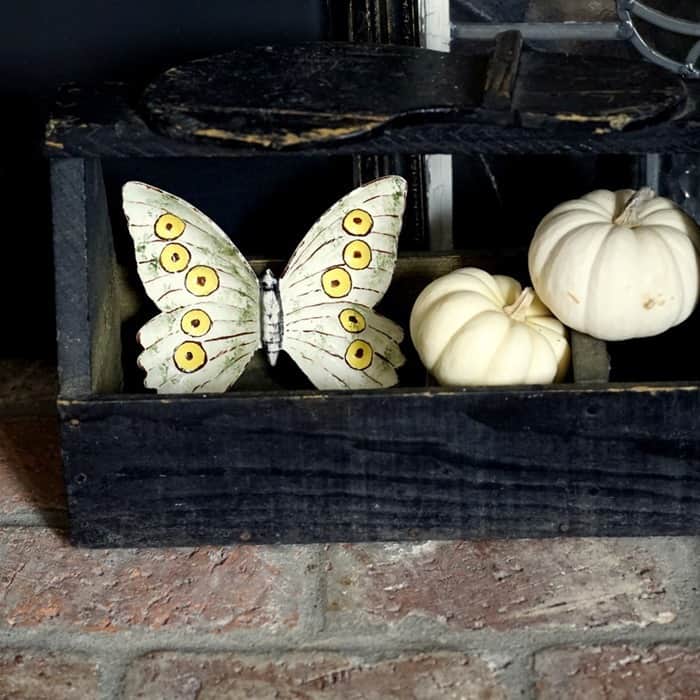 The vintage butterfly ashtray came from where else……my favorite junk shop. The black shoeshine box was an auction buy.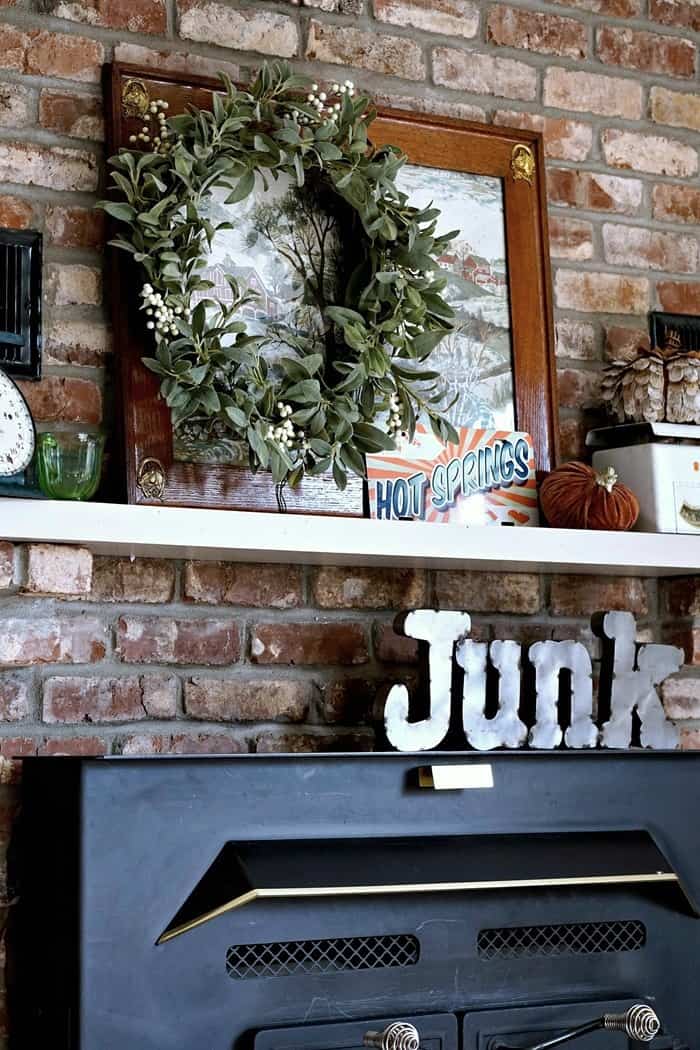 I really like the new look and everything on my mantel and hearth can be repurposed over and over again. I can't believe that it will be Christmas decorating time before we know it. You can read my mantel decorating tips here.
What do you think of the mantel? And what about my dream job? Leave me a note please and as always, thanks for being here, Kathy
Author: Kathy Owen (Petticoat Junktion)
Kathy is the founder of PetticoatJunktion.com, a home décor blog focused on repurposing and upcycling furniture, old hardware, rusty stuff, and thrifty finds into unique home décor. Kathy's projects have been featured on the Home Depot Blog, Plaid Crafts, Behr Designer Series, and in numerous magazines. Read more about Kathy here.