Real pumpkins are the star of Fall decor. You can buy artificial pumpkins in all shapes, sizes, colors, and designs, but they don't come close to the real thing.
I have to say white pumpkins, both large and small, tend to be my favorites, although I like the blue-green pumpkins and ones with all the bumps that look like peanuts! Finding unique ways to display the pumpkins is a challenge I'm up for. Here are a few of my ideas for displaying pumpkins...
1. On A Candleholder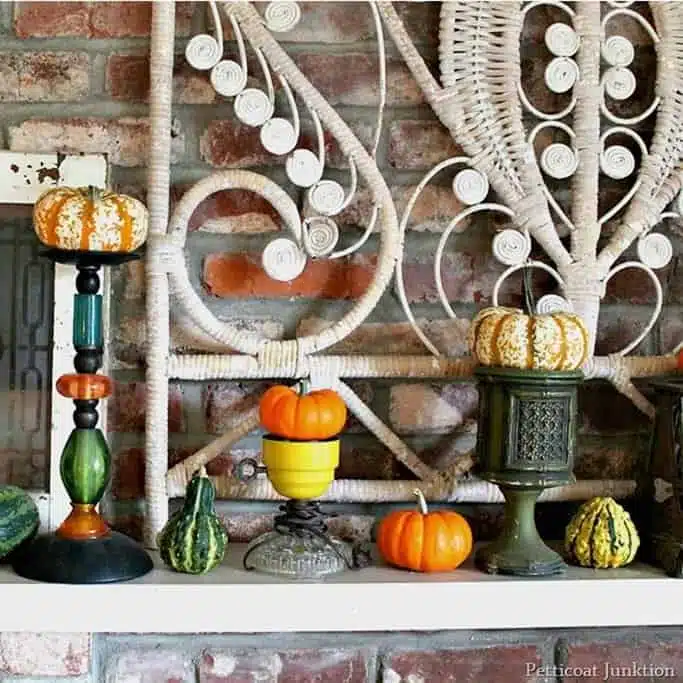 Candleholders, vintage lamp bases, and decorative cups are all great places to rest a pumpkin. Some of the large candleholders have a little spike in the middle to hold the candle and those don't work very well for pumpkins.
2. In A Toy Truck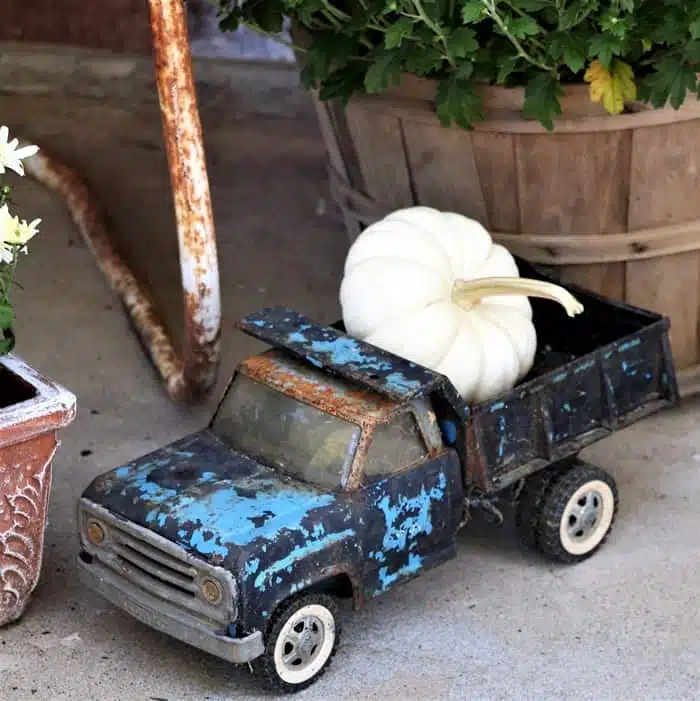 My favorite old rusty metal dump truck with a big bed can hold a couple of min pumpkins. If you aren't into old rusty stuff new trucks work just fine.
3. On A Vintage Kitchen Scale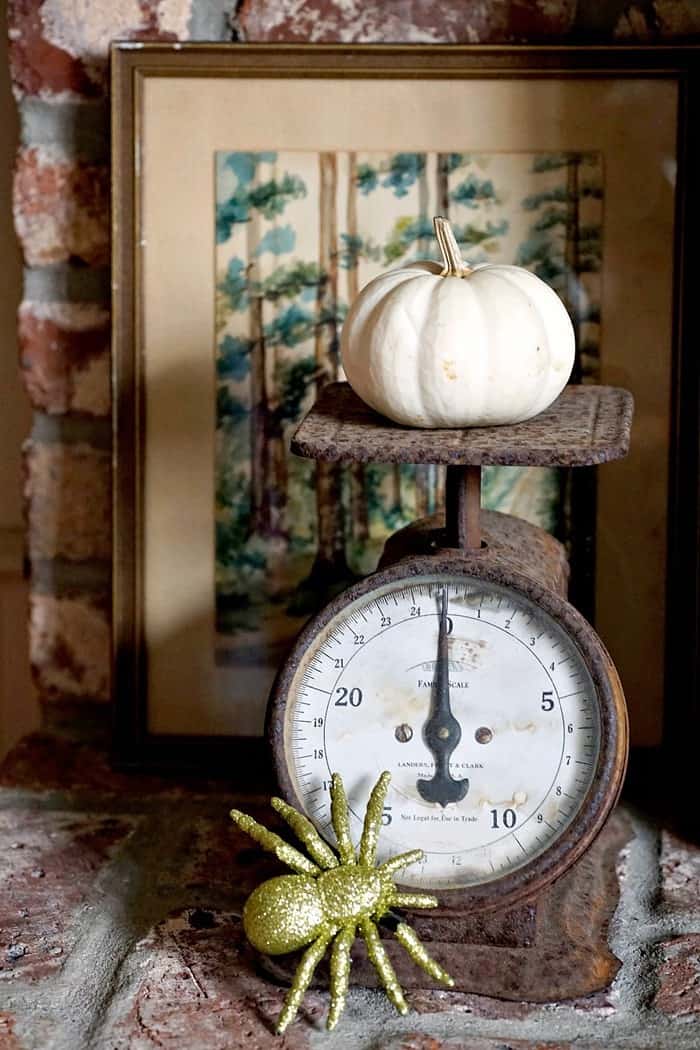 As you can tell, I'm into old rusty stuff. Most of my decor comes from junk shops, flea markets, or thrift stores. Kitchen scales are great for displaying all kinds of things. At Christmas time, set a Christmas village house on the scale.
4. With Halloween Treats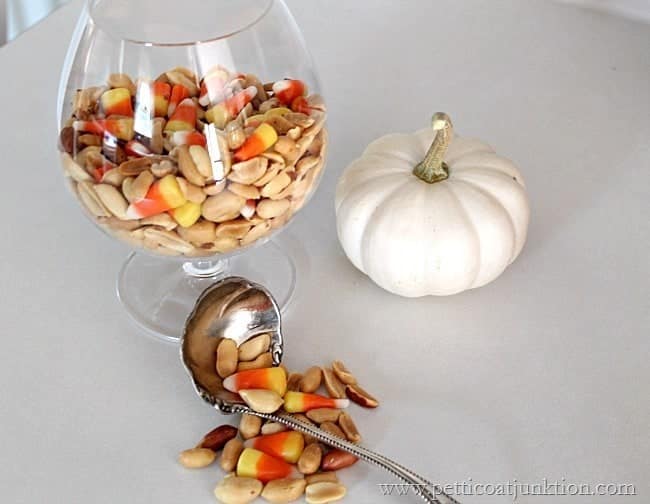 Who doesn't love a good treat? Have you tried candy corn mixed with salted peanuts? Yum. Tastes almost like a Payday candy bar. Set a pumpkin or two with your Halloween candy treats on the kitchen counter.
5. In A Painted Wood Tote
The photo above shows off pumpkins in a white-washed wood tote or caddy, a pumpkin in a flower pot, and my rusty kitchen scale with pumpkin.
6. In A Wire Basket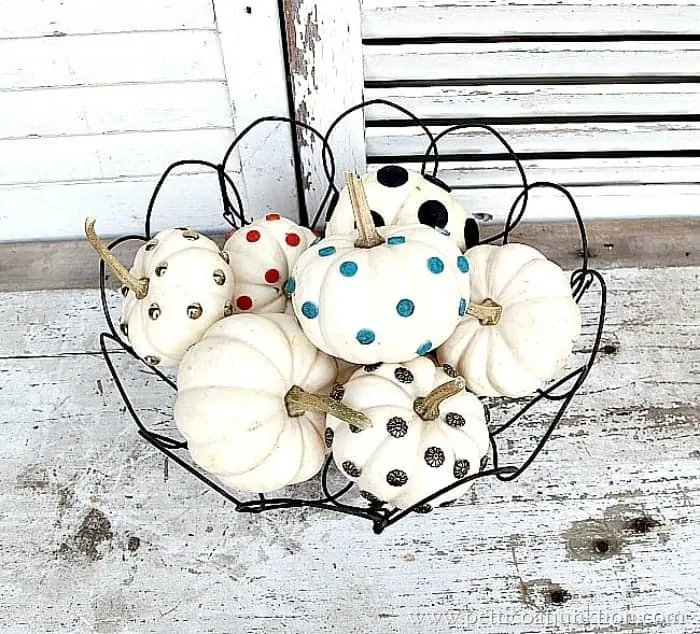 Would you call those pumpkins tacky? Yep, I decorated the mini pumpkins with brass upholstery tacks, then I spray painted mini felt adhesive circles with turquoise and orange paints, and stuck them to the pumpkins.
7. In A Painted Monkey Pod Tiered Stand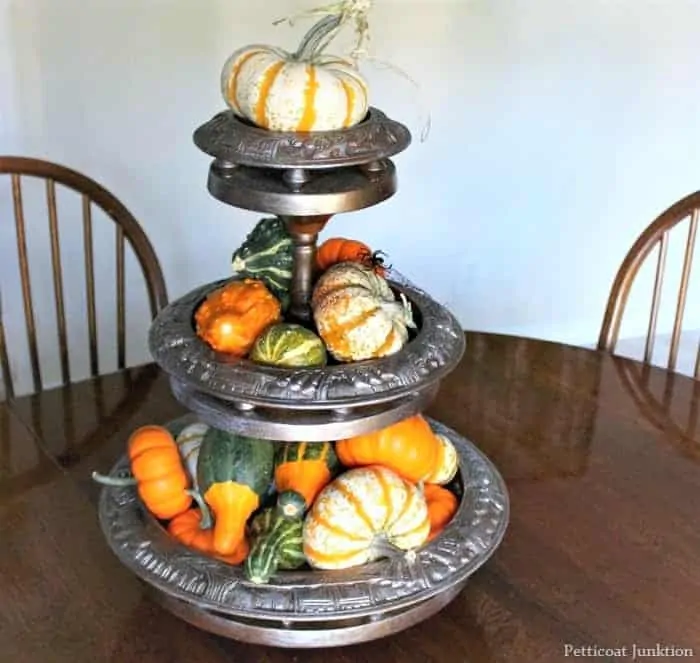 I want you to know that almost anything you find at the junk store can be made beautiful. Sometimes all it takes is a can of spray paint.....metallic spray paint....to make anything better. This tiered stand I spray painted metallic brass gold is a prime example.
8. On A Shelf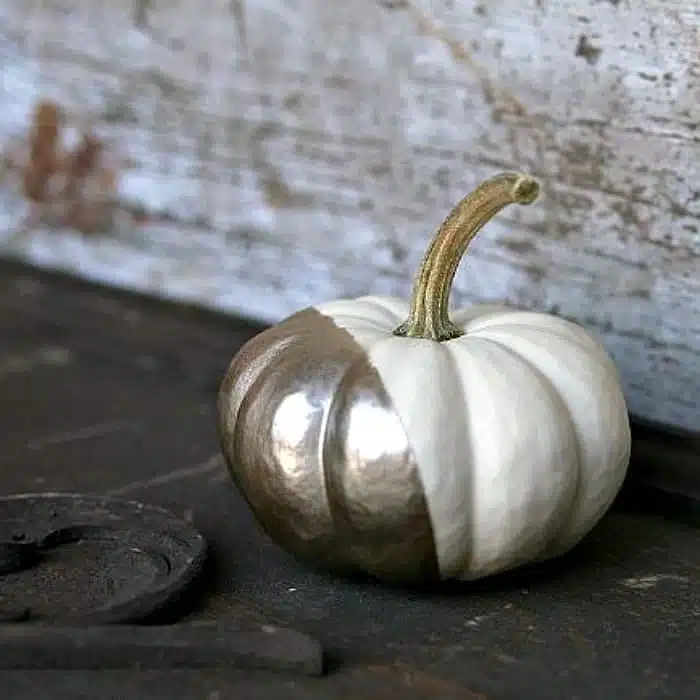 I have a new favorite spray paint color……champagne! Carving pumpkins makes them rot faster, so I like to decorate them in a unique way. Tape them off, find a spray paint color you love, and start spraying.
9. With Mums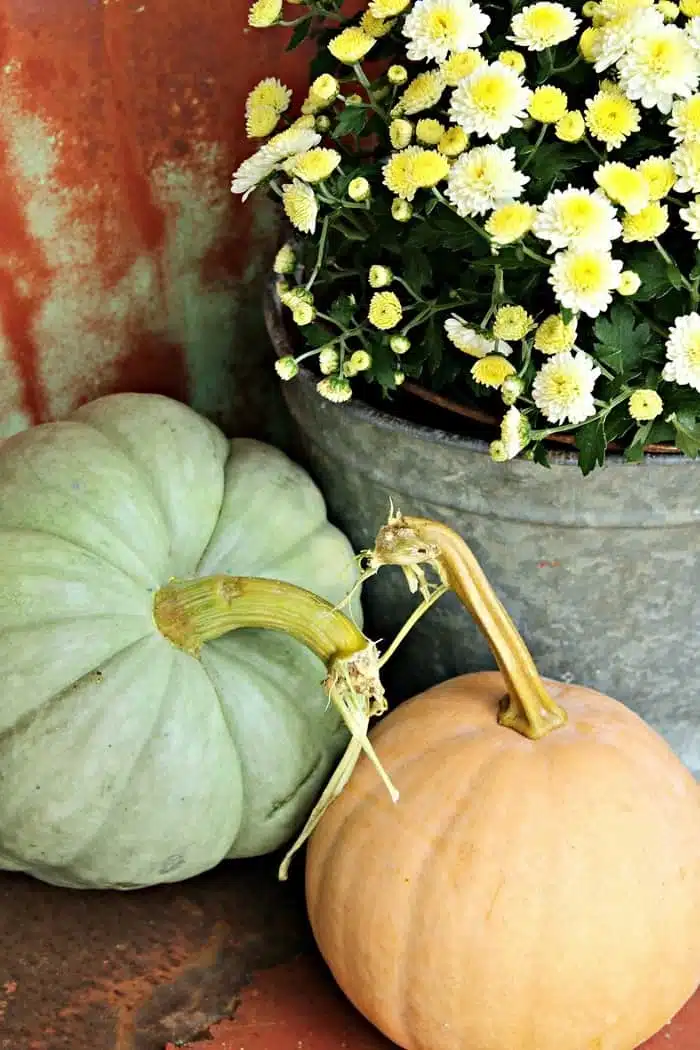 Mums are another wonderful decorating option for Fall. The colors are fabulous. The front porch is the perfect place to display mums and pumpkins. Select several colors of pumpkins and mums and pair them together.
10. In A Newspaper Log Roller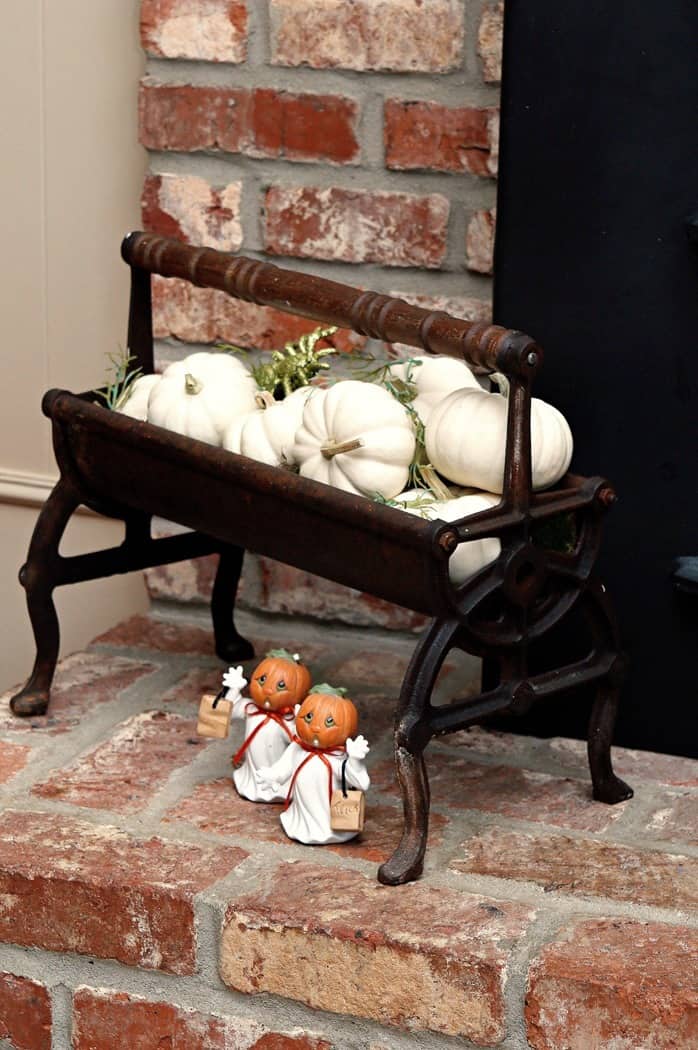 When I bought this piece at My Favorite Junk Shop, I had no idea what it was. I have since learned that it is a newspaper log roller to make logs for the fireplace. Who Knew? It's a nice piece for displaying those mini pumpkins.
11. On A Rusty Vintage Lawn Chair
I have a thing for those old vintage rusty metal lawn chairs. The style is a winner, and the rustier, the better. Display one or several pumpkins in an old chair.Then sit pumpkins around the chair or load a big one into that rusty truck.
12. On A Step Ladder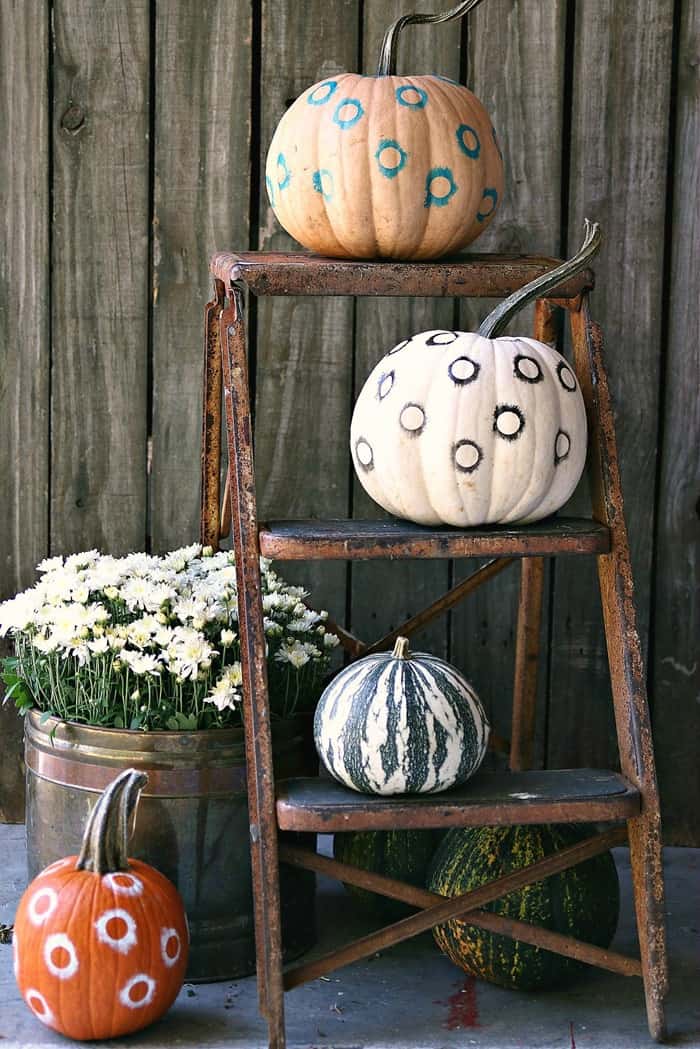 You may be wondering what kind of design I painted on the pumpkins. You may remember that total solar eclipse from 2018 that everyone made such a big deal about. Well, I painted solar eclipses on pumpkins. An old ladder came in handy for showing off all of the pumpkins.
13. Stacked On A Metal Chair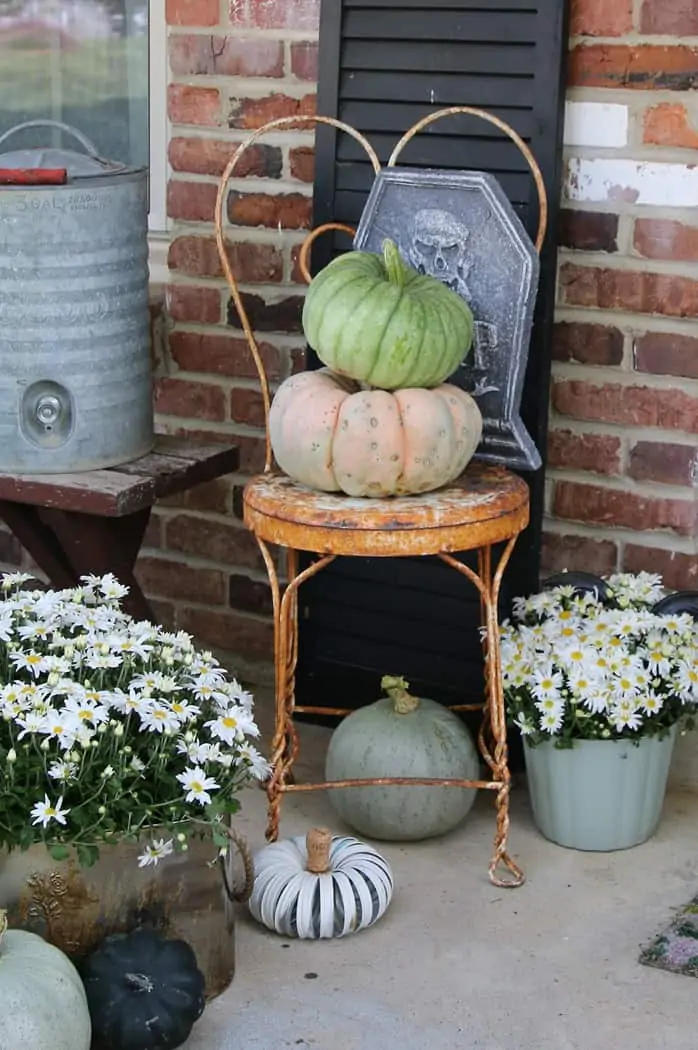 Stack colorful pumpkins on an old metal soda fountain chair and add a Halloween-themed sign to the display. The chair, pumpkins, mums, and other decor are easy decorations for the porch or deck.
14. On The Fireplace Hearth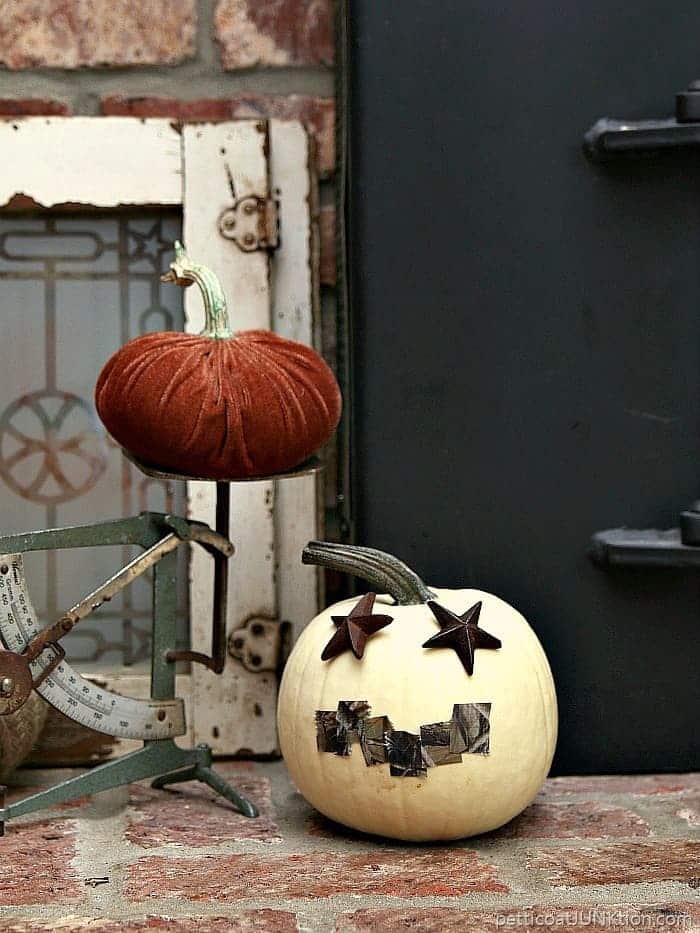 Set a plain old pumpkin on the fireplace hearth or add a mouth to your pumpkin using camouflage Duck Tape. Then add nail star eyes for the win. I love using Duck tape in this manner. I've added Jack-O-Lantern faces to watering cans, old luggage, and more using this method.
15. In Old Wooden Boxes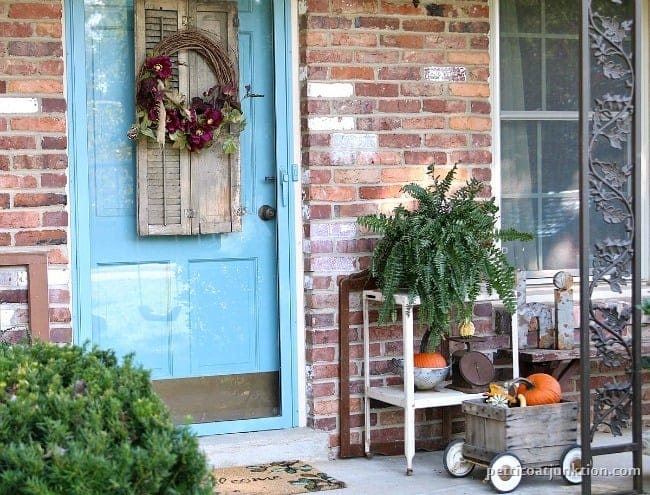 The weathered wood box sitting on the wheels held a balsa fir tree for the Christmas porch last year. Don't you love multi-purpose pieces?
16. In A Handmade Wood Wheelbarrow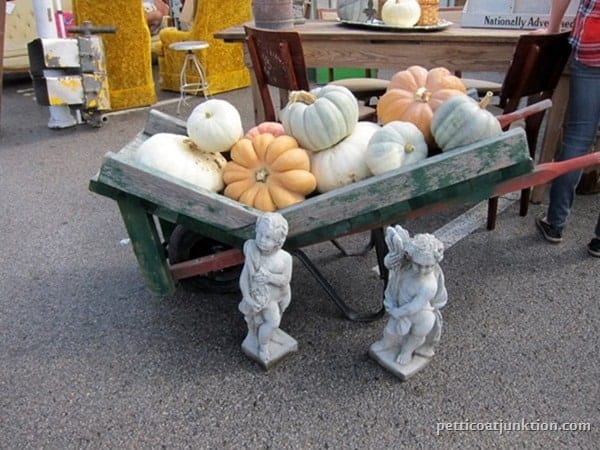 I spotted this display at the Nashville Flea Market. The pale orange and light-colored pumpkins look fantastic against the white ones. If you have an old metal wheelbarrow or just an old wagon, load it up with pumpkins.
17. On A Magazine Table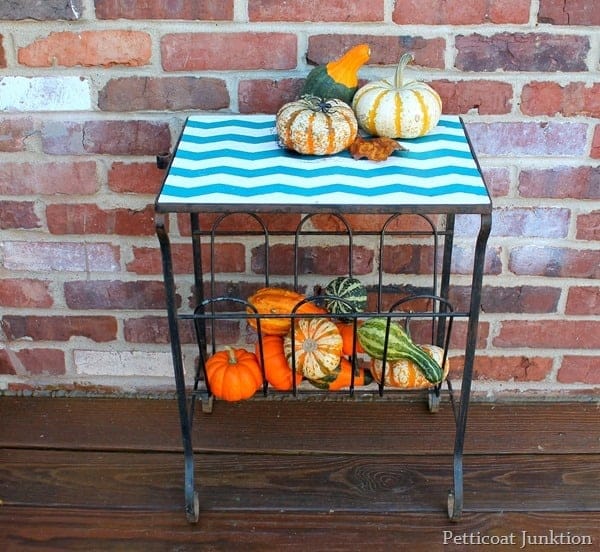 Any table or shelf that has a little extra room can be filled with tiny pumpkins and gourds. The table I painted a few years ago is sitting on our deck.
18. On An Etched Mirror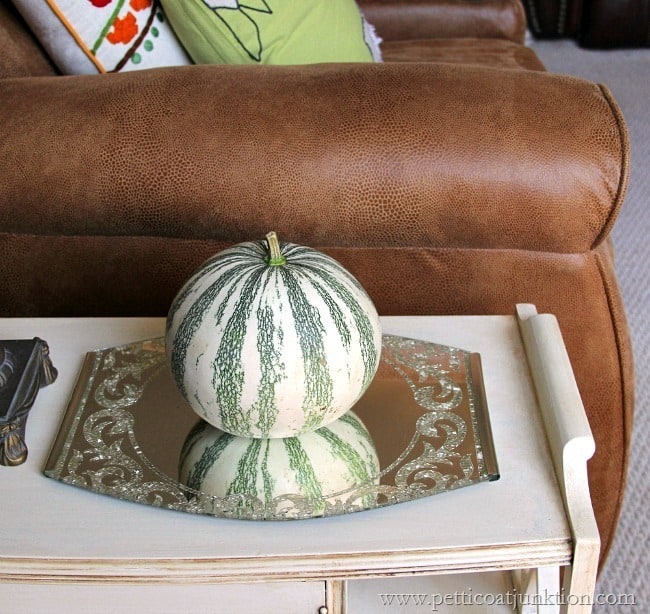 If you have a mirrored vanity tray or similar flat mirror, sit a pumpkin in the middle of it and place it on a side table or coffee table in your living room.
19. In A Tic Tac Toe Game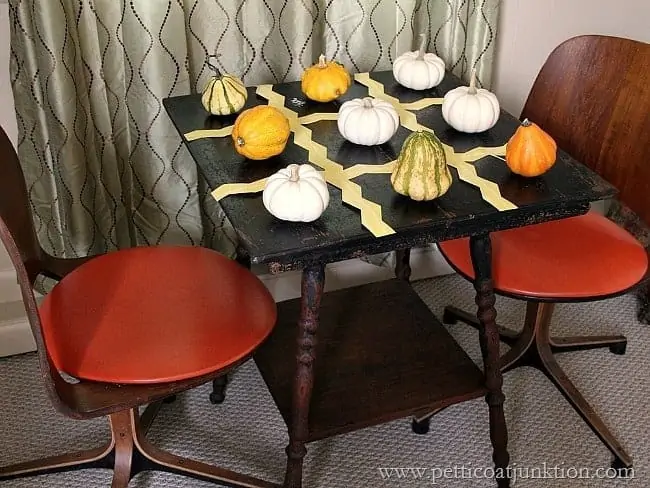 I got the tic tac toe pumpkin game idea from a magazine. Only the photo in the magazine used a quilt instead of a table. Find what works for you.
5 Minute Fall DIY Decor Ideas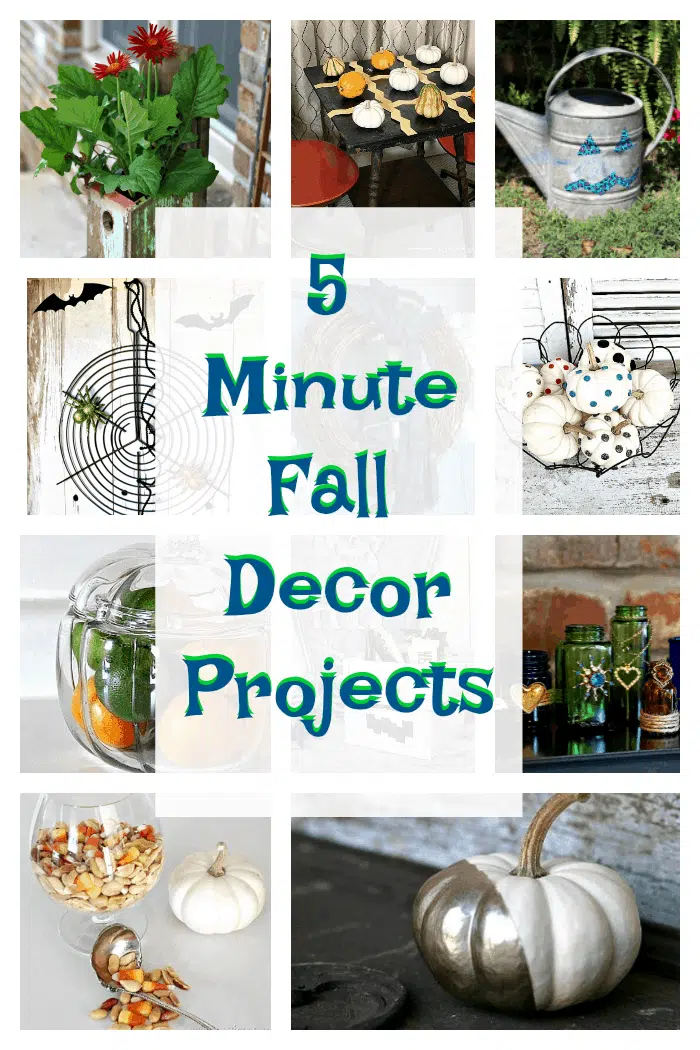 Try these DIY Fall home decor ideas. The projects are quick and easy. It only takes 5 minutes to do each of these Fall projects. Lazy. That's me. I tell you guys that all the time. Wait until you see these lazy girl Fall projects.
5 Minute DIY Decorations For Fall
14 Unbelievable Items You Can Make Into Wreaths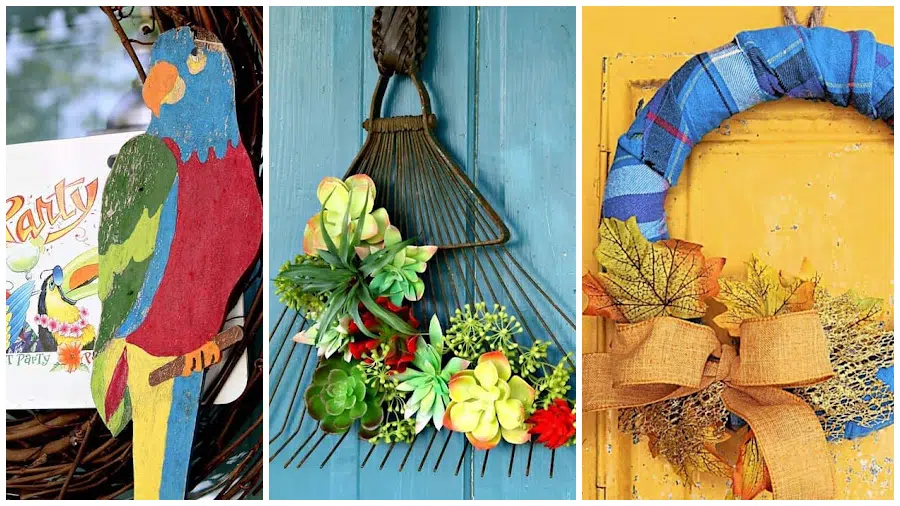 Create distinctive eye-catching wreaths using unconventional items. Unique items can be used for the base or the bones of the wreath, the decorative elements of the wreath....or both.
14 Unbelievable Items You Can Use To Make Wreaths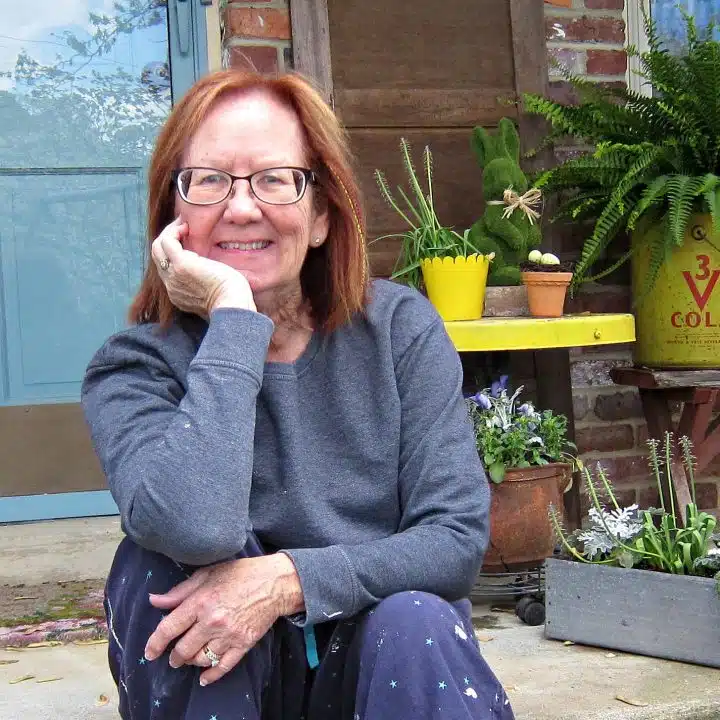 Author: Kathy Owen
Kathy Owen is the founder of the home decor blog Petticoat Junktion where she shares tutorials on painting furniture and upcycling thrifty finds into unique home décor. Her DIY projects have been featured on the Home Depot Blog, Plaid Crafts, Behr Designer Series, and in numerous magazines. Kathy's newest website is HappyHomeDIY.com