Are you guys ready for Fall? Yeah, me too. Fall is my favorite time of year. I love the colors, the cool breezes, and the leaves fluttering across the yard.
Today is about decorating my mantel for Fall. I start by choosing a mantel decorating theme. Then the rest is easy.
Today is the first day of our yearly Fall Ideas Tour. There are 28 blogs sharing decorating ideas on everything from porches to mantels. We added an extra tour day this year just for porches. I can't wait! I need inspiration for decorating our front porch.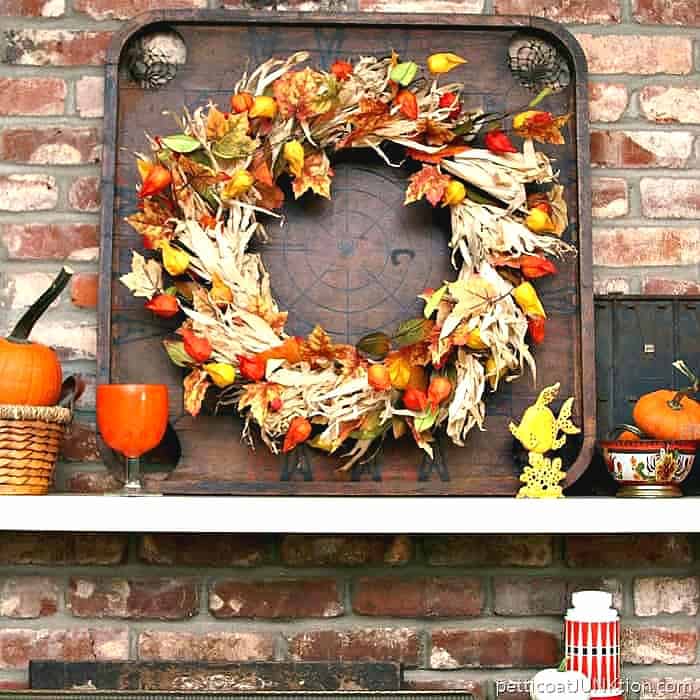 Fall Mantel Decor
First up on the Fall tour is mantels. I decorated my mantel on Saturday. It didn't take long at all, less than 2 hours, and I'll let you in on my oh so secret technique.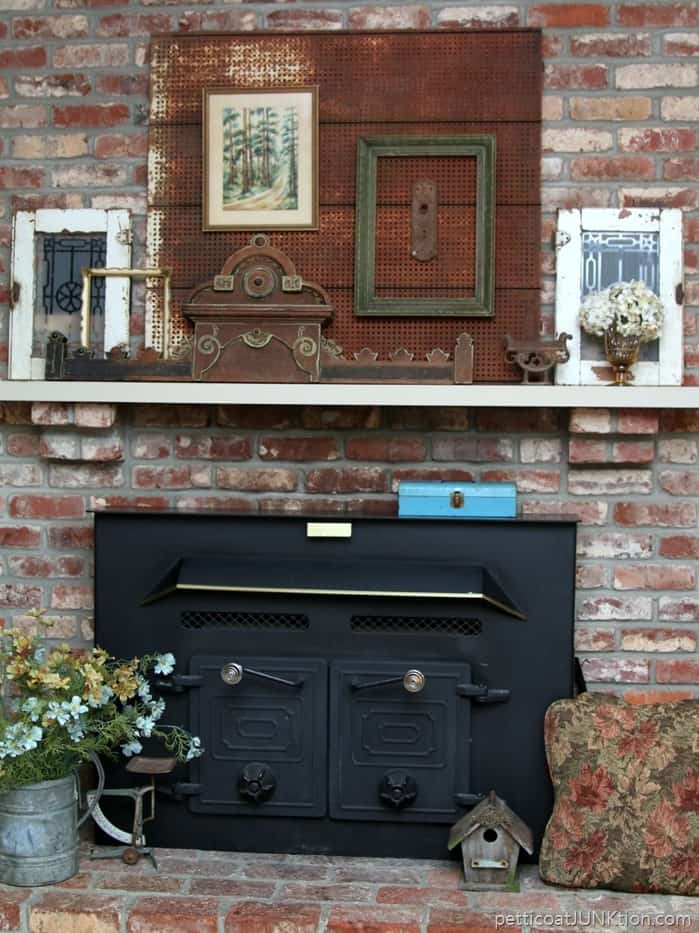 This is how the fireplace and mantel looked before the Fall makeover. When I redid the mantel at the end of July I shared my 6 Tips To Make Fireplace Mantel Decorating A Breeze Without Breaking The Bank .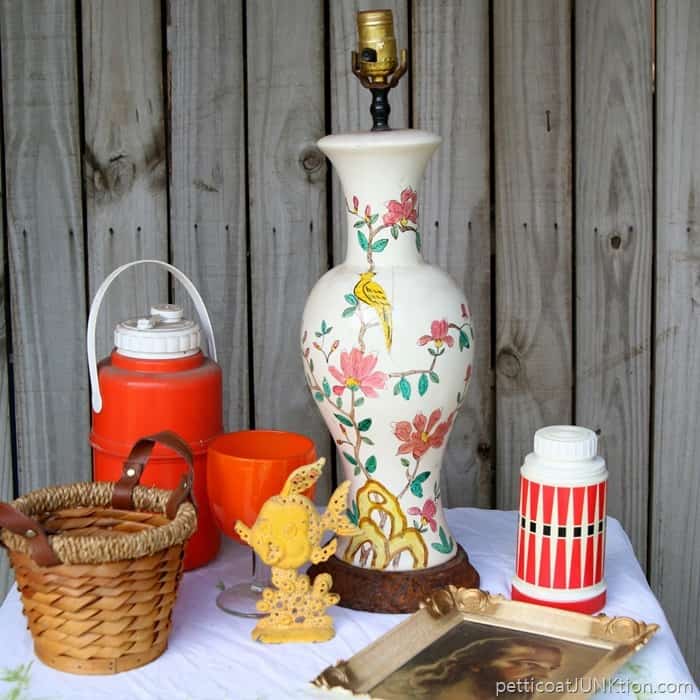 On the last shopping trip to my favorite junk shop I found a few items that would be perfect for the mantel. This bunch of treasured finds cost a total of $9. I incorporated a few of the pieces into the mantel décor and the rest are waiting for makeovers.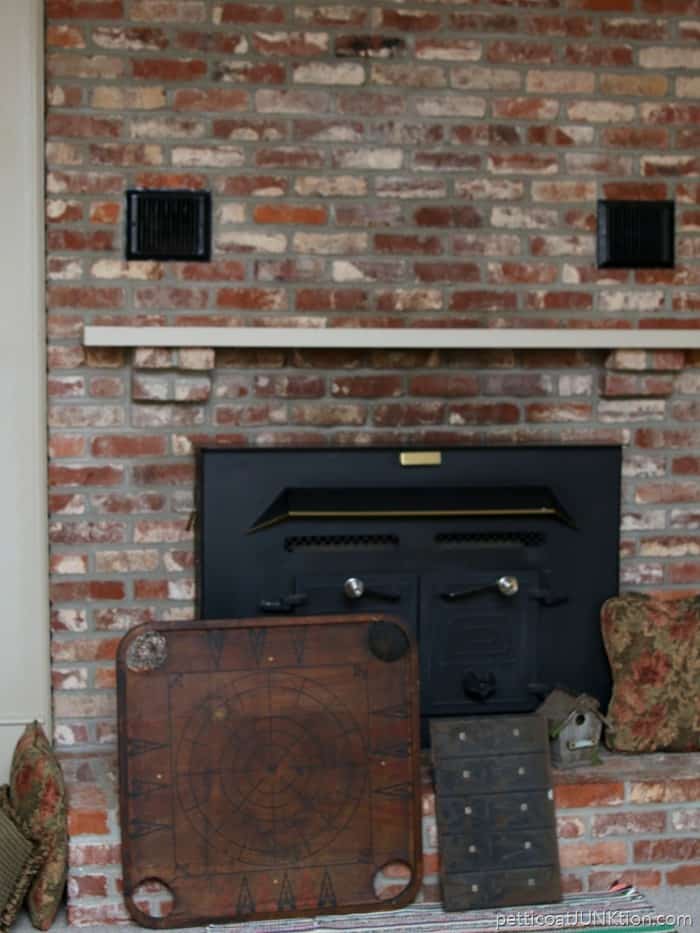 How To Decorate A Mantel With A Theme
Step 1. Start with an empty mantel.
Remove everything from the mantel and hearth.
Petticoat Junktion is a participant in the Amazon Services LLC Associates Program. As an Amazon Associate I earn from qualifying purchases.
This is the best way. If I start with a few things on the mantel and start adding or replacing things it doesn't work out as well.
Step 2. Decide on a theme and color scheme.
This is the most important step. Choose a theme like; pumpkins, flamingos, wreaths, frames, etc.
Then decide on your color scheme. Or you could start with the color scheme first then pick a theme. Whatever works best for you.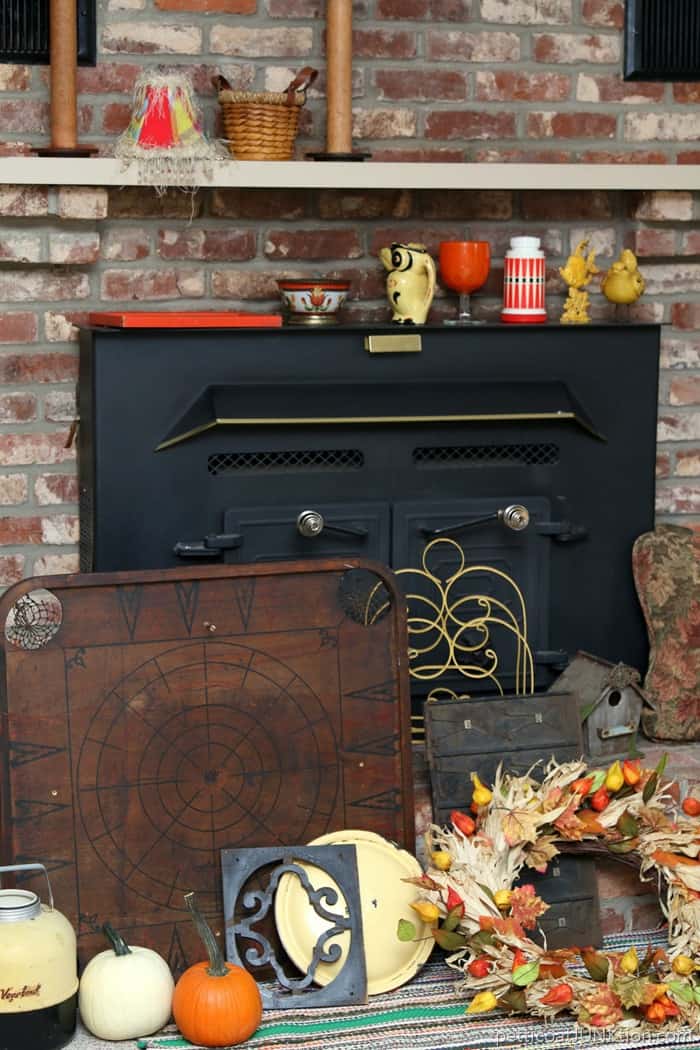 Step 3. Shop your home, workshop, garage, etc. for items that fit the mantel decorating theme.
Choose objects in varying shades of your color choice. Grab things you wouldn't necessarily think of as "decor" and add them to the pile. Think….dishes, fabric, bottles, silverware, lamps, architectural pieces, etc.
I gather a ton of things. Some I use and sometimes I have to hunt the house for more stuff.
Step 4. Start by putting your focal point on the mantel first.
Next add other things…. taking away, adding to, and swapping out as you go.
Your focal point could be a wreath, a game board, large shutters, vintage windows, etc. You could also use multiples of the same item. This idea works great.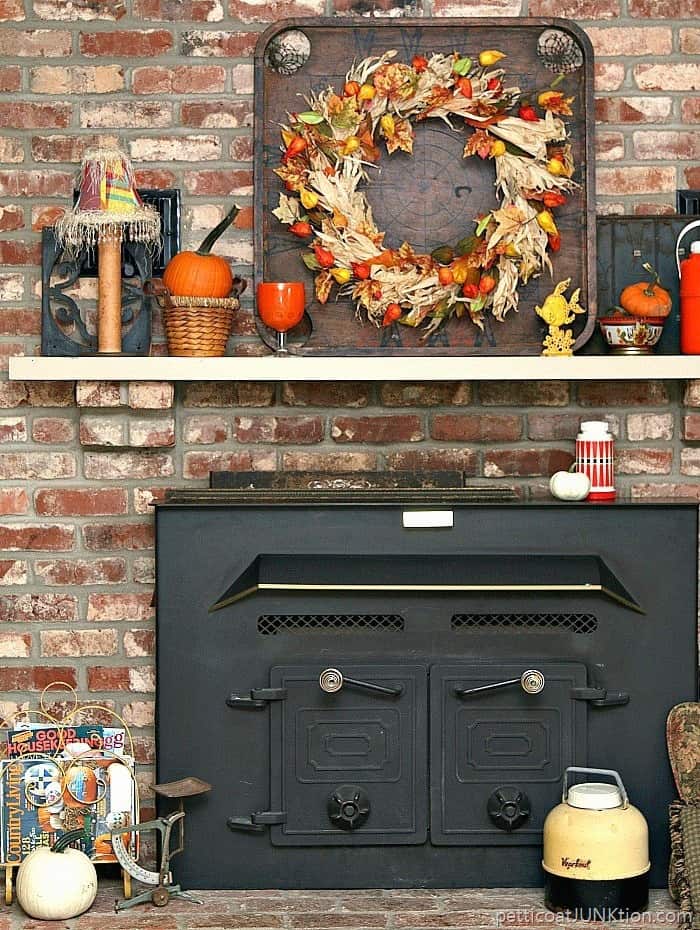 Wreath From TJ Maxx (only new item in the display)
Step 5. Take a photo of the finished display (secret technique I mentioned earlier).
Look at the photo and see if everything flows together or if something stands out a little too much. Tweak the display and you're done.
I like using unique finds on the mantel. The orange goblet had me at …well….orange. Orange, green and yellow are the colors of our den.
I could have filled all the thermoses with flower stems but I left them as is. The colorful lamp shade is sitting on a large spool and the wood piece behind the spool is part of a vintage radio cabinet we took apart.
The pieces on the hearth are some of my favorite junk treasures. The yellow metal magazine rack is a recent purchase from Pigeon Forge, TN. My friend Beth of Farm Fresh Vintage Finds and I spent a few days in the mountains to unwind. Girls trip!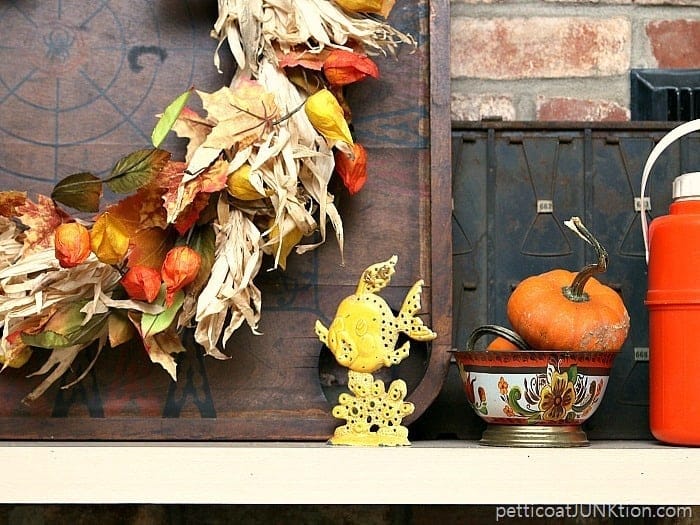 My favorite find from last week's junkin trip is the yellow earring holder. That little girl is so darn cute. The wreath is the only new purchase in the lot.
I usually make my own but I was in TJ Maxx a couple of weeks ago and spotted this one. It was a pretty good buy at $24.99.
The pumpkins came from a local vegetable/flower market. How do you like the way I left the pumpkin au naturel….in this instance meaning…..with dirt.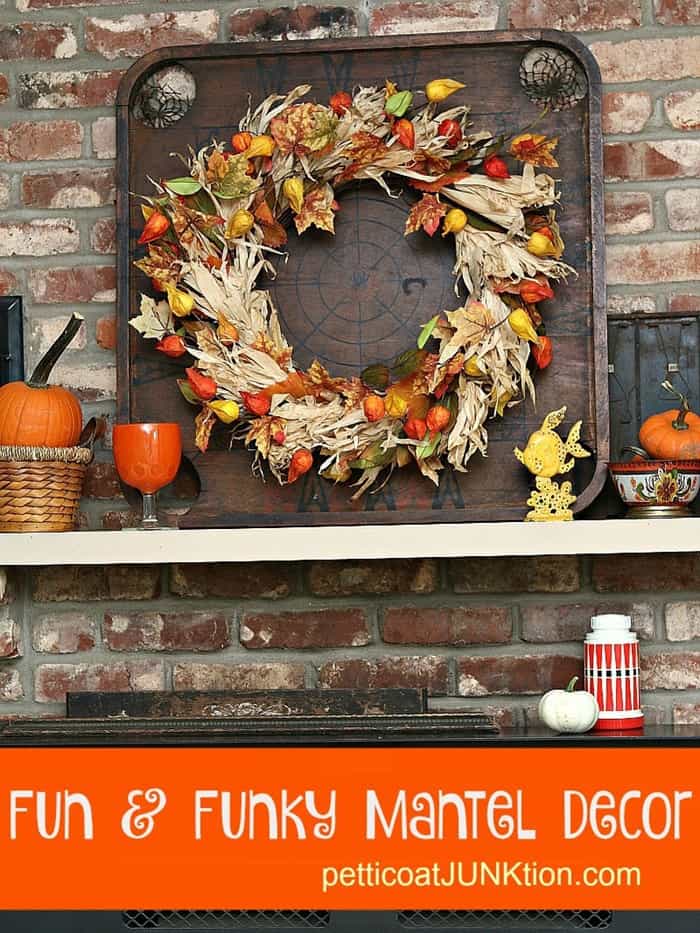 Choosing a Mantel Decorating Theme
Don't know about ya'll but I'm loving the look. Patting myself on the back.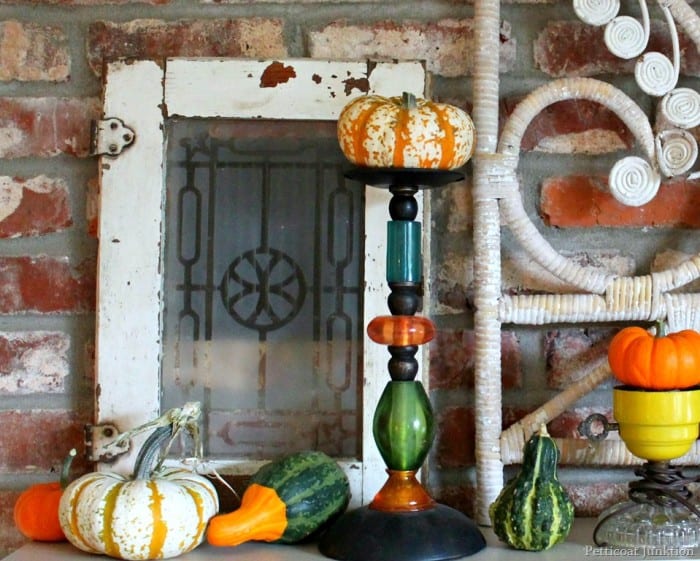 How To Decorate A Mantel with tons of pumpkins….2015 – Click Here
That's it folks. What piece on the mantel or hearth do you like the best? Do you have a fireplace mantel? If you don't, consider decorating a large shelf or buffet instead.
Now it's tour time. Just click those "pink links" below.
2016 Fall Ideas Tour
Monday – Mantels
Tuesday -Tablescapes
Wednesday – Wreaths
Thursday – Printables
Friday – Porches
Thanks for being here and have a great day. Kathy