Are you tired of the same old home designs and looking for a unique blend of traditional and modern? We felt just like that until we discovered the charm of residential barndominium homes.
We will explore how these distinctive residential structures fuse rustic barn elements with luxurious finishes, offering a delightful fusion of comfort and style.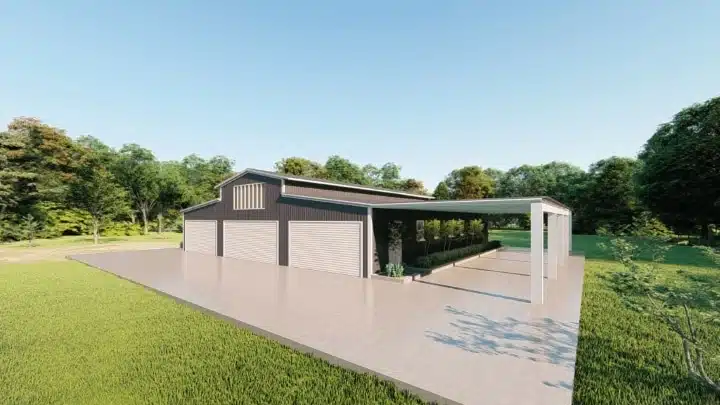 Ready to uncover your next dream home? Let's dive in!
What Is a Barndominium Home?
A barndominium home is an architectural fusion of traditional barn-style structures and modern comforts. It creatively combines rustic architecture, steel construction, and open floor plans to create a unique living space.
These homes are typically sold as premanufactured barndominium kits shipped to you and assembled on-site by a local installer. With the explosion in popularity, many barndominum companies have been formed, so it's essential to research and work with one of the best barndominium companies that can produce exactly what you are looking for.
We're seeing more people adopting this trend for country living as they strive to balance old-world charm with the convenience of contemporary design.
These homes sport the rural charm that reminds us of barns we often associate with peaceful pastures and farming life. However, they don't compromise on luxury or practicality. You will find all the mod-cons inside these barn-style homes, from high-end finishes to state-of-the-art appliances.
These residences aren't just delightful spaces but also showcase how effectively industrial design can integrate into residential areas without losing that farmhouse aesthetic we all love!
Traditional Rustic Charm of Barndominium Homes
Barndominium homes ooze traditional rustic charm through barn-inspired architecture, exposed wooden beams, and metal accents.
Barn-inspired architecture
Barn-inspired architecture represents the heart of barndominium homes. This unique design approach incorporates traditional rural aesthetics with modern comforts, creating something irresistibly charming and incredibly functional.
These hybrids balance farm rusticity and condominium luxury using materials such as exposed wood beams and metal accents.
Far from being quaint or old-fashioned, barn-style homes represent a fusion of past and present architectural trends. Most barndominiums have open floor plans that form the backbone of these structures, providing a versatile living space adaptable to individual needs.
High ceilings add to the spacious feel while paying homage to classic barn structures. Complemented by industrial materials often sourced locally, this novel concept seeks aesthetic appeal and sustainability in its construction process.
Exposed wooden beams and metal accents
We love the traditional rustic charm wooden beams bring to barndominium homes. These characteristic features, often left visible as ceiling joists, lend a warm, natural aesthetic that balances beautifully with modern luxury.
But it's not just about good looks! These wooden rafters also provide an important structural role in barn-inspired architecture. Not to be overlooked are metal accents, prominently featured in roofing and siding for their durability, fire resistance, and surprisingly low maintenance.
Furthermore, steel frames are a popular choice for these constructions owing to the same beneficial qualities, all of which underscore the functional yet stylish appeal of barn-style construction using fire-resistant materials like steel or batten alongside rustic elements.
Open floor plans and high ceilings
Step into a residential barndominium home, and you'll be greeted by open floor plans and high ceilings that create a truly inviting and spacious atmosphere. Combining these features adds to the traditional rustic charm that defines barndominium homes.
With no walls to restrict movement, the open-concept living allows for easy flow between various areas. The high ceilings make the space feel grand and provide an opportunity for creative architectural elements, such as exposed wooden beams or vaulted ceilings.
This unique blend of open floor plans and high ceilings makes barndominiums stand out among other styles of homes while keeping their cozy and rustic appeal intact.
Modern Luxury in Barndominium Homes
Barndominium homes offer more than just rustic charm; they also incorporate modern luxury with high-end finishes, energy-efficient features, and state-of-the-art technology. Intrigued? Keep reading to learn more!
High-end finishes and fixtures
Barndominium homes are known for their high-end finishes and fixtures that bring a touch of luxury to the living space. These upscale features contribute to the overall aesthetic and comfort, making every room feel sophisticated and stylish.
From elegant countertops to contemporary light fixtures, barndominiums offer modern amenities and décor that elevate the experience of living in these unique homes. With premium materials and state-of-the-art appliances, homeowners can enjoy the best of both worlds – traditional rustic charm combined with a touch of modern luxury.
Whether it's sleek faucets or stylish cabinetry, the high-end finishes and fixtures in barndominium homes add a level of sophistication that truly sets them apart.
Luxury finishes and fixtures are becoming increasingly popular among homeowners who want to create an upscale living environment without sacrificing the rustic appeal that makes barndominiums so special.
Combining high-quality materials, contemporary design elements, and thoughtful details results in elegant spaces while maintaining their cozy charm. With barndominiums offering a wide range of customization options, homeowners can choose from various styles and finishes to create their dream homes.
Energy-efficient features
Barndominium homes are not only luxurious but also eco-friendly. Many of these homes feature energy-efficient designs and technologies that help to reduce energy consumption and minimize environmental impact.
From high-efficiency insulation to solar power installations, barndominiums are built sustainably. The use of energy-saving appliances and sustainable materials further contributes to their eco-friendliness.
Additionally, passive heating and cooling systems and energy-efficient lighting solutions help to optimize energy usage while keeping the home comfortable year-round. By incorporating these energy-efficient features, barndominiums offer modern luxury and a greener way of living.
State-of-the-art technology and appliances
We love how barndominium homes seamlessly combine traditional rustic charm with modern luxury. One key aspect contributing to this blend is incorporating state-of-the-art technology and appliances.
These homes are designed to cater to our contemporary needs, offering us a range of modern conveniences to enhance our daily lives. From energy-efficient appliances that help reduce utility bills to smart home technologies that allow us to control various features with just a few taps on our smartphones, barndominiums provide all the desired cutting-edge amenities.
With these state-of-the-art features, we can enjoy the best of both worlds – the rustic appeal of a barn-inspired home and the convenience and functionality of modern living. It's remarkable how barndominiums have embraced modern advancements while maintaining their unique charm and character.
Benefits of Barndominium Living
Barndominium living offers versatility and customization options, cost-effectiveness, and low maintenance.
Versatility and customization options
Barndominium living offers an incredible level of versatility and customization options. You have the freedom to design your dream home exactly the way you want it. You can personalize every aspect of your barndominium, from the layout to the finishes.
With a wide range of design options, including open-concept layouts and split-level designs, you can create a space that perfectly suits your lifestyle and needs. And the best part? Barndominiums are affordable, so you can achieve your vision without breaking the bank. It's time to turn your dream home into a reality!
Cost-effectiveness
Building a barndominium can be more cost-effective than constructing a traditional home. More affordable materials like metal siding and pre-engineered metal building kits can significantly reduce construction costs.
This makes barndominiums an attractive choice for large families or when incorporating a business into the living space. The simplicity and straightforward design of barndominiums also contribute to their affordability compared to more complex traditional homes.
Low maintenance
Maintaining a barndominium home is a breeze. With minimal upkeep required, you'll have more time to enjoy the benefits of this unique living space. Thanks to their durable construction and energy-efficient features, barndominiums are designed for long-lasting performance.
Plus, their eco-friendly design helps reduce energy consumption, resulting in lower utility bills. So say goodbye to tedious chores and hello to hassle-free living in your low-maintenance barndominium!
Rural space
Barndominium homes are also commonly found in rural spaces. If you want to escape the city, a barndominium lifestyle might suit you. Living in a rural area offers a myriad of benefits that promote a fulfilling and peaceful lifestyle.
The charm of rural living lies in its unspoiled natural beauty and tranquility, providing a welcome escape from the hustle and bustle of urban life.
One of the significant advantages is the strong sense of community. In close-knit rural neighborhoods, people tend to know and support each other, fostering a warm and friendly atmosphere. This leads to enhanced social connections and a feeling of belonging, which is invaluable for mental well-being.
The abundant space and fresh air also create opportunities for a healthier lifestyle. Rural dwellers often engage in outdoor activities such as hiking, biking, and gardening, increasing physical activity and reducing stress levels.
The farm-to-table concept is prevalent in rural areas, allowing access to fresh, locally sourced produce and contributing to better nutrition.
Living in the countryside also brings financial advantages, as living costs are generally lower than in urban centers. This can lead to more significant savings and financial stability, allowing individuals to focus on their passions and personal growth.
Living Large in Barndominium Homes
Barndominium homes offer a unique and captivating housing option for those who desire the combination of traditional rustic charm and modern luxury. With their barn-inspired architecture, exposed wooden beams, and high-end finishes, these homes provide a stylish rural retreat with all the amenities of contemporary design.
Whether you're looking for a farmhouse chic or a modern country home, residential barndominium home living showcases the best of both worlds in terms of aesthetics and comfort. So why settle for ordinary when you can have an extraordinary barndominium?
This article originally appeared on Wealth of Geeks.
Kris Lippi (ISoldMyHouse.com)
Kris Lippi is the trailblazing real estate broker behind ISoldMyHouse.com. His initial love for local real estate in Connecticut has now blossomed into a nationwide platform, changing the game for home buyers and sellers. Online, he's your personal guide to navigating the real estate maze with confidence. Kris is the real estate whisperer you never knew you needed.