Nashville Flea Market Tour
This Nashville Flea Market Tour is from the prospective of a shopper……yours truly who is a long time faithful fan of the market. The Nashville Flea Market is a lot of fun and you can pick up some great finds.
Nashville Flea Market Tour And Information
1. It happens the 4th weekend of every month.
2. Friday, Saturday, Sunday
3. Vendors from all over the country bring their stuff
4. you will find….antiques, junk, good junk, plastic flower arrangements, collectible coins, clothes, purses, plants,…you name it and it's there.
5. There are vendors set up in buildings, open sheds, and in the open period.
6. I shop in the open sheds and the open air. I only go inside for the restroom!
7. I have favorite vendors and most of the vendors are super nice but then there are a few cranky ones
Petticoat Junktion is a participant in the Amazon Services LLC Associates Program. As an Amazon Associate I earn from qualifying purchases.
I took lots of pics at the June market and I bought lots of treasures home.
I'm sharing a few more photos of things that caught my eye…..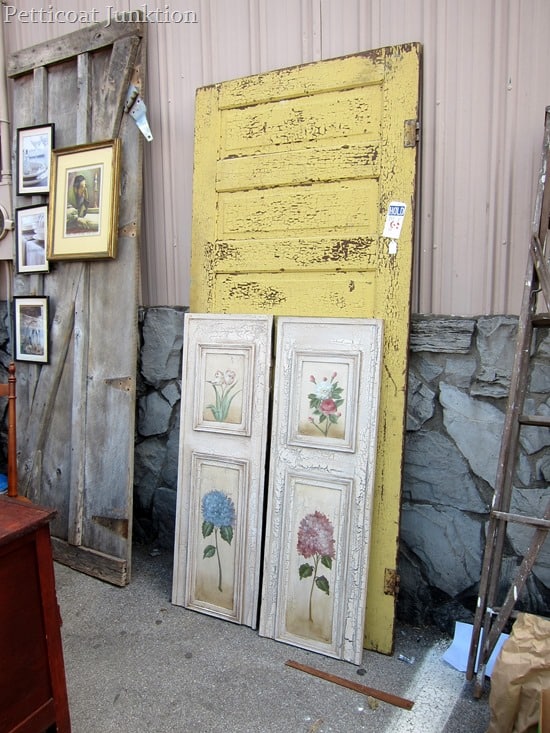 love, love, love the yellow chippy door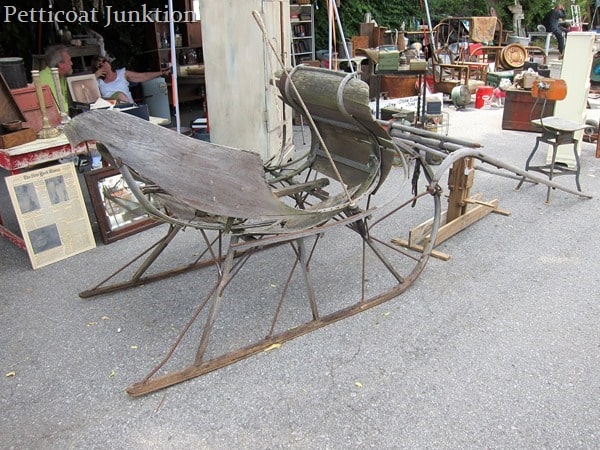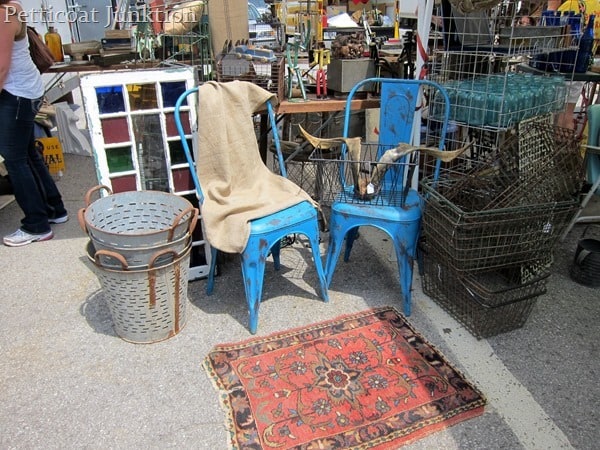 blue chairs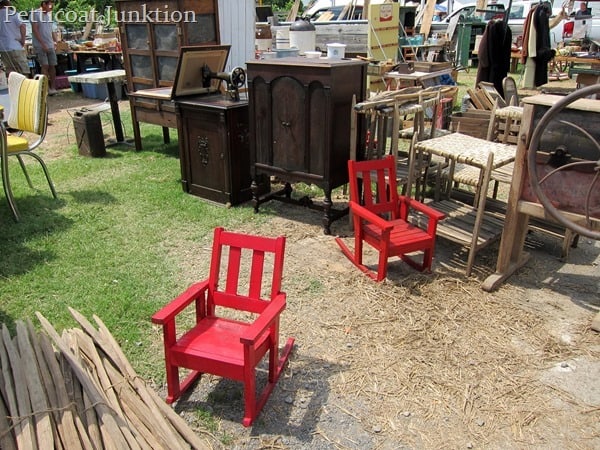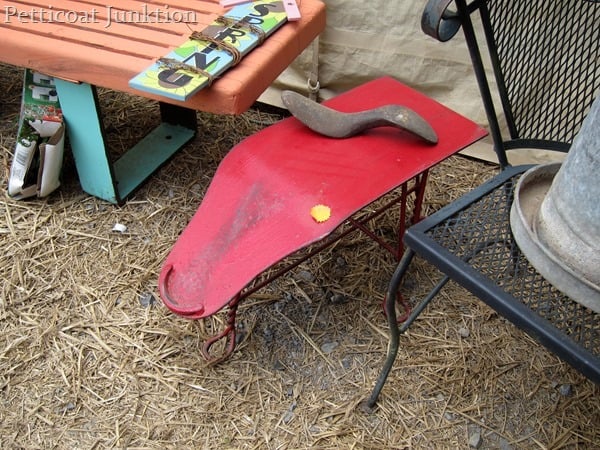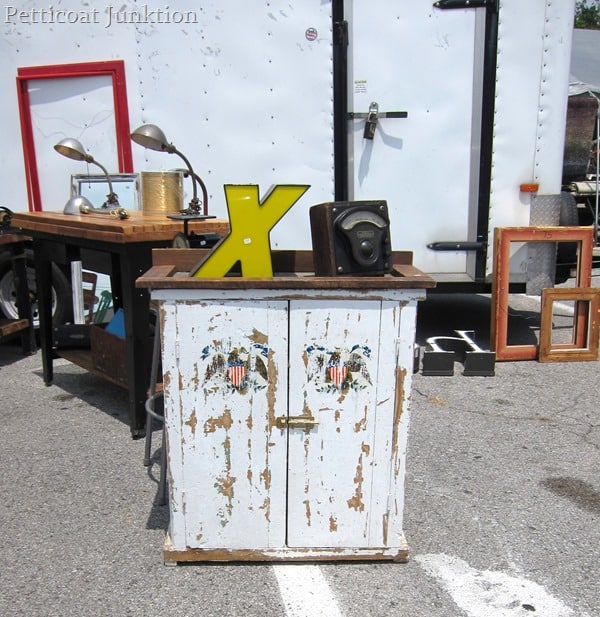 shabby love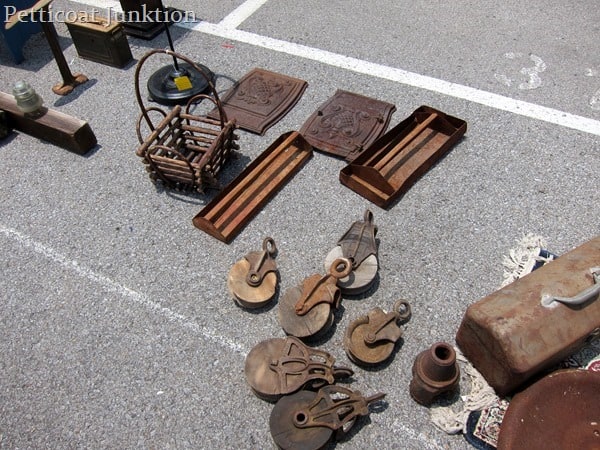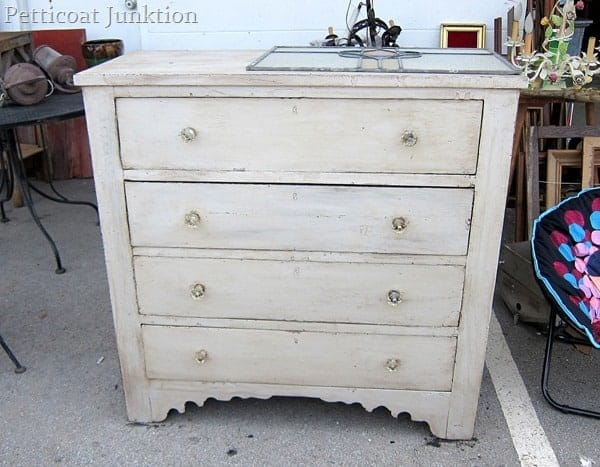 Willie, one of my favorite vendors, painted this piece.
He even told me how he did it. This picture doesn't do it justice, sorry Willie.
Take a personal tour I filmed at the market just for you. The video has no advertisements. Yay!
Nashville Flea Market Information Including Times and Dates
/>
Nashville Flea Market Tour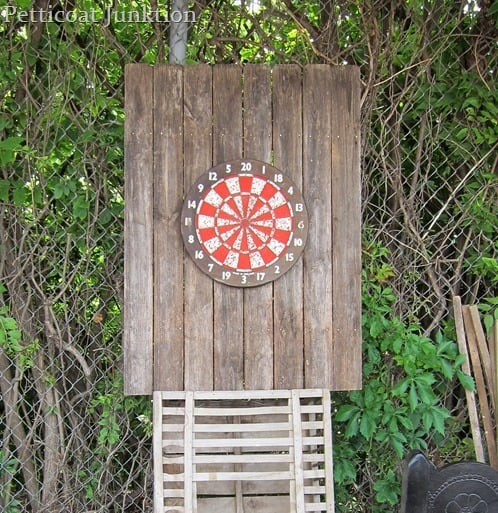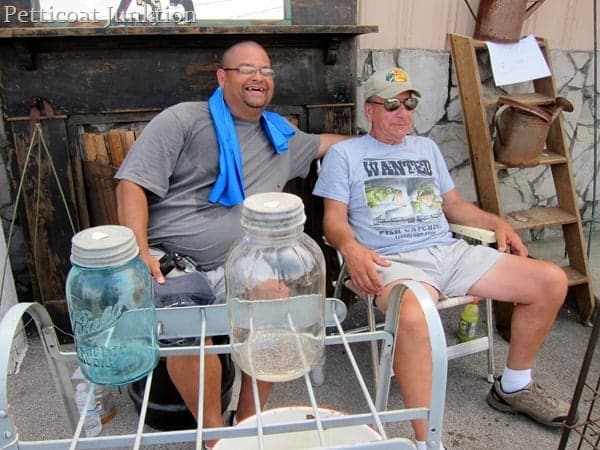 Carlos and Jim, two vendors from Dickson.
They said their wives were nice enough to let them sit outside in the 90+ heat while they took care of things inside the air-conditioned building. Nice!
Believe it or not I have more photos to share….but not today.
Nashville Flea Market Information – Dates for 2018
January 26-28, 2018
February 23-25, 2018
March 23-25, 2018
April 27-29, 2018
May 25-27, 2018
June 23-24, 2018
July 27-29, 2018
August 24-26, 2018
September 21-23, 2018
October 26-28, 2018
November 23-25, 2018
December 14-16, 2018
Nashville Flea Market Hours of Operation
March-November
Friday 8am – 5pm
Saturday 7am – 6pm
Sunday 7am – 4pm
December-February
Friday 12 noon – 5pm
Saturday 7am – 5pm
Sunday 7am – 4pm
Nashville Flea Market Address
Nashville Flea Market
500 Wedgewood Avenue
Nashville, TN 37204
615-862-5016
Parking – $5.00
Free Admission to the Market
Pets not allowed
Is there anything else you want to know about the Nashville Flea Market that I didn't answer.