disclosure: affiliate links may be used in this post.
Touring The New Digs At The Flea Market
Hey Guys! I finally made it the the Nashville Flea Market new location to check it out and do some shopping this month. I have to say I like the new location, the buildings, the sheds, how everything is laid out…..but I do miss the old market I shopped for years.  I think I don't like change.
I walked through the whole market so I could get a feel for where everything was located. I found some of the vendors I usually shop and visit with and others I missed. I don't know if they weren't there this month or if I just missed them.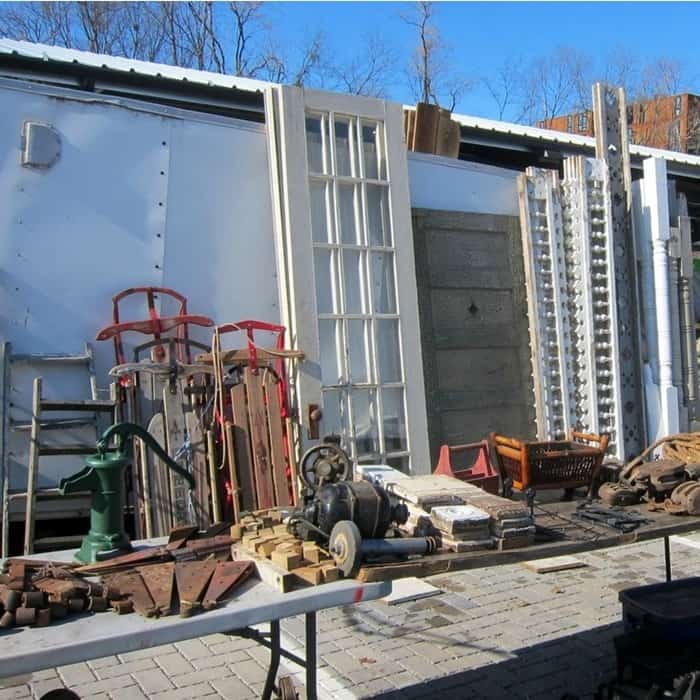 Anyway, I'm taking you guys on a walking tour of the flea market. I took a bunch of photos.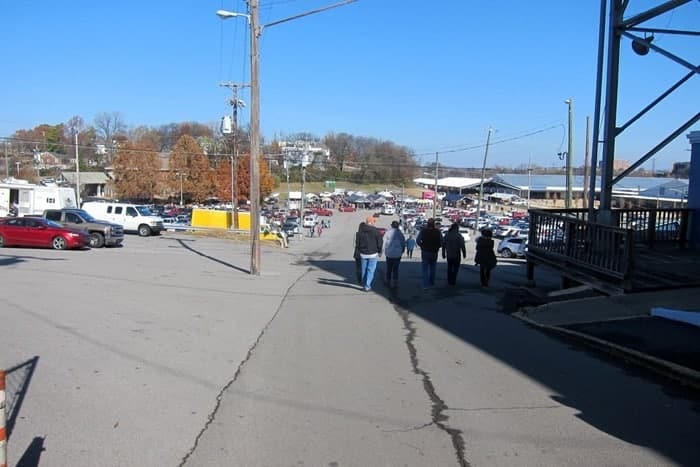 We had to park quit a ways from the main gate. In this photo you can see the market ahead of us. We had already walked at least twice this distance. I spotted a small van shuttle but we didn't hop on it.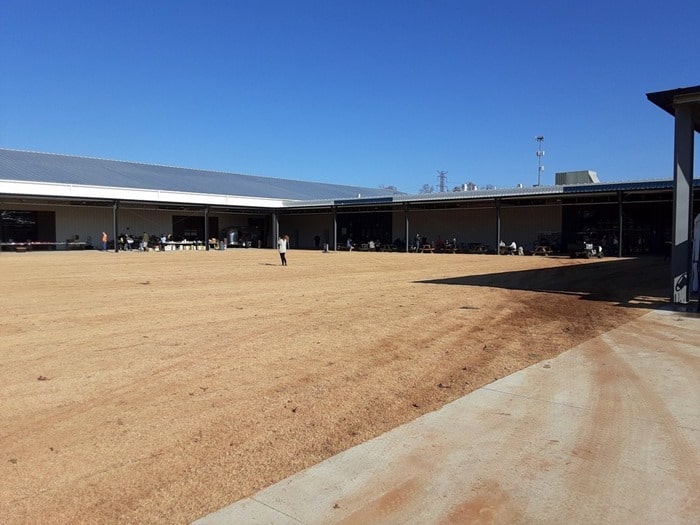 There are three large buildings all connected together. You can see the large outdoor area in front of the buildings. I don't know what the plans are there unless it is just open for special events or displays.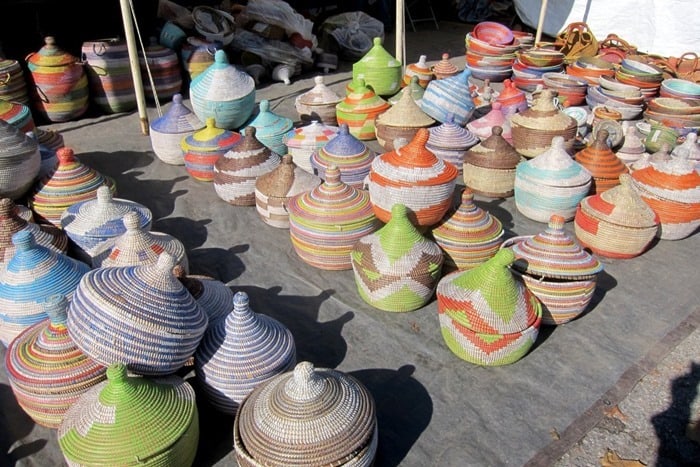 There were a few booths lining the walkway inside the main gate and I spotted these colorful baskets. I'm not sure what they are called. Maybe one of you can help me.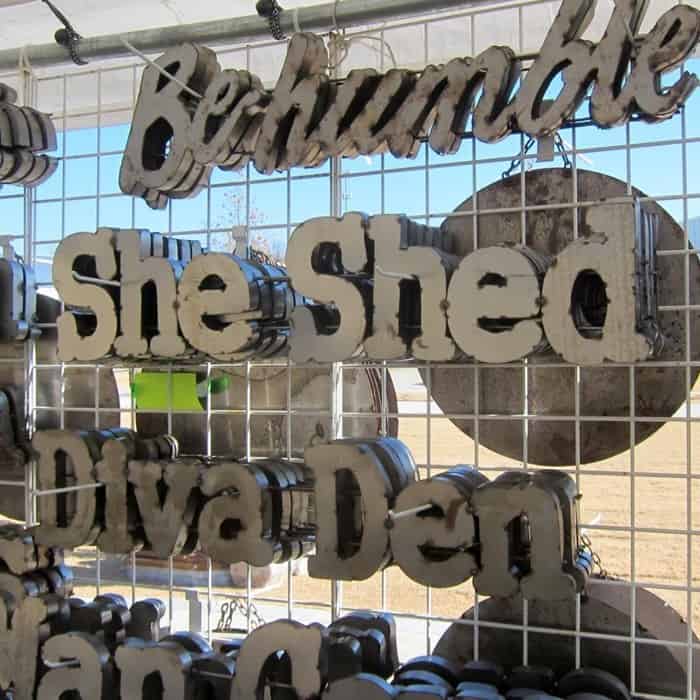 I also spotted this booth a reader emailed me about. She was interested in the name of the vendor who had the She Shed signs. I was able to get the info for her and if anyone else is interested in metal signs this is the website…..The Global Swap Shop.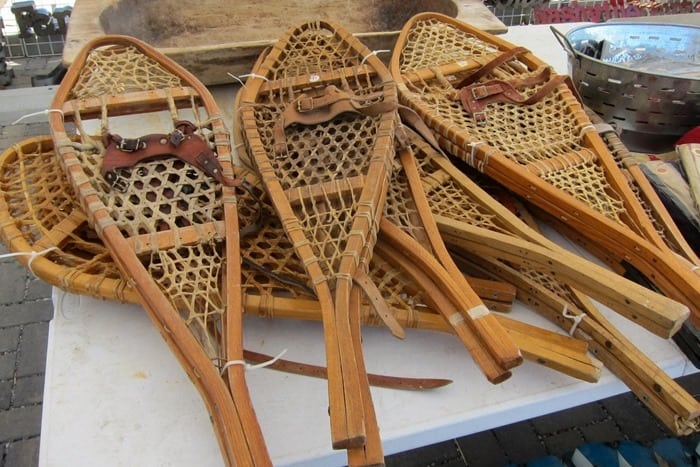 I also spotted these snowshoes in the booth. I didn't even ask the price. I bought a pair of snowshoes when we lived in Florida and I decorated with them for a couple of years.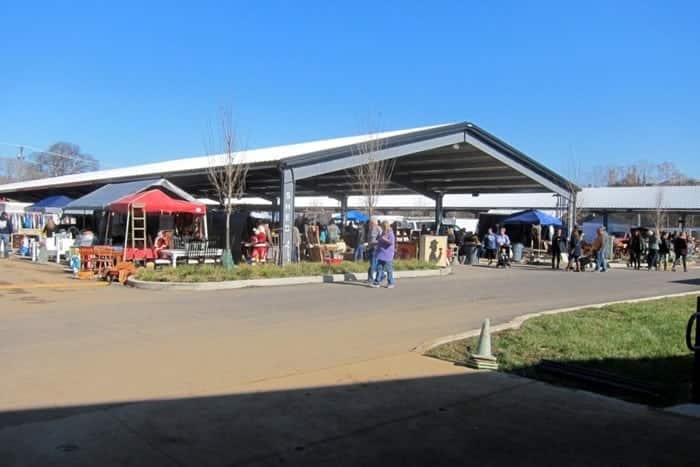 There are two large open sheds a the market and a lot of large closed off streets that makes getting around easy. Some vendors are also set up out in the open with or without canopys.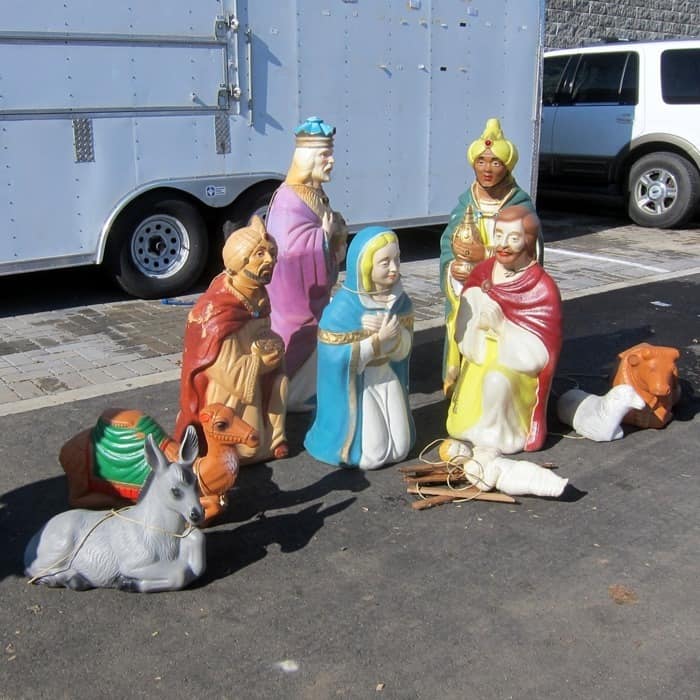 This was the sweetest nativity scene. This month is a weird one for seasonal décor because there was Fall, Thanksgiving, and Christmas decorations. Mostly Christmas stuff.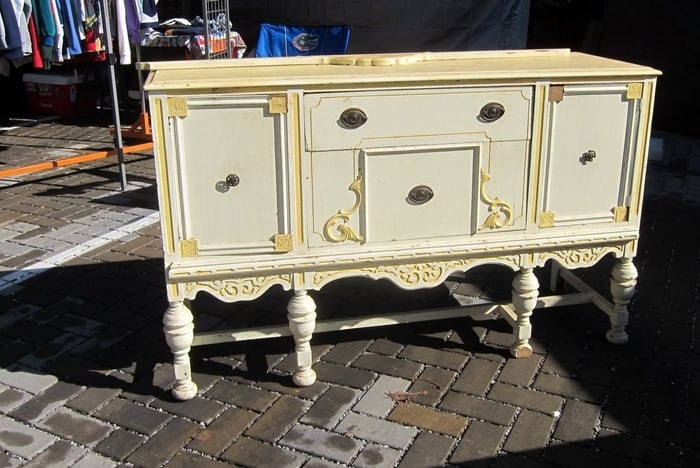 I spotted this piece in Debbie's booth. She bought it from another vendor and will give it a new paint job. It's hard to tell in this photo but it's a bit beat up.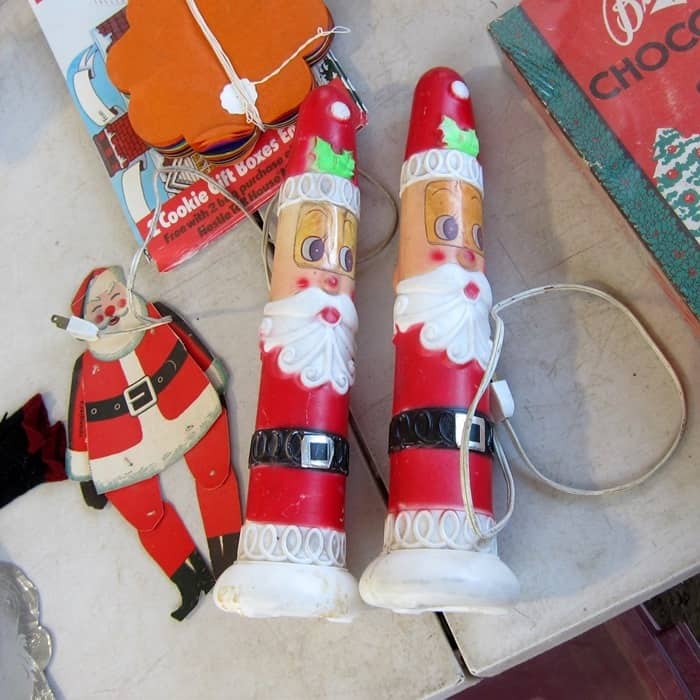 The pair of lighted Santas were darling. I've never seen any like them before. I really wanted the Santas but at $25 each they didn't fit into my budget. To be fair the vendor offered to give me a $10 discount on the pair but still too rich for my blood.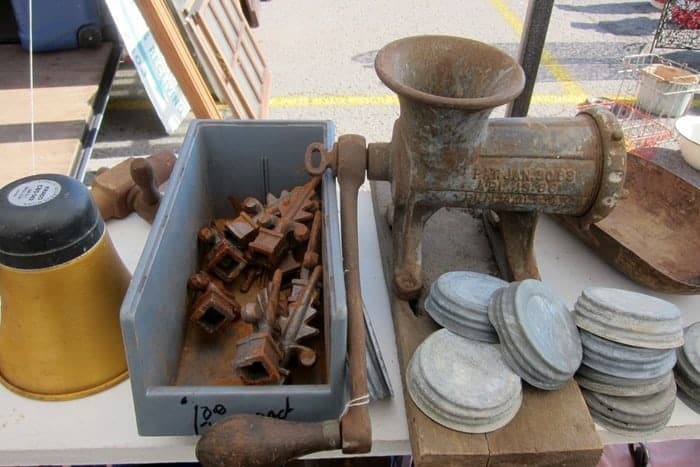 I was going to go back and buy several of the tree looking post finials but I forgot! They were $1 each which wasn't bad.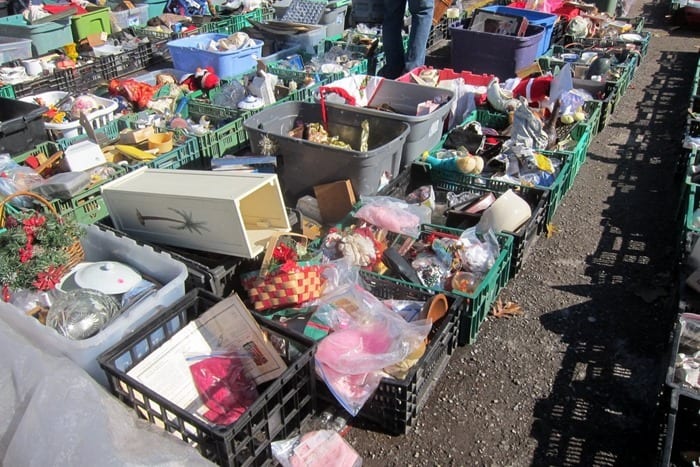 I walk through this vendors booth every shopping trip. Never know what I might find. Nothing this trip.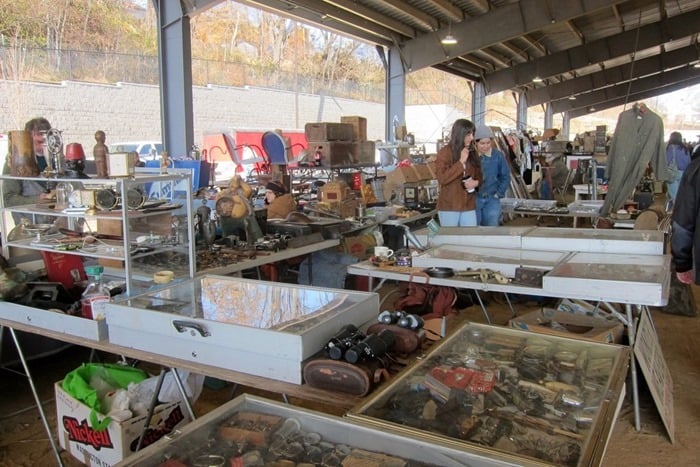 Vendor booths in one of the open sheds.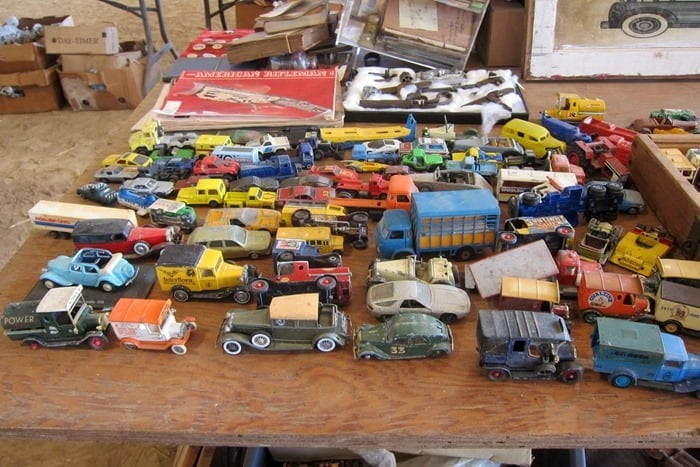 A toy car collectors dream.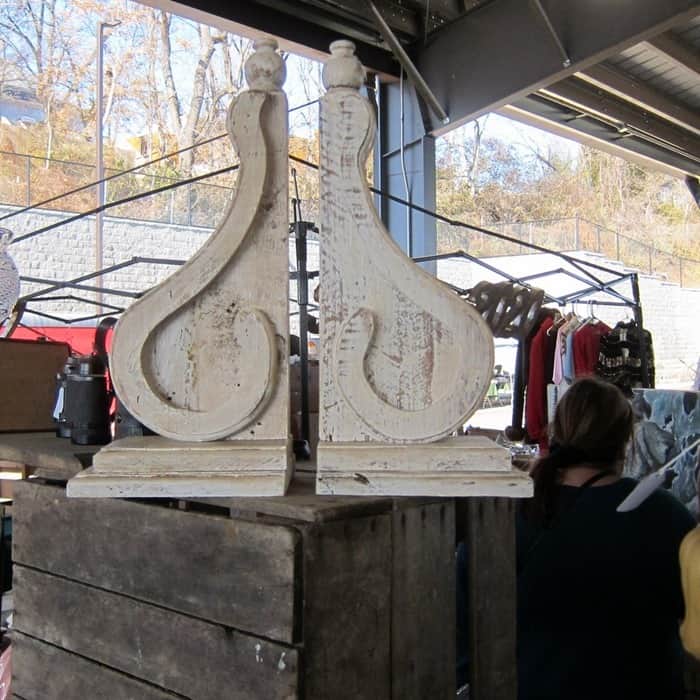 Those brackets are perfectly chippy.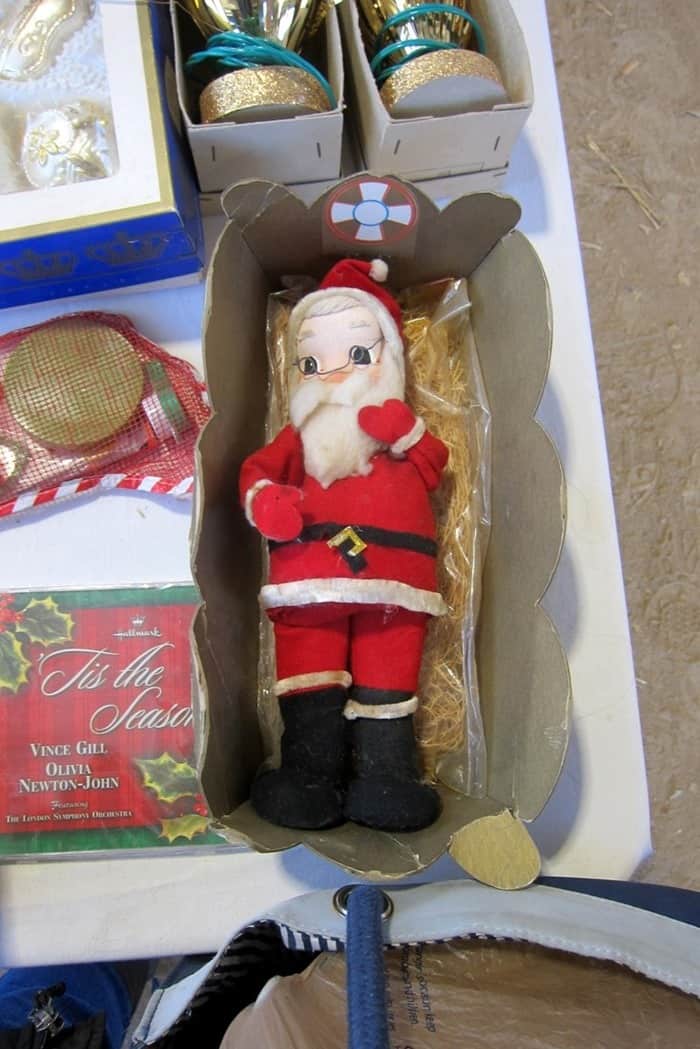 How about this little Santa? It was vintage Christmas Heaven at this month's market.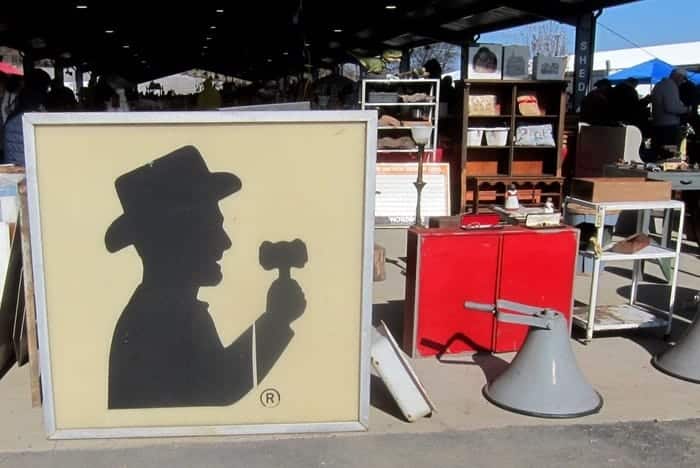 I often wonder the history behind some of the pieces at the market.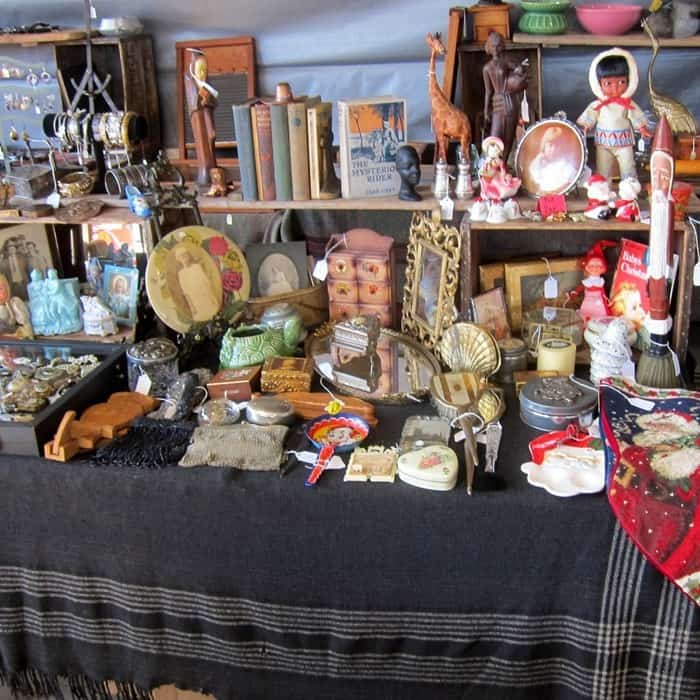 All kinds of goodies in this booth. but my favorite is below.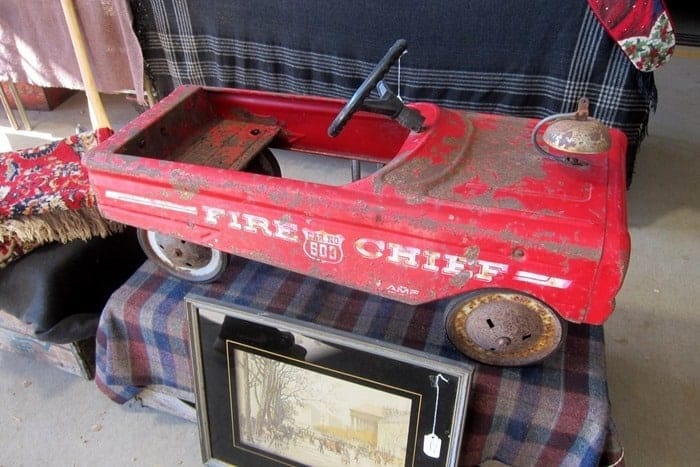 The Fire Chief car has everything going for it as far as I'm concerned…..red, metal, and rusty. I think I'll start calling this the RMR factor.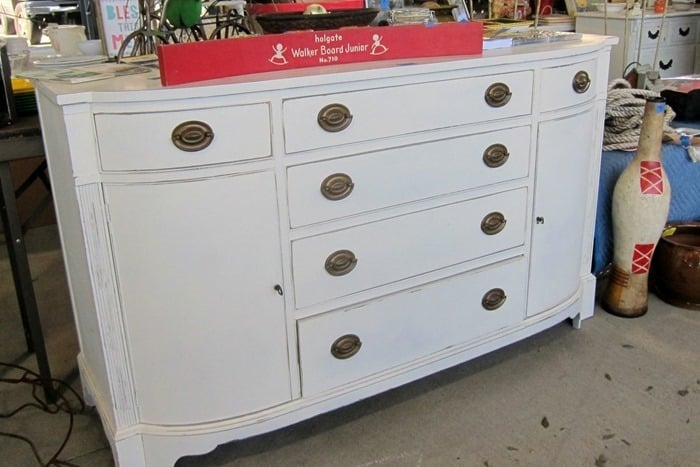 Nicely painted white buffet but nothing to write home about. It need some distressing or something else.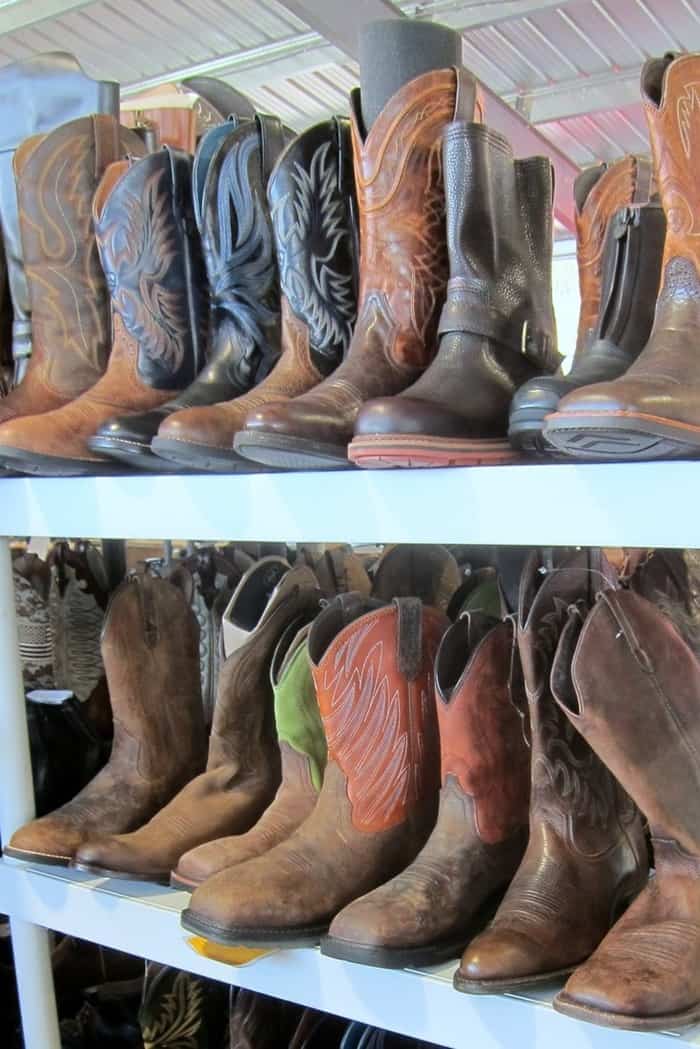 They always have Cowboy boots at the Nashville Flea Market.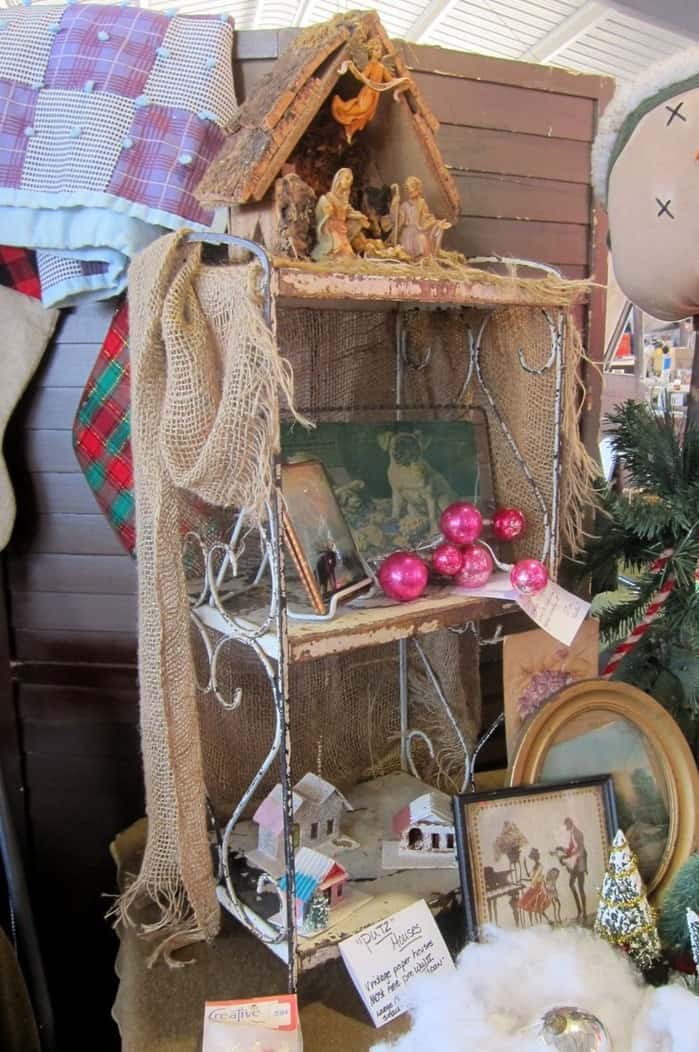 This booth had several nice Christmas vignettes.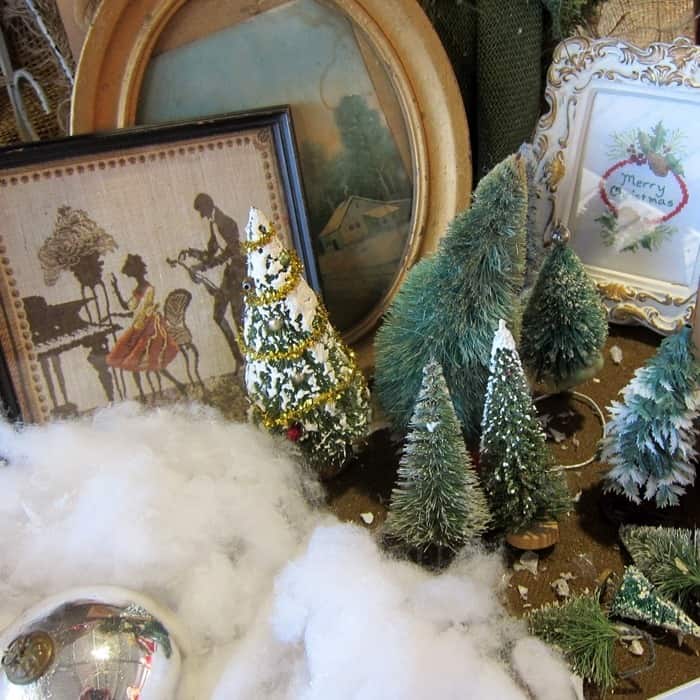 Love those little trees.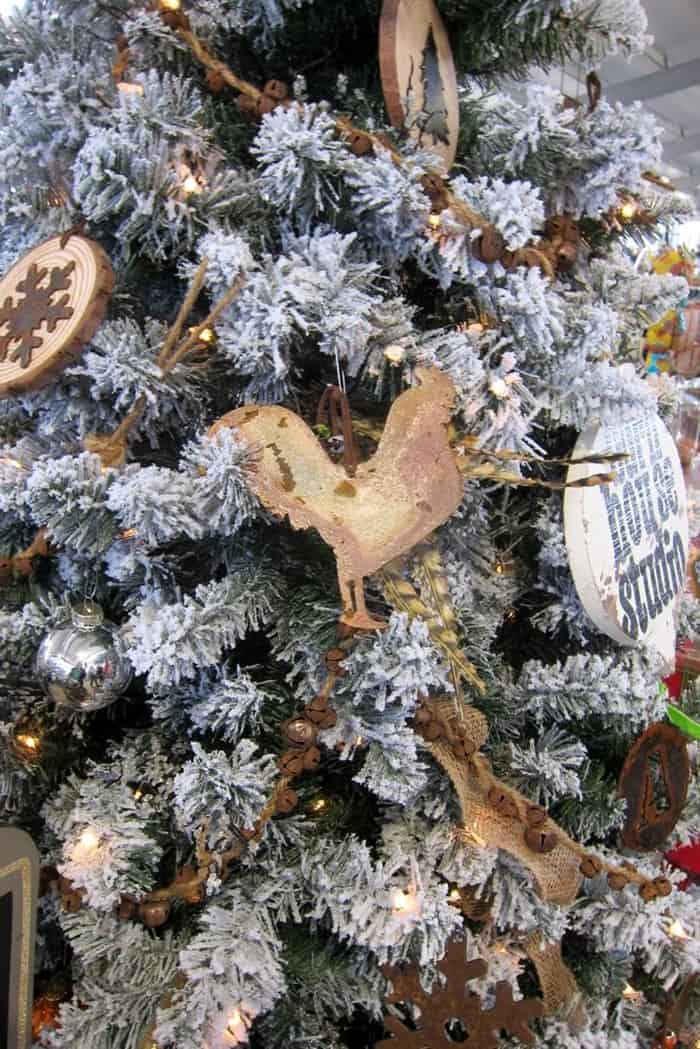 I took this photo for all the Rooster collectors.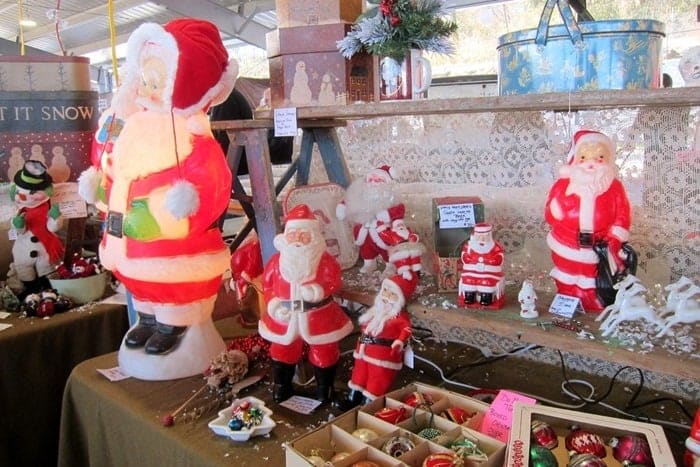 Santas everywhere.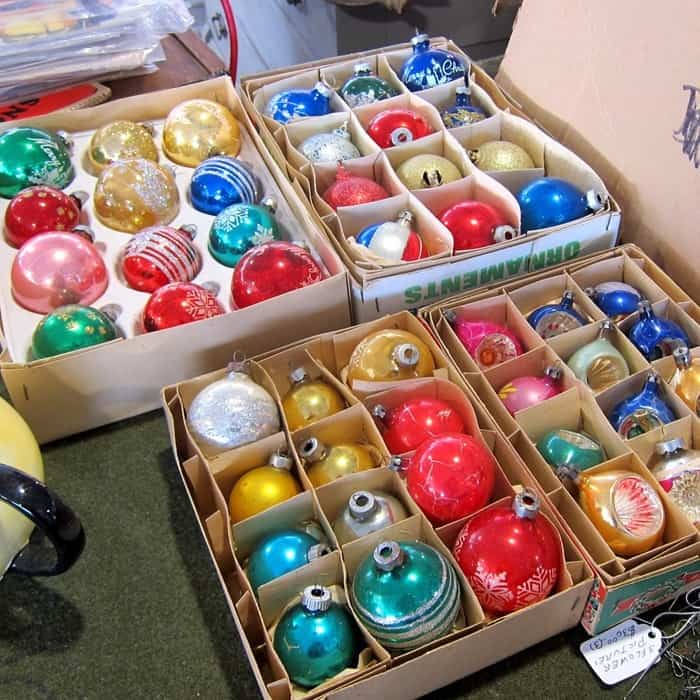 These shiny brite ornaments were calling my name but since the JTS bought several dozen for me last year…..I think I'm good.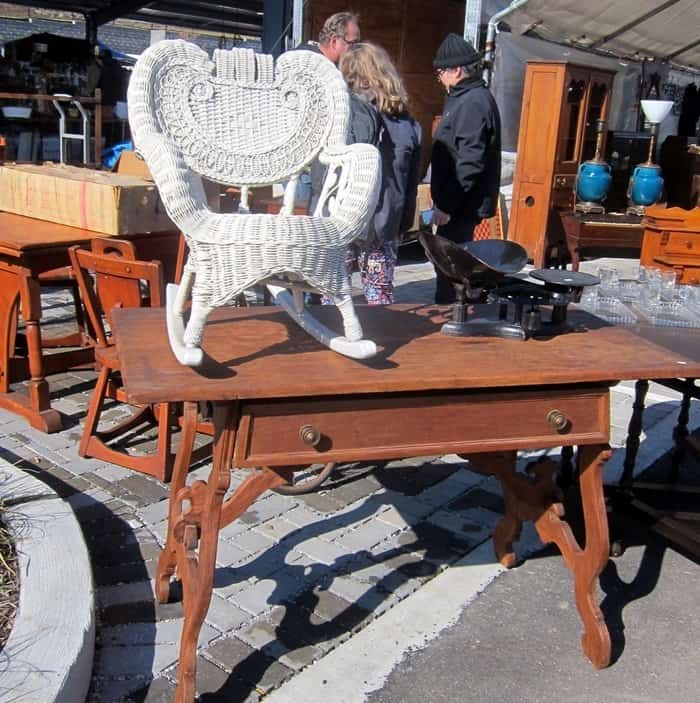 That was a very nice desk. I did notice there was an obvious lack of furniture this month.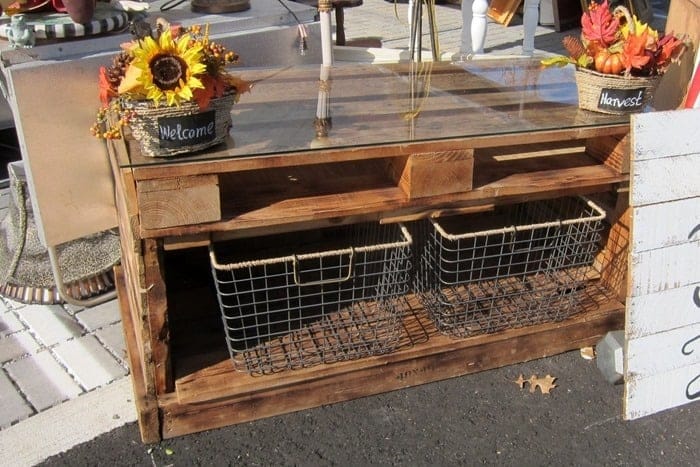 I liked this piece. It looks handmade. They always get me with the wire baskets.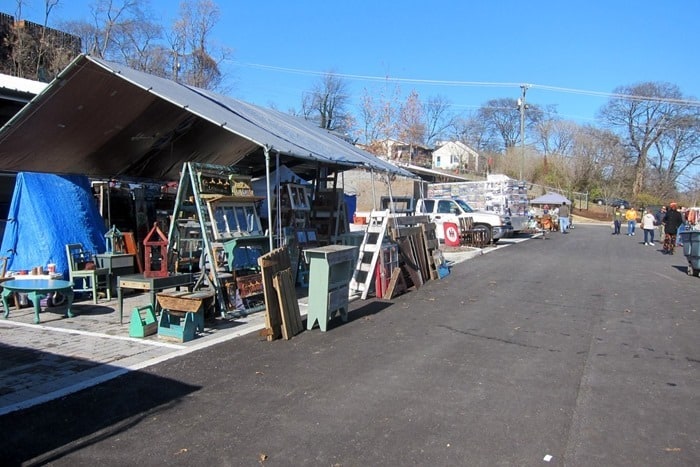 Not sure if all the open areas are just that…..or if they are vendor spaces not rented out.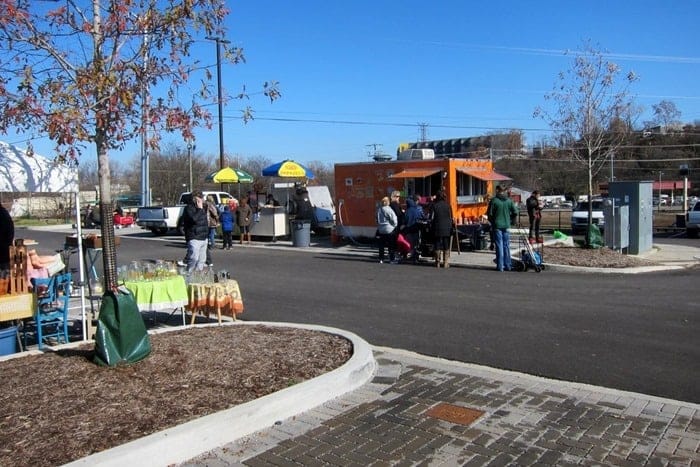 There were several food vendors in the outside common areas. I noticed a Fried Green Tomato trailer. Hubby loves fried green tomatoes but I'm not a fan.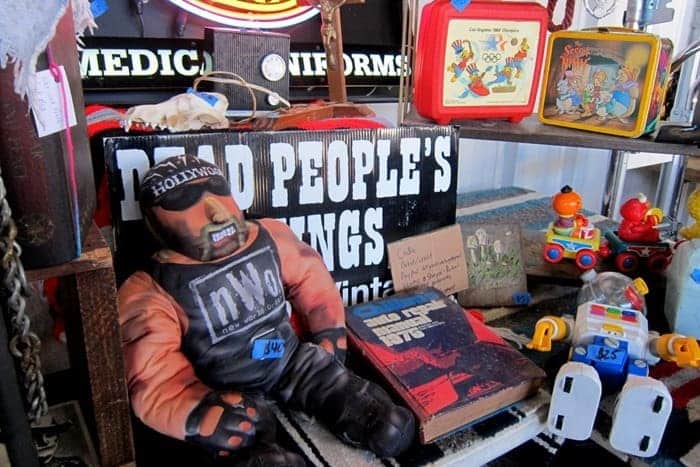 I found Dead People's Things, one of my favorite vendors.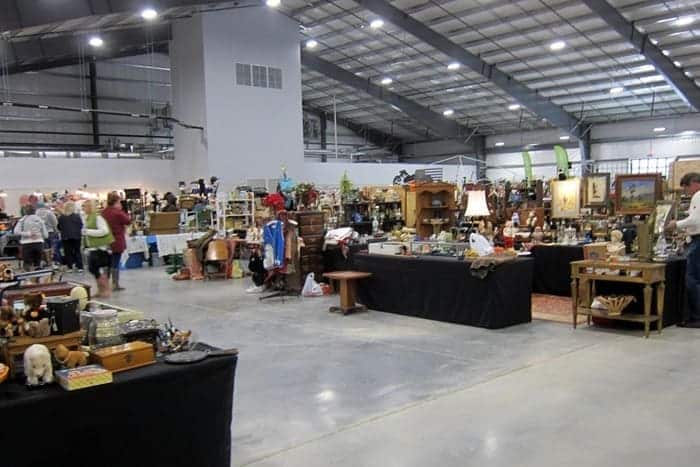 Going inside the Expo Buildings now. I don't think they are really calling this a new location since the market is just across the street from where it was. They refer to the new Expo buildings….so I will too.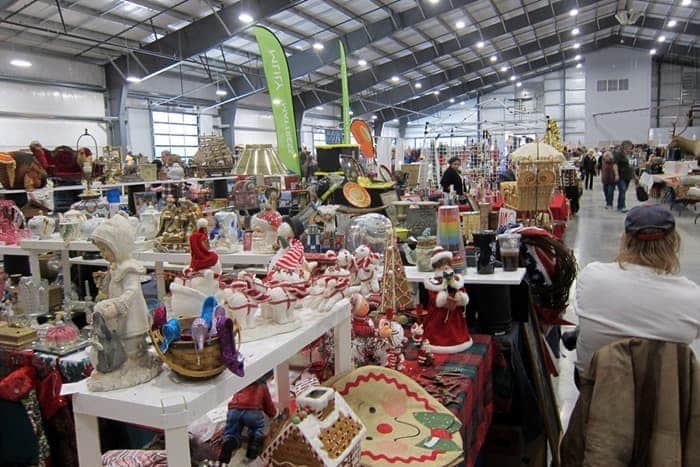 Everything is fresh and bright and I noticed a lot of bathrooms. No worries there.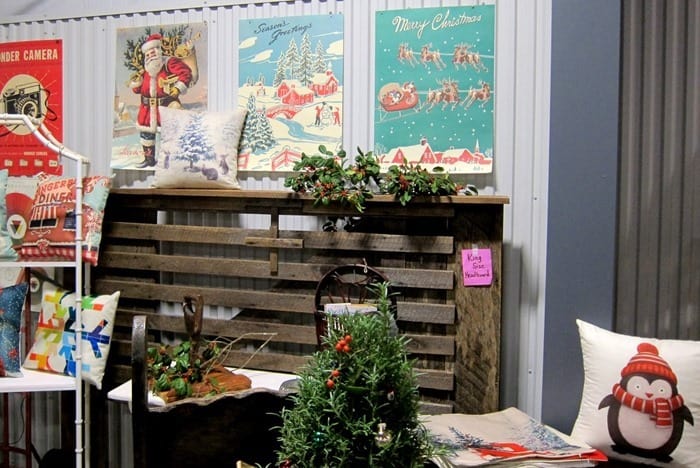 The colors in these reproduction posters was really nice.
This guy makes kitchen islands and they sure are pretty. The photo doesn't do them justice. All kinds of colors and styles to chose from.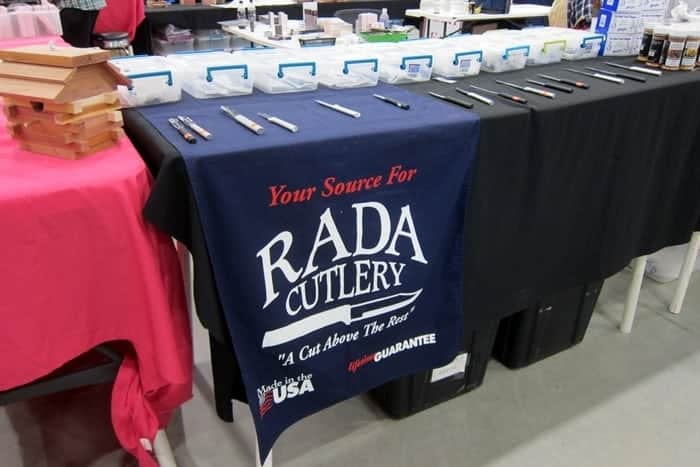 I stopped by the Rada booth and bought some more knives. These are the best.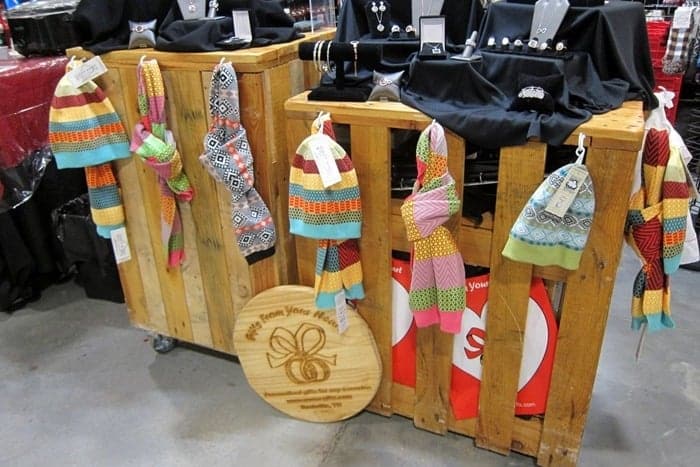 Cute scarves and toboggans.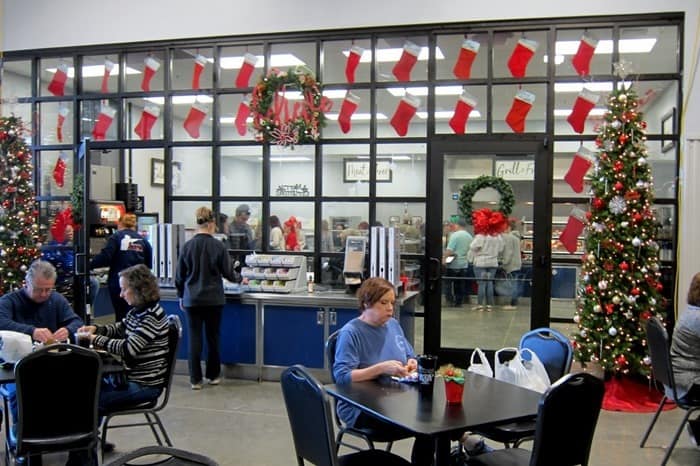 The indoor café is inside one of the buildings and I'm assuming it is the same food and service as at the last location. The food is good and they have quite a variety.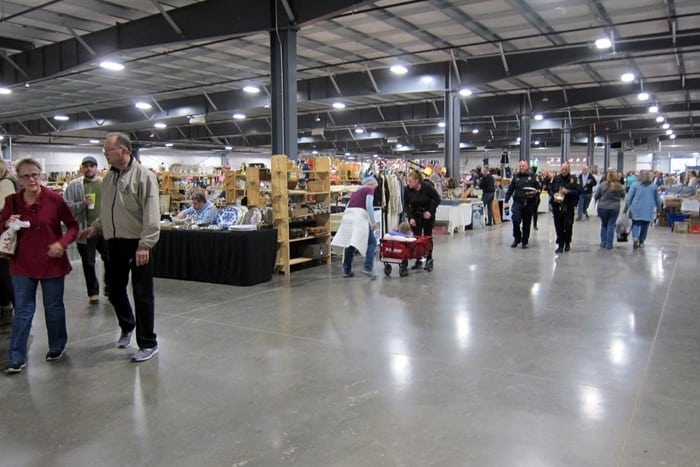 Lots of room to walk around.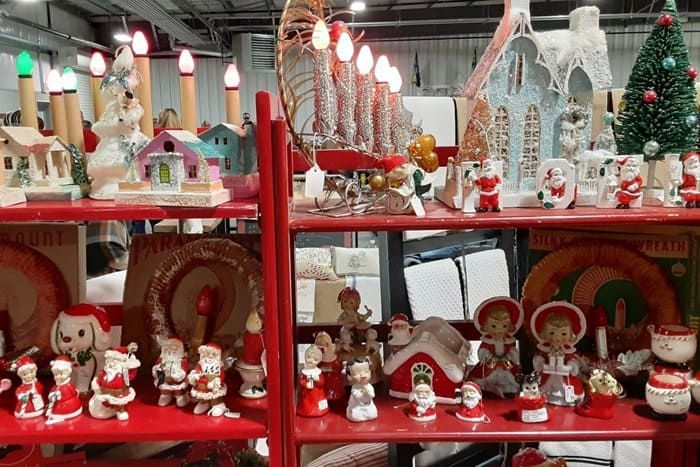 More vintage Christmas….Spaghetti Santas!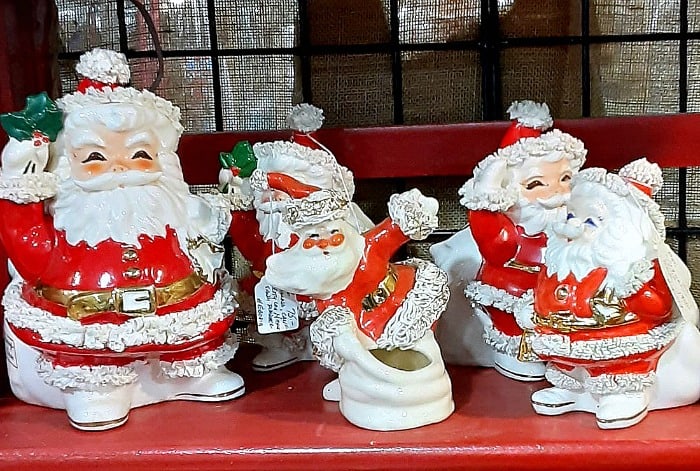 Thanks for the question about the Spaghetti Santas Stormee. Here is a close up look at the Santas and a description from Robertson Gallery and Antiques.…White "spaghetti" trim was used as the fur for the ceramic Santas, which were painted red, black and beige after the ceramics items were baked.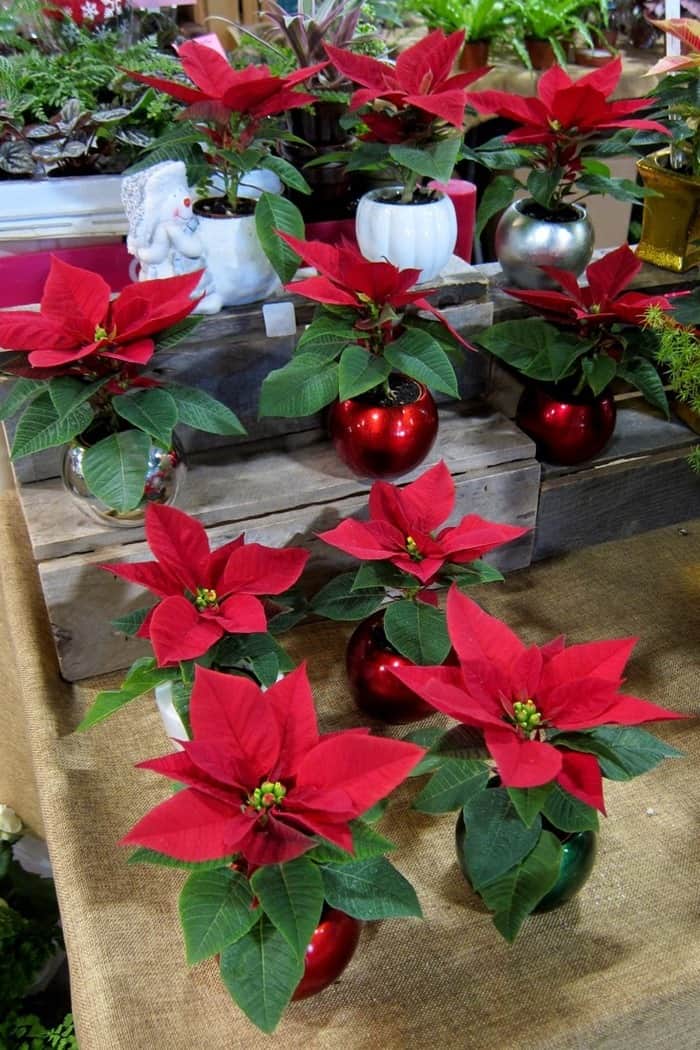 Red, red poinsettias.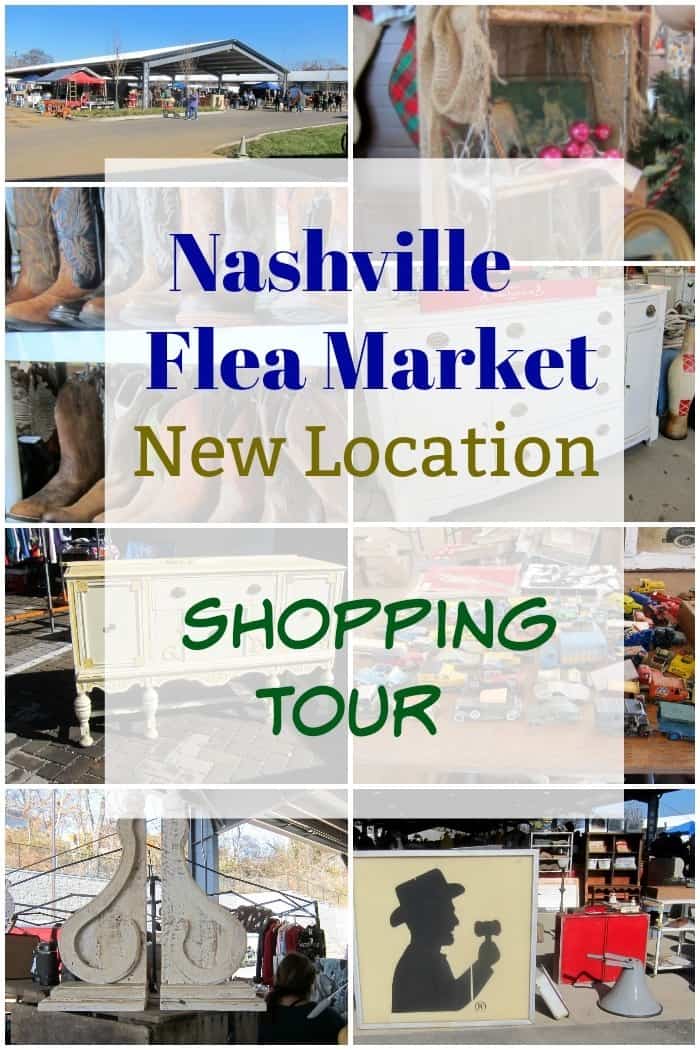 That's it. Hope you liked the tour. Maybe you've been to the new Expo buildings? Tell me what you think about the market if you've been since the move. Thanks for being here, Kathy