The wicker table I spotted at the Nashville Flea Market is so pretty. I didn't have a place in my home for it at all. But I wanted it.
I don't know weather I should call the table wicker or rattan. I googled rattan and wicker and found out rattan is a natural material and wicker is a manufacturing technique that uses natural materials like rattan. Did you guys know that? I learn something new every day. I'm just going to call it the wicker table and be done with it.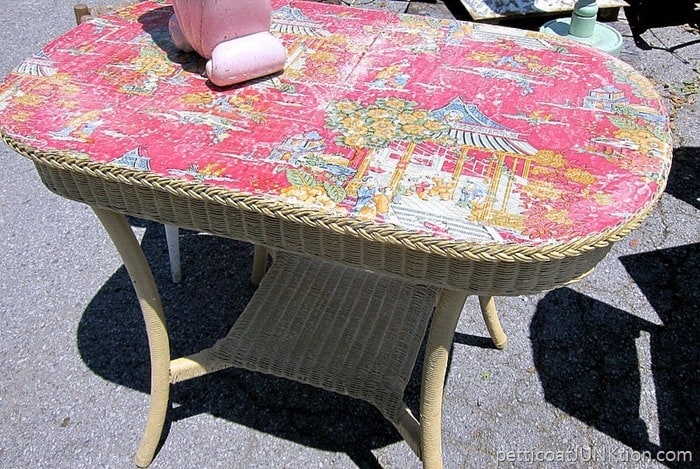 Wicker Table
The table has a decoupaged top……I think. I forgot to ask Debbie what process she used on the table top. Debbie is a vendor at the market and has a business in west Tennessee called Crabtree Corner Antiques. She does beautiful work.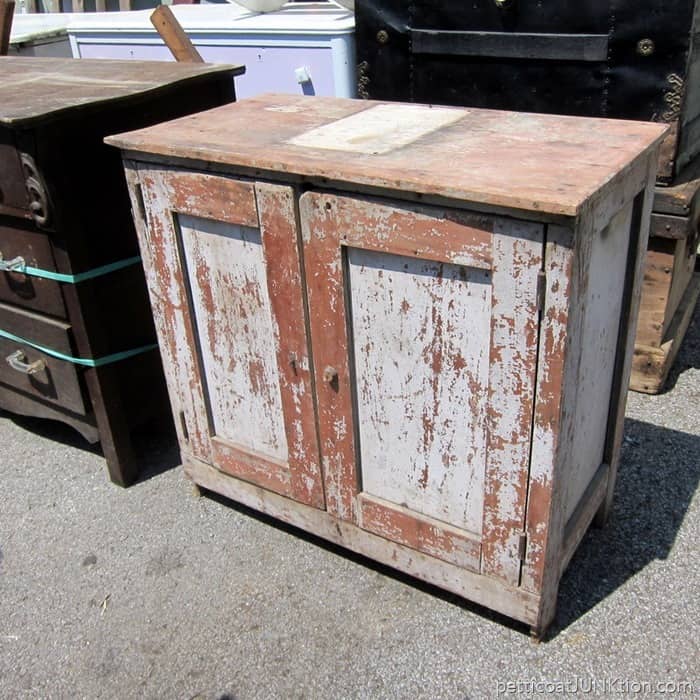 What about the chippy cabinet? Just my style.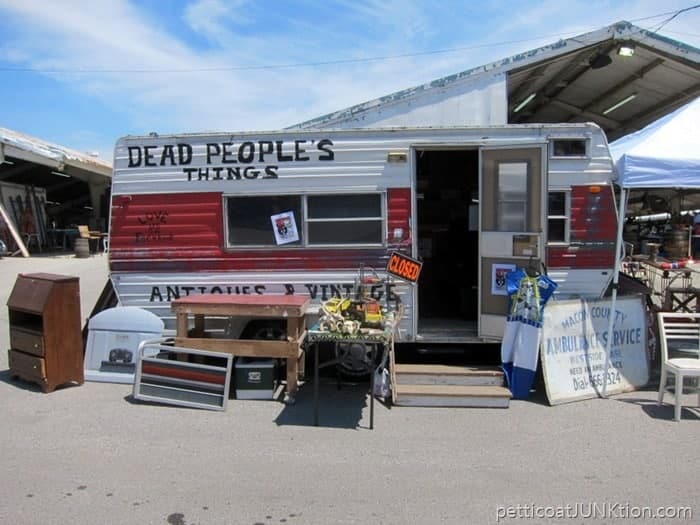 I get a kick out of seeing this camper at the market. The perfect business name for an antiques and vintage shop…..Dead People's Things.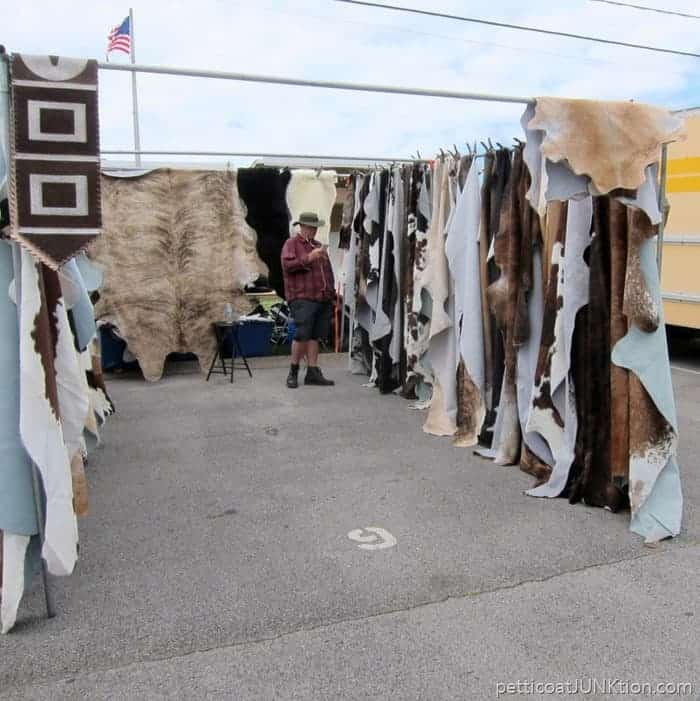 Apparently cow hides are big. There were several vendors selling the hides. I don't think they're for me.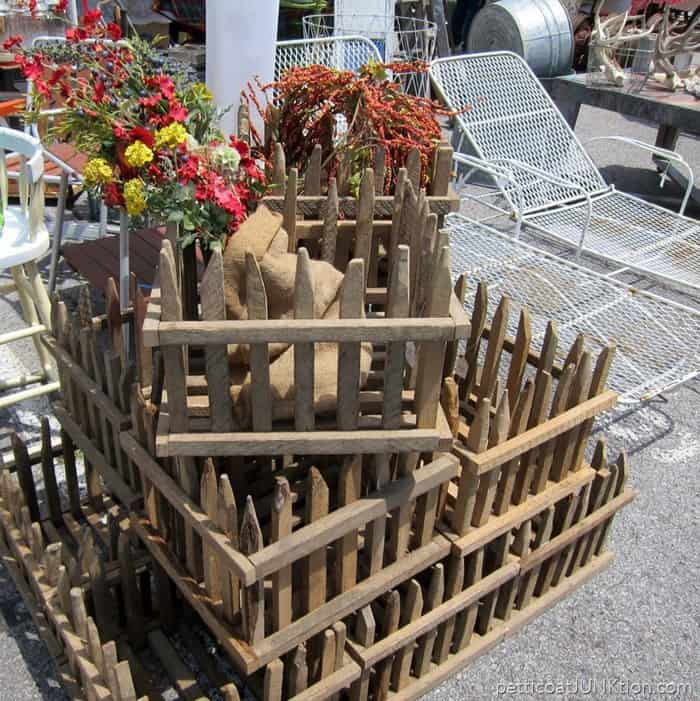 Petticoat Junktion is a participant in the Amazon Services LLC Associates Program. As an Amazon Associate I earn from qualifying purchases.
Cute little display.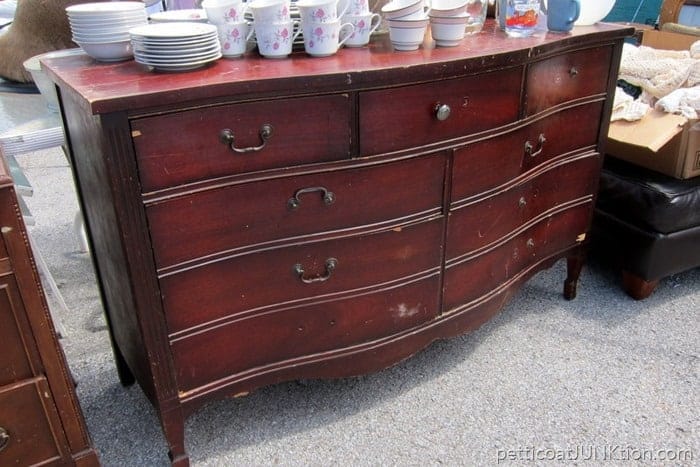 I bought the curved front dresser for $65. It's beat up and missing most of the knobs but it has a lot going for it. No plan for it yet. Any ideas for me?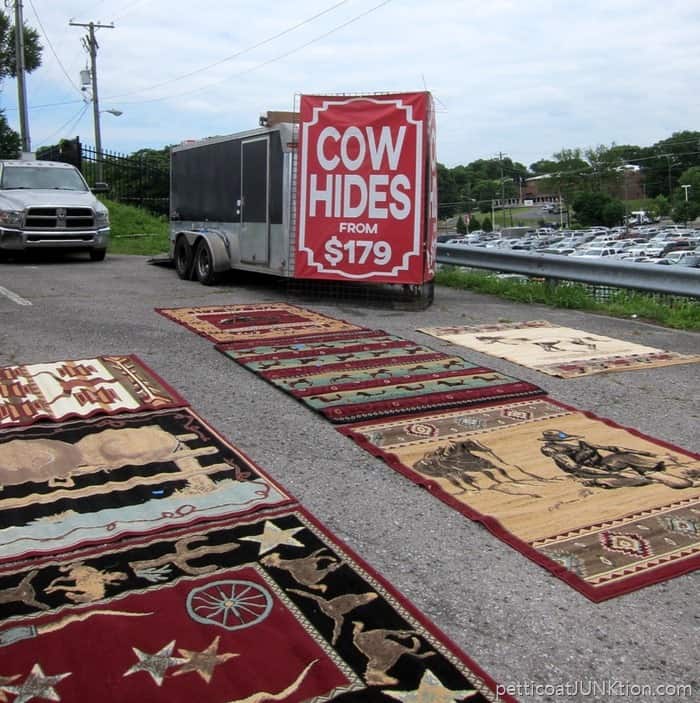 More cow hides and rugs.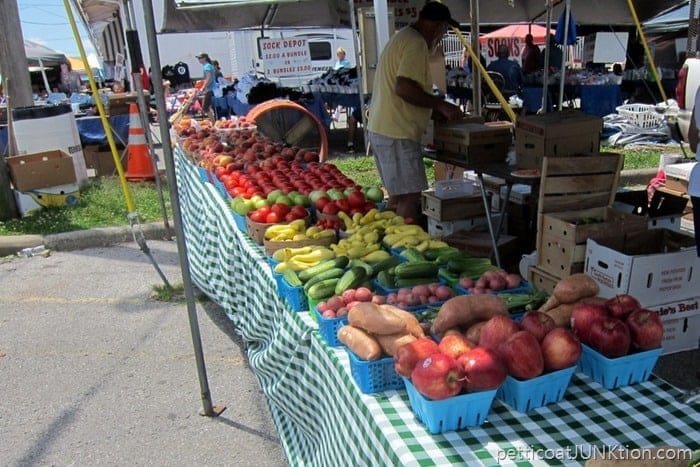 Bet you didn't know they sell fresh vegetables at the market. They sell a little bit of everything.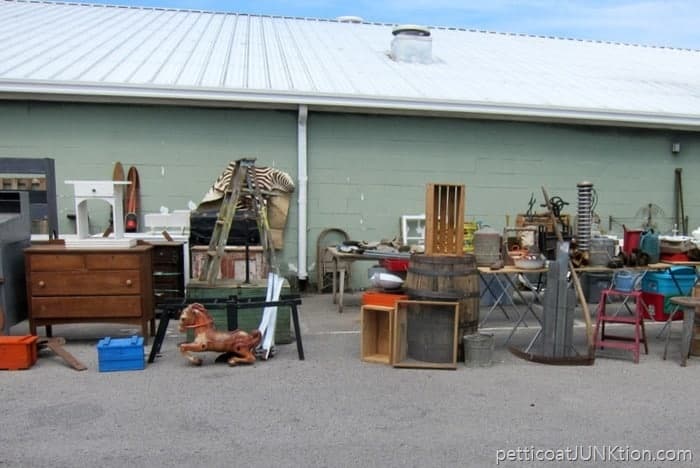 The flea market is this weekend if any of you are in the area, June 23-25. I don't know if we will make it. I might but the JTS had cataract surgery this week and I'm not sure he's up to it.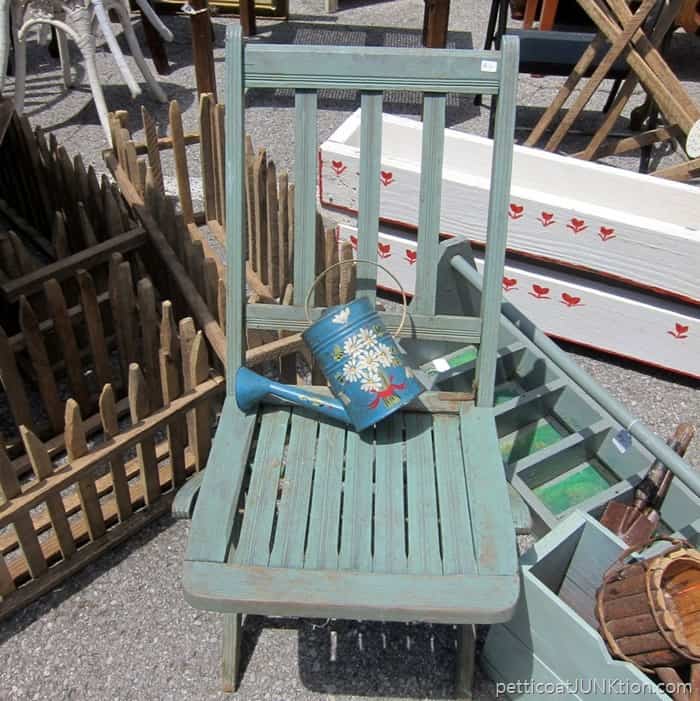 The painted watering can caught my eye. Something about that bouquet of flowers.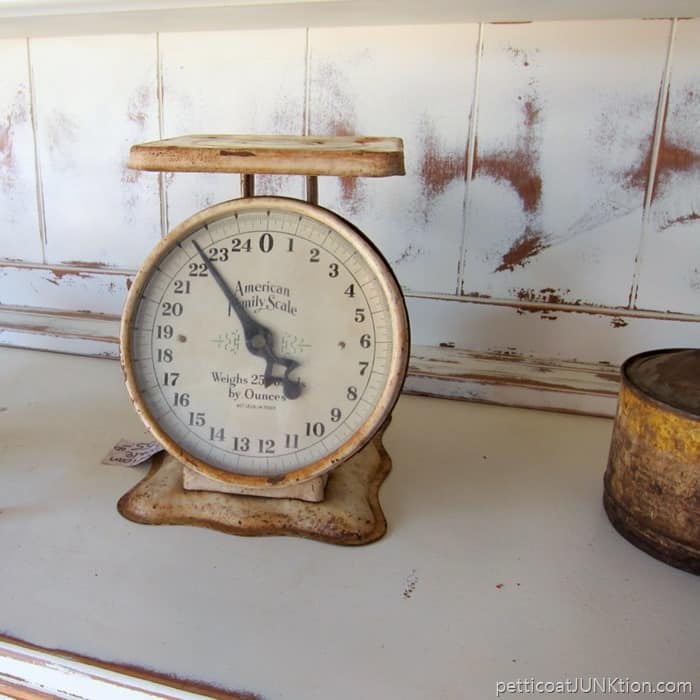 The vintage kitchen scale also caught my eye but at $55 I left it where it was. I collect kitchen scales but not at that price.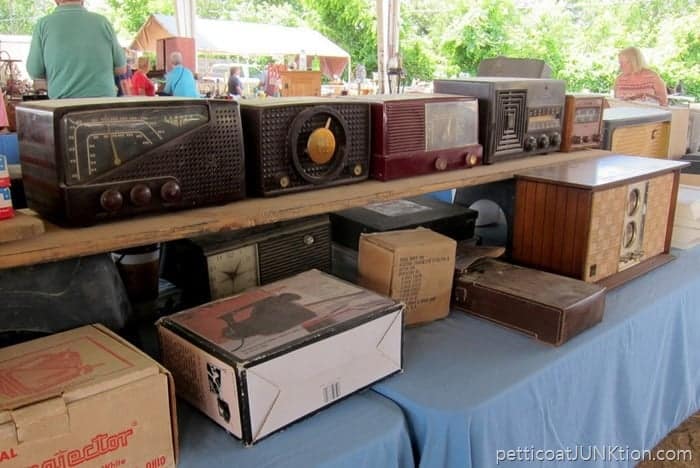 Old radio cases are works of art. It's hard to collect everything, also expensive.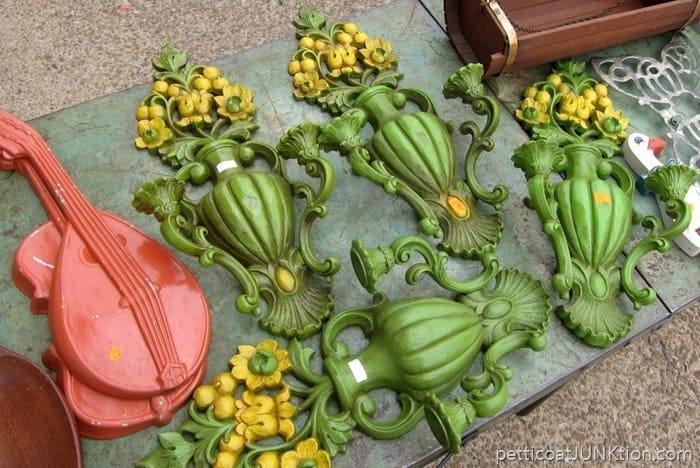 Green and yellow plastic kitchen wall décor from the 60's or 70's. I should have bought them but didn't. Not sure what the price was but the colors are perfect for my décor.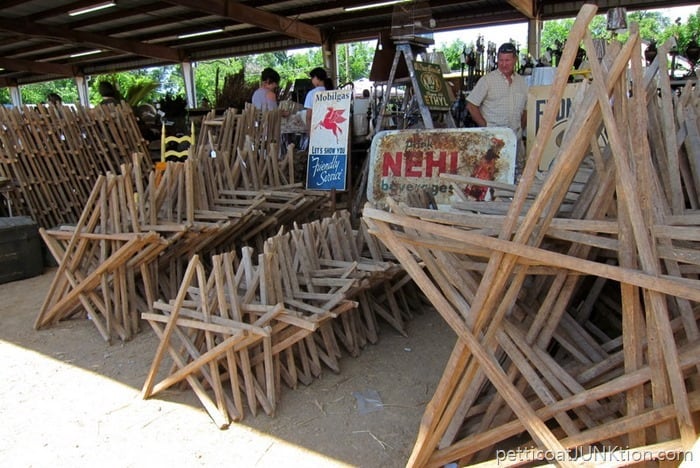 One last look at the market. Are wood stars still in?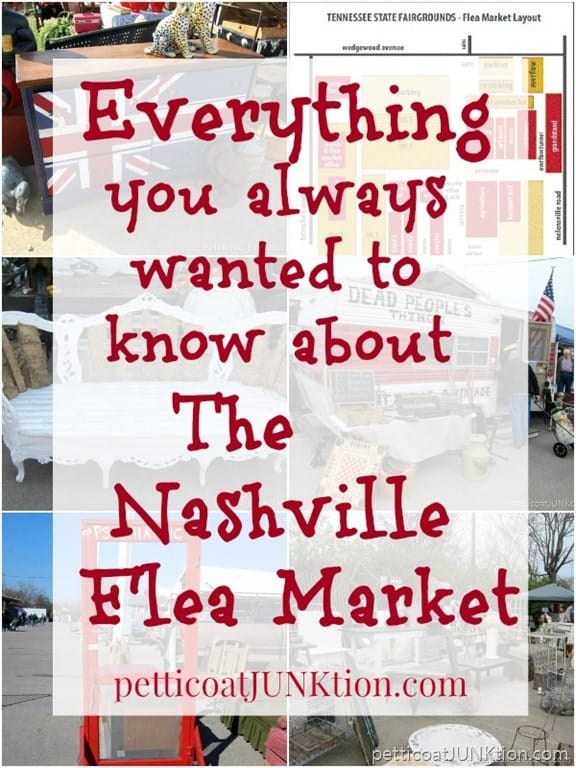 Click here for more info on the market… …..Flea Market Dates and Info. I have over 500 photos from the flea market on my Nashville Flea Market Pinterest board and you can see them here.
Hope you guys have a cool weekend….and I do mean cool. It has been really hot here. See you next week.