I bought a drop leaf table (maybe handmade) a few days ago. My furniture stash is dwindling down and the table was only $40. I need a plan for it.
The JTS bought a box lot of vintage stuff at an auction Sunday and he did good. I'm keeping a lot of the stuff and selling a few things.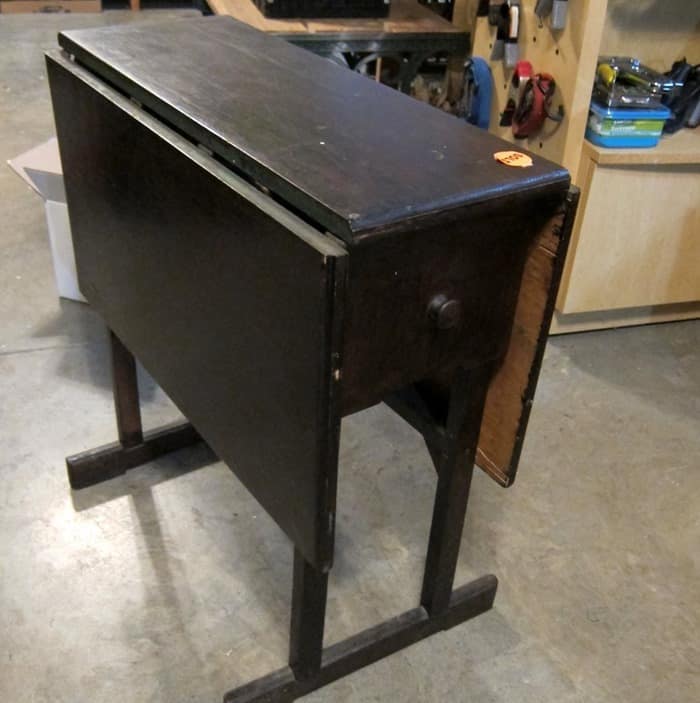 What do you think of the table? Looks homemade to me but I haven't checked it out closely. You can tell by the photo above that the underside of the table is not stained. Not a good look because it's noticeable when the leafs are folded down.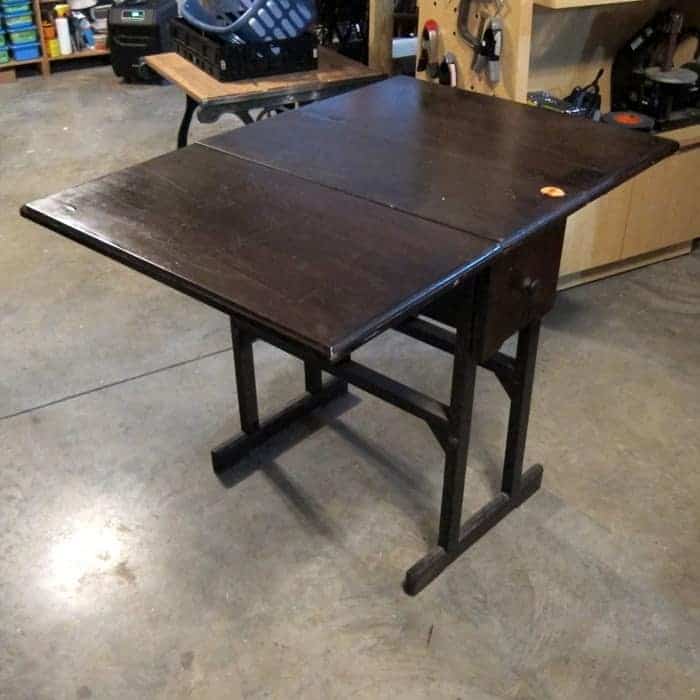 Drop Leaf Table
The leaf supports work well and the tabletop is level. There are a bunch of dings and dents on the top so I'll probably play those up when I paint it.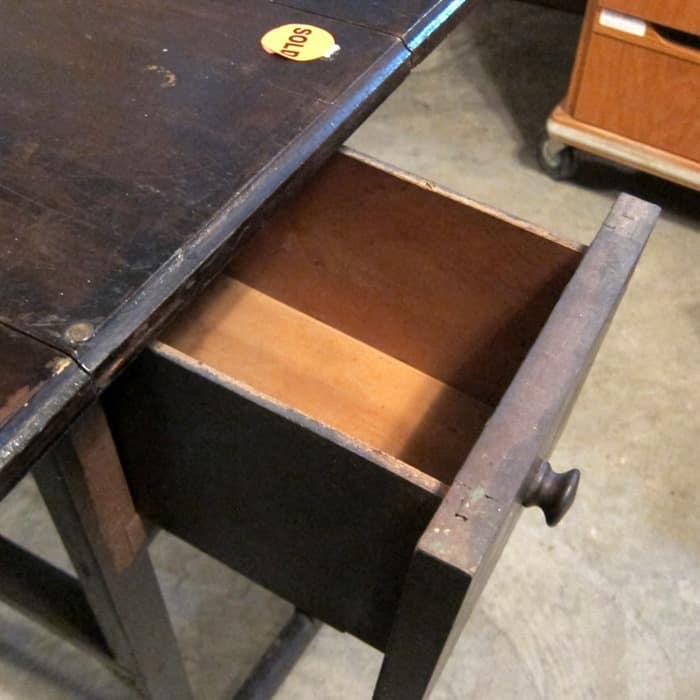 The table has a single drawer on each side. The drawers don't open and close very well. They will definitely need some work. I just need a paint plan. Any ideas?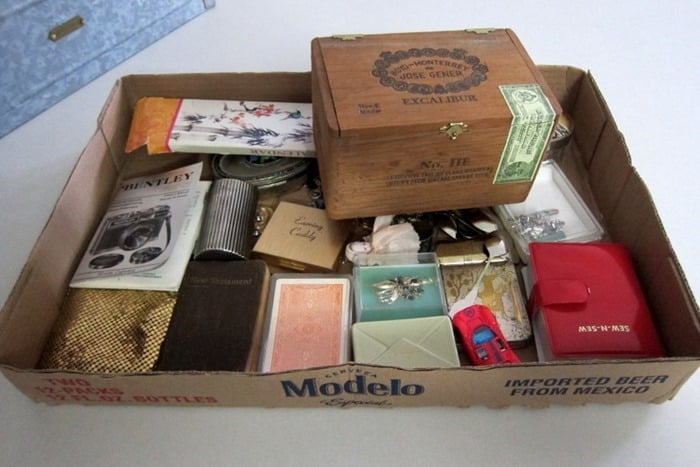 This is the box lot of goodies hubby purchased at the auction. He paid $12.50 for the box of stuff plus a 10% buyer's premium. Maybe I should ask if you have ever been to an auction. There is usually a buyer's premium tacked on to the sell price. And you pay sales tax at most auctions. I should video part of an auction one night. We will see! Sharing close-ups of my favorite things from the box lot.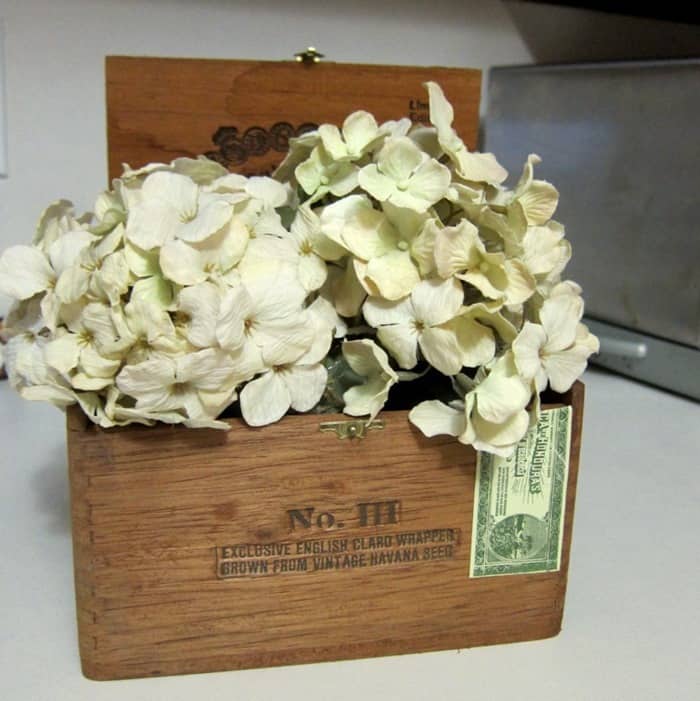 The wood cigar box caught my eye right off. The stamp/seal on the right side of the box was coming loose at the edges and I glued it down. I think the seal adds character to the box. I was setting up a painted table to photograph yesterday and put the artificial hydrangea blooms in the cigar box. I like the look. What about you?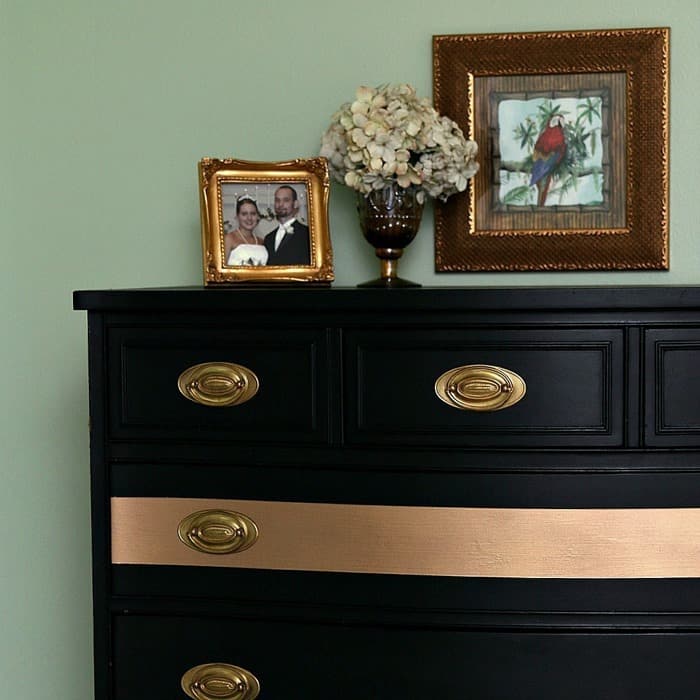 I pulled the fake hydrangea blooms out of the original display vase/glass. I bought the flowers in the plastic glass when we lived in Florida and I brought them with us when we moved back to Tennessee. It's funny what we like isn't it. I paid $1 for the flowers at a yard sale. Do you recognize the gold stripe chest I painted almost 2 years ago. I liked the chest so much I had to keep it. It still looks great.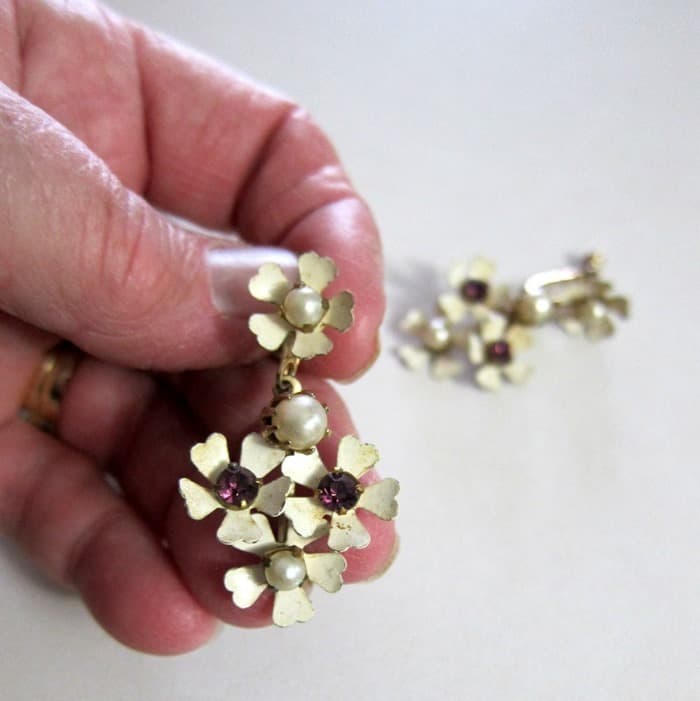 These screw back earrings are the prettiest. I tried wearing them but I can't get those screw backs to work very well. They are either extremely tight and painful or they fall off. I'm still keeping them.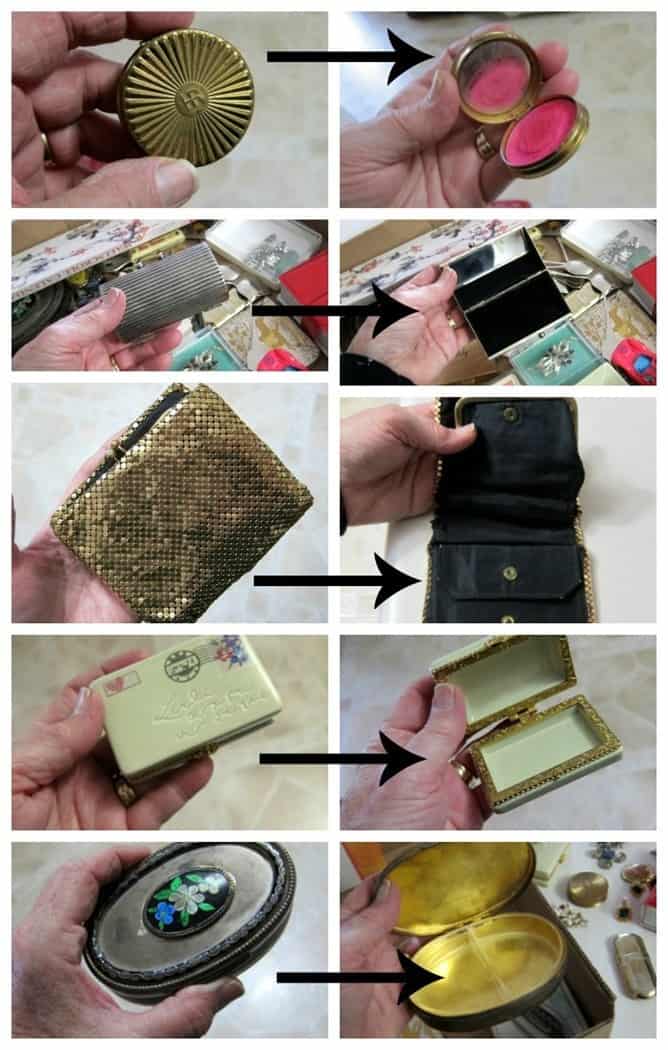 The collage photo above shows a few of the brass cosmetic containers and jewelry boxes. Some of them are scratched up and have broken mirrors.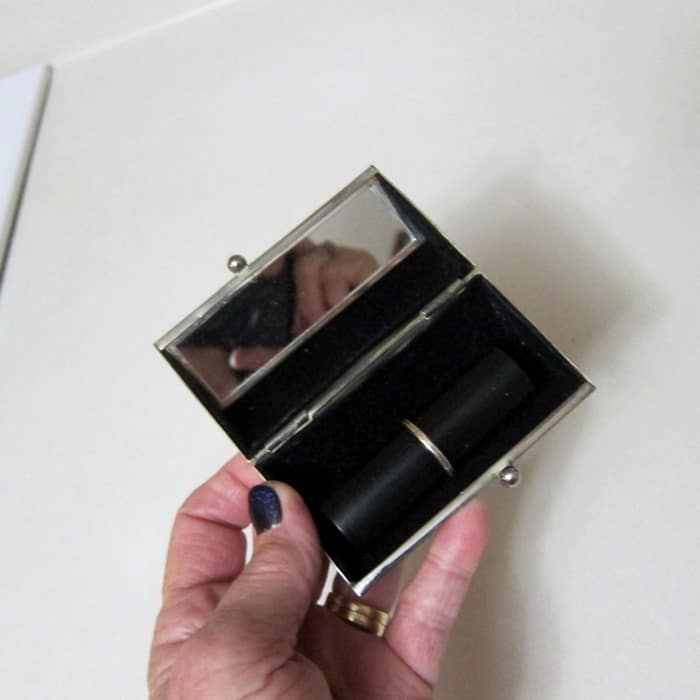 The silver plate lipstick case with mirror was in perfect condition. I polished it up, put my favorite tube (only tube) of lipstick in it, and stowed the case in my purse. I very seldom wear lipstick but I'm heading to Phoenix for Creativation (craft trade show) today and I might decide to put on a little lipstick…..and I might not.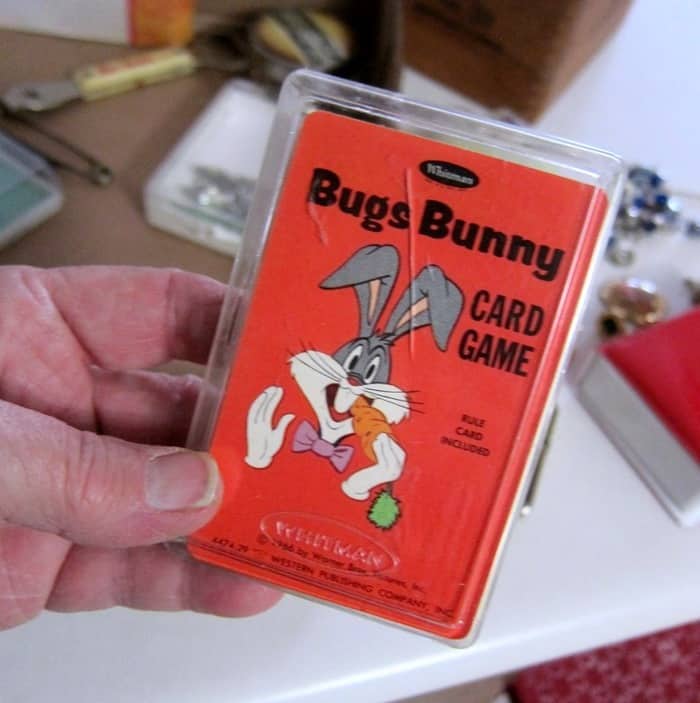 You know I love the Bugs Bunny Card Game because it's orange.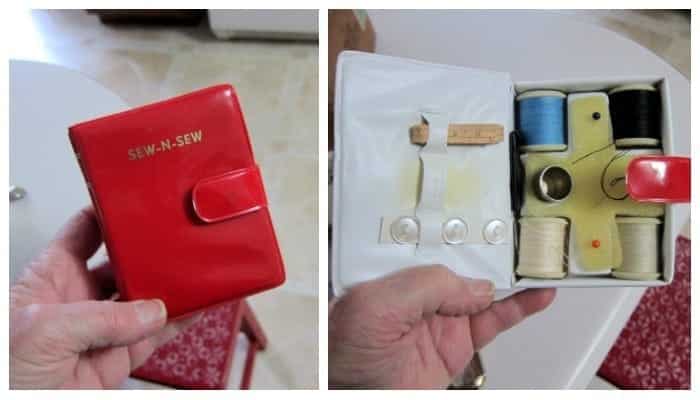 How about the cool sewing kit. I haven't seen a stainless steel thimble in forever.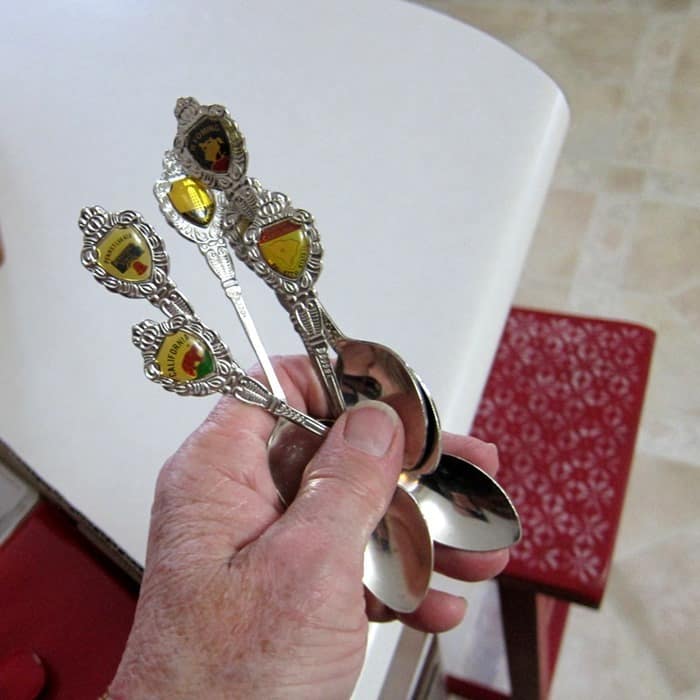 I think the state spoons are collectible. They will probably go to my booth to sell.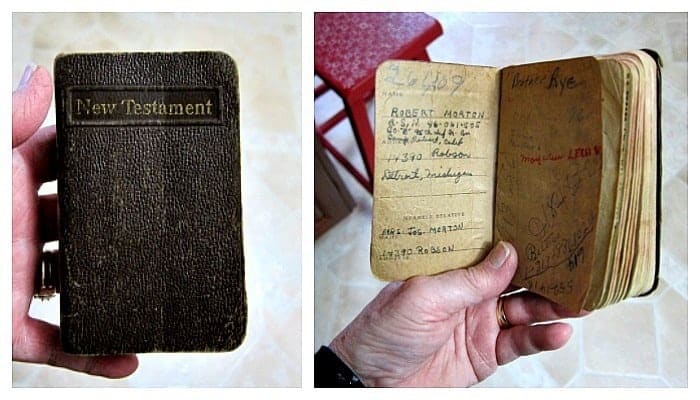 The last thing I want to share is this little pocket Bible. There is a name and address inside and all kinds of notes. It looks like the gentleman carried it while he was in the second World War. I'm going to do a bit of research on the name.
That's it for the auction box lot hubby bought. He did good. What caught your eye? What about paint for the drop leaf table?
Thanks for being here and have a great day, Kathy