I like to get inventive when wrapping presents.
I used electrical tape for name tags last year.
Why?
Because the tape was handy.
Those name tags were a big hit!
I used Camouflage Duck Tape this year, sticking with the masculine theme wrap for the guys.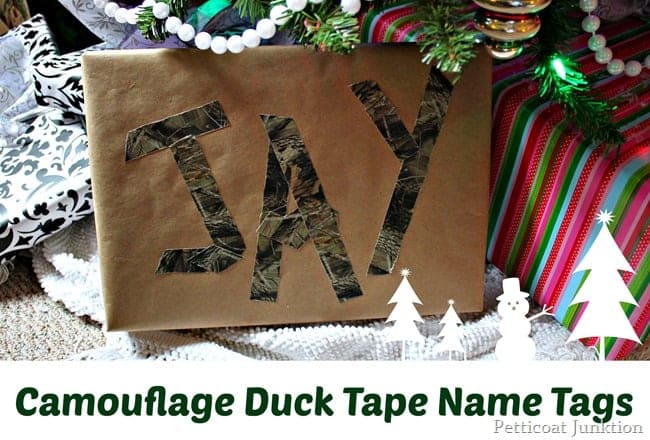 The wrapping is brown kraft paper and this gift is for my son.
This is seriously easy and you can make the name look all perfect and straight or just stick the tape on the package any old way
The packages from last year……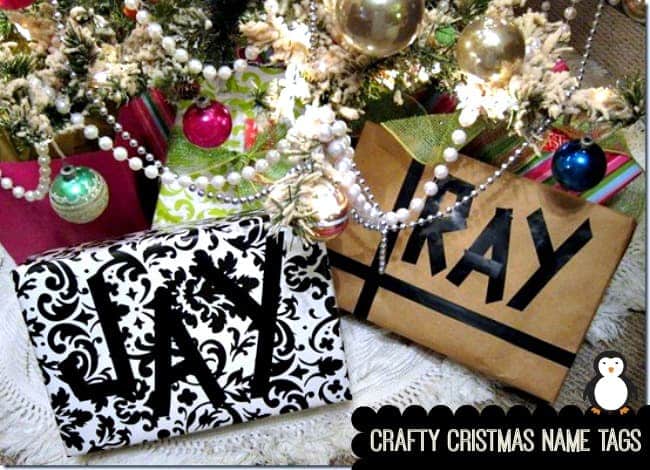 Black Electrical Tape Name Tags
The packages from last year.
What do you think of the name tags?
You can leave me a little note below.
I love hearing from you.
You only have to leave your name (first name is ok) and your email address, then your comment.
Your email address will not be shown on my blog.
Check out our Christmas Craft Showcase and the 12 Days of Christmas Tour by clicking the links below.
The Christmas Craft Showcase…..
Monday, Dec. 9
Marty's Musings
Crafty Texas Girls
The Frugal Homemaker
Deja Vue Designs
House on the Way
Tuesday, Dec. 10
Worthing Court
Petticoat Junktion
Girl in the Garage
My Soulful Home
Pet Scribbles
Wednesday, Dec. 11
The Everyday Home
Plum Doodles
Cupcakes and Crinoline
Create and Babble
Sweet Pea
12 Days of Christmas Tour
Monday DEC 2nd
FIRST HOME LOVE LIFE
DIO HOME IMPROVEMENTS
Tuesday DEC 3rd
AT HOME WITH THE BARKERS
RESTORING OUR 1890 VICTORIAN
Wednesday DEC 4th
FRESH IDEA STUDIO
THE GOLDEN SYCAMORE
HOUSE ON THE WAY
Thursday DEC 5th
CURB ALERT
PETTICOAT JUNKTION
Friday DEC 6th
ARTSY CHICKS RULE
RAPPSODY IN ROOMS
Saturday DEC 7th
SIMPLY FRESH VINTAGE
COUNTRY DESIGN STYLE
Sunday DEC 8th
MRS HINES CLASS
SNAZZY LITTLE THINGS
Monday DEC 9th
JUST PAINT IT
THE RUSTIC PIG
JUST A GIRL AND HER BLOG
Tuesday DEC 10th
OUR SOUTHERN HOME
VIRGINIA SWEET PEA
MEEGAN MAKES
Wednesday DEC 11th
SOPHIAS DECOR
A LITTLE CLAIREIFICATION
GIRL IN THE GARAGE
Thursday DEC 12th
MOMMY IS COOCOO
LITTLE MISS CELEBRATION
INSPIRATION FOR MOMS
Friday DEC 13th
MY SOULFUL HOME
CONFESSIONS OF A SERIAL DIYer
LILACS AND LONGHORNS
Kathy
linking to these parties….
DIY Sunday Showcase……Throwback Thursday
Thrifty Décor Chick…..Funky Junk Interiors….Amaze Me Monday
Savvy Southern Style………Tatertots&Jello …Miss Mustard Seed