disclosure: affiliate links may be used in this post.
Rooster Decor For My Fun Loving Friends
My DIY rooster wreath idea is all about going with your gut and making things you love. Don't worry about following designer "decorating rules". I make the decorating rules at my house and you should do the same.
This rooster wreath is an example of that. The rooster was a last minute addition to the wreath and I have to say…..it's the best part.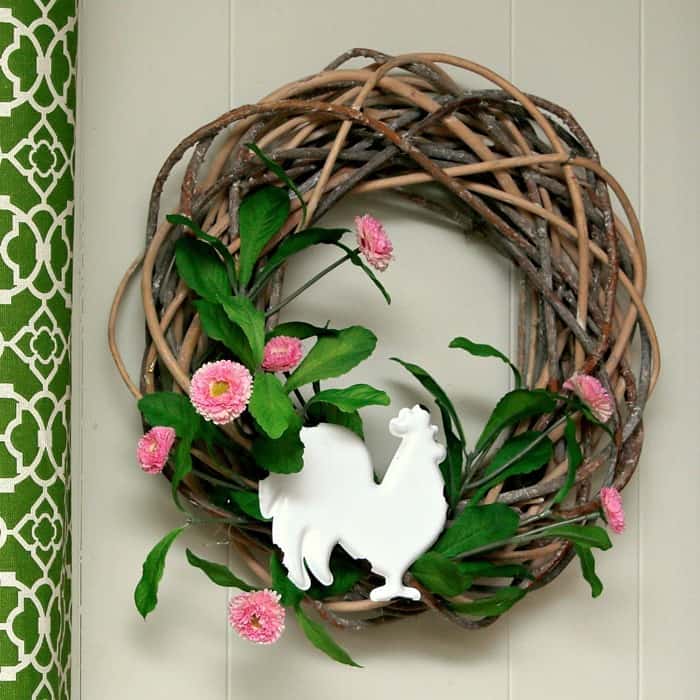 Rooster Wreath With Pink Flowers
See, I just smile when I look at that wreath. What's not to like. The colors may not fit your décor or the style might not be for you. Maybe you don't like roosters. But you have to admit it's cute. I'll tell you how that rooster came to be the center of attention.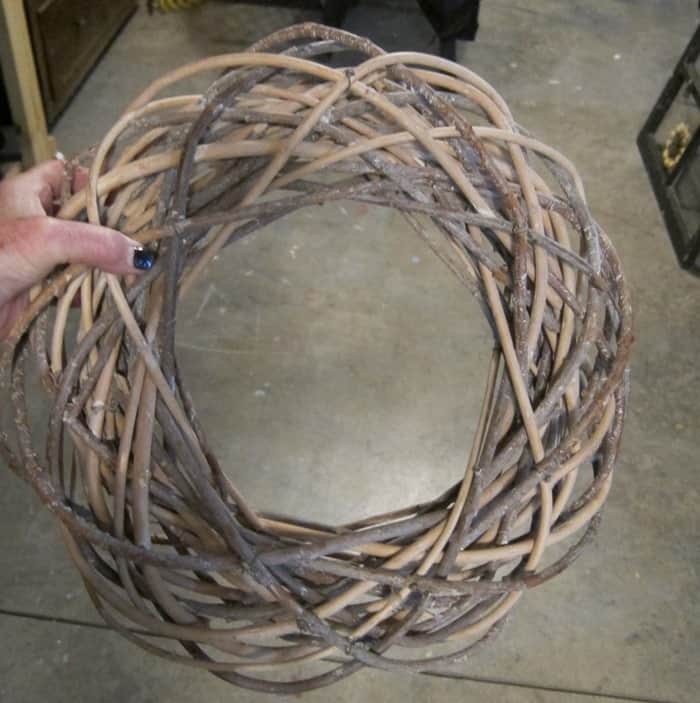 This is the wood/vine wreath I started with. Not sure what you call it but I found one online at Hobby Lobby that is similar and they call it a White Twisted Wreath. It was $14.99 and I know I paid less than $3 for this one at the thrift store.
Back in the fall I hot glued three orange flowers to the wreath. I guess I wasn't a fan,  although orange is a favorite color of mine,  because the wreath never made it out of the workshop. Fast forward to now and cleaning out the workshop. Time to redo that wreath.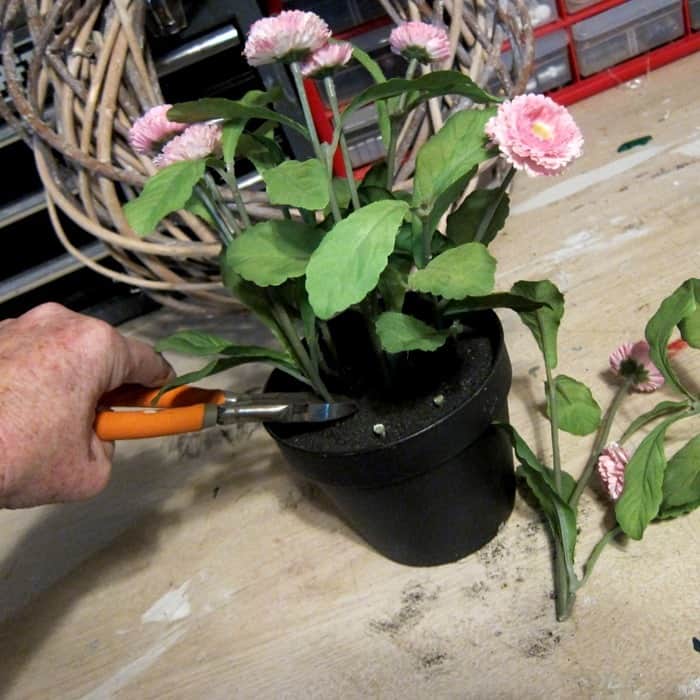 I bought this pot of flowers at IKEA. It was in Mom's nursing home room for a while and now it's been in the workshop for awhile. We change out the decorations in Mom's room with the seasons, trying to keep her room as comfy and homey as possible. Anyway I decided to cut the flowers out of the pot and use them on the wreath.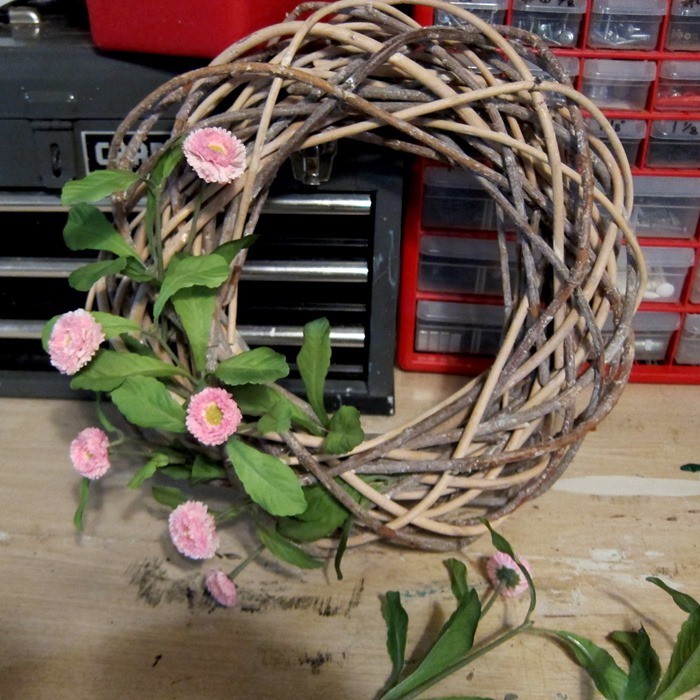 I haven't had any wreath making lessons so I'll tell you how I decorate a wreath. You guys know I'm not into symmetrical stuff. That means my wreath is usually decorated on the side or side and bottom or something not the norm.
I started this wreath process by pushing the flower stems down into the wreath on the lower left side with the stems pointing to the right or pointing straight down.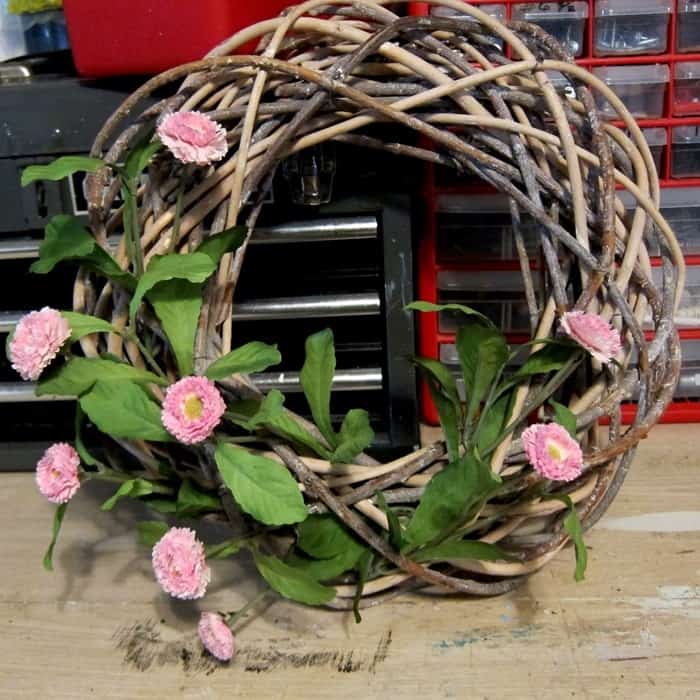 Then I added two flower stems on the opposite side pointing the stems toward the left. I don't hot glue the flowers or other wreath decor in place until I like the arrangement. Once they are arranged they get glued. I may pull some of the stems out of the wreath to get the glue where it needs to be then poke them back in and hold in place while the glue dries.
Always try to hide the glue deep in the wood wreath or behind leaves. I find that leaves are a great place to place the hot glue and attach the flower stems.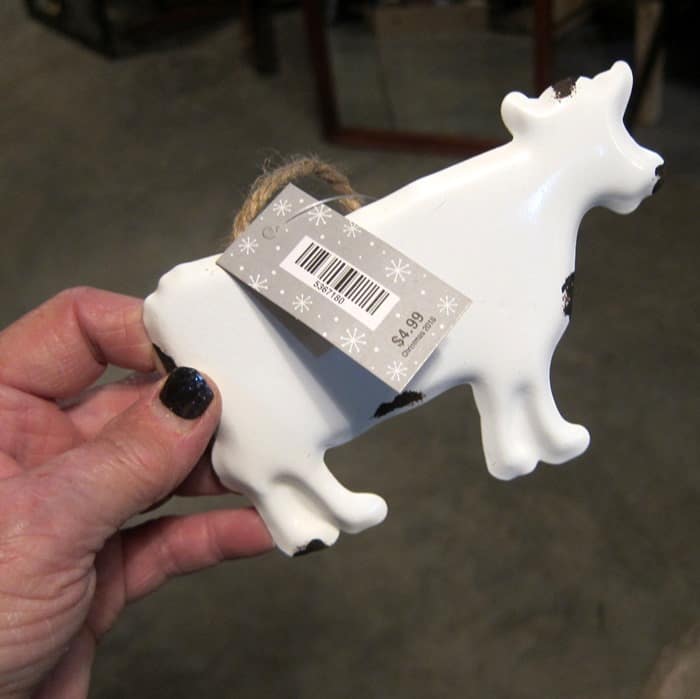 Next thing to do was find something for the empty spot between the flowers. I started searching through stuff on the workshop shelves. I found this cow and thought it would work.
I bought the enamel cow at Hobby Lobby before Christmas thinking I would use it for a craft project one of these days. Today is the day. I also bought an enamel rooster and pig. They were $2.50 each on sale. Only problem was I couldn't find the rooster or the pig anywhere.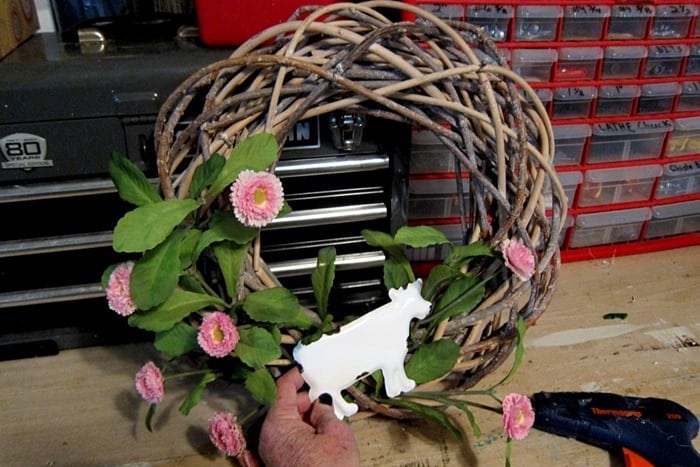 I placed the cow in the empty spot and thought it would work. Then I decided differently. The shape was all wrong. I went in search of the rooster and after about 45 minutes I found it under some junk (good junk).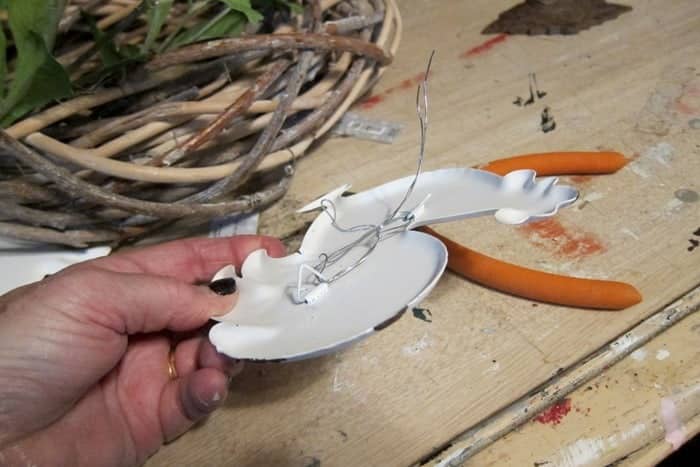 The only problem with the metal rooster was…..no give, no bend. Hot glue wouldn't work. I grabbed some wire and threaded it through the hooks on the back of the rooster.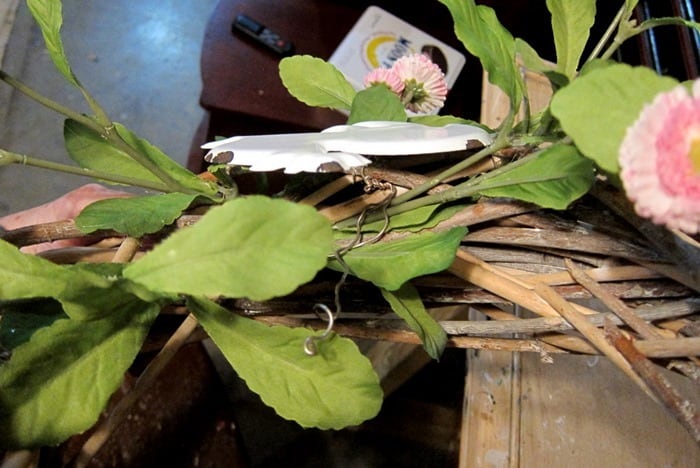 When trying to add the rooster to the wreath I figured out I went about this wreath project the wrong way. I should have wired the rooster to the wreath then added the flowers. But…..I didn't know I was going to use the rooster! Too late now, I'm not starting over at this point.
It took some thicker wire, a pair of needle nose pliers, and some careful maneuvering on my part to get the rooster wired to the wreath. But I did and it was worth it.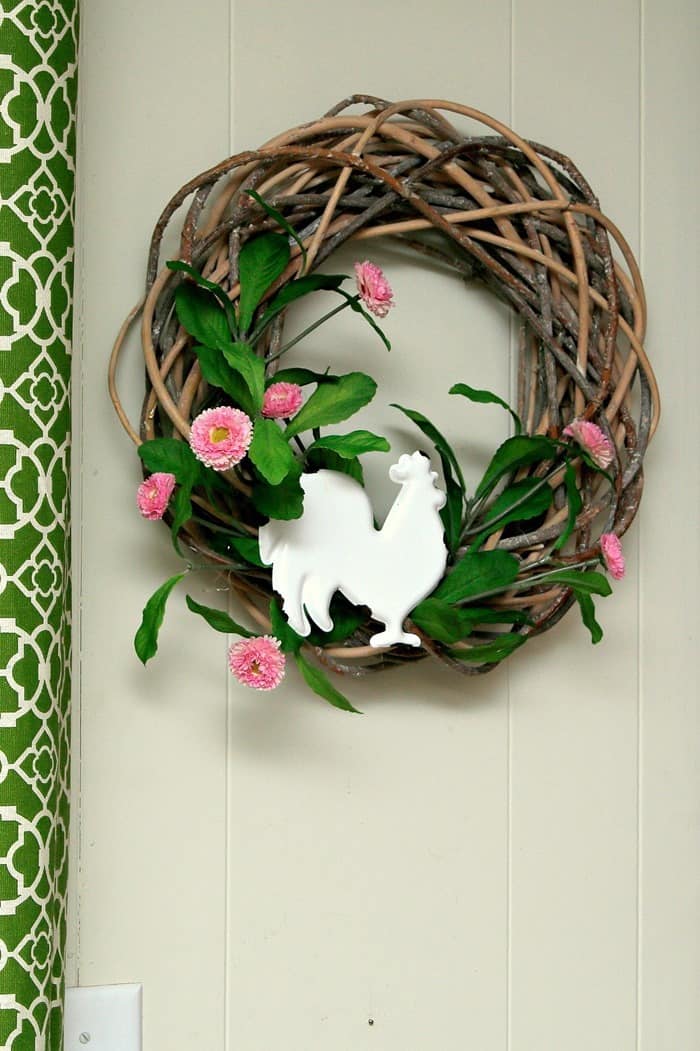 My rooster wreath is darn cute. Yellow, blue, or some other color flowers would probably have worked better for a kitchen or dining room wreath but I didn't know a rooster was going to end up being the wreath focal point.
The reason the rooster was a better choice than the pig is because the rooster had some height to it and …….well, it just looked better. That's my wreath story. You guys might be wondering if I'm ever going to have a painted furniture project. Well, yes I am. I have a piece almost finished.
This time I have REALLY been working on clearing out the workshop and just having a reasonable stash of junk treasures to work on and only a few pieces of furniture to paint at any given time. That's why projects and painted furniture have been few and far between lately. I'm redoing my two booths and taking a lot of stuff in to sell. I have a few photos of one of my booths.
I decided to sell the antique shoe shine box because I really don't' have a place for it at home. Also took in some pieces that I could paint in the future if they don't sell. Sometimes I make more money selling stuff as is and letting someone else paint it. There is a lot of time and energy that goes into paint projects.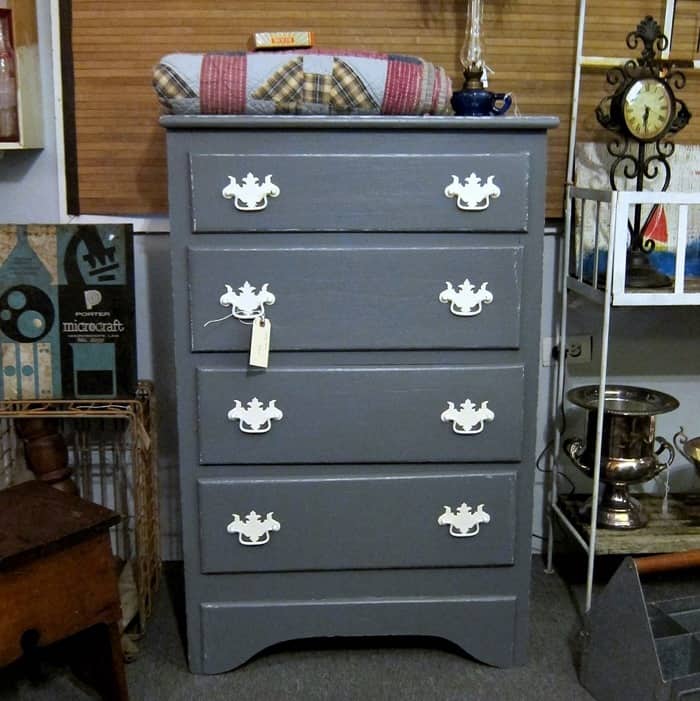 The dark gray piece is a redo and I painted it in the booth since it was already at the shop. I originally painted it pale gray and the chest never sold. See it below….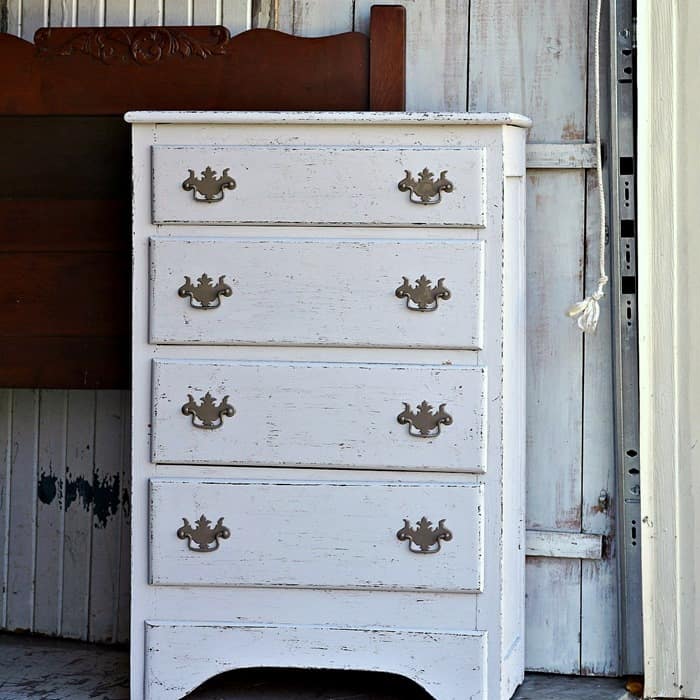 …….I thought the pale gray was nice but no one bought it. We'll see if the dark gray with white drawer pulls sells soon. I hope so.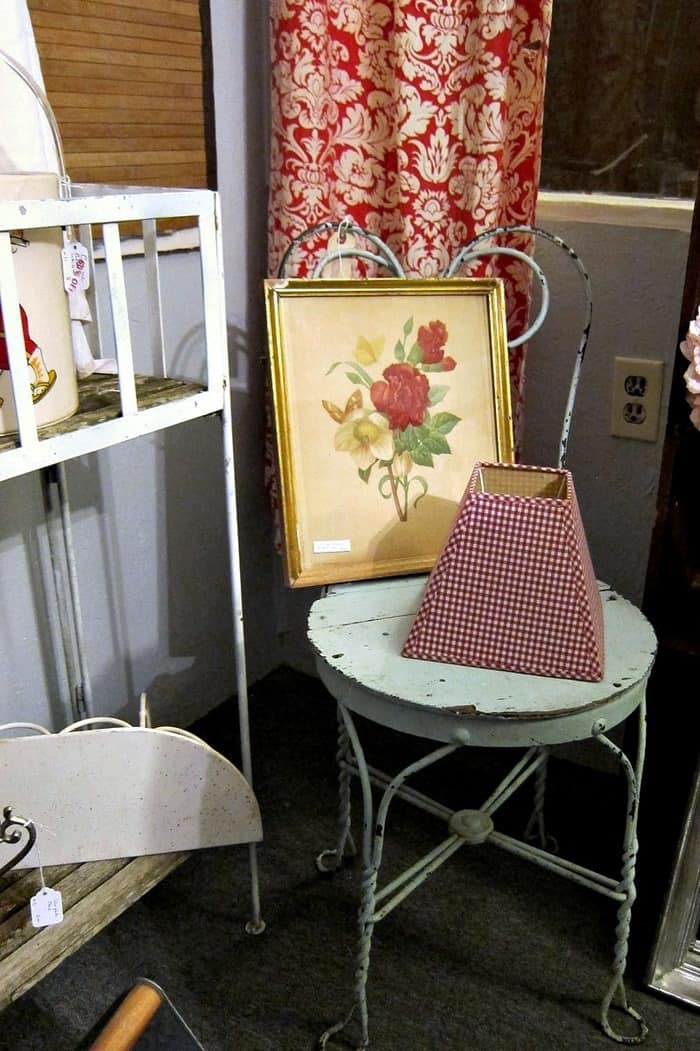 More items  from my workshop. I keep my favorite junk purchases and use them in our home or in my photo shoots but they move on at some point.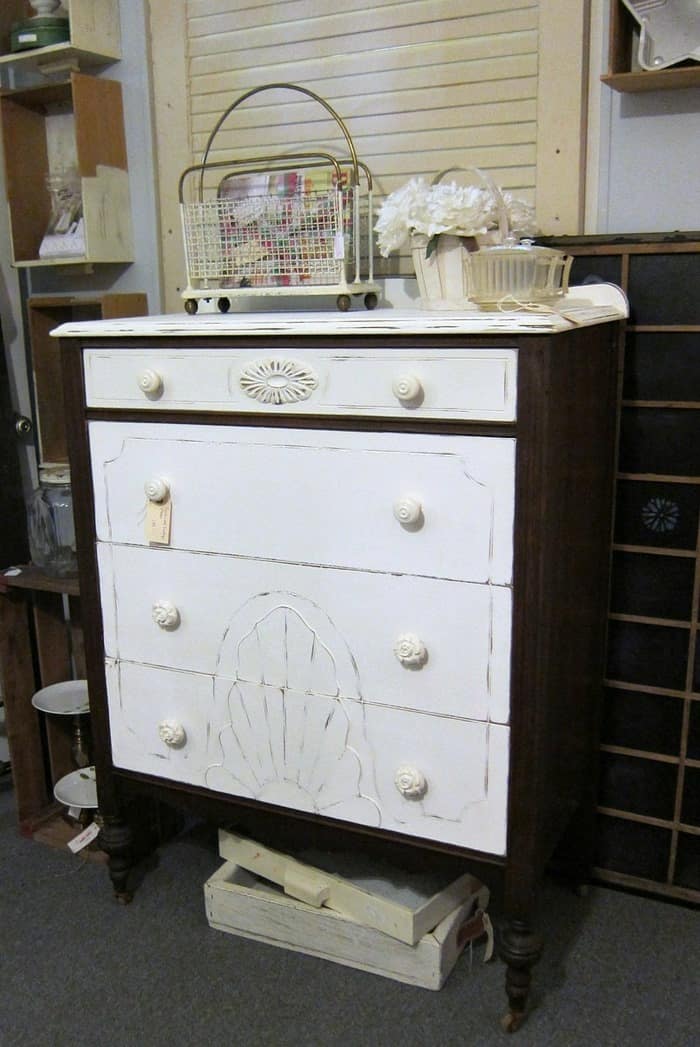 This chest of drawers hasn't sold either but I'm not repainting it. I like it and someone else will too. It just takes the right person to come in the shop and see it.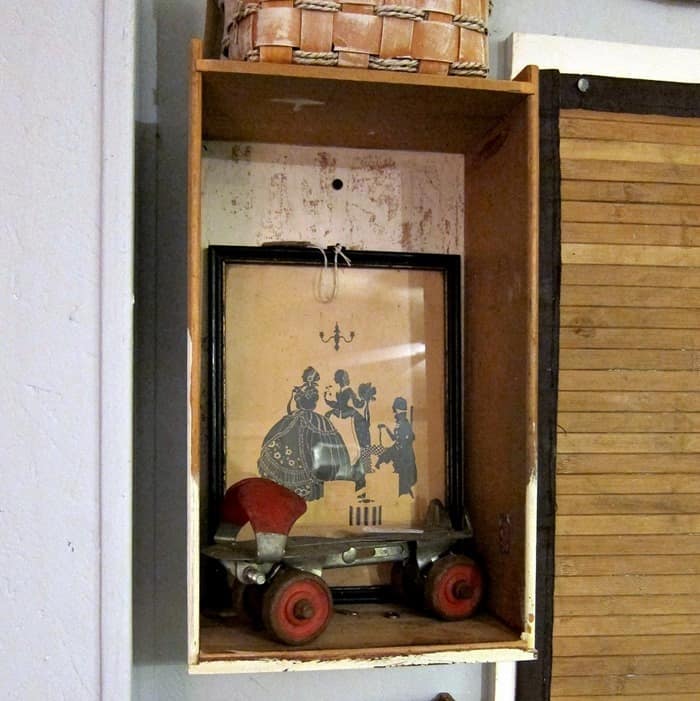 I had a desk someone gave me and I took the six drawers out and hung them on the wall in my booth to display items. I like the idea….what about you guys??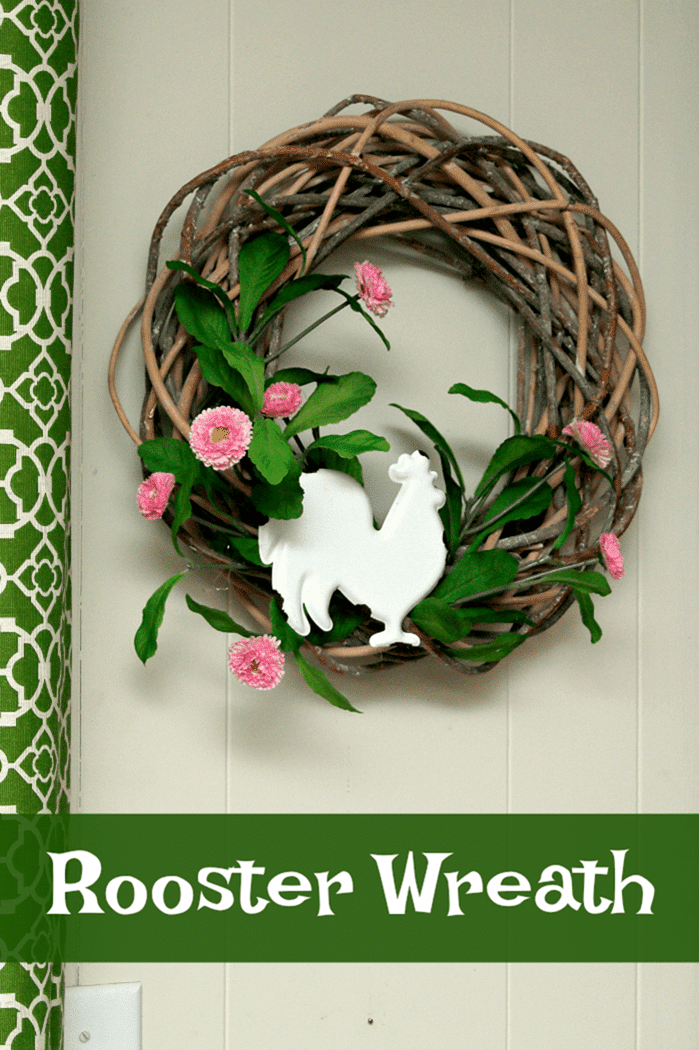 Are you going to try my diy rooster wreath idea? You can take the idea and make it your own using your favorite colors and fun items. Leave a note and as always thanks for being here. Have a great day, Kathy