disclosure: affiliate links may be used in this post.
You Are Going To Love Liquid Chalk
Have you guys heard of liquid chalk? I used it on an earlier project and I really like it. The main reason I like it is because I don't have pretty handwriting and I can't even draw a stick figure. I can use the liquid chalk with stencils and it isn't chalky like real chalk.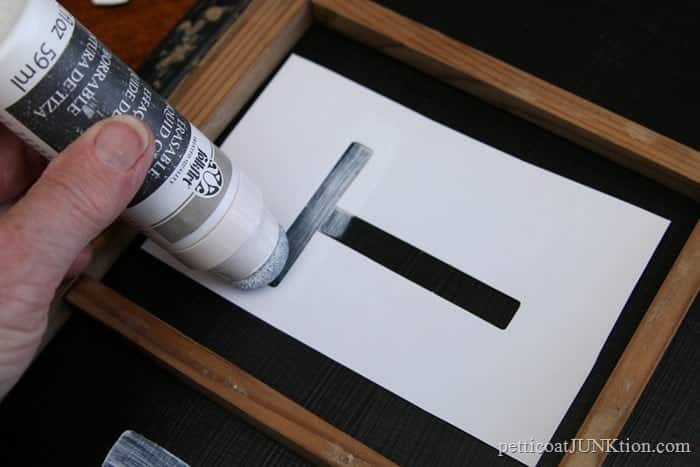 I know that sounds weird but you know what I mean about the chalk, it goes on unevenly and it flakes off. The liquid chalk is kind of like shoe polish. It goes on wet and dries in a short time.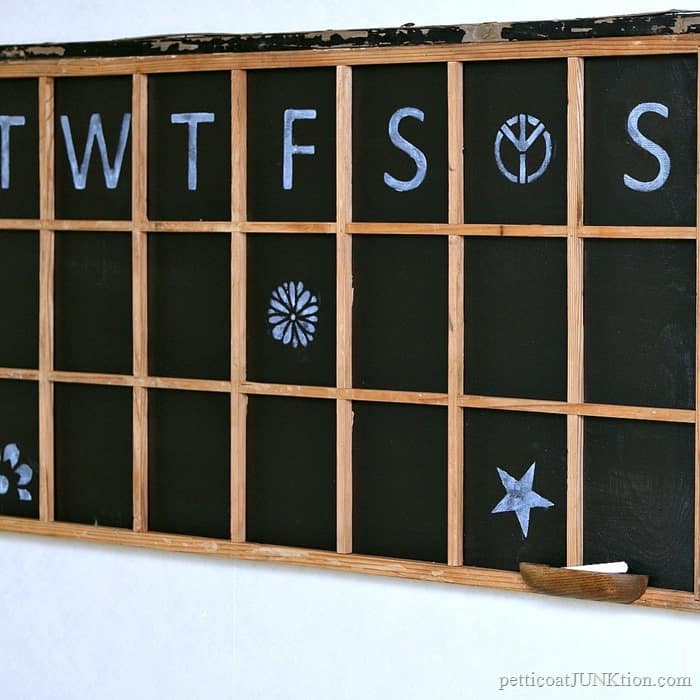 I used the liquid chalk to make pretty designs and put the initials for the days of the week on my chalkboard project from last week. You might notice I added a chalk holder to the board.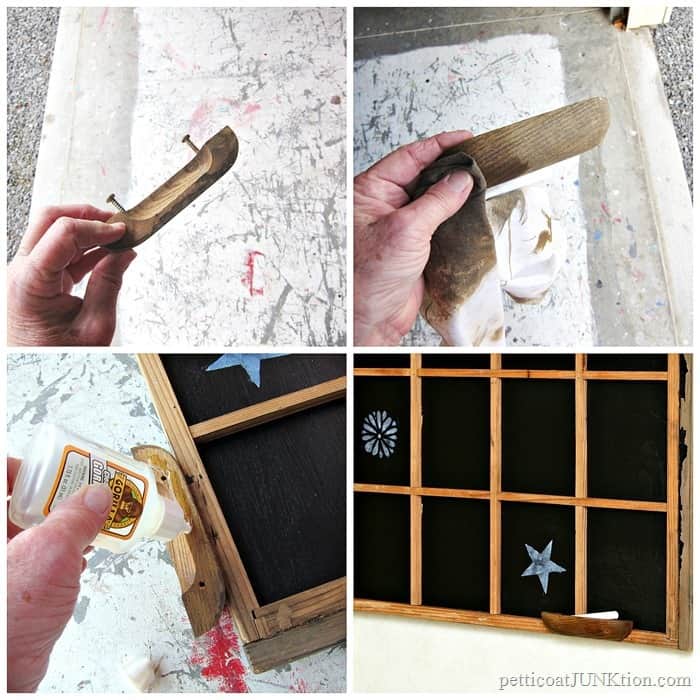 The chalk holder is a reclaimed wood drawer pull. I cleaned it up with Howard's Wax and used clear Gorilla Glue to attach it to the chalkboard. Easy Peasy.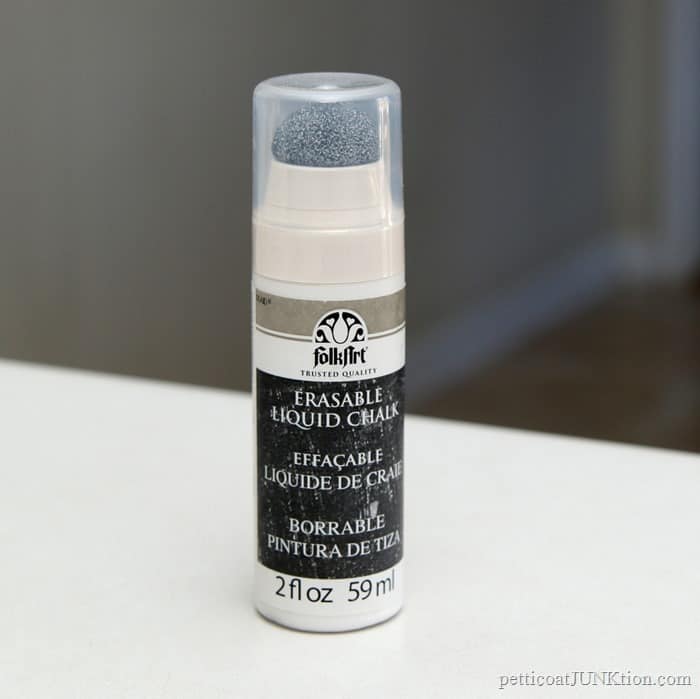 The erasable liquid chalk is from FolkArt.
The stencils I used are by FolkArt too. They are made of heavy paper and I cut them up sometimes. If the stencil doesn't fit where needed then I grab the scissors. The packs of paper stencils contain a bunch of different designs and the paper holds up against the wet paint. I use them over and over as you can tell from the photo above.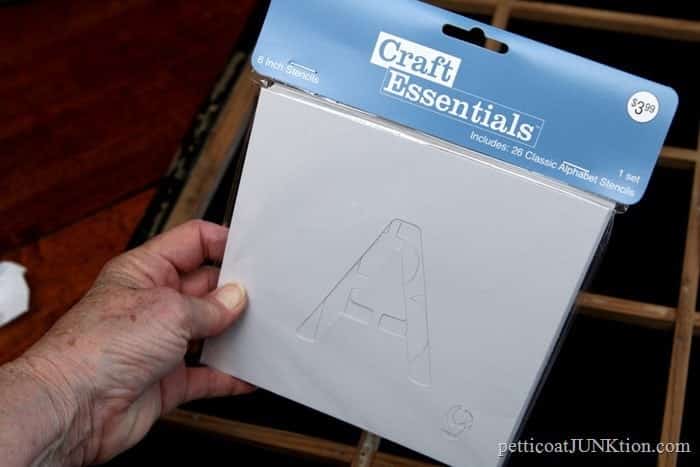 To put the first letters of the days of the week on the chalkboard I used another package of stencils. I'm telling you guys my handwriting is atrocious.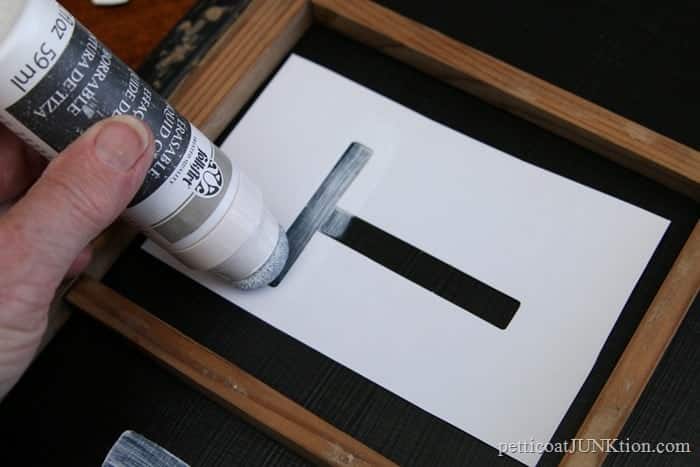 I mentioned earlier that the liquid chalk is like using shoe polish. It just dawned on me that some of you may have never used shoe polish. Showing my age. Anyway there is a sponge tip on the top of the chalk and you gently squeeze the bottle to make the chalk flow.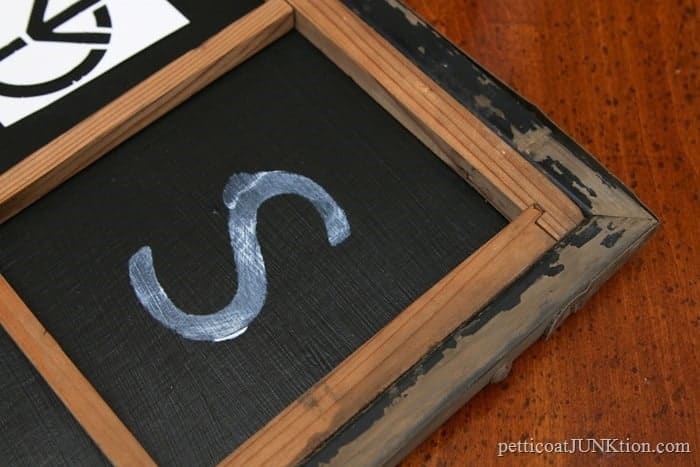 And if you mess up like I do …..all the time…..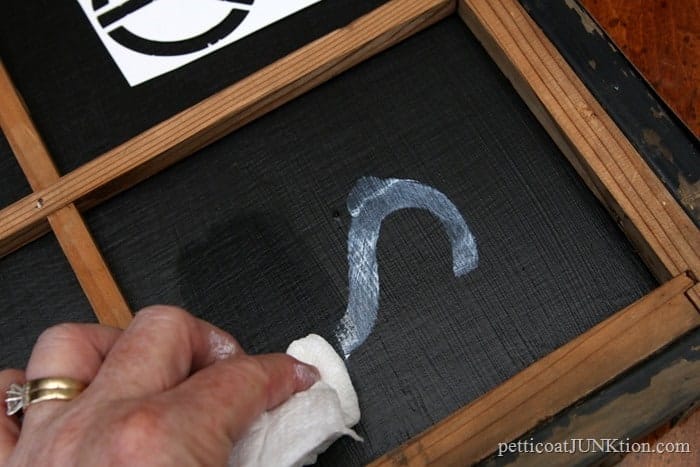 ……..you can get a damp paper towel and wipe off the mistake and start over.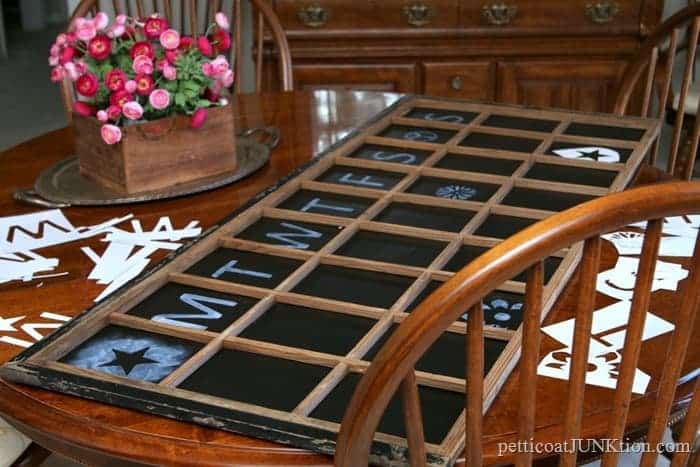 I make a big mess when I work. Stuff is everywhere.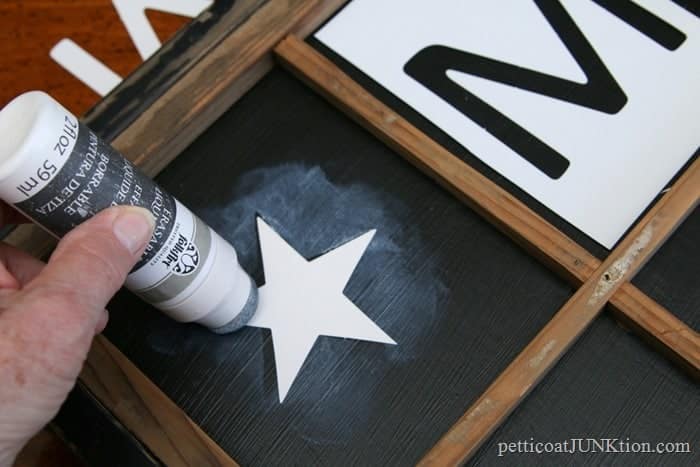 For the star I used the part of the star I popped out of the stencil and lightly dabbed the liquid chalk around the outside of the star. Just something a little different.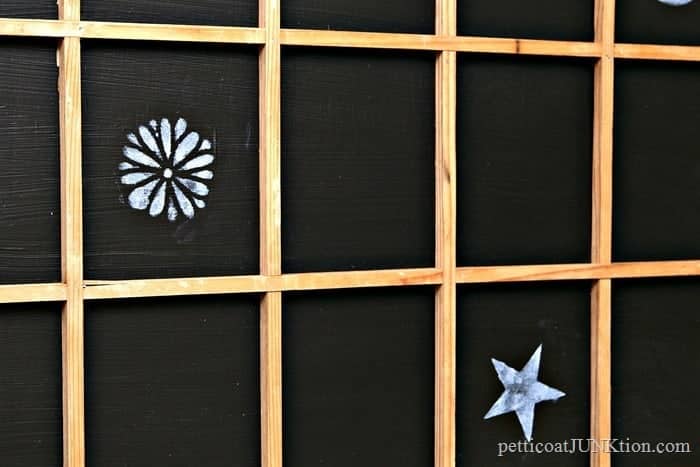 Then I used the real stencil and made another star.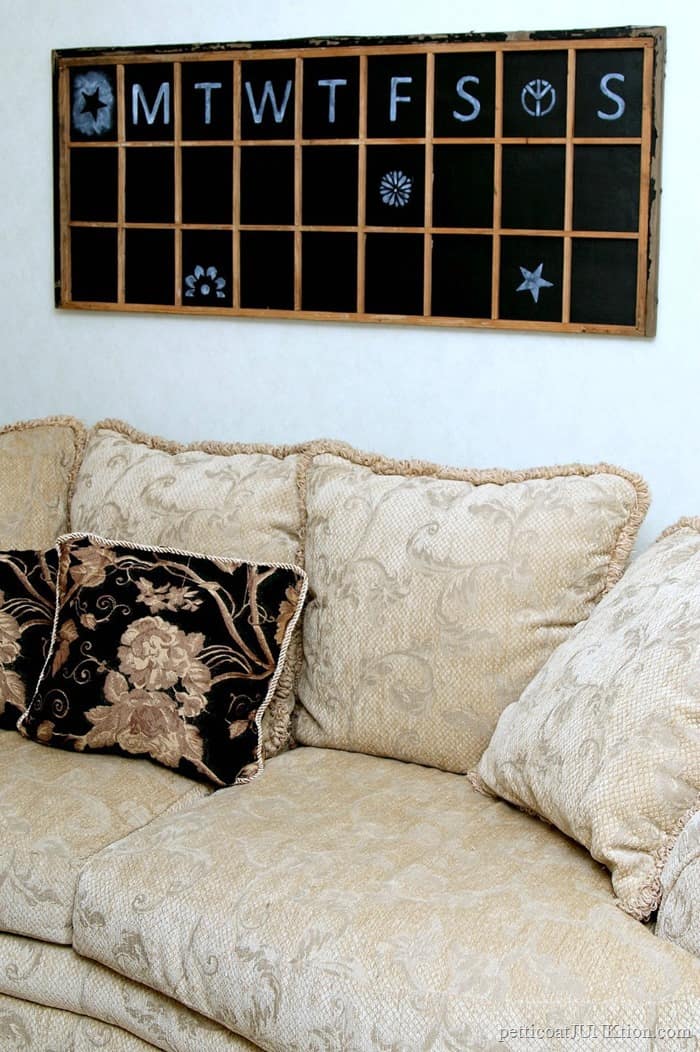 And that's it. I want to show you my other project in case you missed it.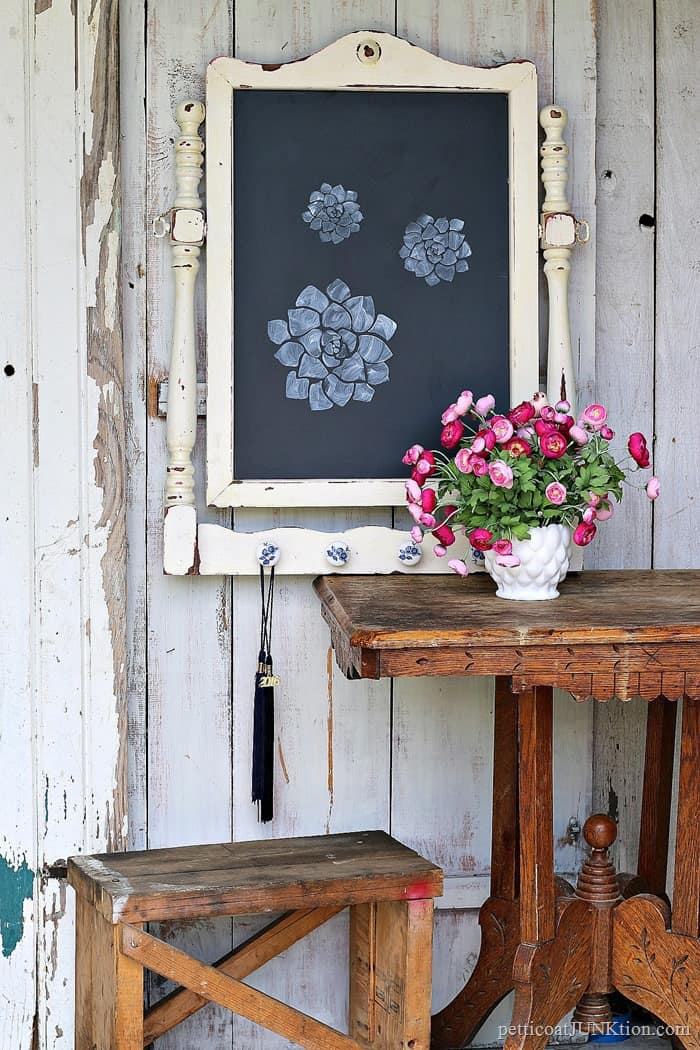 How do you like this one. We made the chalkboard from a reclaimed mirror frame originally part of a vintage dresser. The stenciled flowers are done with the liquid chalk.
I'm trying to get back to furniture painting. We just returned from Florida where we kept our 10 year old grandson for a week while our daughter was out of town. She went to San Francisco to attend her husband's retirement ceremony from the Coast Guard. They are moving back to Florida and I will visiting them a lot. I miss my Florida life.
I shopped a bunch of thrift stores in Pensacola and Pace and took a lot of photos. They have the best thrift stores in Florida. I will share about the shops sometime in the future.
And an update on my Dad. He is doing great. Got out of rehab this past weekend and is home with Home Health making daily house calls. Thanks to everyone who has asked about him. I'll be going back to Arkansas the end of next week to spend time with him and Mom.
To find the products used in this post visit the Petticoat Junktion Amazon Page! (amazon affiliate disclosure here)
Maybe I'll paint some furniture today! Have a great day and thanks for being here, Kathy