Hey Guys! Plaid is celebrating their 40th anniversary in the craft industry and as part of the celebration they're  launching the 2016 Plaid Creators. The Plaid Creators will be creating new and inspiring projects all year long. I'm one of those inaugural 2016 Plaid Creators. WooHoo! I'm super excited. I can't wait to get my hands on the products and start crafting. I was going to say start working but we all know crafting is more play than work.
2016 Plaid Creators
Plaid makes over 5,000 products and includes brands like Mod Podge, FolkArt, Apple Barrel, Bucilla and more, plus have licensed brands with Martha Stewart Crafts and Waverly Inspirations. There are a bunch of new products being introduced this year! I use a lot of the Plaid brands but haven't had the chance to try all of them.
photo from Plaidonline.com  FolkArt® Painted Finishes
You guys know how I love bright colors and this display from the Craft & Hobby Association Convention held a couple of weeks ago in California is seriously calling my name. Sadly I was not at the convention. I sure would love to be in southern California right now. Lots of snow and cold here in Clarksville. What about you guys? Any snow?
Plaidonline.com FolkArt® Home Decor Chalk
I'm also looking forward to getting my hands on the Home Decor Chalk.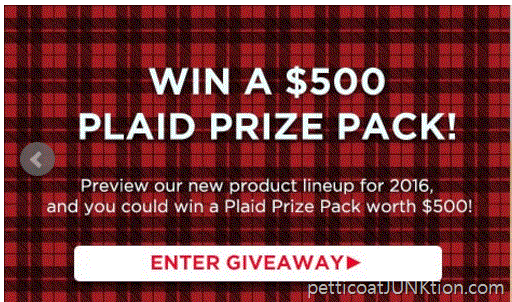 Enter the giveaway by clicking on the image above or here.
I entered this giveaway and wanted to share it with you guys. Just click the photo to enter. You can also download a whole list of Plaid products including the new products that will be introduced this year.
I usually don't post on Sunday but I forgot to tell you guys about Plaid last week. The announcement was made on Monday.
Have a great day and stay safe.....and warm.
Click here to have Petticoat Junktion updates delivered to your email for free!