Pricey Vintage Buffet And Some Inexpensive Auction Furniture
I bought a beautiful vintage buffet at an auction but I sure paid more than I wanted to for it. In fact I kind of  accidently bid  more than I meant to. But I got some awesome deals and a few auction furniture pieces worth the money. I have a bunch of furniture to paint now.
I also have 3 chest of drawers for you to see and one of them I am not painting. It is going to be a beauty when it's cleaned up. I have photos and prices of all the furniture to share with you today. I'm going to need opinions on paint colors and other details. Please help.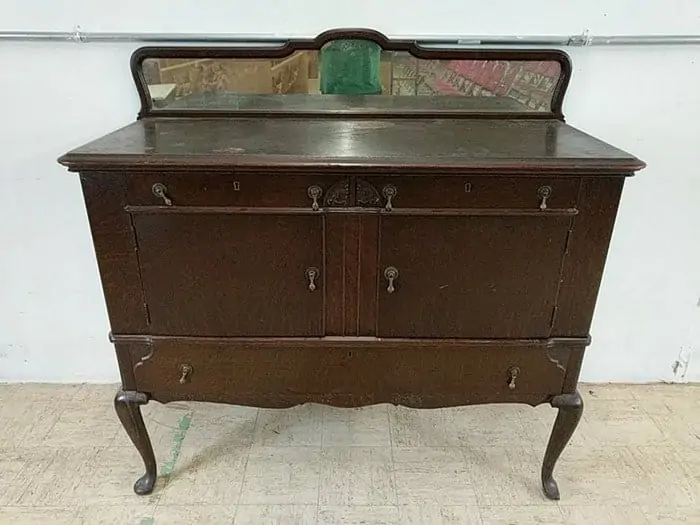 Auction Furniture - Vintage Buffet
This is the buffet. Isn't it a beauty. Look at those lovely details. The mirror is in great shape. I really want to keep the buffet for myself but not sure where I will put it. I don't have the perfect spot for it at all. We will see what happens.
I'll tell you how I ended up bidding too much. The auction was last Saturday but you can bid online the week before the auction. I placed a bid on the buffet and was outbid….again and again. I was up to $100 and I was thinking I might need to back off. The bidding was in $10 increments. The other bidder bid $125. I said "Okay, one more bid" and hit the bid button.
I didn't realize that when the bidding went over $100 the increments changed to $25. I was just pushing and pushing the bid button not paying attention to the amount. I will not do that again. Anyway, I did make it to the live auction on Saturday and no one outbid my online bid. Thank goodness because that was my limit. I also had to pay a $15 (10%) auction fee.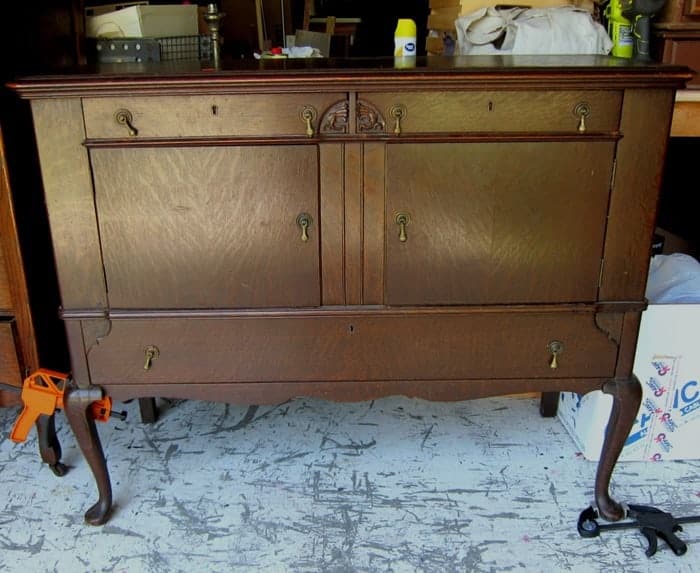 I probably wouldn't have minded paying as much as I did but the buffet has a few issues. The legs were broken in several places but the broken parts were in one of the drawers. Also the top has a lot of damage. I'm thinking of painting the top and cleaning up the original finish on the body. I don't think I can sand and stain the top to match the original finish. What do you guys think?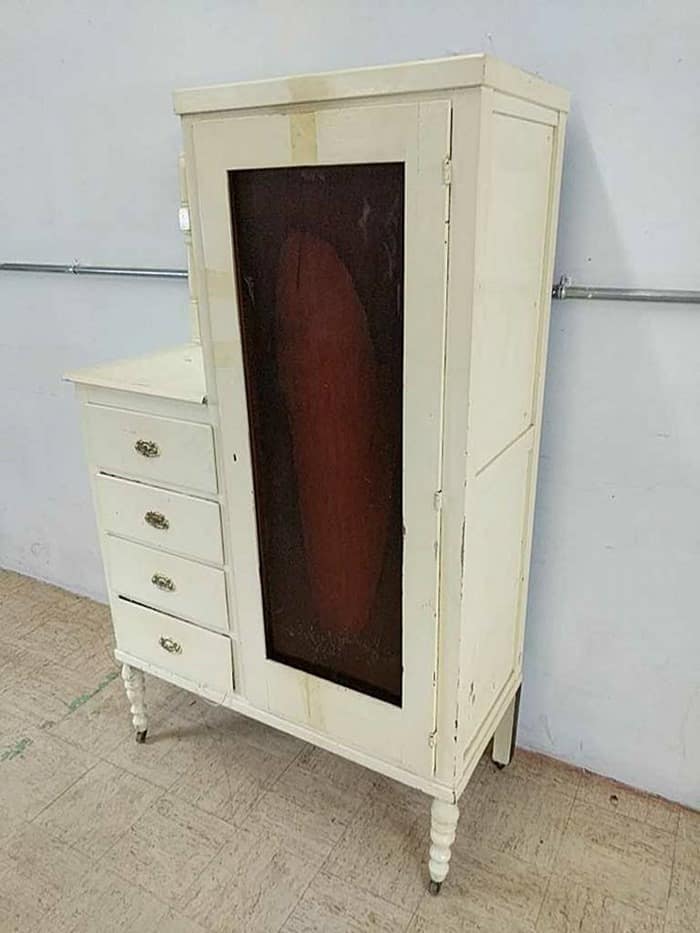 I bought the white mirrorless  wardrobe for $30. The legs are about to come off and we can fix that. Don't know if I will try to replace the mirror or cut a new board for the door or remove the door. Any ideas for me? I'm thinking of just cleaning the white paint and distressing it.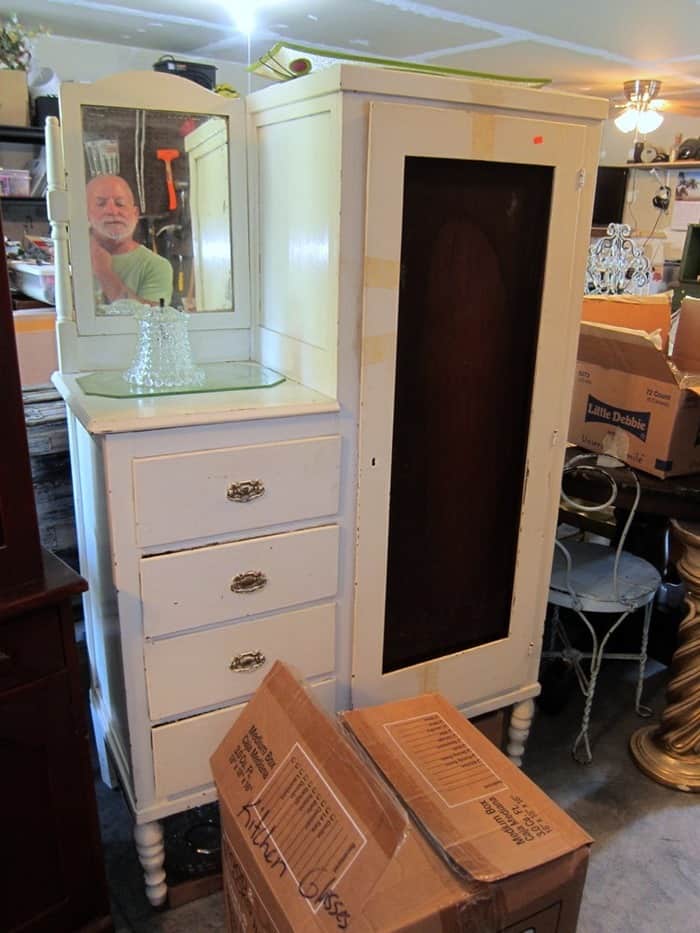 I took this photo of the wardrobe after we got it to the workshop. You can see the cute little mirror on the left side now. Also the JTS in the mirror, hahahaha. I think we were discussing the makeover.
Most of the auction furniture photos are from the auction listing (white wall background) . I did not take those. Photo credit goes to Red River Auctions. You can click that link to them and also check out their website page here. As I mentioned earlier a lot of their auctions are online and live. They auction small items too and you might spot something you want especially if you are a collector of certain items. This is not a sponsored post I just like to support local businesses.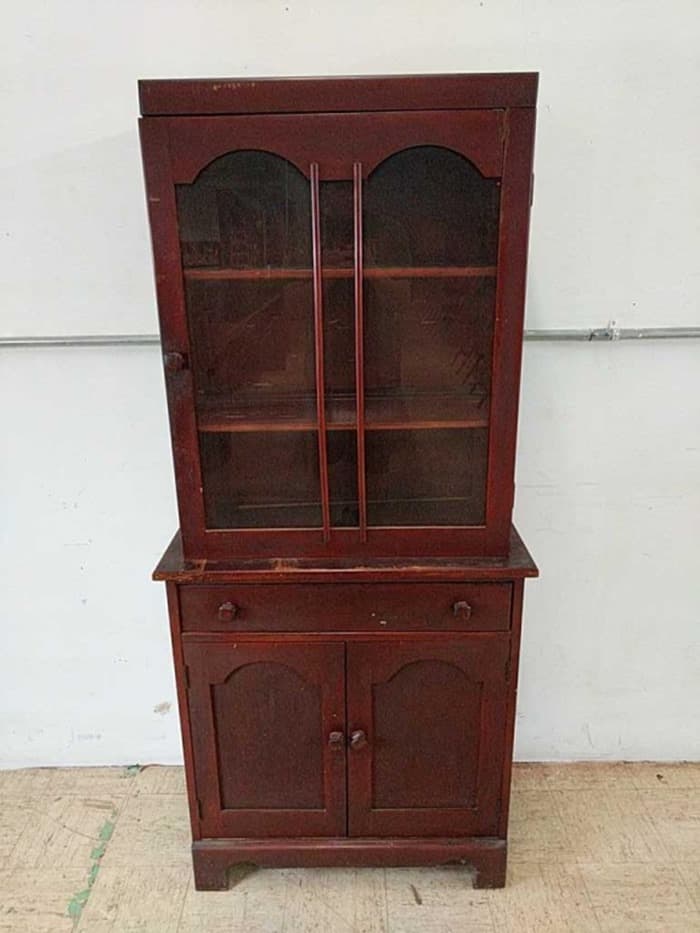 I'm really excited about the china cabinet. I love the straight lines, very modern looking, especially when painted. I'm worried about that red stain finish bleeding through the paint. I would probably paint the china cabinet gray or white with maybe the inside back painted a contrasting color. Maybe gray china cabinet with white back?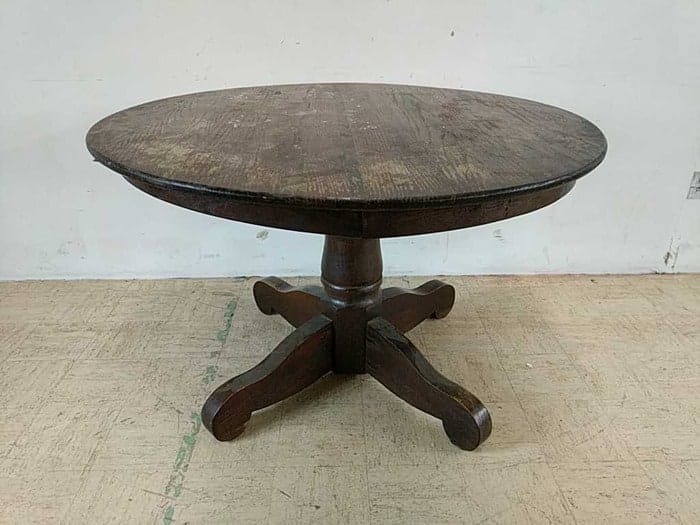 I didn't intend to buy this table but no one else would bid on it. I paid $2. Yea! That wood looking top is actually contact paper. Now I know why no one else bid on it. The contact paper is adhered so well I think I can just paint over it.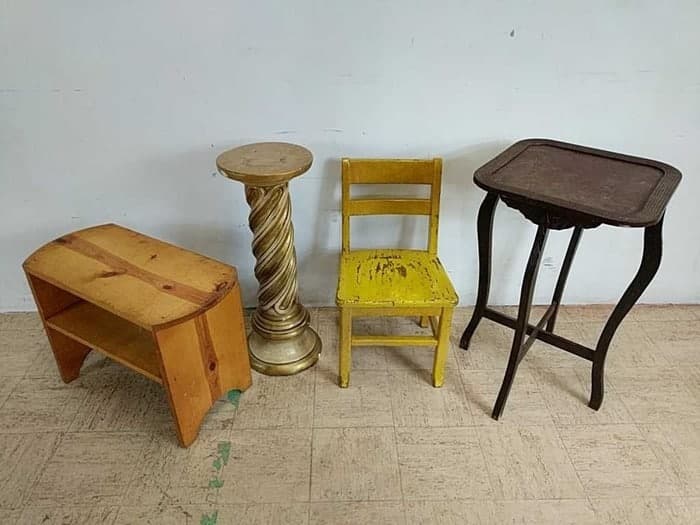 These four items were auctioned as a group. I only wanted the table on the right. I paid $15 for all four items. I didn't like the pedestal at all. Glad I didn't like it because I picked it up to move it in the workshop yesterday and the thing broke right in two. Must have had a hairline crack. Oh well.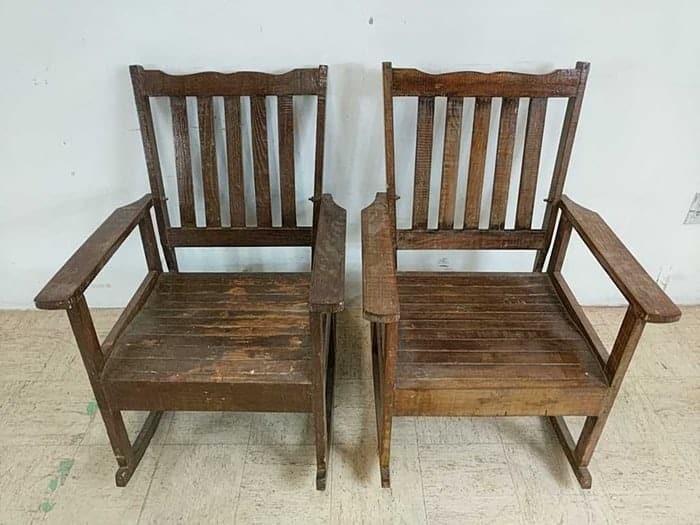 Auction Furniture - Wood Handmade Rocking Chairs
I bought the pair of rocking chairs for $25. It's was one of those times when you don't really want to keep bidding but you do anyway. I'm going to dry-brush them white and take them to my booth to sell.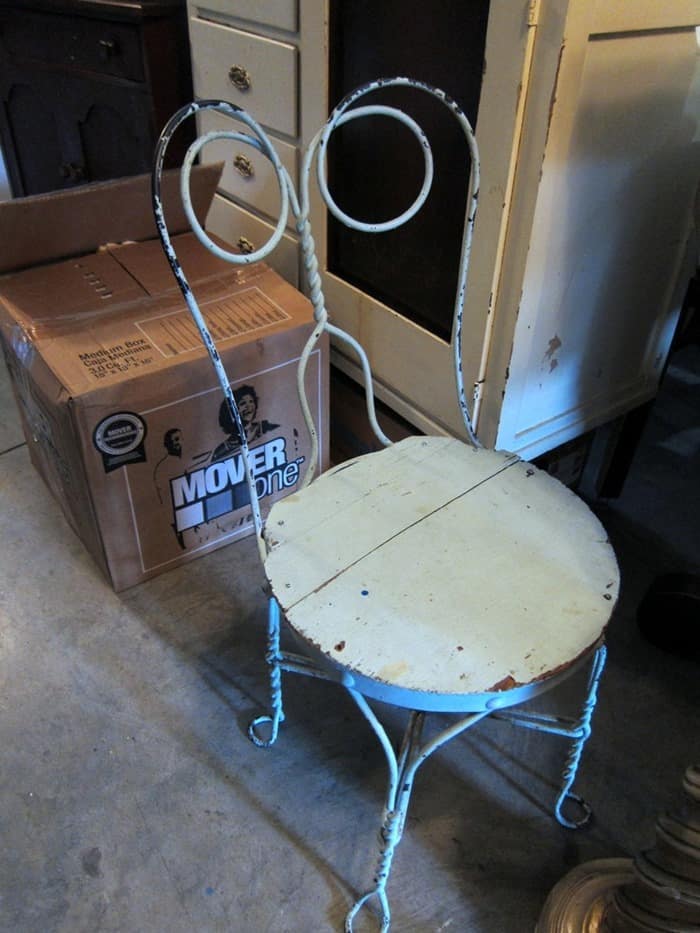 The wrought iron soda shop chair is my favorite purchase from the auction. It even beats out the buffet and the chair was only $5. I call these chairs ET Chairs. Look at those ET eyes on the back.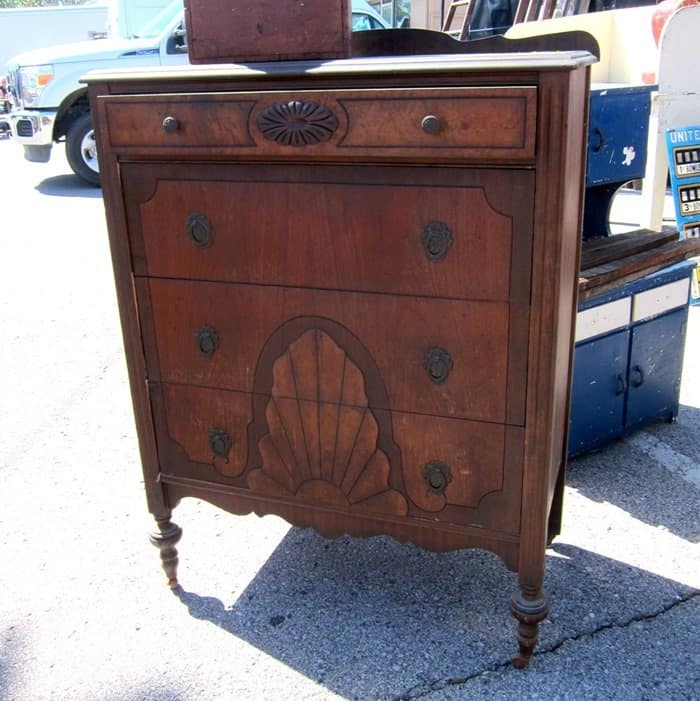 Now we're moving on to those chest of drawers I mentioned. I bought this one at the Nashville Flea Market for $60. That was a great price. I love the details, the legs, the wheels, the original knobs! I'm going to paint it. Yes, I  know, but it is in rough shape with alligatored finish and all.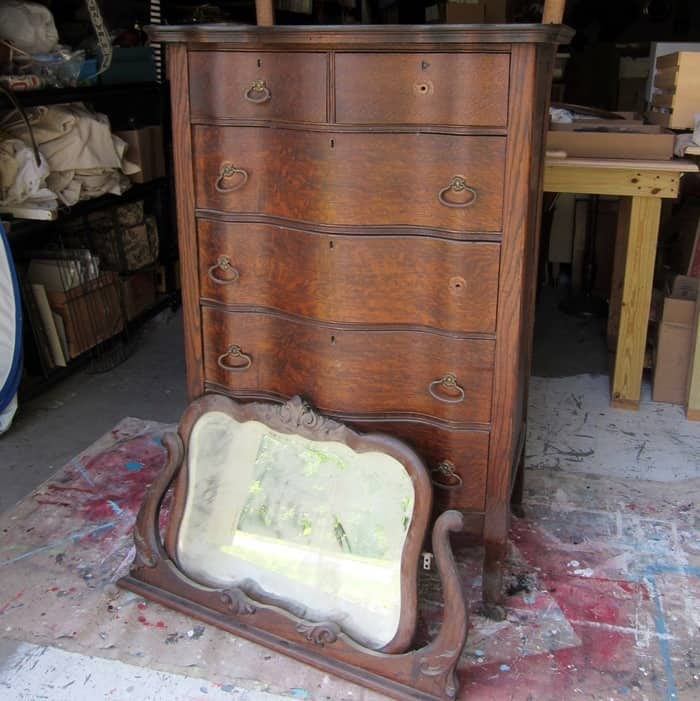 Now this piece I'm not painting. It belongs to a friend and she wanted me to try to clean it up and make a few repairs.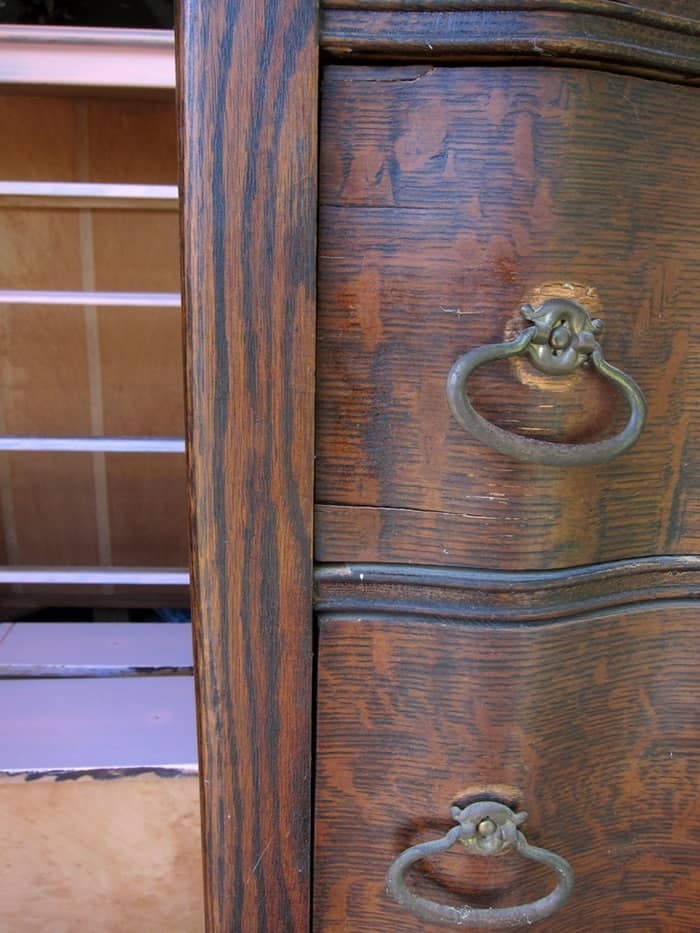 There is some loose veneer and you can see how the original knobs have come loose and scraped the wood finish around them. I'm working on the chest of drawers and I have to tell you it is coming along very nicely. I can't wait to show it to you.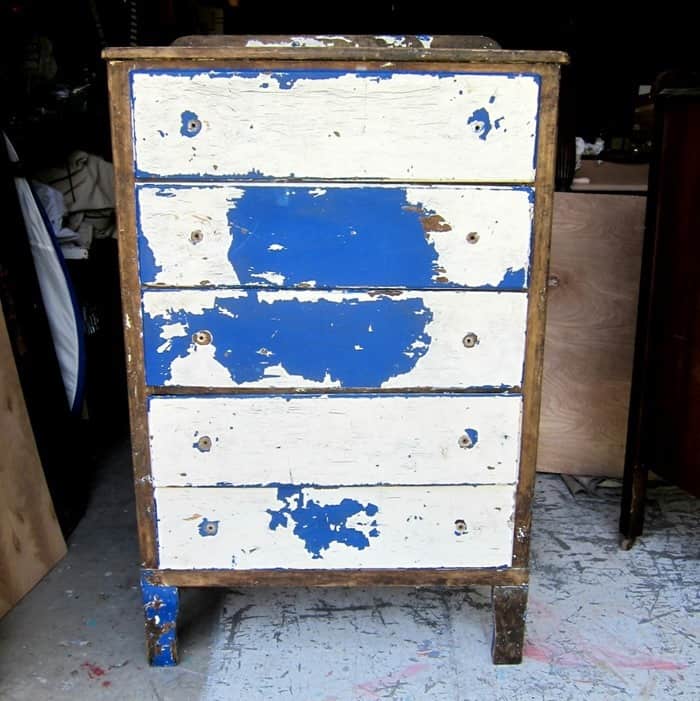 And last but not least the chippy shabby chest I paid $20 for at the shop where I have a booth. I know it's controversial. I love it.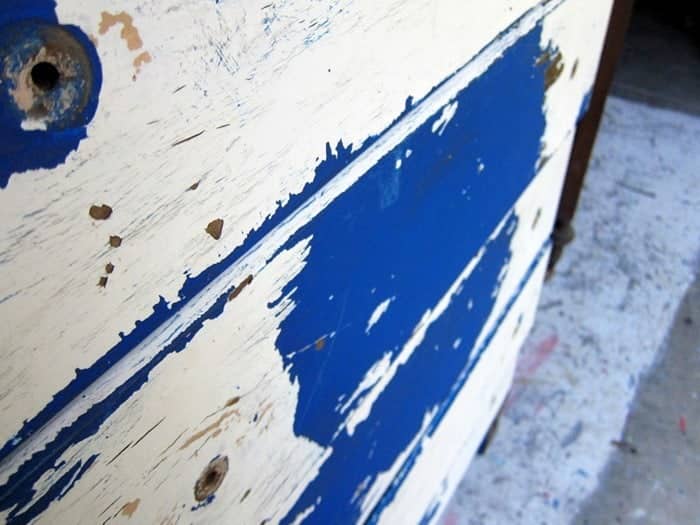 The paint is a mess.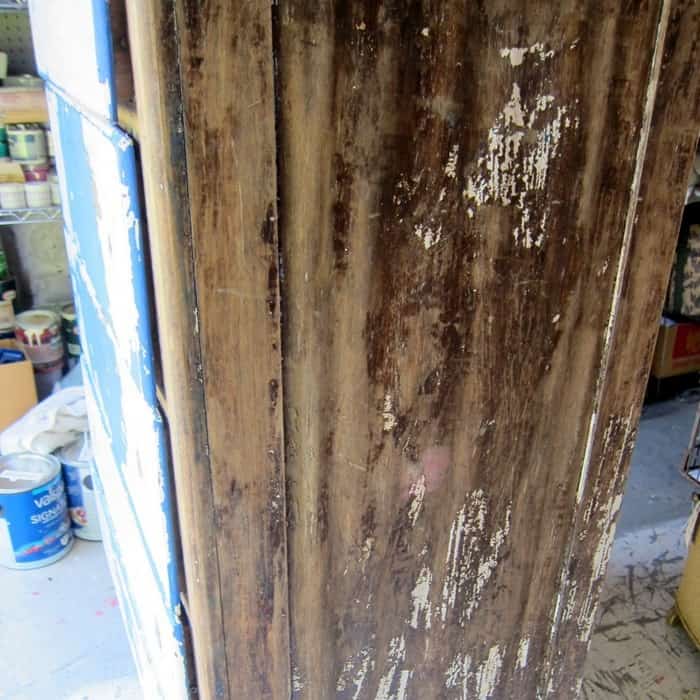 The veneer on the sides is rippled. Not sure how I'm going to work with this. We will all be surprised.
That's it. Thank you for being here. Have a great week and weekend, Kathy
Author: Kathy Owen (Petticoat Junktion)
Kathy is the founder of PetticoatJunktion.com, a home décor blog focused on repurposing and upcycling furniture, old hardware, rusty stuff, and thrifty finds into unique home décor. Kathy's projects have been featured on the Home Depot Blog, Plaid Crafts, Behr Designer Series, and in numerous magazines. Read more about Kathy here.