A local weekly auction is back open and I guess I'm trying to make up for lost time. You know the Nashville Flea Market has been closed for months now and I miss the shopping. The auction is a poor substitute but it has it's good points.
I bought a whole bunch of stuff again but at least I got to see it in person and bid live. That's a lot more fun than looking at pictures on line and clicking a button to bid.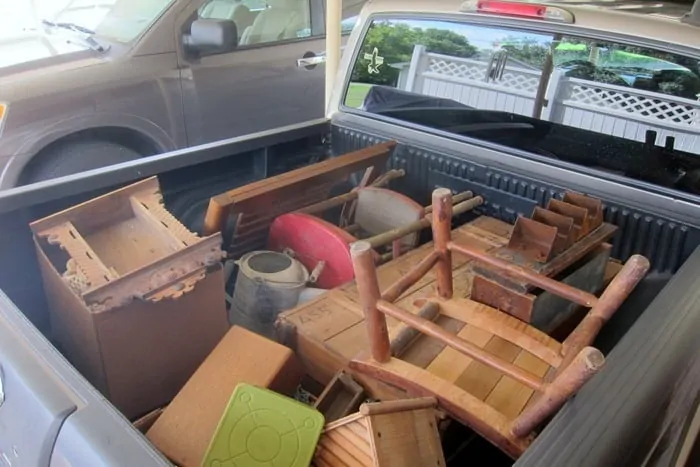 We came home with a truck load of stuff. The auction is on Thursday night and we didn't feel like unloading when we got home. I unloaded everything the next morning and took photos you guys could see everything and the prices I paid.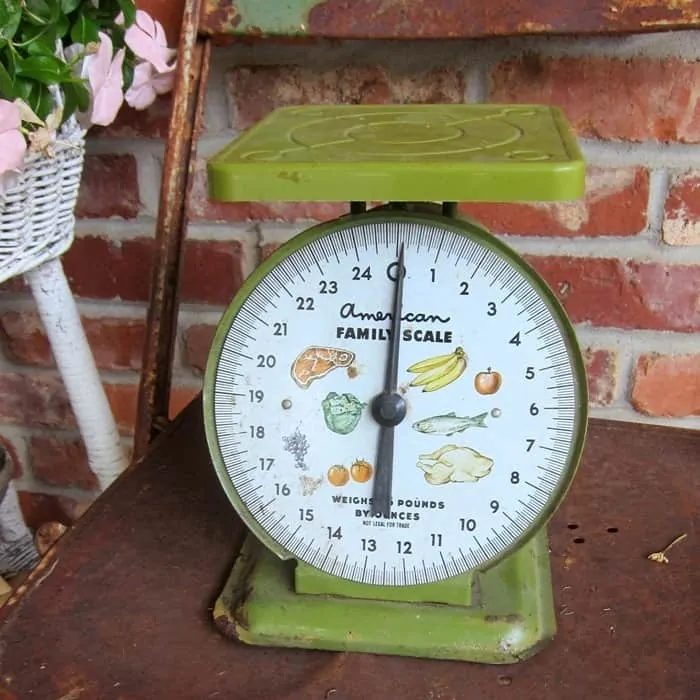 The green kitchen scales were $7.50. I collect scales but these aren't calling my name so they're going to the booth. I'll be selling just about everything. There are a few things I'm saving for future projects.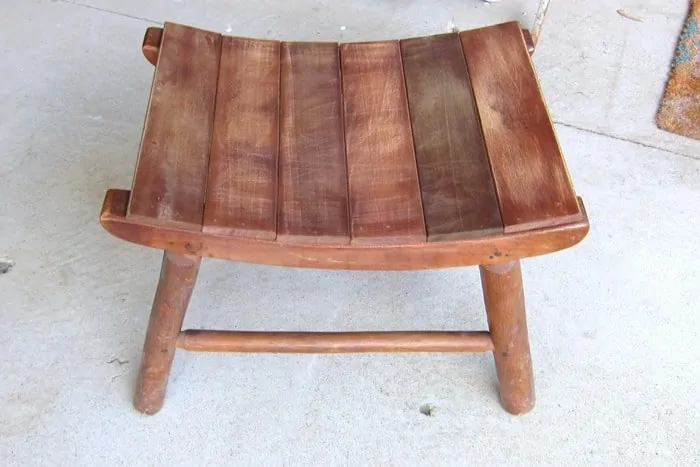 The handmade wood stool was too nice to pass up at $6.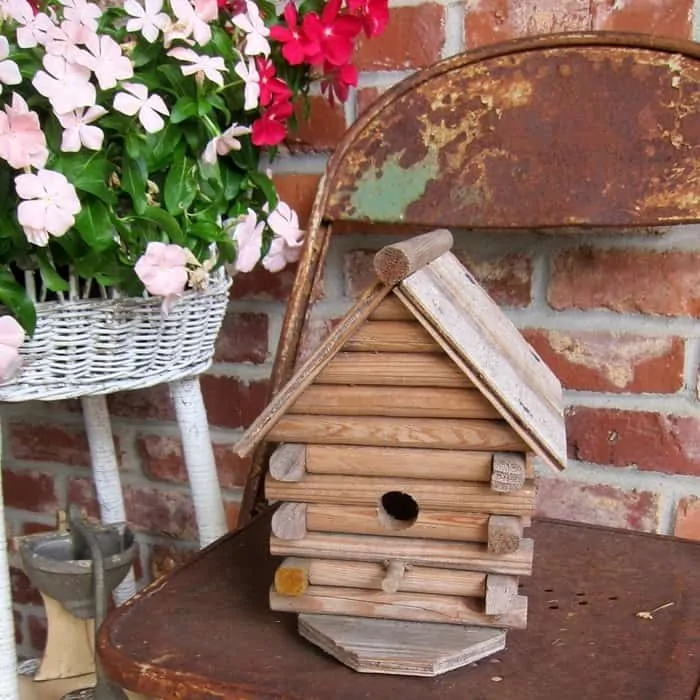 The log house birdhouse is a bit different. I paid $7.50 for it and I took it to the booth. If it doesn't sell soon I'll bring it home and junk it up like the old weathered birdhouse from last month.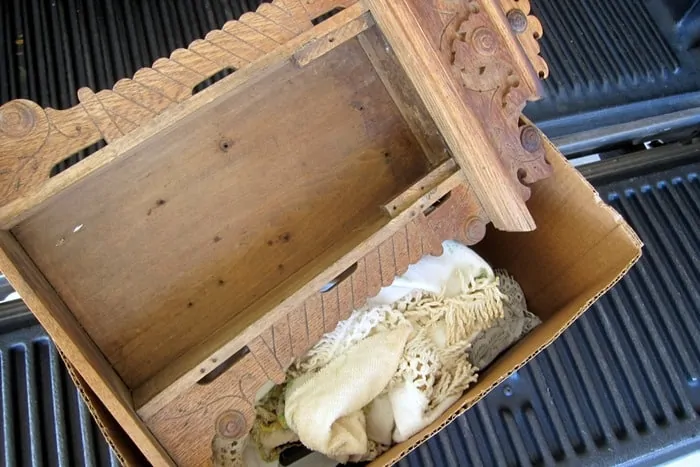 The box lot of stuff was my best deal and has my favorite buy of the night in it. I paid $2 for the box lot.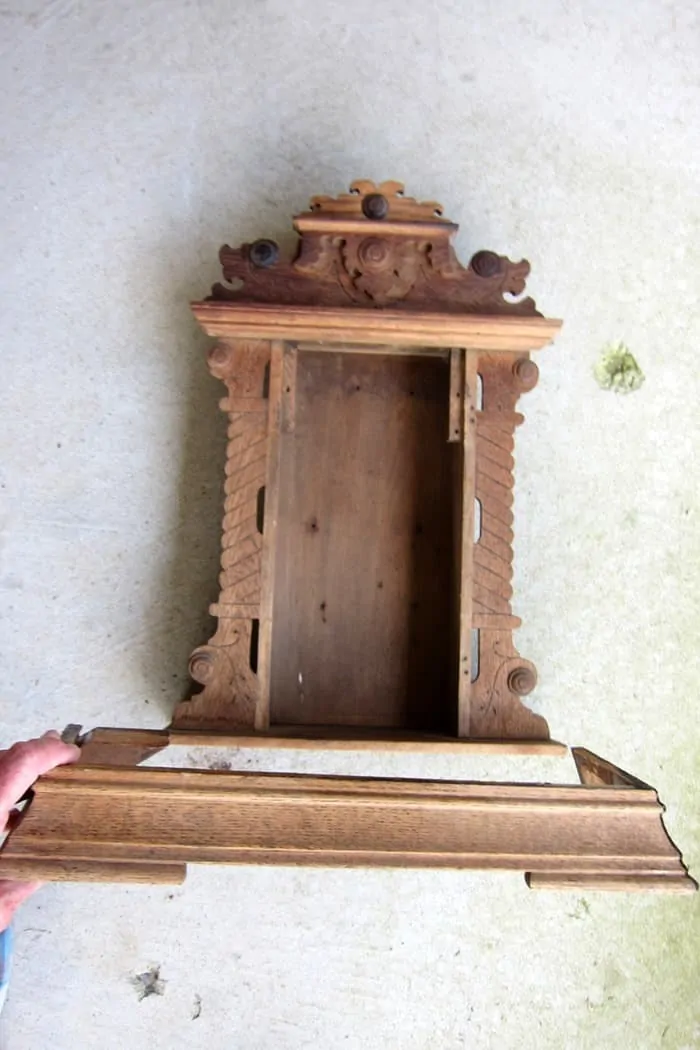 The only reason I wanted the box was for the old clock body. The details are awesome and I have a plan for it.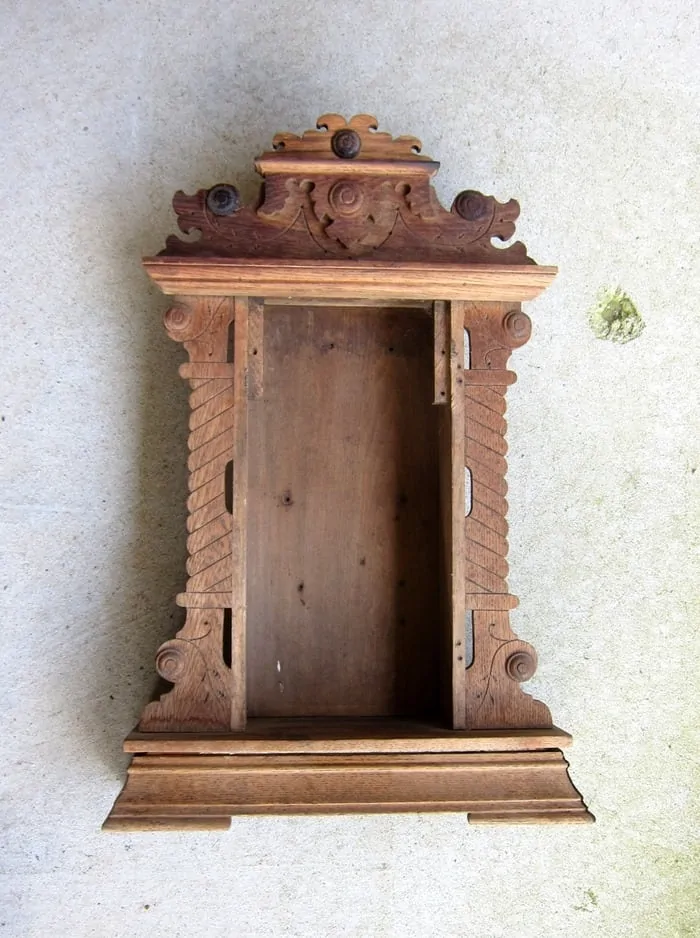 I just need to nail the base to the top. I'm thinking to make a jewelry hanger out of it. Hang the clock case on the wall after placing a few nails or cute hangy things on the inside for necklaces and bracelets. What do you guys think of that idea?
The rest of the box went in the garbage.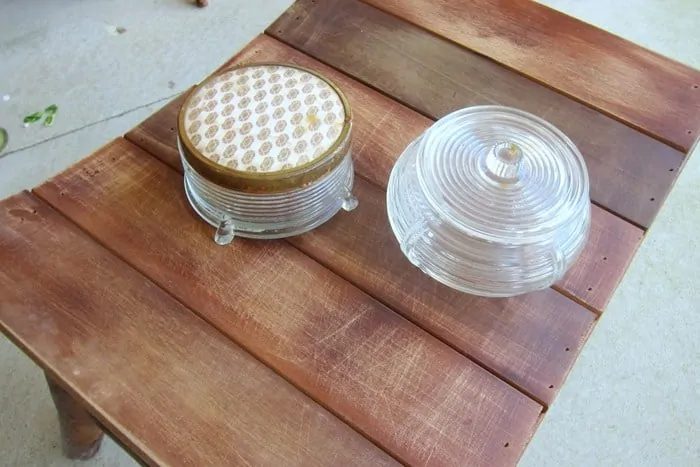 The two pretty glass containers were $1 each. Do you see why this weekly auction is a favorite of mine. It's also very entertaining watching the going's on.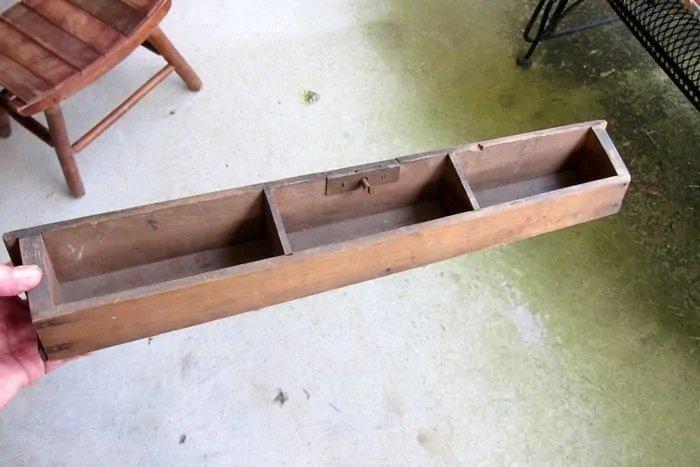 I think the wood drawer was part of a sewing machine cabinet but I'm not sure. I paid $2 for it. It went to the booth but I may have a project in mind for it.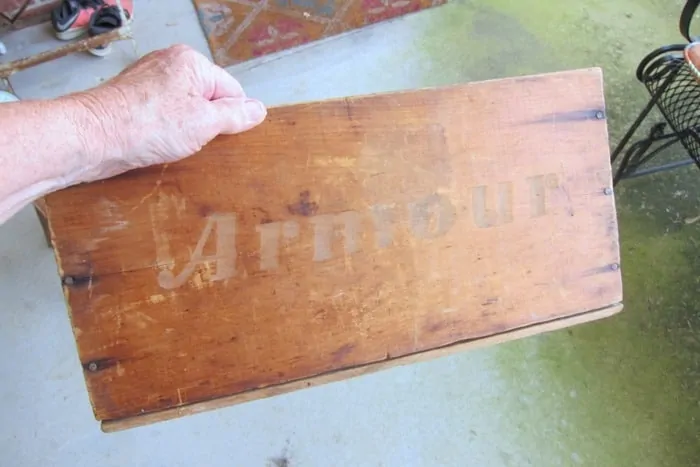 The "Armour" wood box was $3.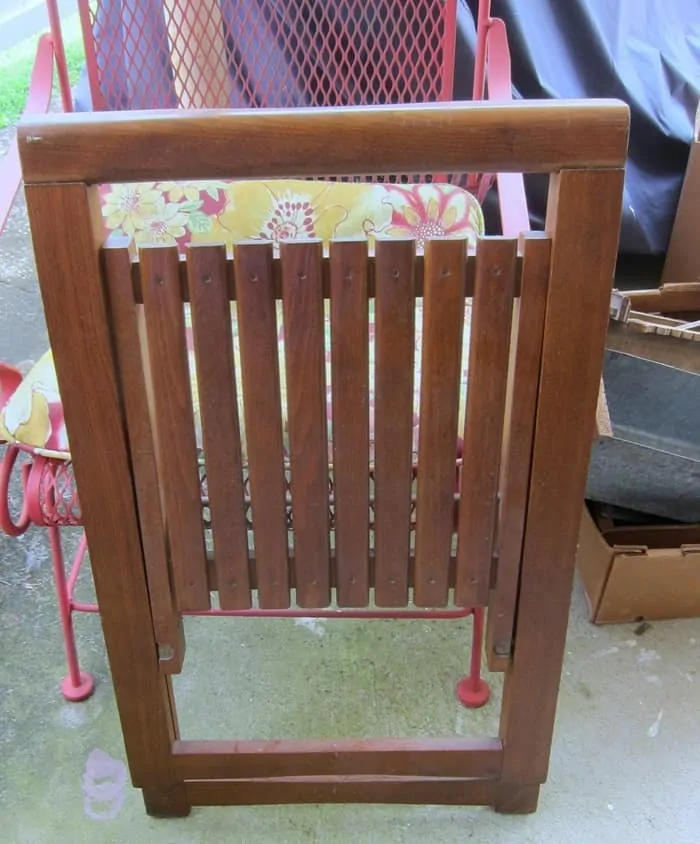 The folding wood chair was cool. I haven't seen one like it before. The price was $6.
It's very modern looking and is comfy too.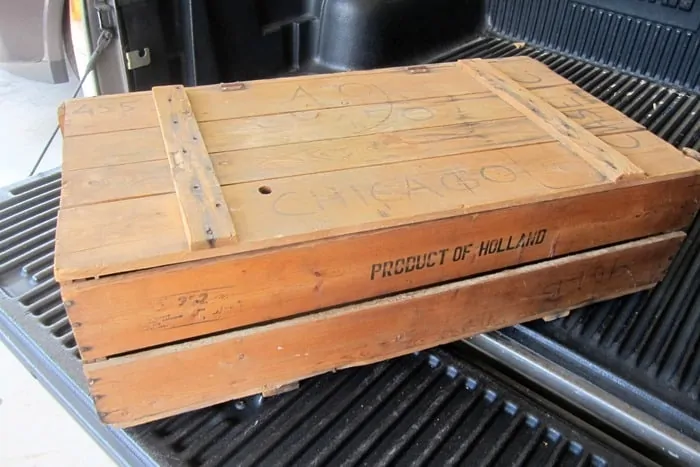 Not sure what was in the wood crate. Price was $7. I can see maybe putting hairpin legs on it and making a table?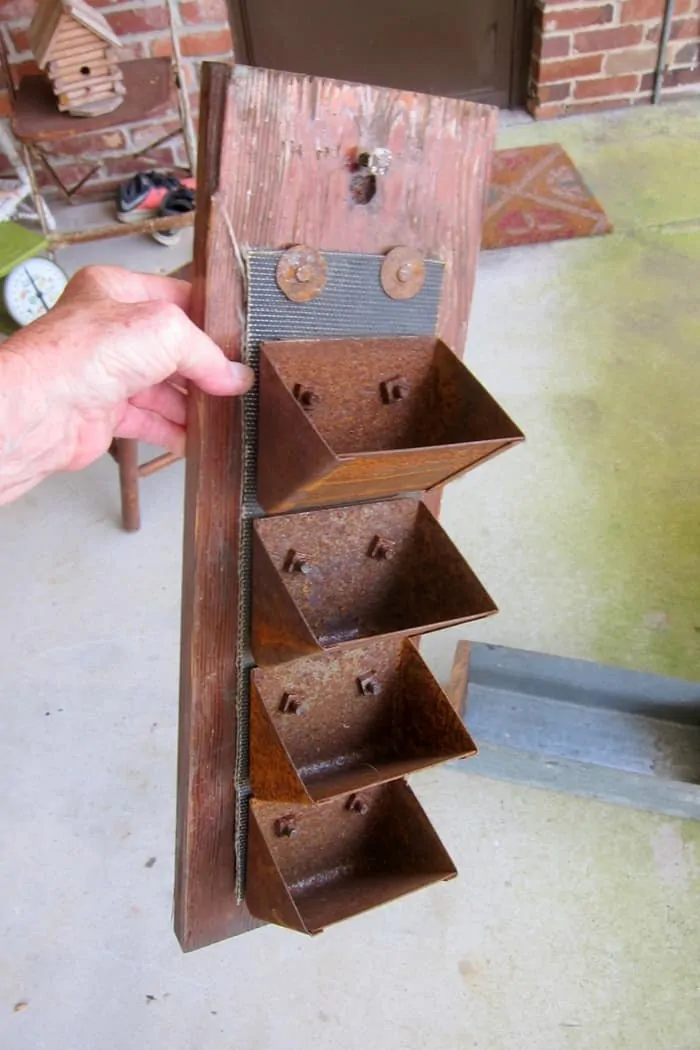 This old rusty thing was $2 and should be good for hanging in a guy shop somewhere. This auction is almost as good as visiting my favorite junk shop or flea market shopping.....just a different kind of good.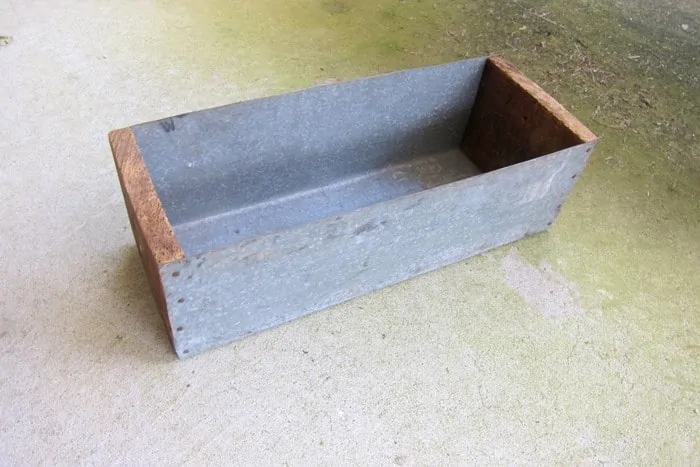 A combination of wood and metal gets me every time. This box was also $3. I kept it and am thinking about stenciling the side and using the box for storage. Just not sure what stencil to use. Any suggestions for me?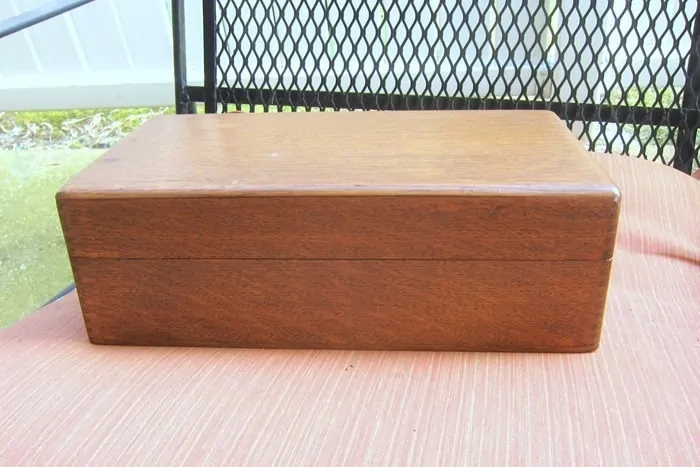 This wood box is in perfect condition outside and cost $8.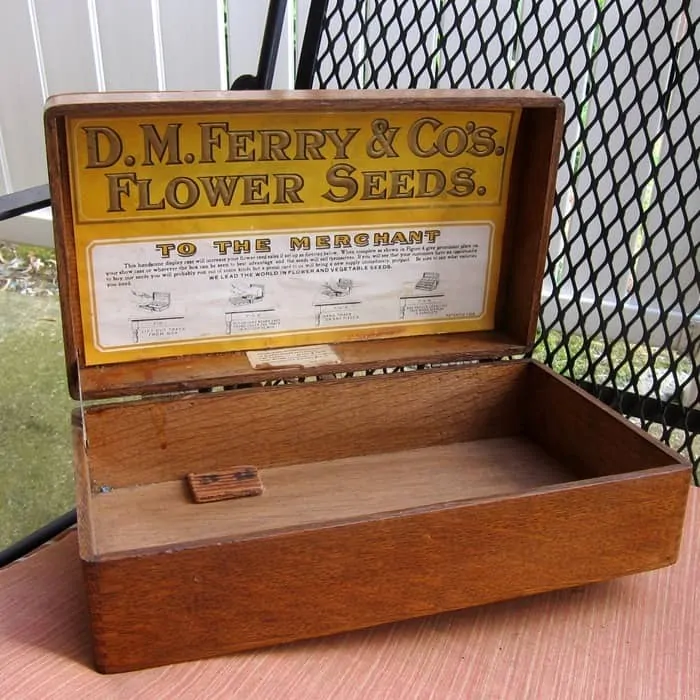 It has the original seed company paper inside.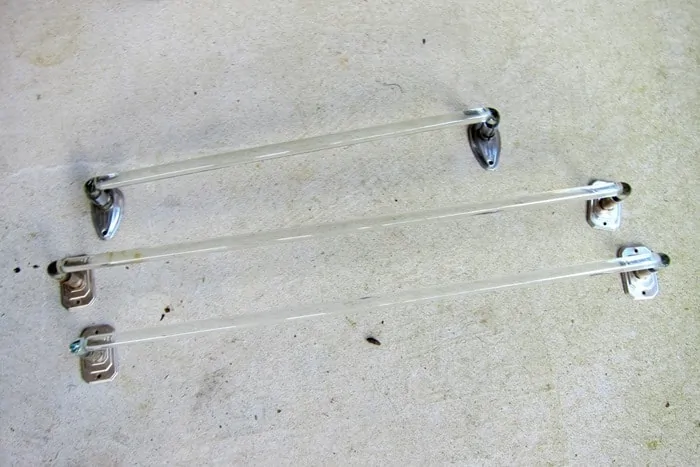 I bought the 3 glass towel rods for $1 each. I planned to keep them but they went to the booth too. I can see using the short one in a project…..maybe with the sewing machine drawer?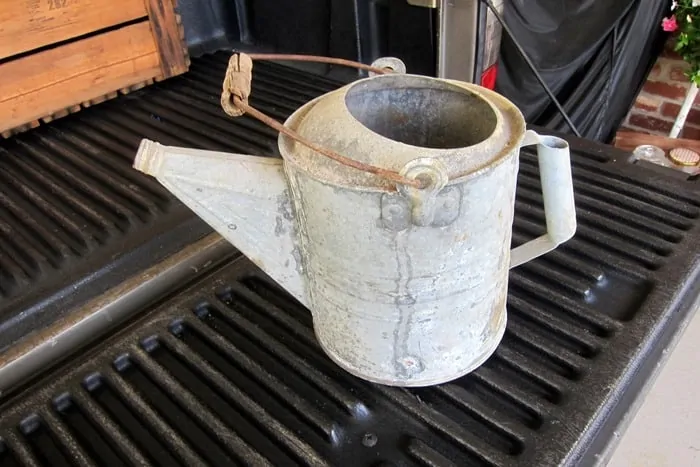 The old galvanized watering can was $7.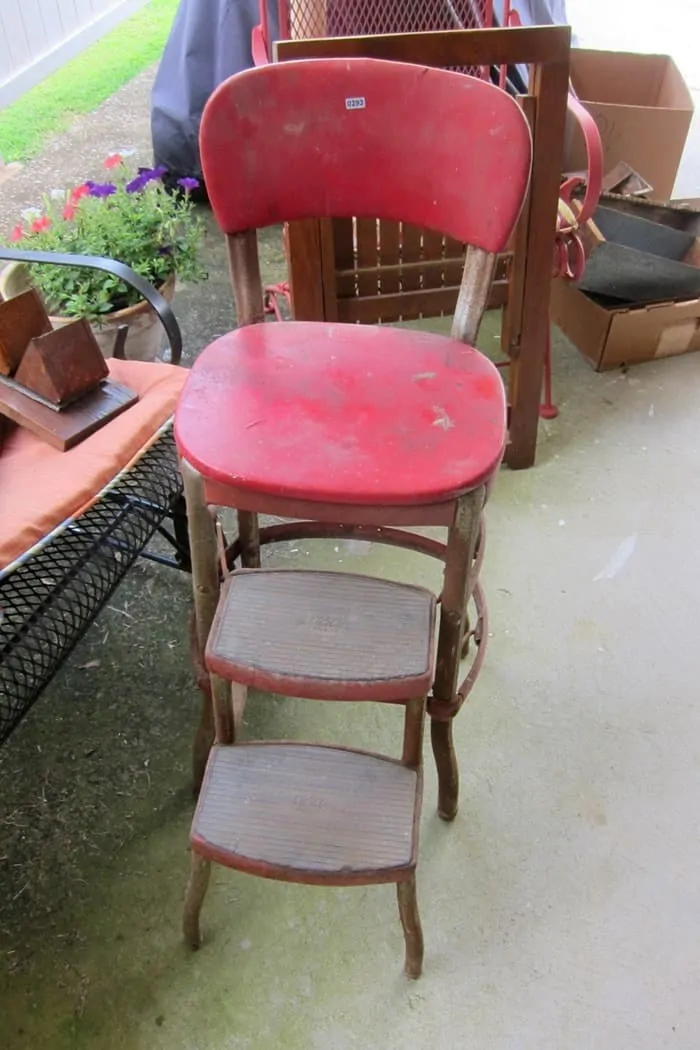 I probably paid too much for the red Cosco kitchen stool. It's really rusty and the red seat is a bit scarred up. I paid $7.50 for the stool.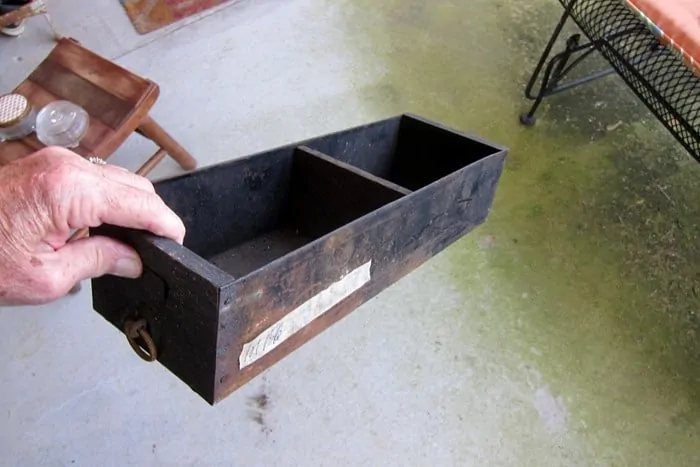 Another wood and metal box/drawer for $2.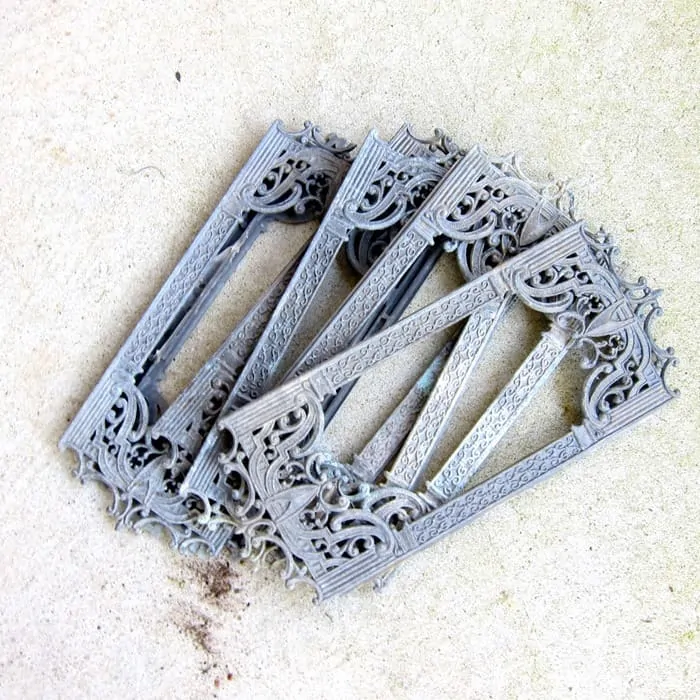 I bought the 6 ornate frames (?) for $20. A bit pricey and I don't have a clue what to do with them yet but I couldn't pass them up. They are made of metal and I can leave them as is, paint them, use them as picture frames….to dress up furniture……add a mirror…….what else?
That's it. What did you see that you liked? I know you have a few project ideas for me. Please share, Kathy
Author: Kathy Owen (Petticoat Junktion)
Kathy is the founder of PetticoatJunktion.com, a home décor blog focused on repurposing and upcycling furniture, old hardware, rusty stuff, and thrifty finds into unique home décor. Kathy's projects have been featured on the Home Depot Blog, Plaid Crafts, Behr Designer Series, and in numerous magazines. Read more about Kathy here.