Wow, it's October already.
I've been seeing Fall and Halloween décor for months now, particularly in the craft stores.
And Hobby Lobby has had Christmas merchandise out since July… I think it was July….it's been a while for sure.
I'm trying to get my act together and do some seasonal decorating.
I get my inspiration from the internet, particularly my blog friends and Pinterest.
What did we do before Pinterest?
I don't know about ya'll, but I ripped pages from magazines and stuck them in a folder to look at when seeking inspiration for a project.
I have some inspirational photos to share today.
It's all about pumpkins……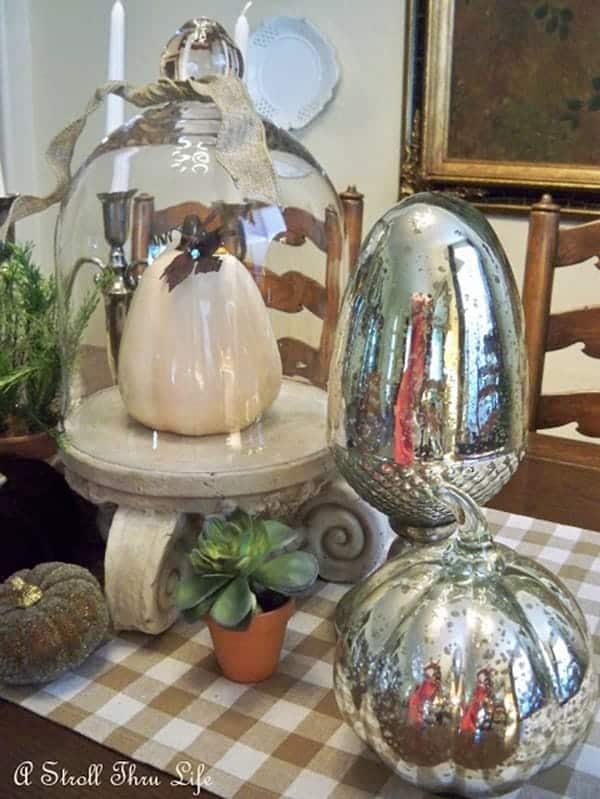 Petticoat Junktion is a participant in the Amazon Services LLC Associates Program. As an Amazon Associate I earn from qualifying purchases.
The first group of photos feature white, metallic, or neutral tone pumpkin displays.
Clicking on any photo will take you to the featured blog.
Please pin from the original blog source.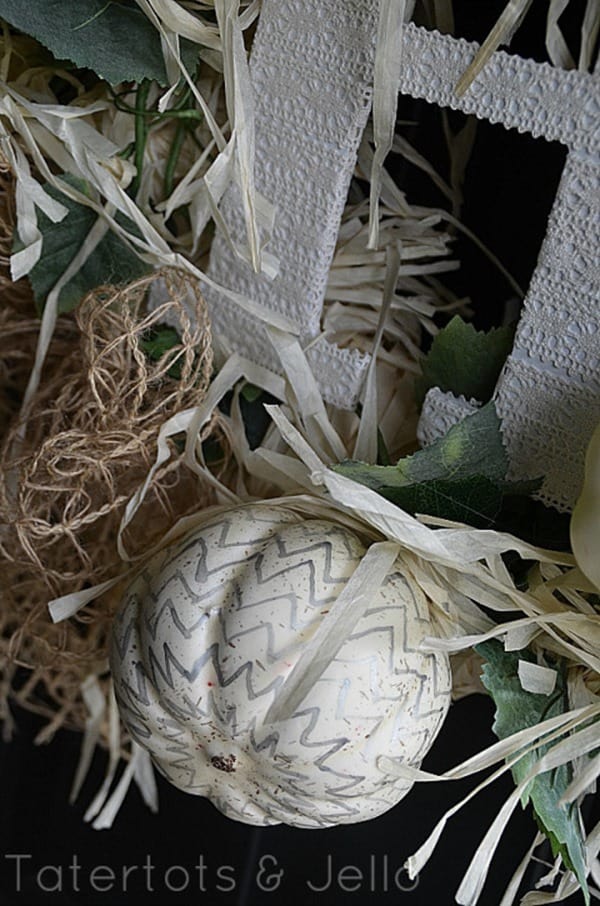 The freshness of the neutral pallet draws my eye.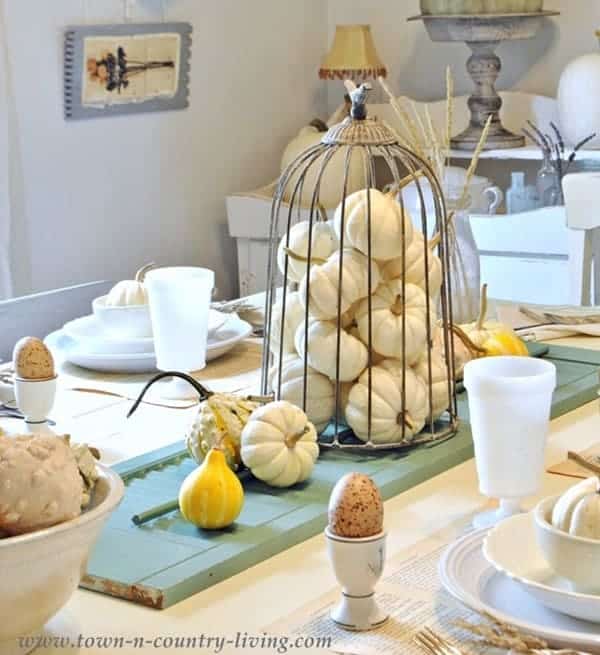 Town and Country Living
Isn't this lovely with the added touch of turquoise as a background.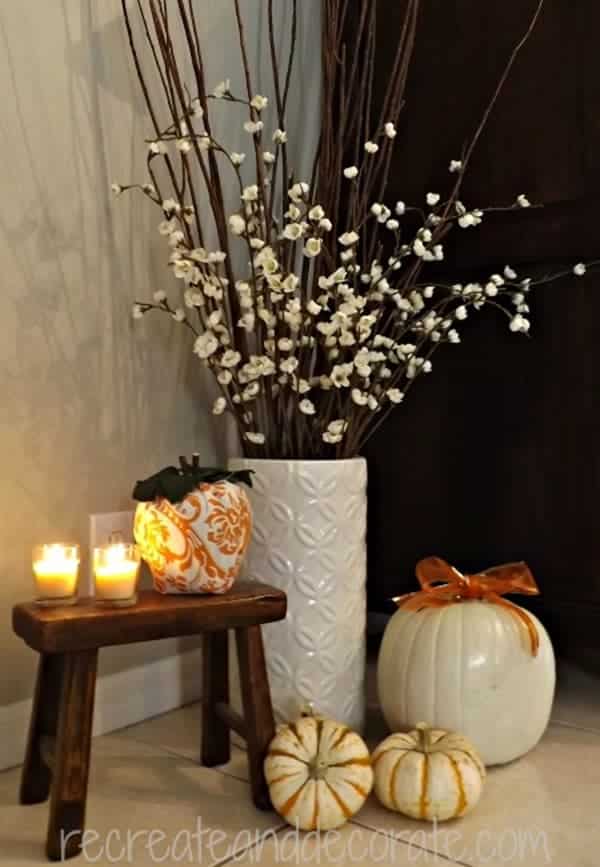 Doesn't this grouping say Fall.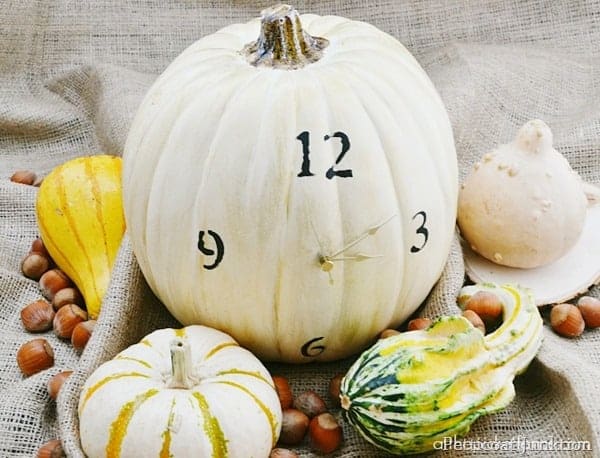 And then for the whimsical……Vanessa from At The Picket Fence created this cute "clock pumpkin".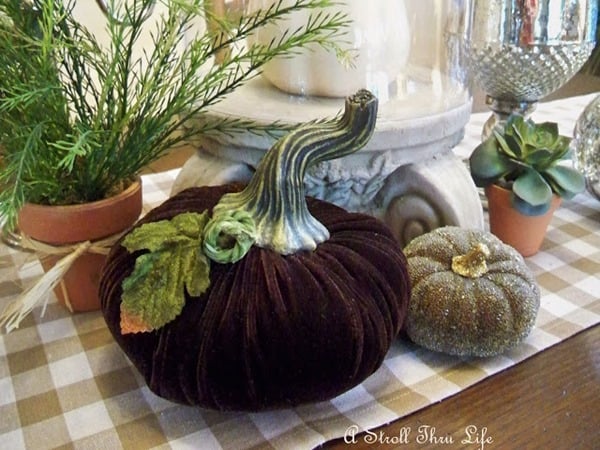 Marty's table display was so original I chose two photos that showcased her display.
The texture of the velvet pumpkin caught my eye.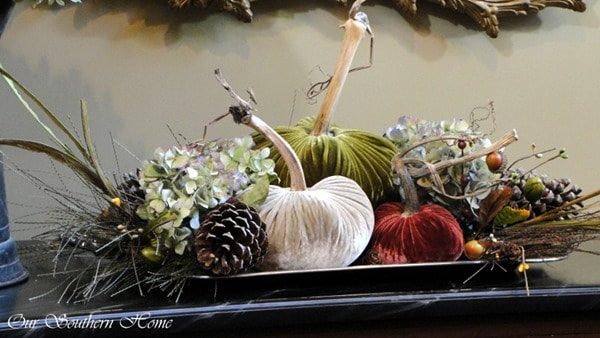 Christy did this lovely grouping of velvet pumpkins.
She is also doing a giveaway this week for a trio of velvet pumpkins from the Love Feast Shop.
Click on the photo of the pumpkins above to visit Our Southern Home and enter the drawing.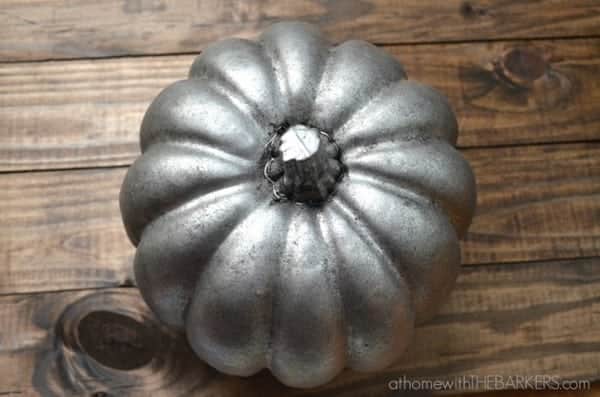 Sonya, has a great tutorial on How to Get An Aged Zinc Look for your pumpkins or other home accessories.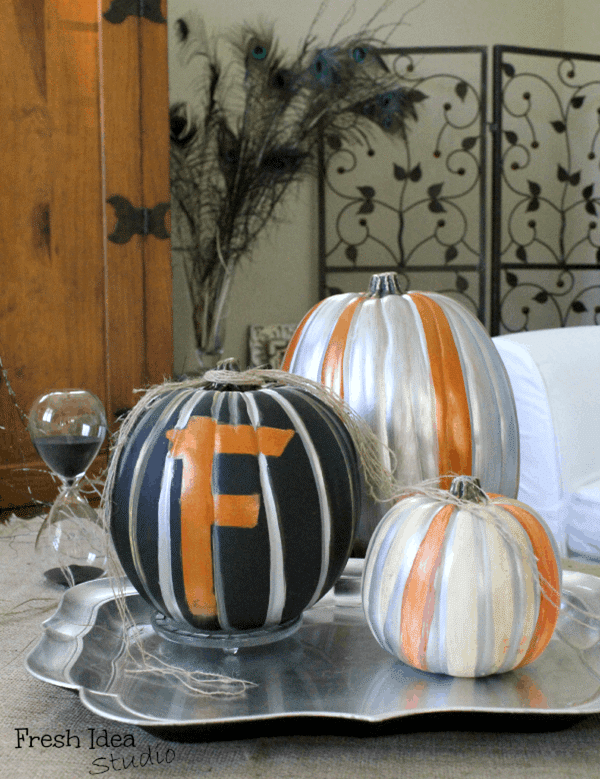 Therese painted these metallic beauties.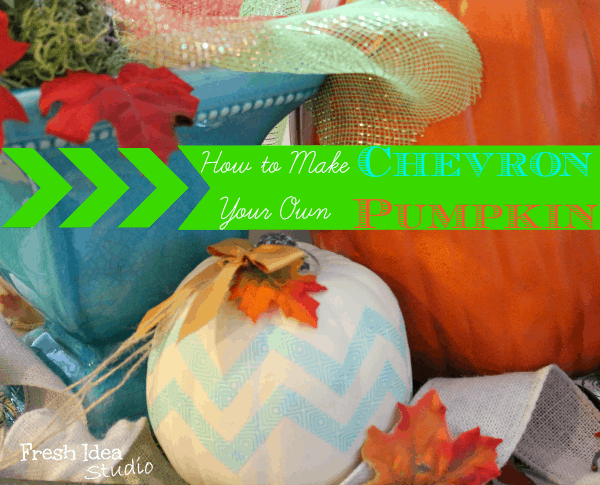 And she created this chevron cutie too!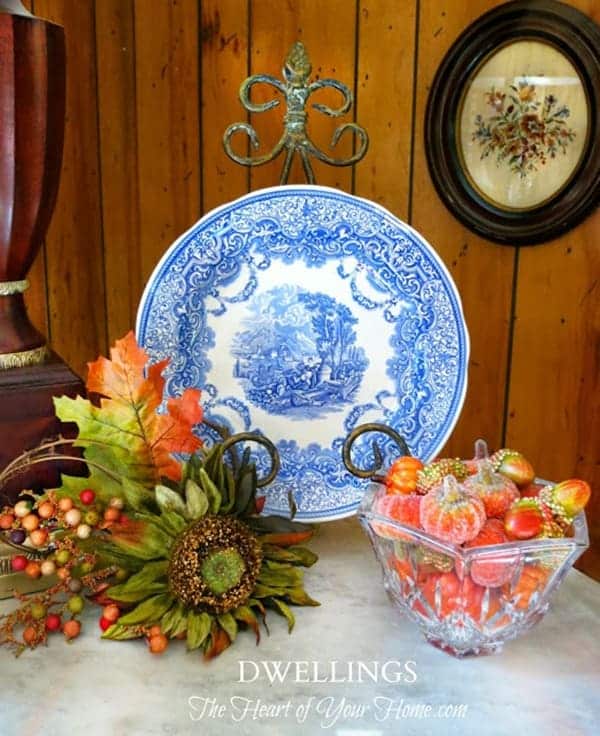 Dwellings The Heart Of The Home
Now for the more traditional fall colors.
I like textures and I like the little crystalized pumpkins…or whatever the heck you call that coating.
Can anyone help me?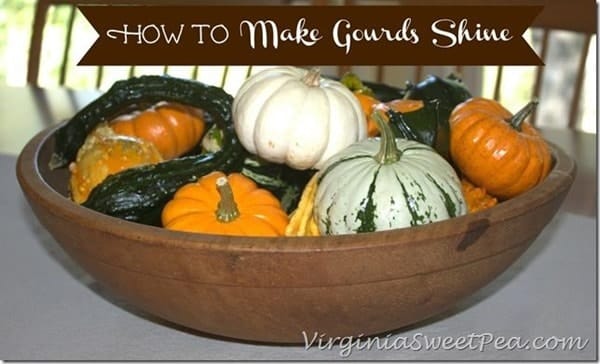 This bowl of pumpkins is extra shiny because Paula waxed them.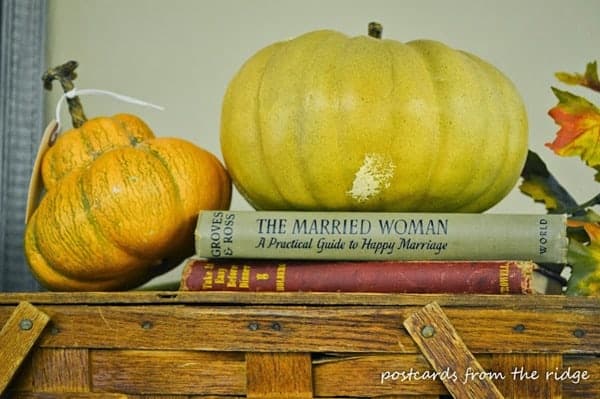 Postcards From The  Ridge
I like the way Angie arranged this grouping, and what's up with that book.
The Married Woman,  A Practical Guide to Happy Marriage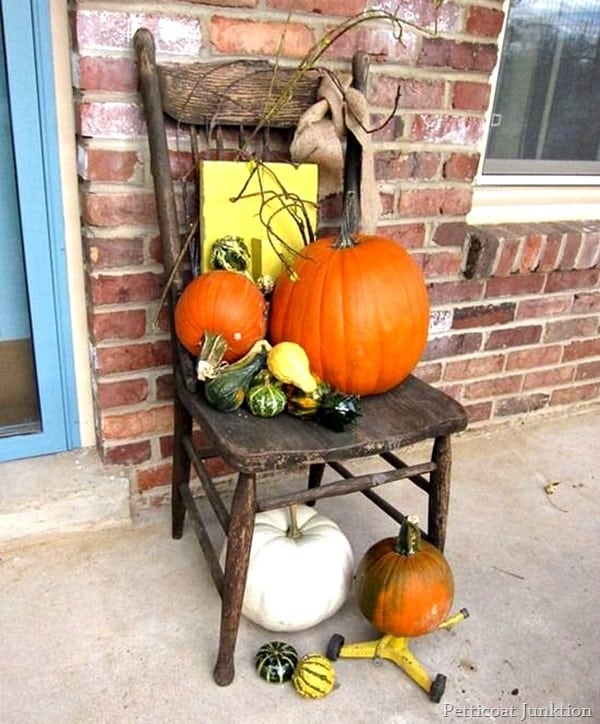 Autumn 2012, Petticoat Junktion
and this is my front porch last year…..nothing there this year…yet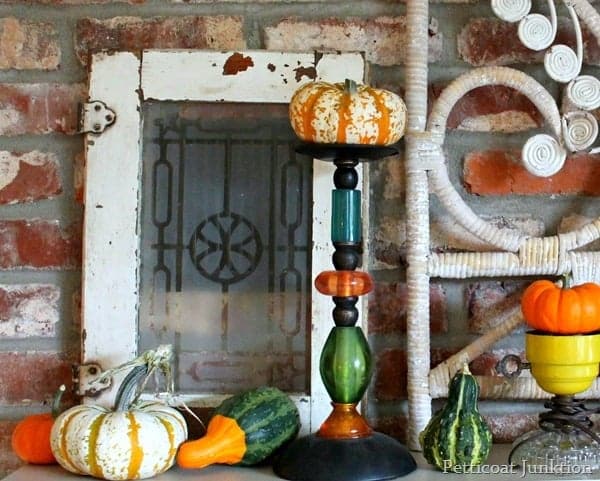 Fall Mantel, Petticoat Junktion
my mantel, this year
Did my friends inspire you?
You can leave a comment below.
If you don't have a blog….that's ok…you only have to leave your name (first name is ok) and your email address, then your comment. Your email address will not be shown on my blog. It is to prevent spammers from leaving comments.
Thanks for stopping by and have a great week,
Kathy
Follow….
On Facebook Petticoat Junktion
On Twitter Petticoat Junktion
linking to these parties….
DIY Sunday Showcase……Throwback Thursday
Thrifty Décor Chick…..Funky Junk Interiors……
Savvy Southern Style…Diy Showoff…Shabby Creek Cottage
Project Inspired…..Serenity Now…Home{work} Wednesday….Tatertots&Jello