More One Day Painted Furniture Makeovers From Our Furniture Painting Workshops.
You guys loved seeing the furniture makeovers from the workshops Sara and I did a while ago so I have more for you today. I have to admit I enjoyed looking back at the makeovers myself. It's amazing what you can do with blah furniture.....even if you've never lifted a paint brush in your life.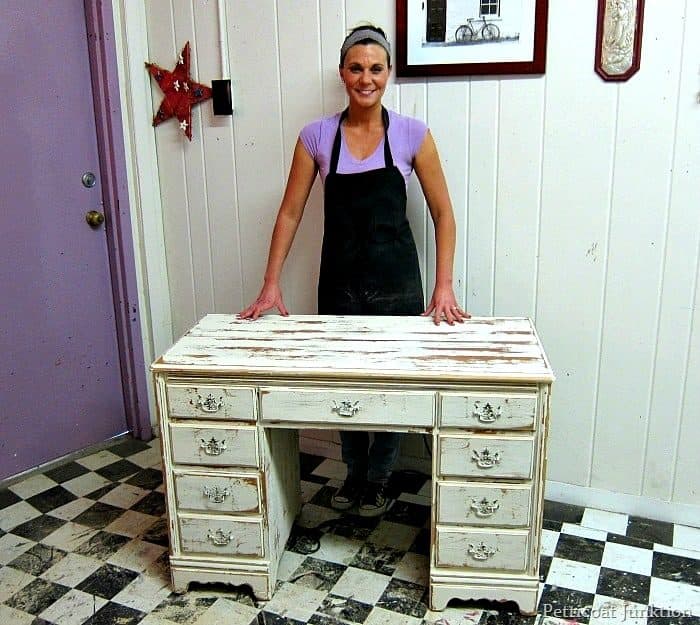 This shabby chic piece is one of my favorites. The heavy distressing is perfect. The before photos are later in the post.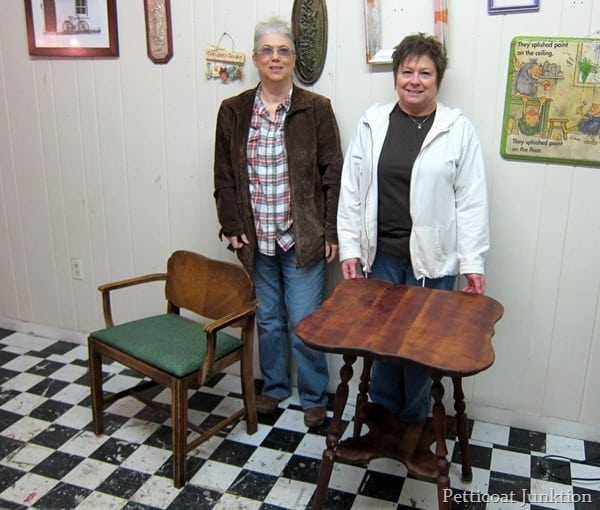 Karen and Ava drove all the way from Missouri to paint with us. Got to love that. I also like both of their pieces. Jealous.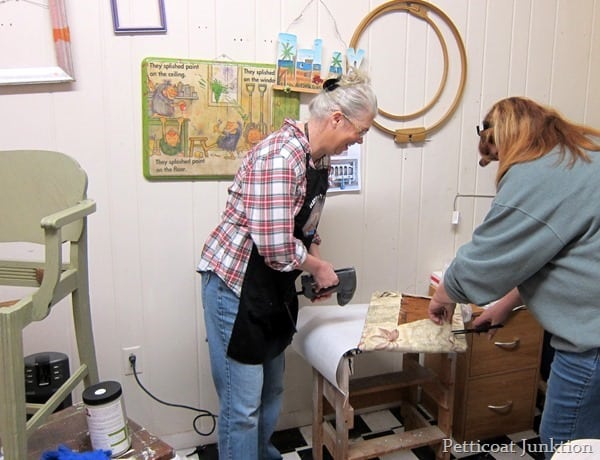 Karen painted the vanity stool with Beyond Paint, color Sage. While the paint was drying she and Sara recovered the seat with fabric she brought with her for the project.
The paint color is a perfect match for the fabric. Pretty.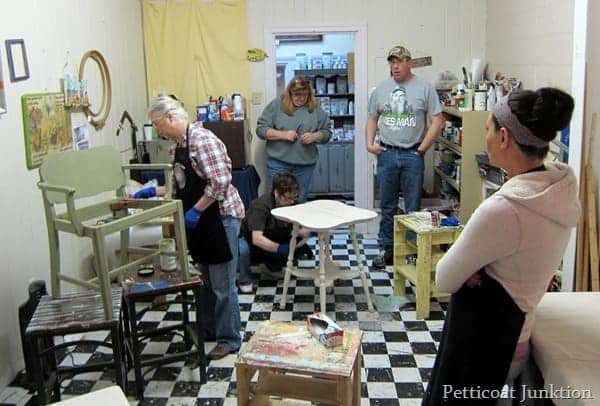 A look at the paint room where we teach most of the workshops.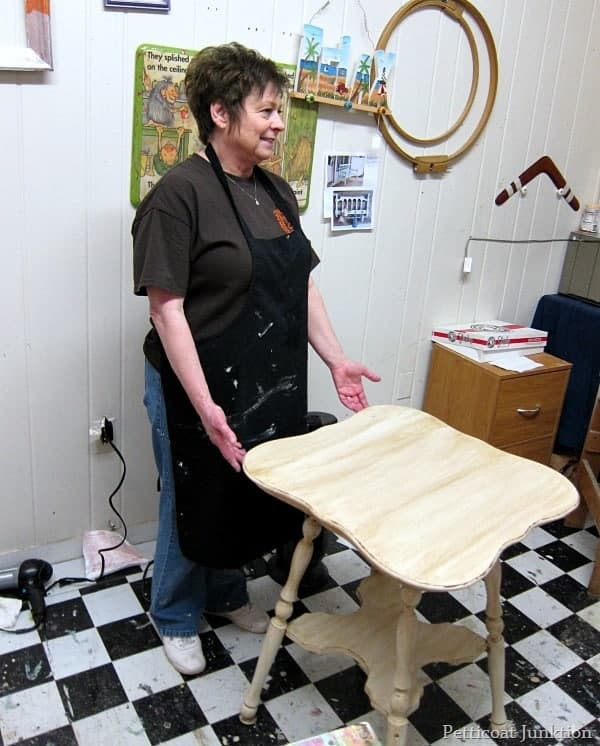 Ava used Beyond Paint in off-white then used Caromal Colours Toner on the top for an aged look.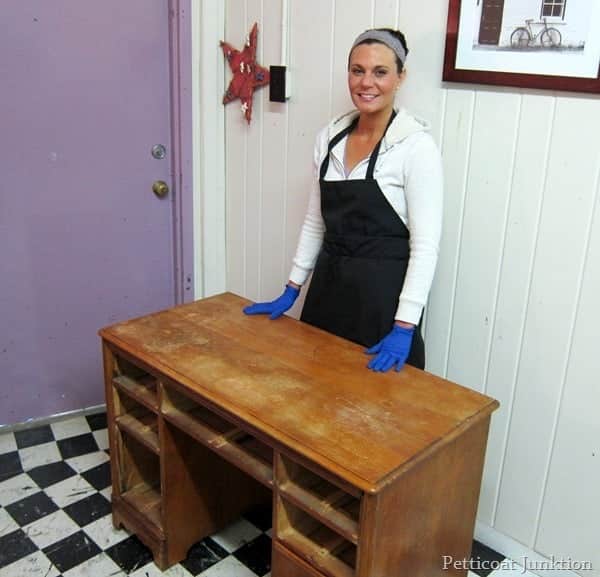 Carrie's friend was going to throw this desk away but she convinced her friend to let her have a go at it and return it to her in much prettier condition.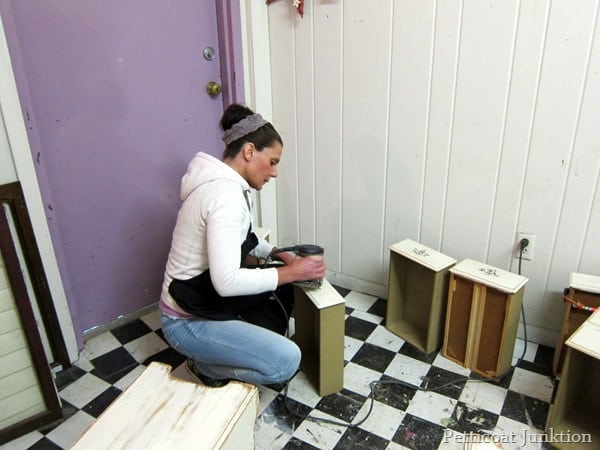 That's a good friend.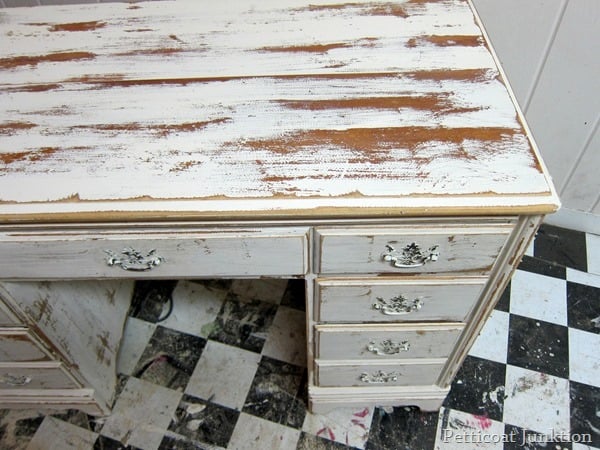 My type of distressing. I haven't done much of that lately. Inspiration!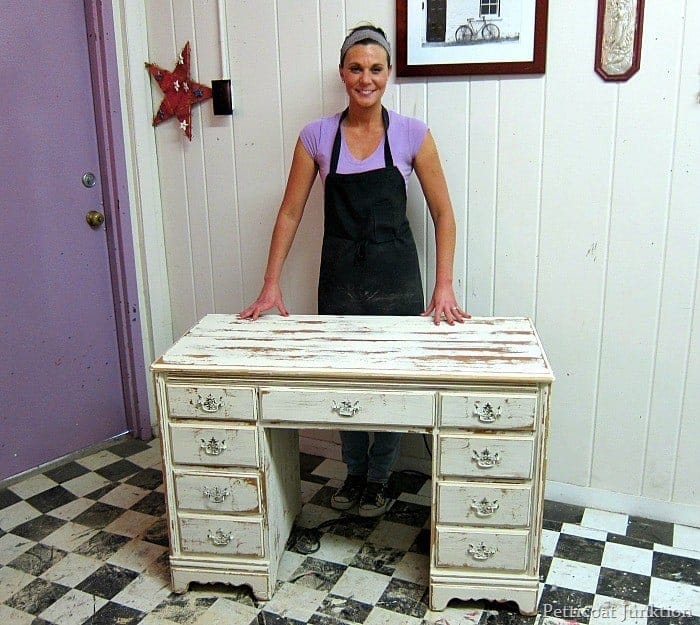 I hope her friend was happy with the new look.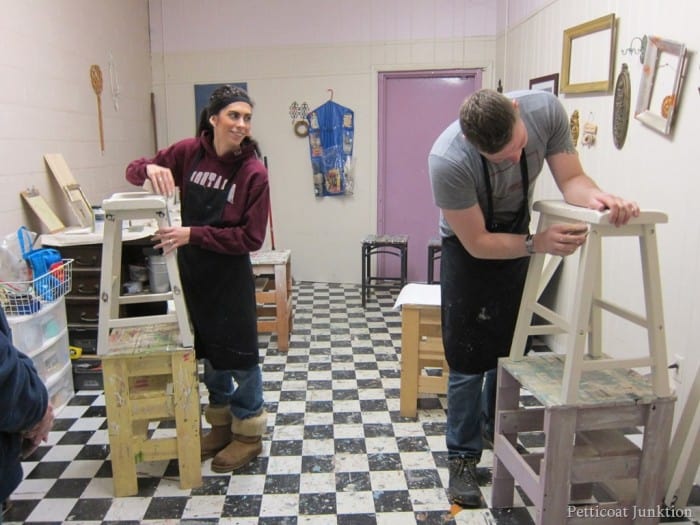 We had a husband and wife team come in to paint together. Isn't that sweet. I don't know if me and the JTS could paint a piece of furniture together. They brought in a table with 4 bar stools. Beyond paint in off-white was the color choice.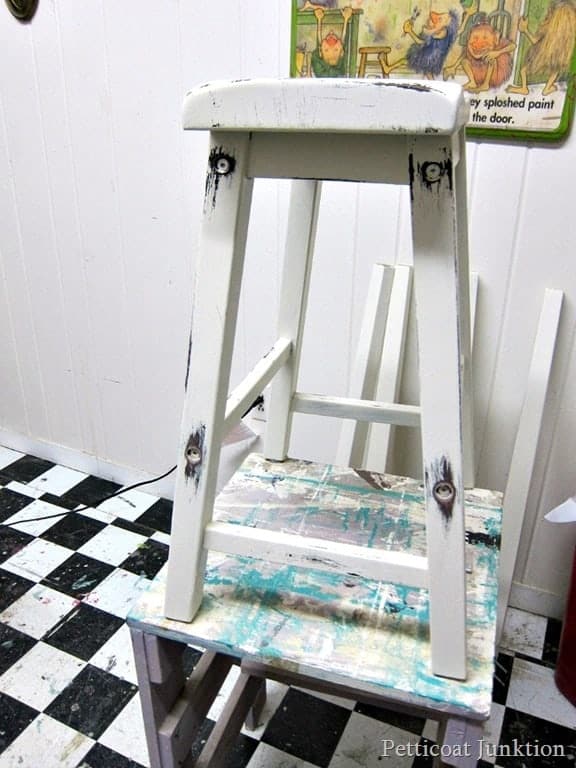 They went crazy distressing the paint. My kind of people.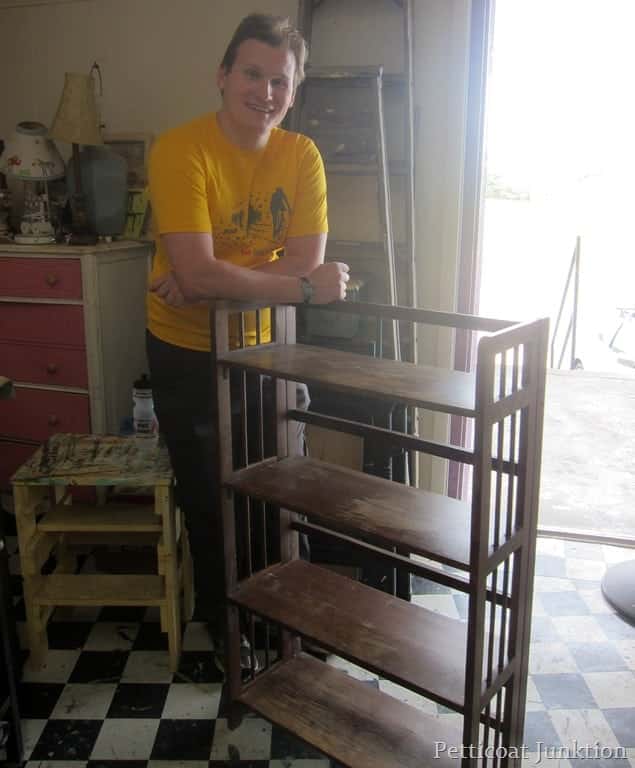 Charles drove up from Nashville to paint with us. His bookshelf is a bit unusual and I really like the straight lines.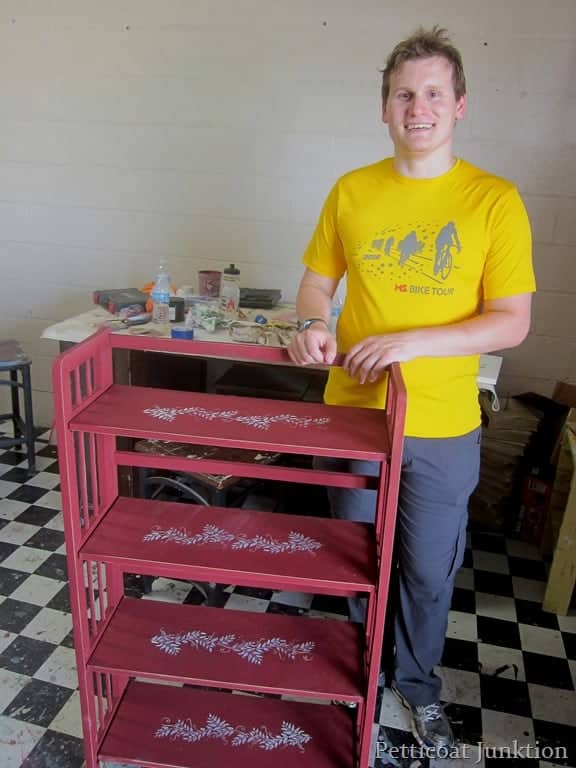 Charles decided on a Candy Apple Red from Caromal Colours Paint. The he stenciled leaves and vines on the shelves. Sara and I teach stenciling, gold leaf, and whatever else comes to mind in our workshops.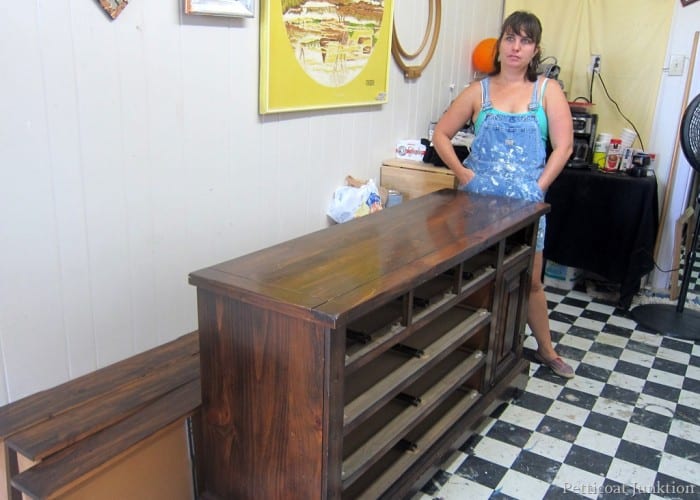 Isn't this a nice big piece Jeannie chose for her project.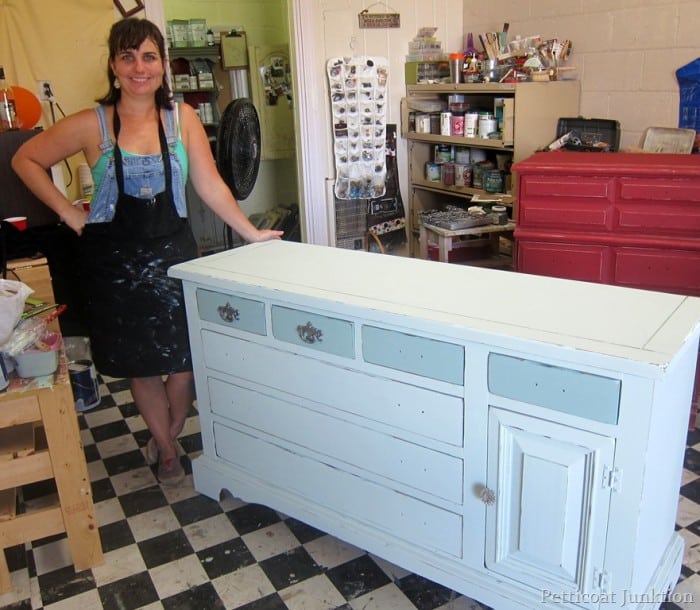 She chose a soft blue and a darker blue as a contrast for the top drawers. We painted the original hardware with Martha Stewart Silver Metallic paint. Jeannie wanted to apply a sealer to the dresser and we suggested she wait a few days for the paint to cure. She decided not to put all the hardware on until she sealed the dresser. I really like the inset drawers on this piece. Don't know why but they look so much better than the other type drawers....whatever you call them.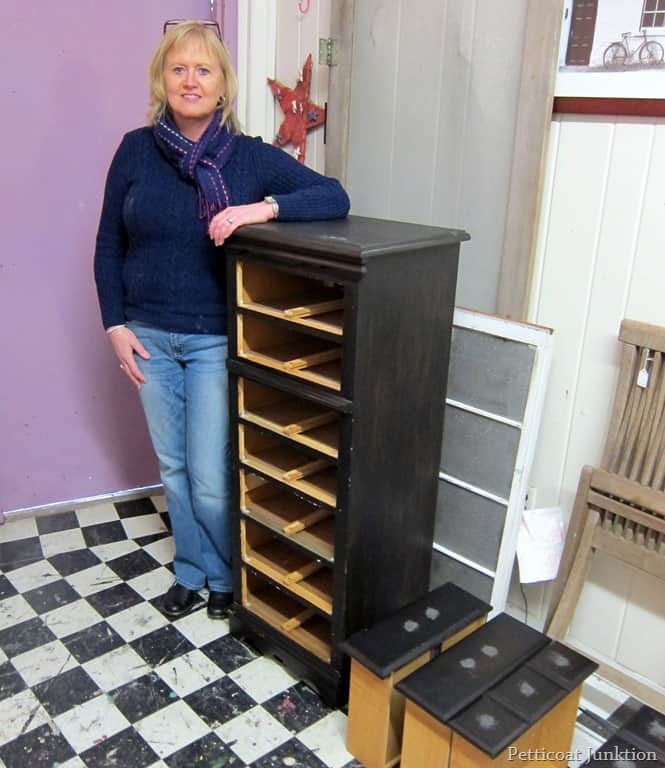 Melissa brought in the lingerie chest and she wanted to update it with new knobs. We filled in the old hardware holes and drilled new ones. Yes, this can be done in one day and the piece painted. Painting furniture and doing a few minor repairs for the most part doesn't take that long.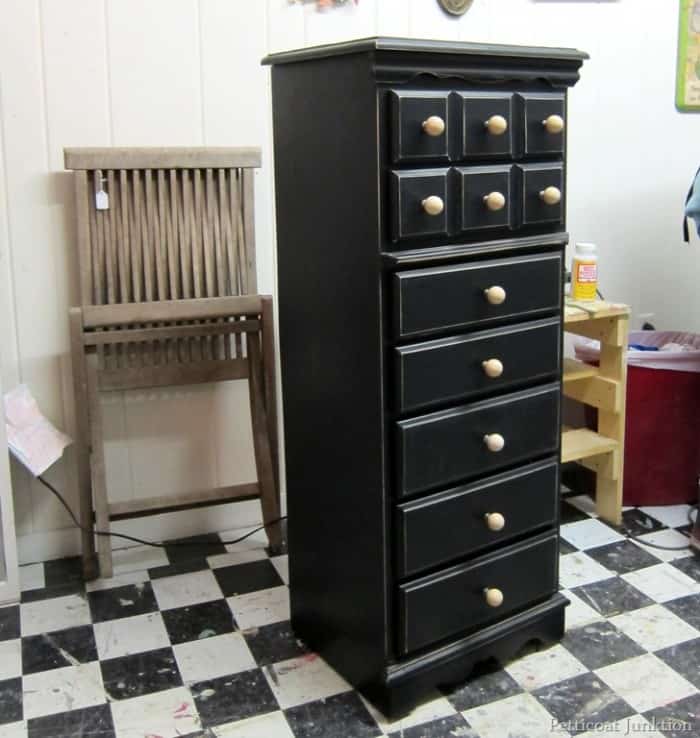 She updated the dark paint with Licorice (black) in Beyond Paint, did a bit of distressing, and after putting on the new knobs decided on a bit of decoupage for the top.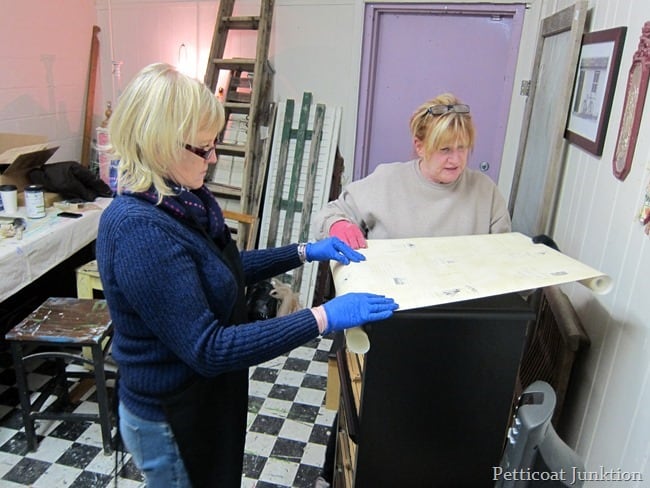 You know you can decoupage fabric, paper, wallpaper, wrapping paper, etc. on to furniture.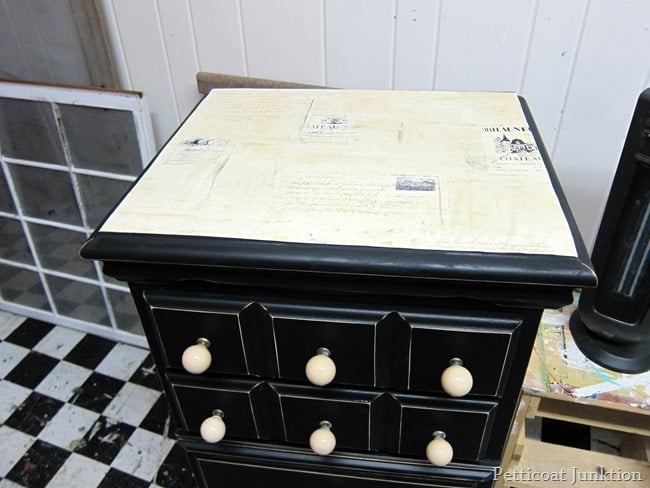 The lingerie chest has a whole new look.....on one day.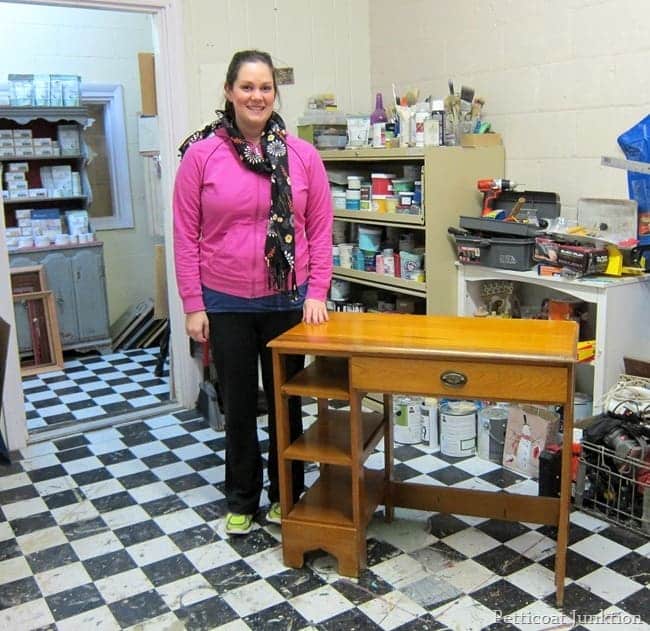 Lisa's desk has been in the family for a while and she wanted to give it a bit of style.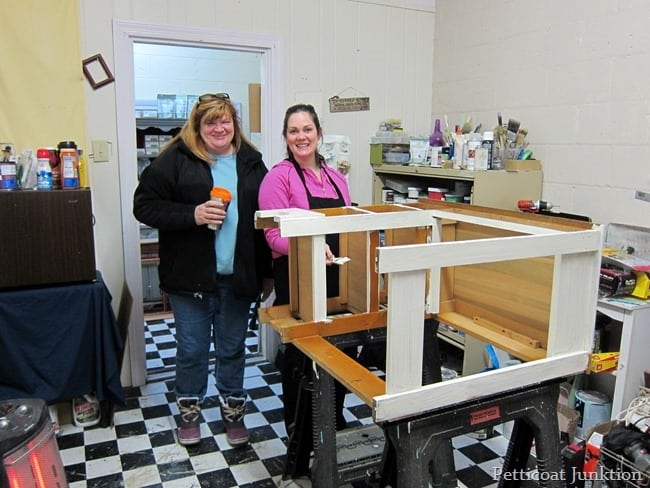 Sara was mostly drinking coffee instead of helping.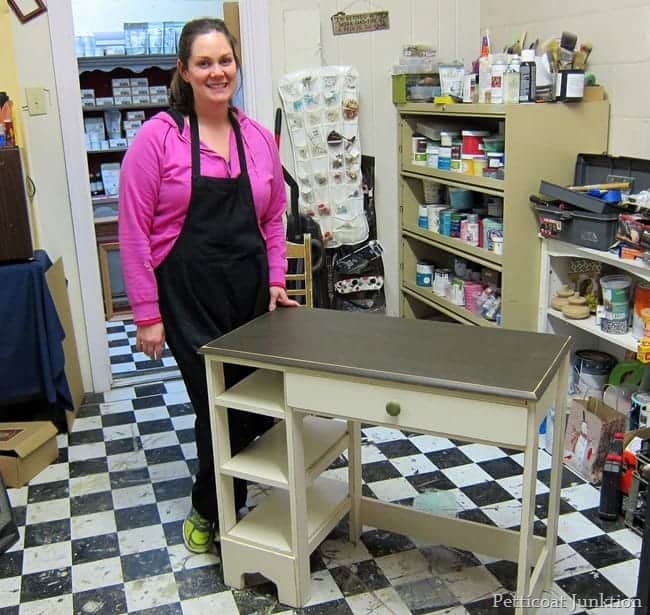 The paint made a world of difference in the desk.....Beyond Paint, off-white for the base and mocha for the top.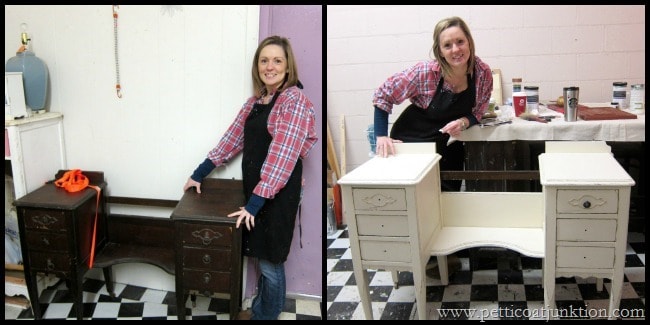 Rachel's piece was a gift from a friend. There is a large trifold type mirror that goes with the vanity but I didn't get a photo of it.
Rachel was the comedian in this workshop. Sara and I always have such fun and come away from the workshops with new friends!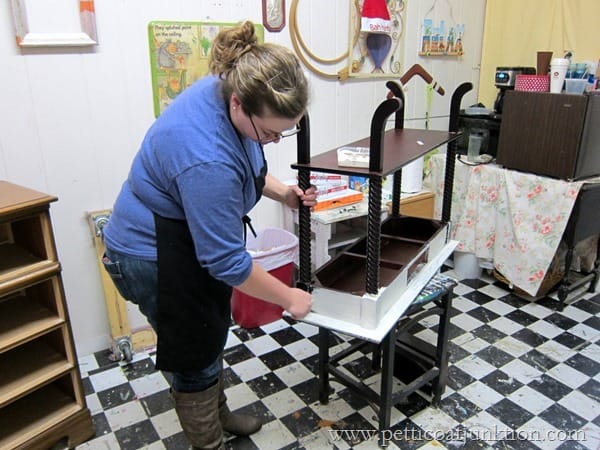 Danielle brought in a table her and her hubby picked up off the side of the road. I've done that before. Gotta love free stuff.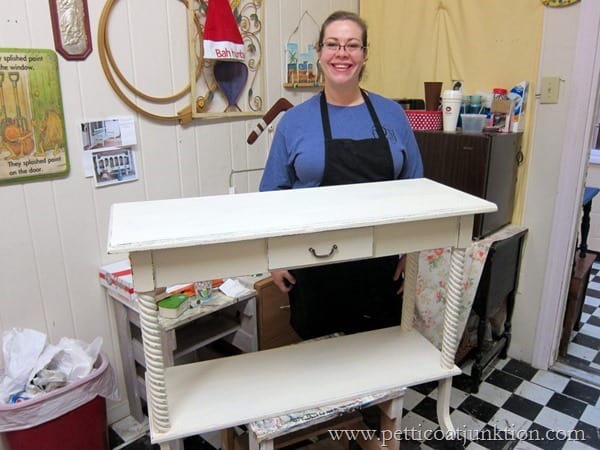 The table looks great painted.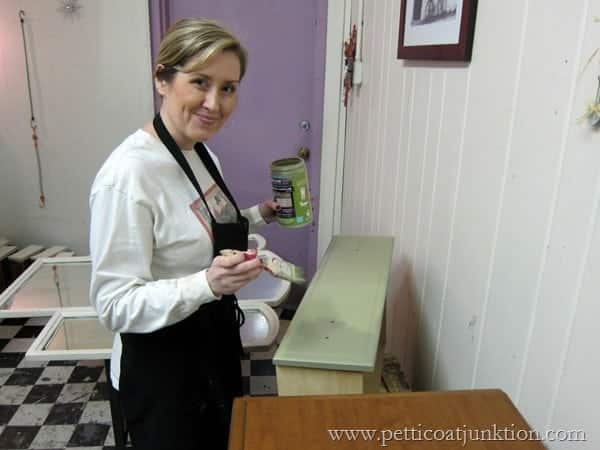 We had to do a minor veneer repair on Jennifer's piece before we started painting but it's wasn't a big thing.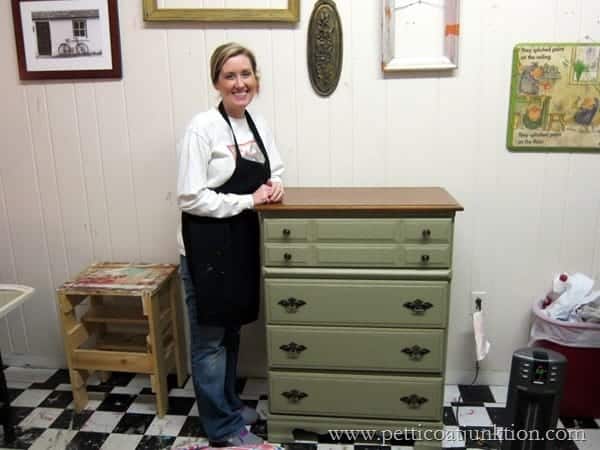 She decided not to paint the top of the chest and I really like the two tone finish.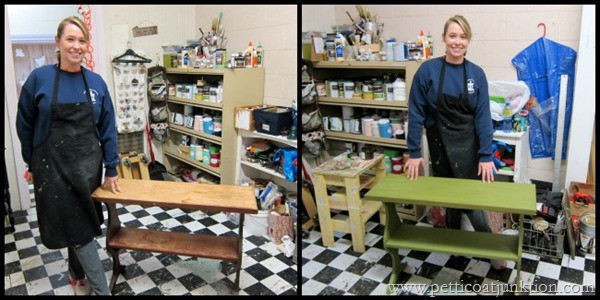 Alice brought in a homemade table. The green paint is latex mixed with Webster's Chalk Paint Powder.
That's it for today's look back at past workshops. Hope you guys enjoyed the makeovers. Did you have a favorite? Want to know about the Beyond Paint (formerly Reclaim Beyond Paint)? I have a bunch of makeovers in this roundup.....15 Beyond Paint Furniture Makeovers.
You can find the Beyond Paint on Amazon here (affiliate link).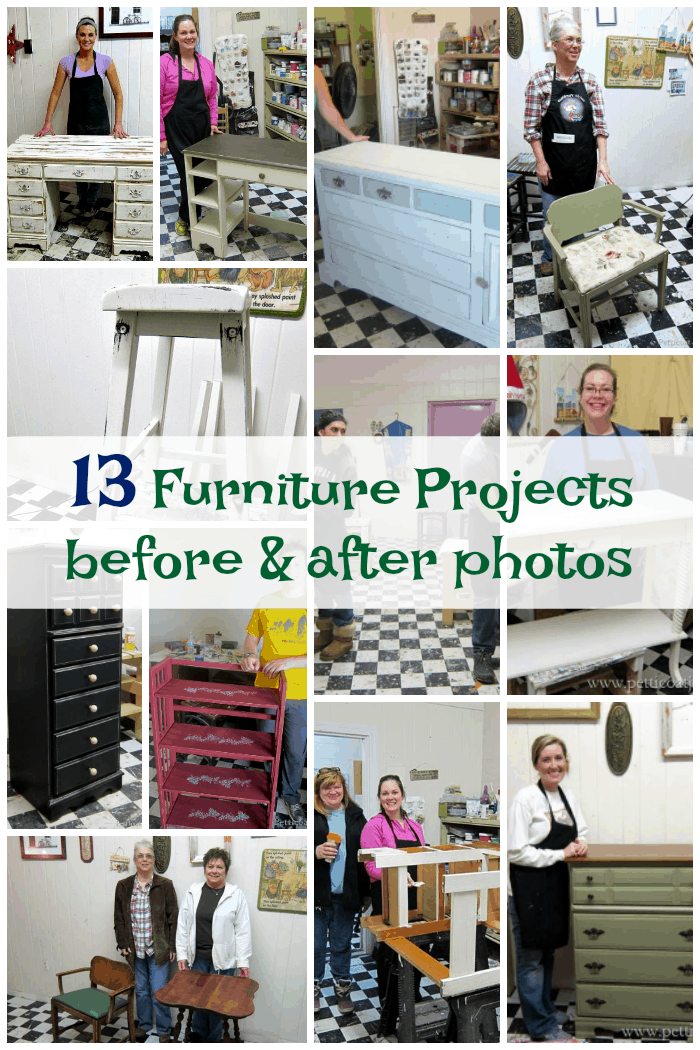 Thanks for being here and have a great day, Kathy