The Gray Cabinet
This gray cabinet is a lot more detailed than the vintage radio cabinet I painted tricycle red and have sitting in my living room. In fact the beautiful wood details got me in trouble. I should have passed on the cabinet because it was such a mess.

Painted Benjamin Moore Gray with White Details and Light Distressing
Did everyone have a good start to the New Year? I did. The hubby and I saw the New Year in quietly, had some black eyed peas for good luck, and generally had a quite weekend. Things will pick up today when the oldest granddaughter gets here.
Did you have black eyed peas? I like black eyed peas now. Last Winter at Rafferty's I had my first bowl of Hoppin' Jon. Have you ever had Hoppin' Jon? It has black eyed peas, rice, sausage, and a few other things. I enjoyed it so much I started making it myself. I kind of made up my own recipe. Anyway, that's what the JTS and I had for New Years Eve and New Years Day. We should be doubly lucky this year.
Over the weekend I finished painting the antique radio cabinet. I can't say that it didn't give me a few fits. It was my problem though. The cabinet went through about 3 transformations before I was happy with it.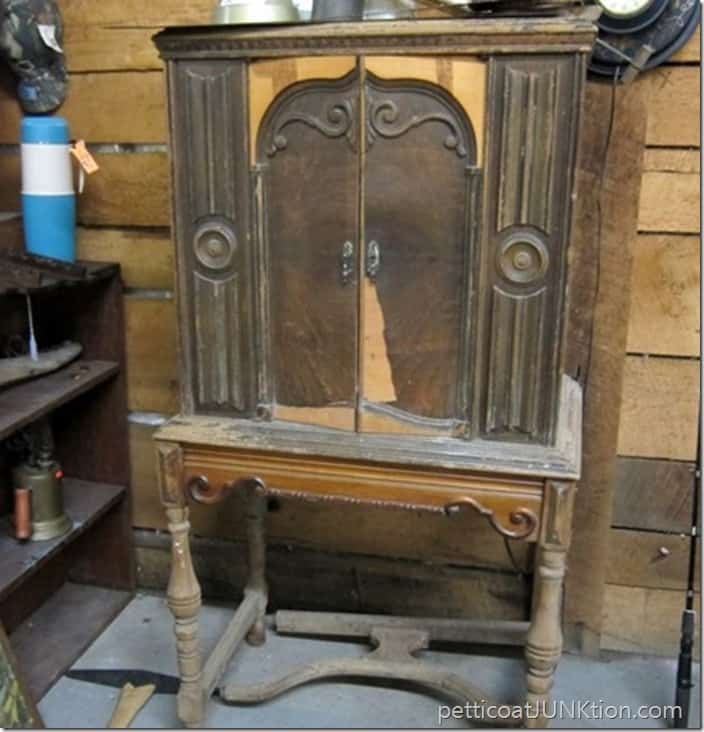 The cabinet as I found it. I paid $42 for it and I'm not sure I got a deal. As you can see it is a hot mess.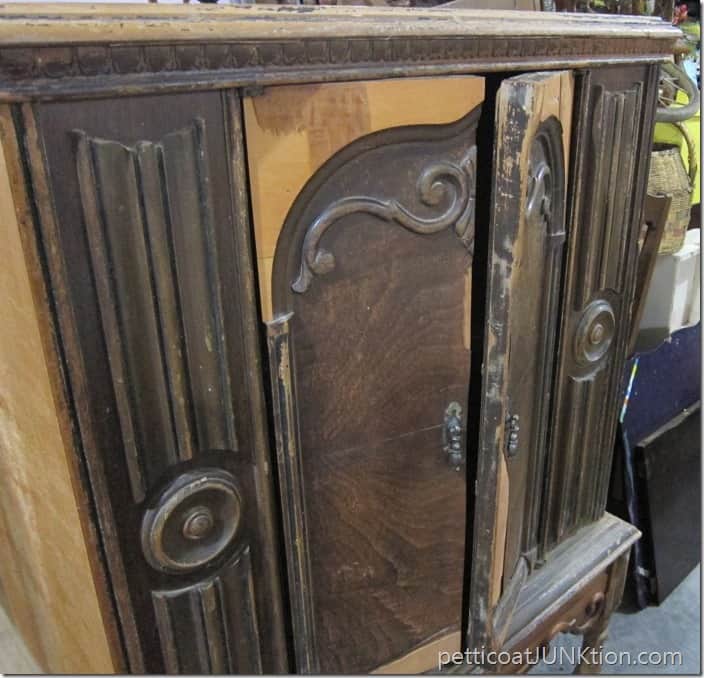 The JTS did a lot of work on the cabinet. He removed the antique radio and added shelves and a back to the inside. The veneer was a mess. I ended up leaving the pieces of veneer on the front doors. I was afraid if I removed the veneer the little curlicue wood appliques wood shatter. More on the veneer later.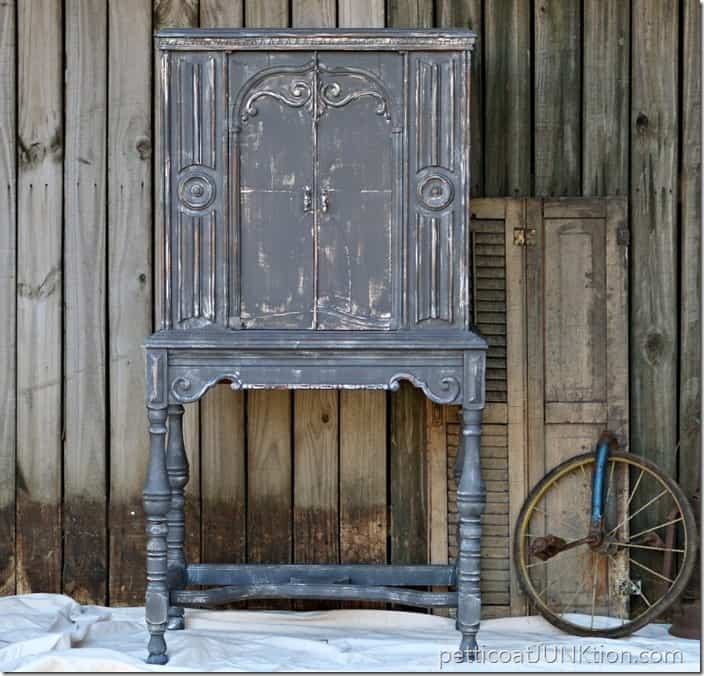 Finish for the gray cabinet;  Gray flat paint from Benjamin Moore, details dry-brushed with Reclaim Off-White paint, moderate distressing on the body of the radio, and a light coat of Howard's Wax in Golden Oak. I'm loving the Benjamin Moore paint. First time of used the brand.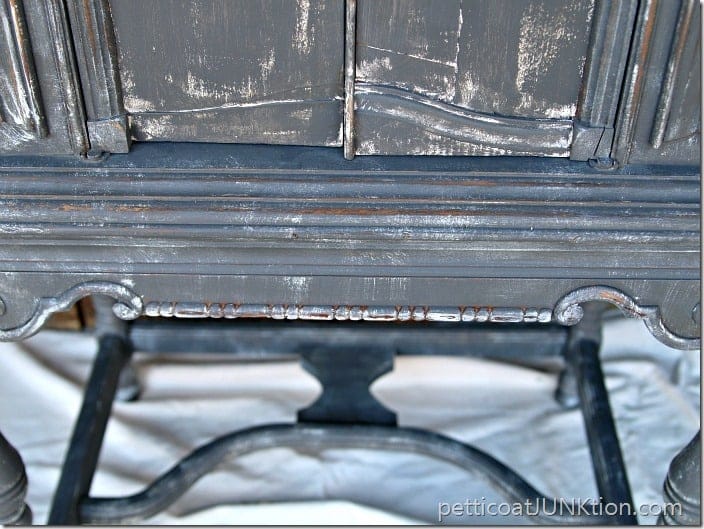 The Details On This Cabinet Are Amazing
I like the final finish. I started out with a paint finish I thought I wanted then after looking at the cabinet and talking to a few people I decided to alter the paint finish I started with. Then I altered it again.
I will share the process later this week. I also need to get photos of the inside. I started to take photos yesterday and realized I needed to make one change….that required paint…..so photos of the inside will be coming soon too. Maybe tomorrow.
What do you think of the Gray Cabinet? A lot of you shared some seriously cool paint ideas with me. I hope you aren't disappointed.
update Jan. 24: see the full details on the makeover here.. Gray Paint Finish Has Me Seeing Red | Makeover Details
Other Gray furniture projects you might like…
Till tomorrow! Kathy