Subject of the day….controversy.
I sometimes paint pieces that are a little different….too much something….not enough something….blah, blah, blah.
I love the controversy.
I would rather a project of mine initiate a spirited conversation than none at all.
I would rather it be debated as trashy or classy than just be… "nice".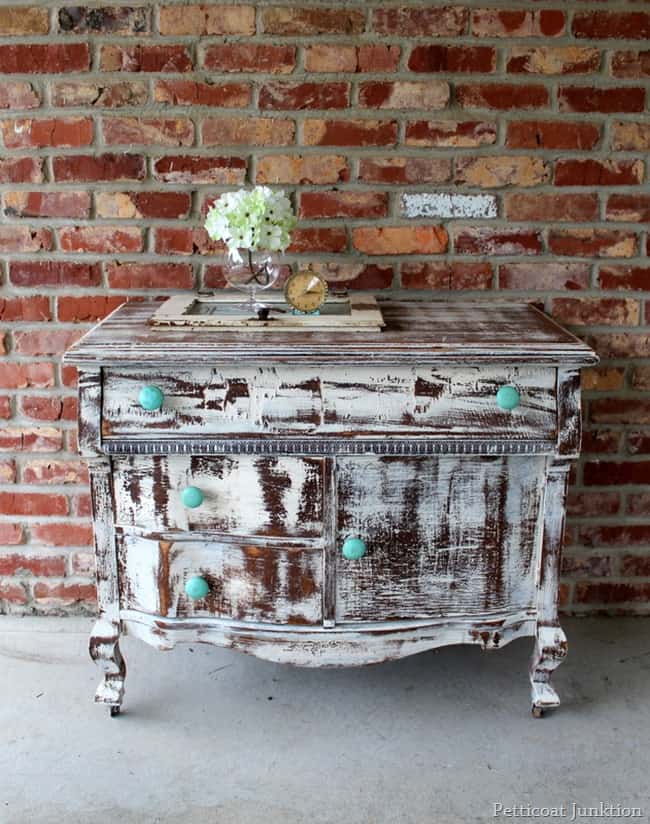 See the original post by clicking the photo above.
I really love how this piece turned out but not everyone liked it.
Some hated it.
That's ok with me.
It would be a dull world if we all liked the same things.
Petticoat Junktion is a participant in the Amazon Services LLC Associates Program. As an Amazon Associate I earn from qualifying purchases.
Funky Junk Donna who just happens to be one of my favorite junkers and bloggers of all time, shared this makeover on I Love That Junk and on her Facebook page.
So I must have done something right!
It drew more than a little controversy on her Facebook page.
She deleted a few comments before I saw them because she didn't want me to be offended.
The comments I did read were well stated even if the readers didn't like the makeover.
Some of the Facebook readers were offended by the negative comments and took up for me….aaahhhh.
There were over a hundred comments on the Facebook share.
The statistics were….38 people shared the photo…..90 commented on it….455 likes….
The comments were probably split about 50/50, like or dislike.
If you want to see the Facebook comments on Funky Junk Interiors you can click here.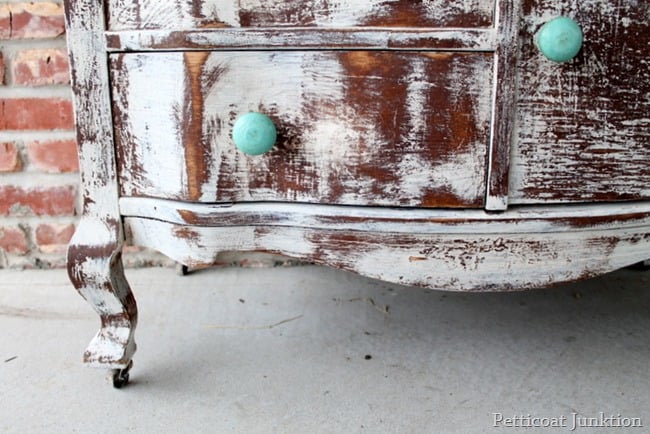 A closer look at the distressing.
The next project……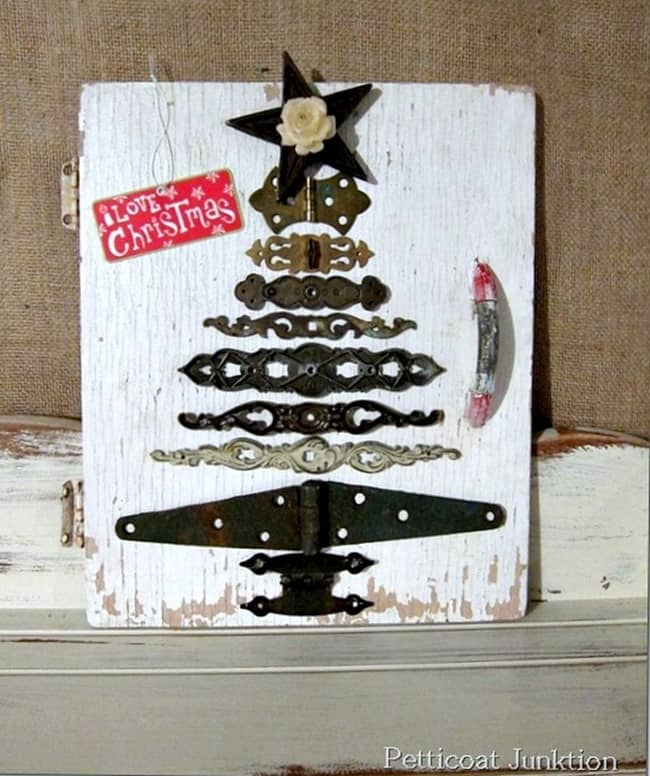 Hardware Christmas Tree from 2012
This little tree was  a hit again this Christmas.
The Hometalk community really enjoyed it and they shared it on the Hometalk Facebook page also.
One reader called it trashy…. or was it tacky.
I just laughed.
I have looked back on past projects of mine and viewed a few where I thought "What was I thinking????".
I like my tree but it's not everyone's cup of tea.
On the Hometalk Facebook page which you can view by clicking this link,  the little hardware Christmas tree received 988 likes, 202 shares, and 111 comments.
The majority of the readers did like this project.
I know some of you didn't particularly care for the heavily distressed look of the dresser and you let me know ….in a kind way…..with the comments you left on my original blog post.
I appreciate your feedback, I really do, I thrive on it.
So leave me a comment.
I read everyone of them.
I reply to a lot of the comments …. and I hate that I can't reply to every one of them.
But I promise to reply to every comment left on this post!!