Do all those colors sound like they go together?
It's possible.
This project took me on a journey filled with twists and turns.
I'll tell you all about it, but first…..how was your weekend?
Mine was filled to the brim. I watched my oldest granddaughter cheer at a football game then dance at Riverfest. That was followed by a birthday party, a bridal shower, and dinner with friends. Oh yeah, and lots of homework, a little housekeeping, and a few projects.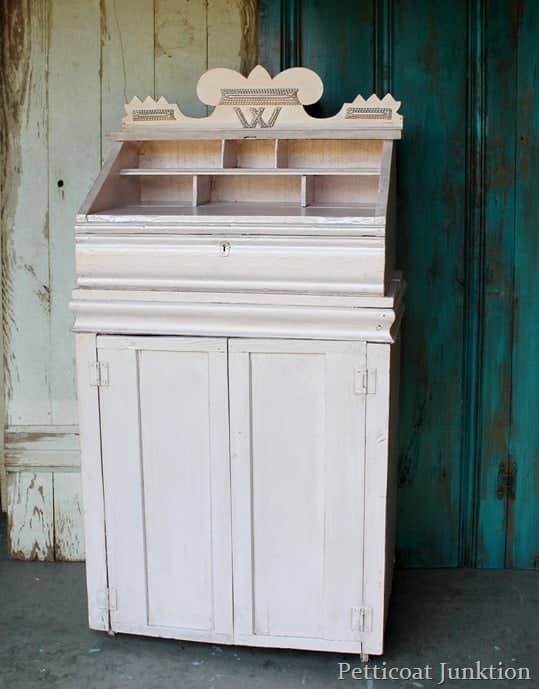 metallic silver, gold, and blush pink
This project was a lot of fun but also a little challenging.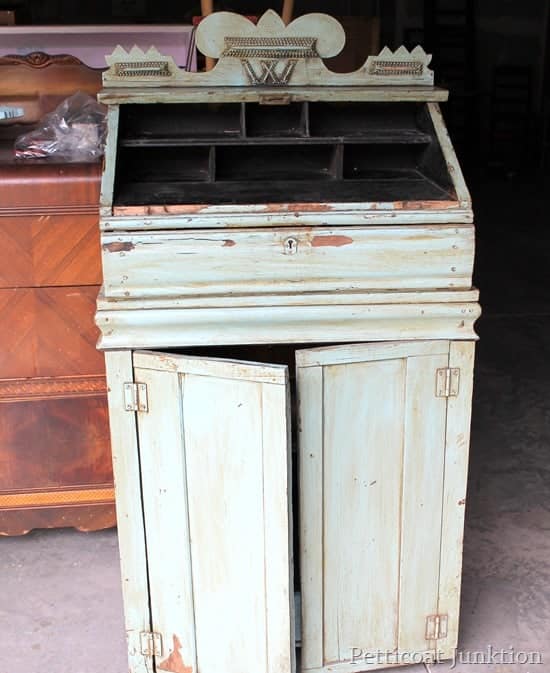 Wedding Belles, a local bridal shop, has been keeping me busy with an Antiqued White Cabinet and a Trio of Chairs….and now this desk.
Isn't it an interesting piece?
I'm crazy about the woodwork on the carved top.
Remember the green antique looking finish popular in the late 60's early 70's?
If you don't…..this is it!
The cabinet was definitely beat-up and the fold down desk top was missing.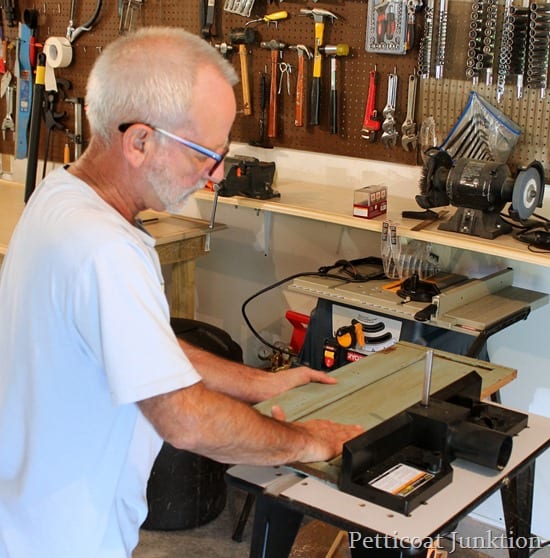 The doors wouldn't close so the Junktion Technical Specialist cut them down just a smidgen.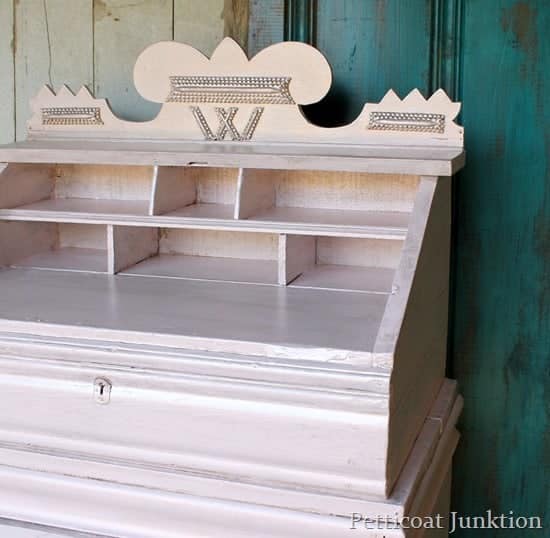 We decided on a blush pink metallic color for the cabinet. The paint guy thought he could mix the metallic color using the Martha Stewart Metallics but that didn't work out.
Change of plans…..
I had the blush pink mixed in my favorite Behr latex paint.
I figured I could get the look I was going for by doing a metallic glaze.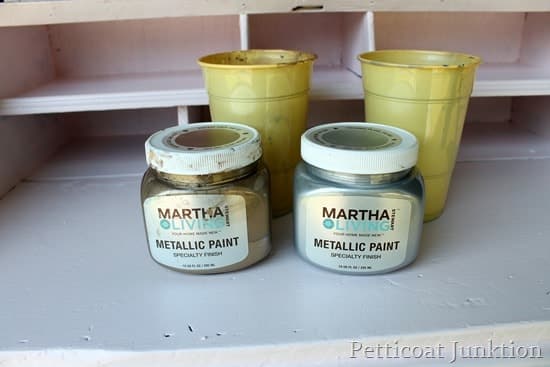 I mixed the Martha Stewart Living Metallic Vintage Gold with an equal amount of water then brushed it over the whole cabinet and wiped it off.
The gold toned the whole piece very lightly and settled into the dents and crevices.
Don't shoot me but I didn't take pictures of the process.
You guys have to remember I was just winging it on this paint finish.
When I start experimenting with paint finishes I'm not sure how things will end up.
I sometimes get a little stressed, especially when it's a custom piece.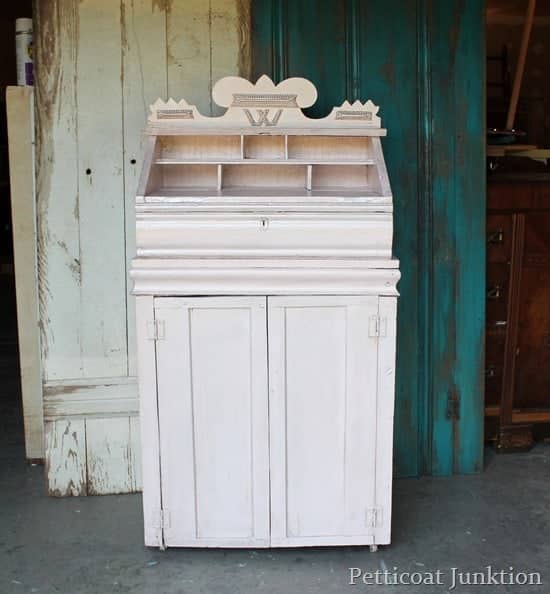 I looked at the gold glaze for a while and it just looked dirty to me instead of sparkly shiny gold.
Second brainstorm was to mix the metallic silver paint with water and use it as a glaze over the gold.
So, I tried that next.
I could see the gold tones under the silver and the silver finish had just the right amount of sparkle.
It looked great.
At least I thought it did.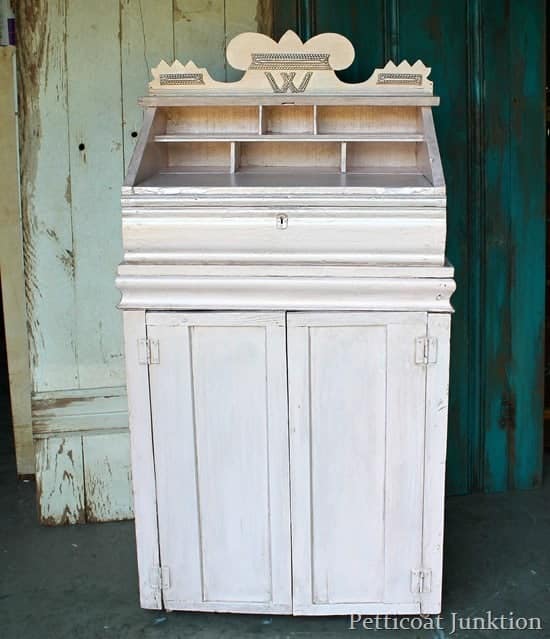 And luckily for me….. Lisa, the client, thought it worked too.
In fact she liked it so well she's asked me to paint two tables with the metallic siver, gold, blush paint finish.
The shiny metallic finish isn't obvious in the photos but trust me, it looks awesome.
Especially when the light hits it just right.
Do you like the special paint finish?
What did you do over the weekend?
I love hearing from you. You can leave a comment below.
If you don't have a blog….that's ok…you only have to leave your name (first name is ok) and your email address, then your comment. Your email address will not be shown on my blog. It is to prevent spammers from leaving comments.
Thanks for stopping by and have a great week,
Kathy
Follow….
On Facebook Petticoat Junktion
On Twitter Petticoat Junktion
linking to these parties….
Thrifty Décor Chick…..Funky Junk Interiors…….Miss Mustard Seed
Savvy Southern Style…Diy Showoff…Shabby Creek Cottage
Project Inspired…..Serenity Now…Home{work} Wednesday….Tatertots&Jello
Remodelaholic