My three snowmen button crafts utilize unique items like branches….and wire….and reclaimed hardware…..and other handy stuff.
Some projects don't require running to the store and spending money on crafting materials. You probably have things you could work with at home. You just have to look at objects in a different way.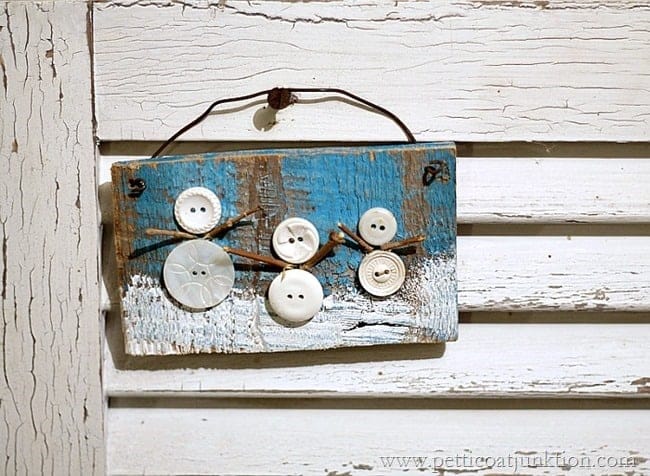 3 Button Snowmen Crafts
See, aren't these little snowmen just the cutest! A piece of dried fence wood, twigs, wire, a dab of paint, buttons, and hot glue. Nothing to it.
My friend Paula gives me a hard time because I want to use the glue gun for everything. She believes in using slow drying glue, or a needle and thread, or heaven forbid….a sewing machine for crafts. Not me. Not if the glue gun works. I'm never short of glue sticks.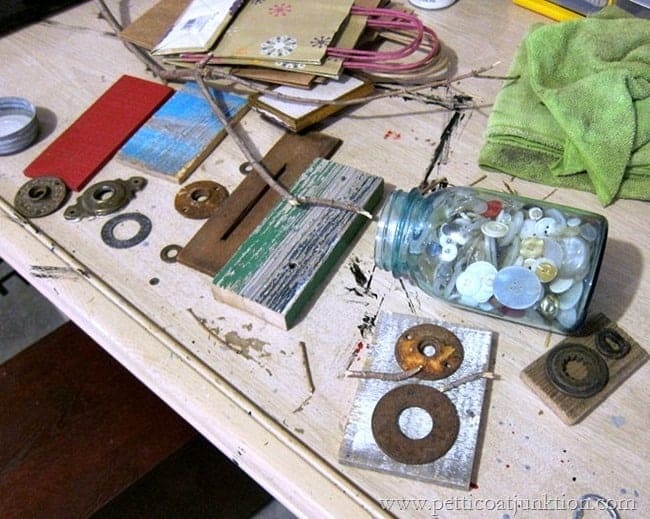 I pulled a few pieces of wood from my stash. I get wood from random places; broken furniture, new home construction work sites (just the leftover bits and pieces), my fav junk shop, curbside trash, you name it. I grabbed one of my button jars and also a few junky rusty metal things. 
Then I went to work with the glue gun. This is project number one with the buttons. I'm calling this one "The Three Ice Men". Moving on to project number two.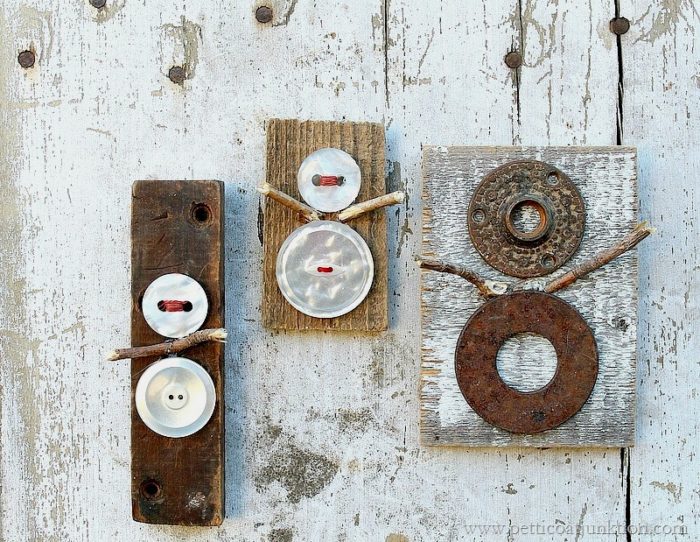 The second project was just as easy. Grab the glue gun again. The wood I selected for the background was beat up and had holes but that just adds to the character. And as you can see a few of the buttons still had the thread.
I think that adds to the look. Imagine how the button snowmen would look on a new piece of wood and not thread in the eyes. Not the same.
The two rusty metal pieces are perfect together. One is a washer and the other is a door knob thingie. Branch arms again. I'm calling these three "The Buttoned-Up Trio".
Petticoat Junktion is a participant in the Amazon Services LLC Associates Program. As an Amazon Associate I earn from qualifying purchases.
The hardest part of putting assemblage art (or whatever you want to call it) together is finding just the right combination of things.
There have been times I've set and gone through one box of stuff for hours trying to find just the just the perfect combination of bits and pieces.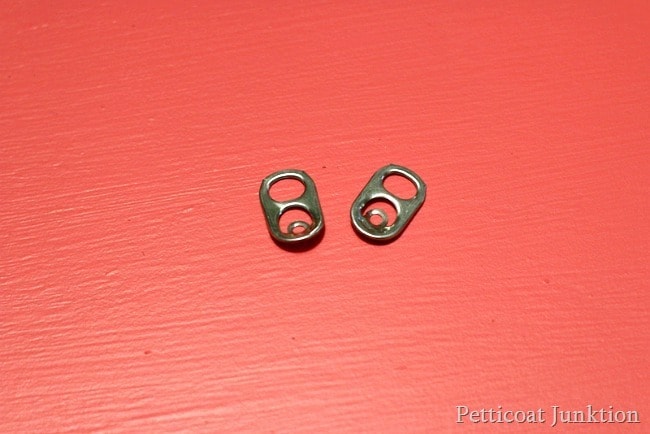 I didn't get a photo of the back of the snowmen. I use pop top tabs on small wall decor. The tabs are free and recyclable. I usually staple them on or sometimes use a very small screw. Time for project number three.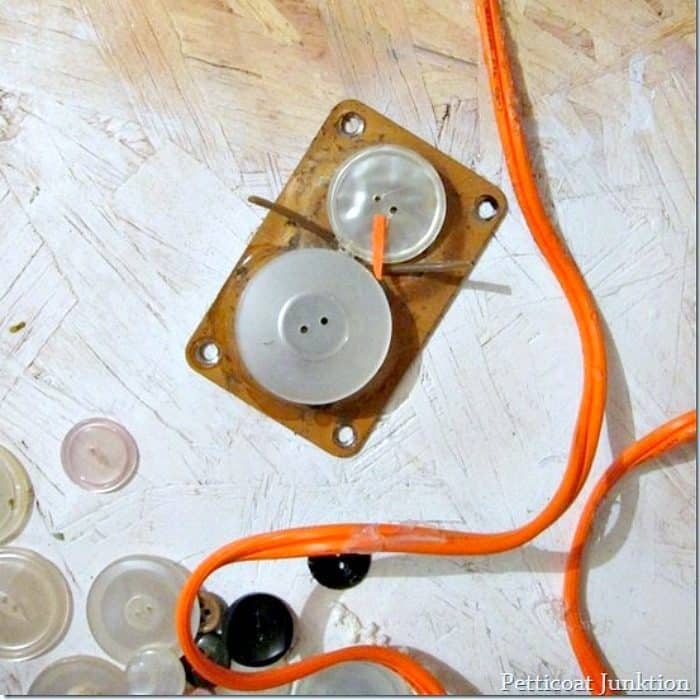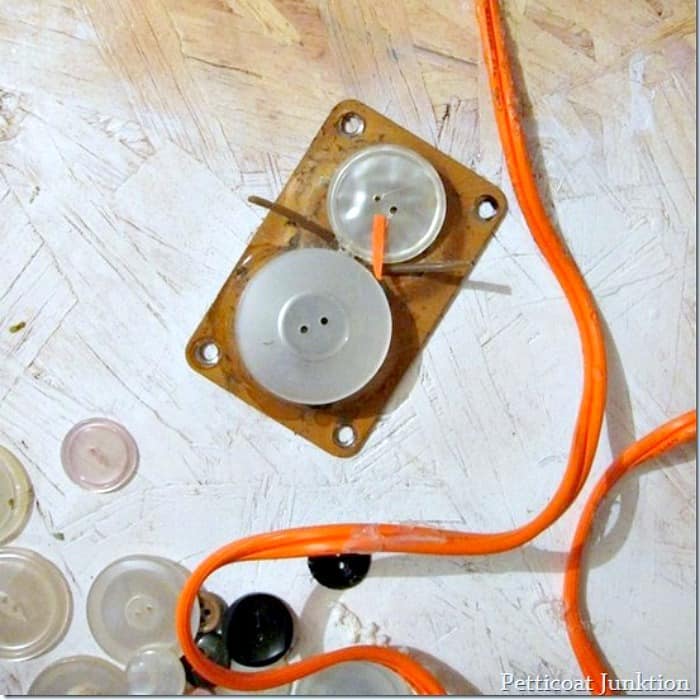 The background for this snowman is a metal plate. The little metal rectangle came from the bottom of a cabinet (earlier project). I removed all four of the plates from the cabinet and stored them away in my junk stash.
I think they were the thingies the legs attached to…..maybe. You guys know I don't throw anything away. See how perfect they are for this project!
I was working on this project when I had a little accident. I cut my finger while snipping arms for the Snowmen. I not only cut my finger, I cut a little hunk out of it. I put a clean work rag over my finger and walked up to the house so the JTS (aka Junktion Technical Specialist, aka hubby) could check it out.
It was bleeding pretty good and after applying pressure for a few minutes we decided just to bandage it tightly to stop the bleeding and doctor it up this morning.
Oh, I forgot to mention that I get queasy at the sight of blood. I had to lay down for a while last night to keep from passing out! The moral of the story is when using heavy duty Titanium scissors…..be careful.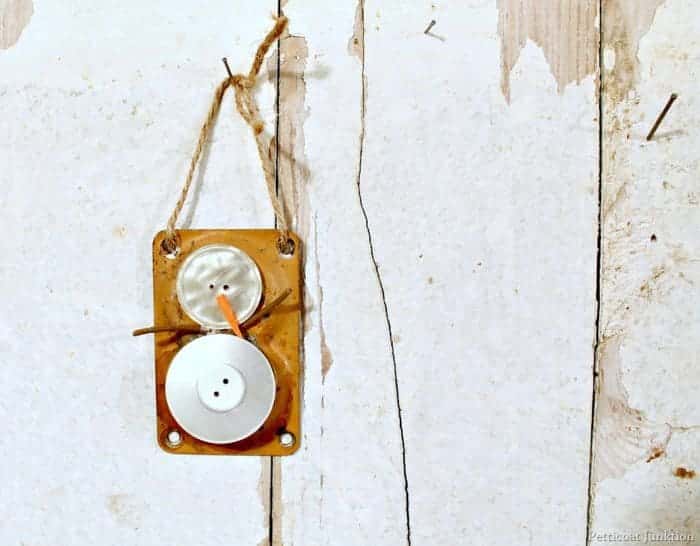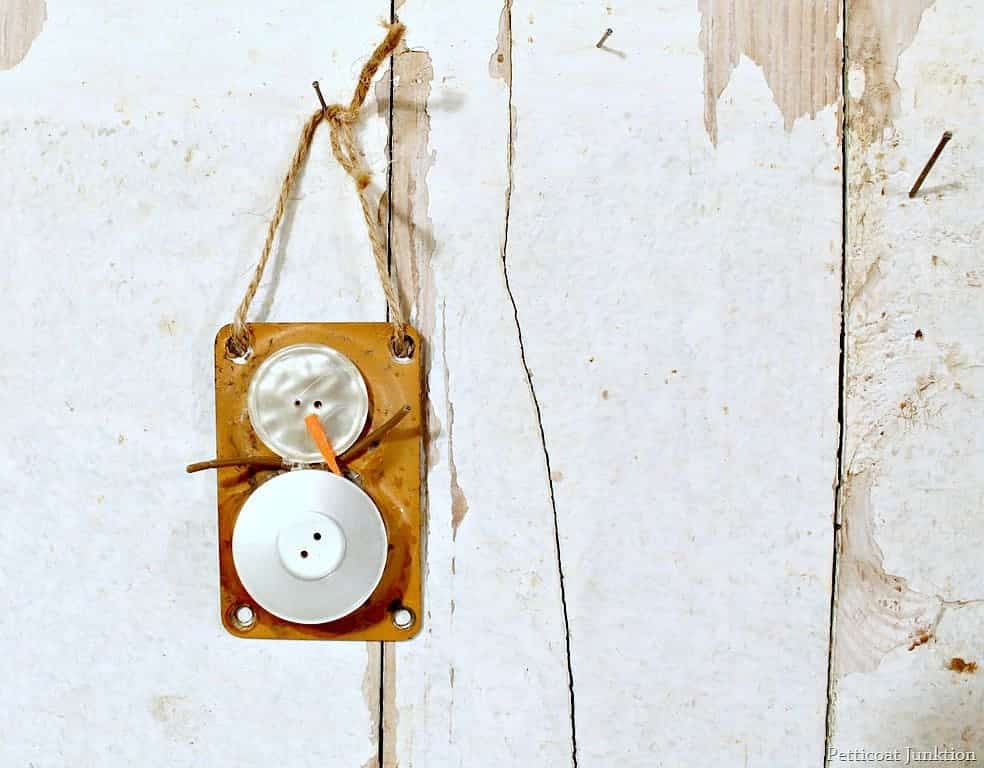 The next morning my finger was sore but that didn't stop me from finishing the snowmen. I ended up making three like this. The arms of the snowmen are vinyl wrapped wire. Something from my stash. I cut my finger while cutting the wire. I'm calling these guys "Heavy Metal Men"
Which of the snowmen do you like best? Have you been thinking about your junk drawer and finding things to put together?
You might like this fun upcycle too….click here…Checker Game Piece DIY
Have a great day. I hope to finish my Christmas decorating today.