Remove Duck Tape Then Paint It What Color?
I love free furniture even if it's covered with duck tape. My question is how to remove duck tape and the gummy residue left behind.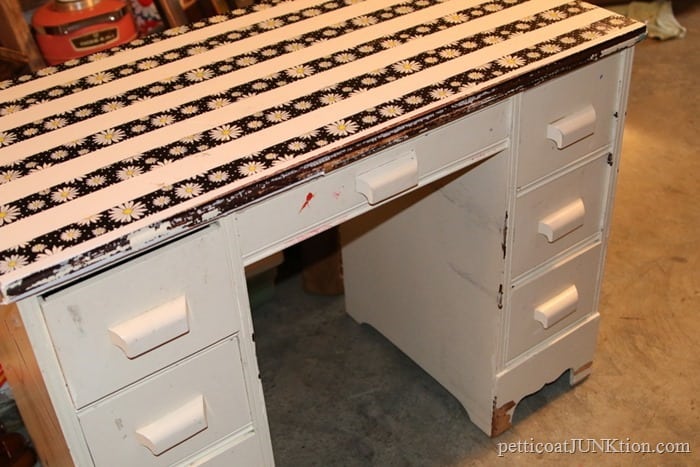 We came home one day to find this desk in our carport. One of our neighbors stopped us one morning just as we were heading out of town. She said her daughter wanted to get rid of her desk and it was free if I wanted it. Heck yeah. I told her we would arrange to pick it up when we returned home. It was a nice surprise to find out we got free delivery too.
The desk is really cute with the wood handles and all. I even like the black and white daisy flower duck tape. The white lines between the rows of daisy tape are also duck tape……white duck tape. I bet you thought it was white paint just like I did. I'm going to have a time with the top. I found some information online about removing duck tape residue. Going to try a couple of the techniques and see what happens. I'm hoping it isn't a several hours or several days job.
Not sure what color to paint the desk. What do you guys think? I kind of like the black and white look but not sure how well it would sell. Give me some suggestions please.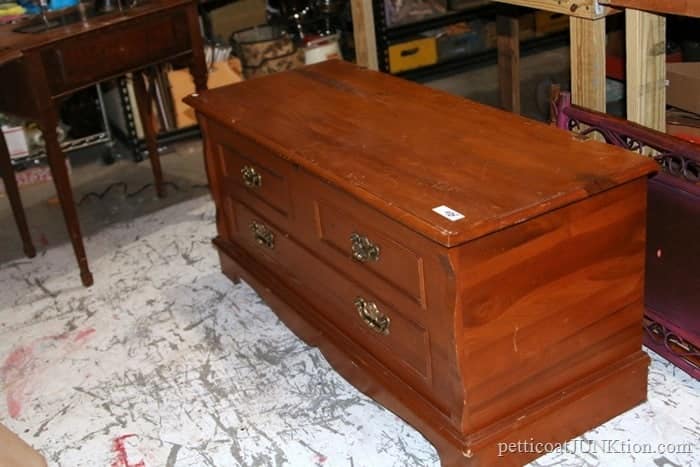 How about the trunk? I bought it at auction for $45 which means $50 by the time I pay a 10% buyers premium. I'm keeping this piece. Been doing that a lot lately. You might remember the Ashley  coffee table I bought at auction for $45. It was a definite keeper.
I thought about just changing the hardware to something more modern but thinking now it needs a paint job too. It's headed to our bedroom to replace an antique trunk.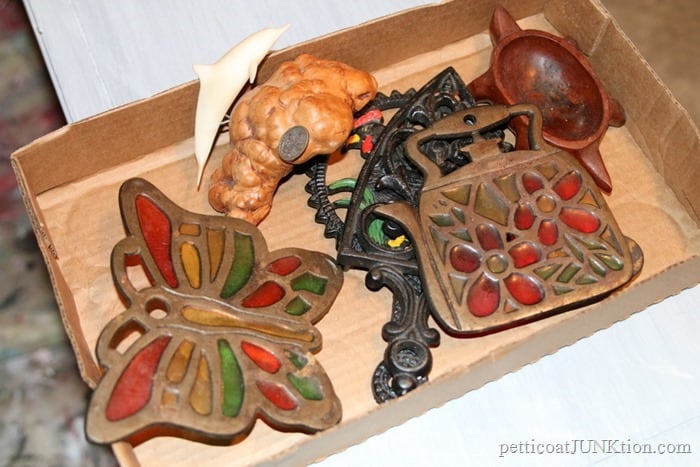 The bright colored glass in the iron trivets caught my eye at the auction. I bought the box of trivets and junk stuff for $6. I plan to clean up the butterfly and tea kettle and hang them in the kitchen somewhere. There is a round black trivet with a handle and painted rooster. That will probably go to the booth to sell along with the other stuff in the box.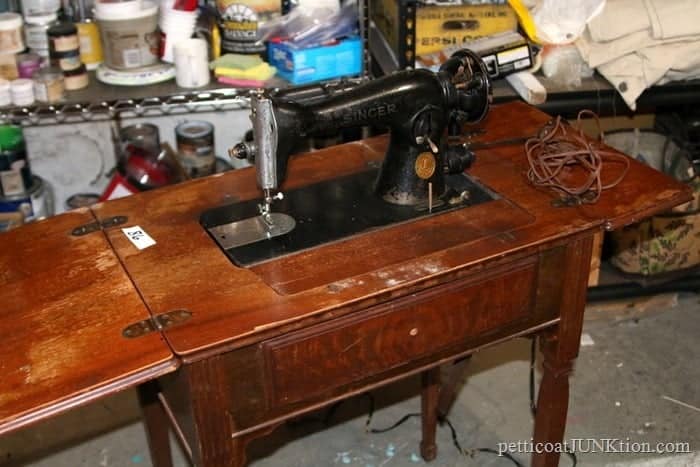 I bought the antique Singer sewing machine and wood cabinet for $2.50. No, that price isn't a typo. No one would bid on it so I did and got a nice round of applause from the audience. I don't mind spending less than $3 to help out the auctioneer.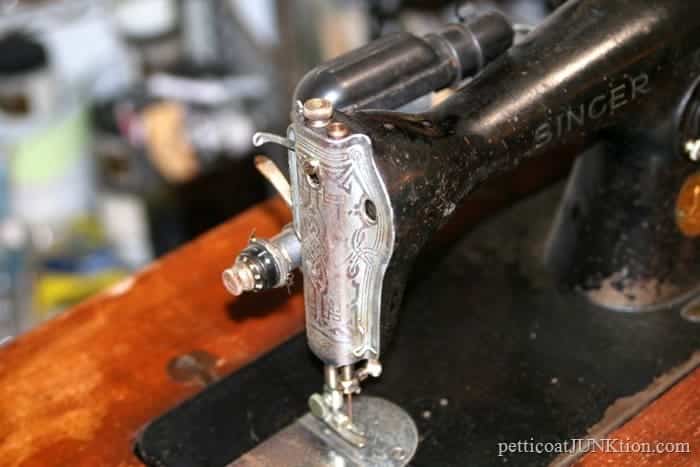 Look at the pretty etched details on the sewing machine. I also got a Singer button hole maker in a green box. I think it's from the 60's.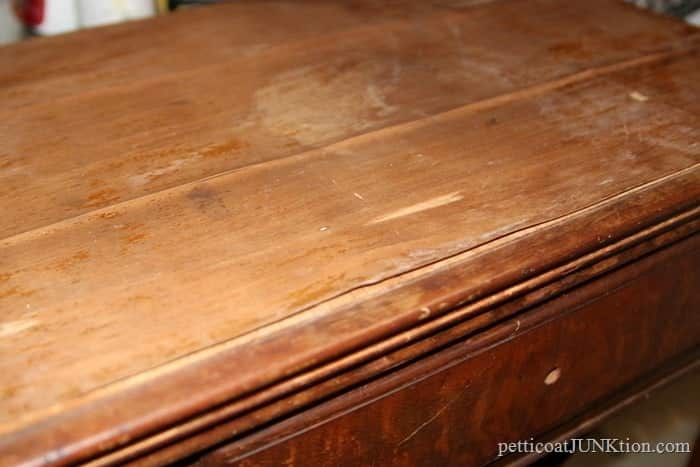 The top of the sewing machine cabinet is a mess. That is why I didn't want to buy it. Once I paint the sewing cabinet I probably can't sell it for more than $40 or $45. A lot of hours for little return.
I'm writing this post in my Dad's hospital room while he is sleeping. Dad had emergency surgery for a ruptured appendix several days ago. At the age of 87 that's a big deal. He is doing pretty good but you guys could help by sending kind thoughts and prayers our way. Thank you.
I'm joining a group of bloggers for Dollar Store Design on Friday. You got it, home decor on a budget. I put my project together a couple of weeks ago and I have to say it's pretty cool. I took photos and wrote the post up before Dad got sick. Be sure and be here for the tour. I don't know if I'll write any more posts before then. Thanks for being here and have a great day, Kathy  (p.s. if you have any ideas for removing duck tape and the yucky sticky stuff please share)