Painting furniture is fun. I love showing friends how to use different paint products to update their furniture. They're always surprised how easy the process is and that their furniture can be re-styled in just a few hours.
The furniture workshop is a favorite of mine and Sara's. We have a class maximum of 4 people who bring a piece of furniture from home to makeover. We provide the workspace, paints, tools, toners, waxes, and whatever else they may need to beautify their furniture.
There's also snacks, drinks(no hardstuff) and a brown bag lunch from Silke's. What more could you ask for! We also provide guidance and entertainment(otherwise known as our usual craziness).
Before and after pictures from our latest workshop.
How To Paint Furniture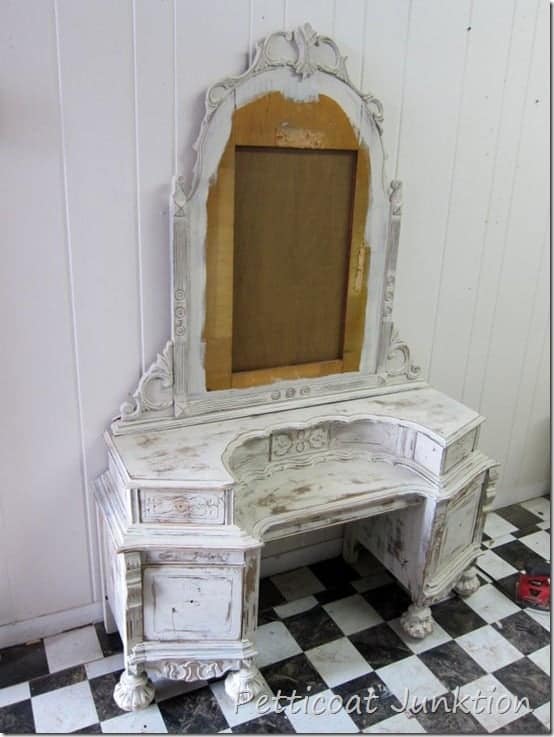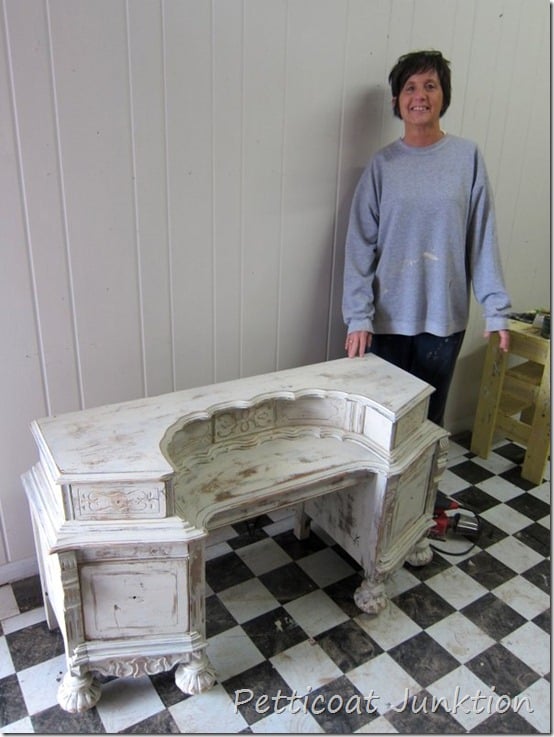 Isn't this vanity to-die-for. Pam did an awesome job on it. She used off-white Reclaim and then went crazy with the sander. She and Terry are going to use this piece to display jewelry at shows. The mirror space is going to be filled in with something special to hang the jewelry on.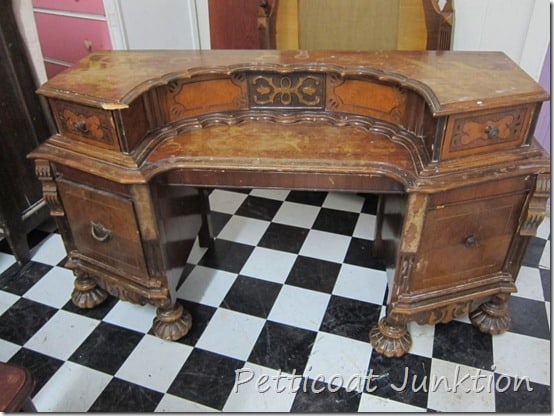 before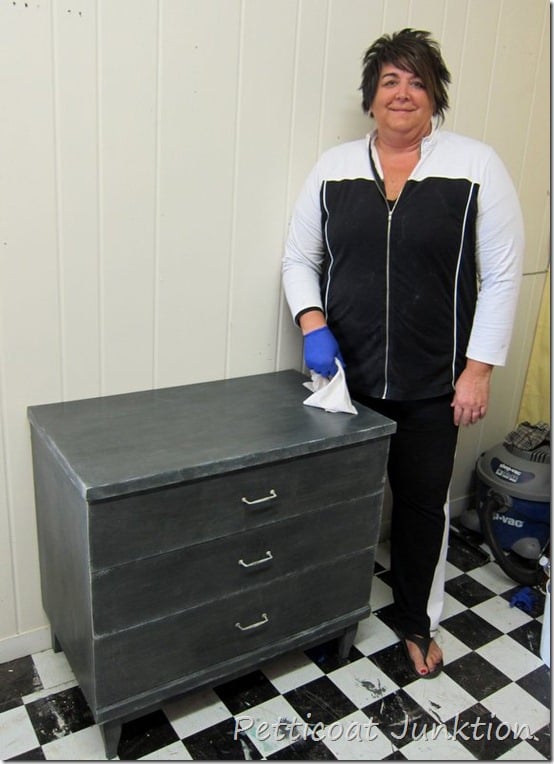 Terry and her $10.00 yard sale purchase. She used CeCe Caldwells chalk/clay paint in Vermont Gray and dry brushed the edges, drawers, and handles with off-white. This is also going to be used to display jewelry.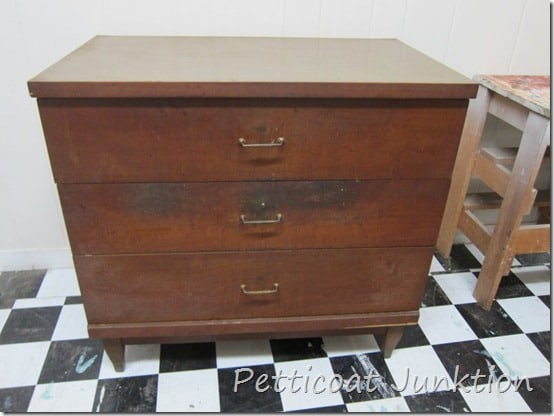 before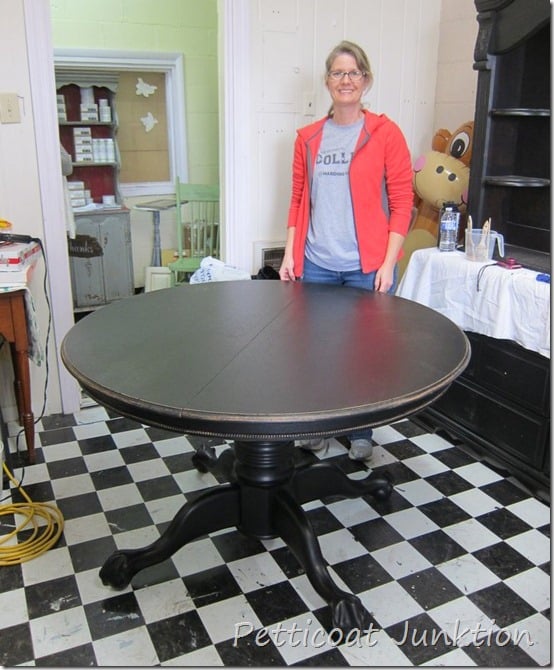 How classy is this! Dawn used Reclaim Licorice and distressed the edges of the table. It also has a leaf with it which makes it a very large oval table.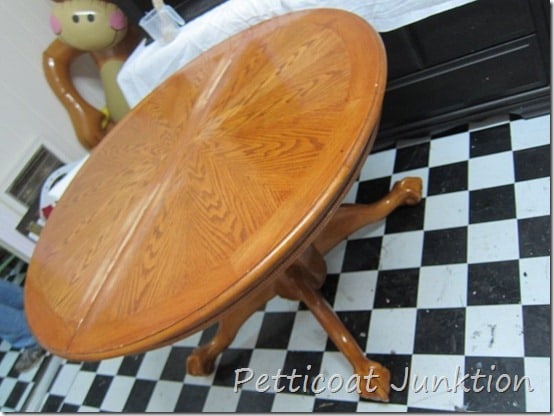 before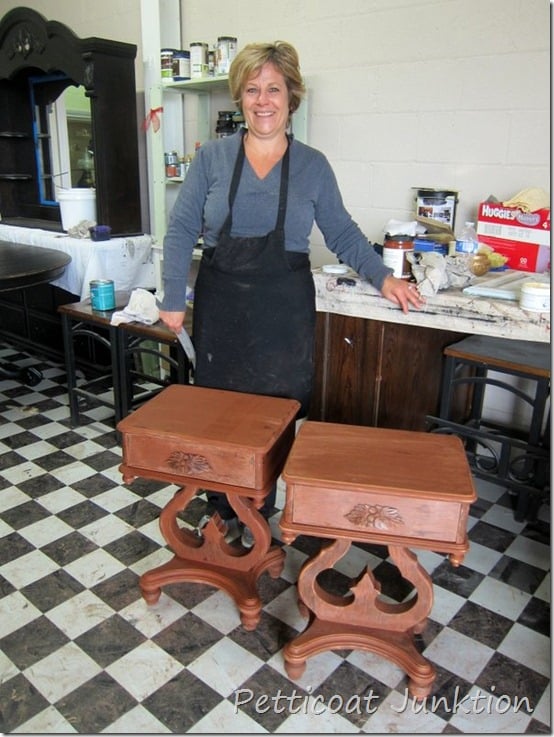 Jean and her pair of antique tables. She used Caromal Colours Paprika and waxed it but the wax hadn't been polished up in these pics.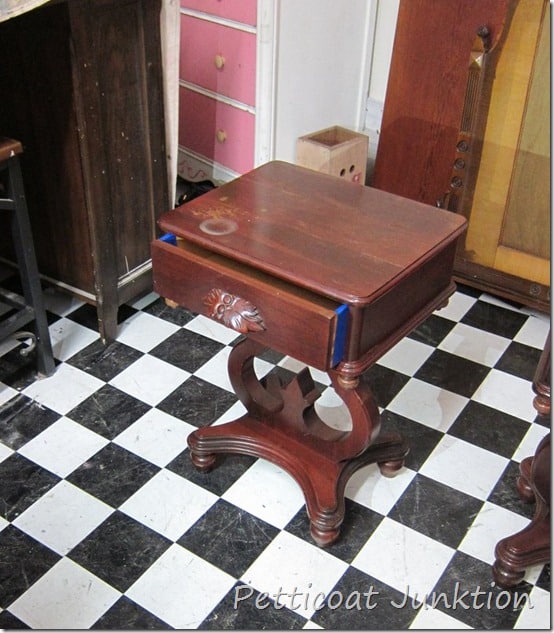 before
and just a few pictures of the process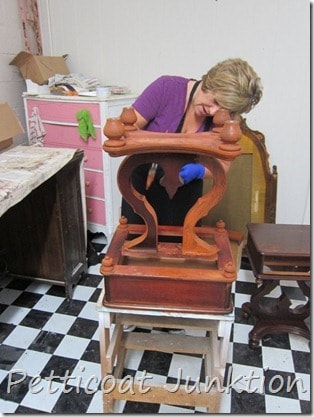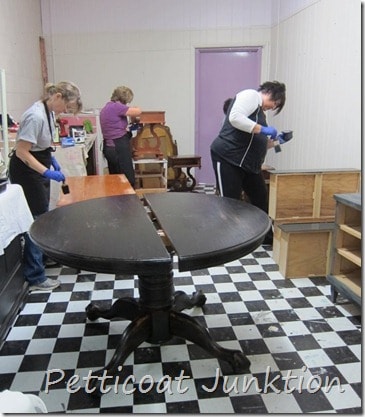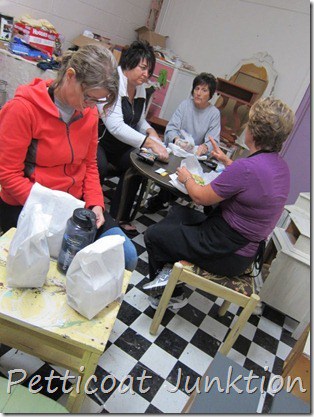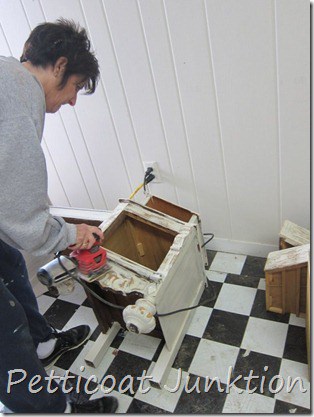 Lots of smiles and chatter along with the painting.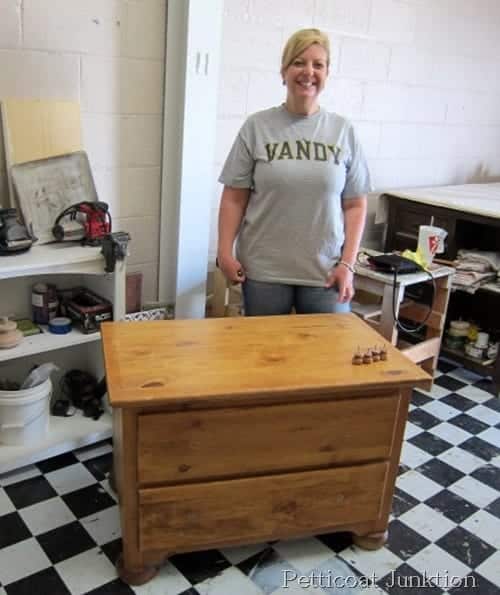 before
This is Sue with her $21 Salvation Army find.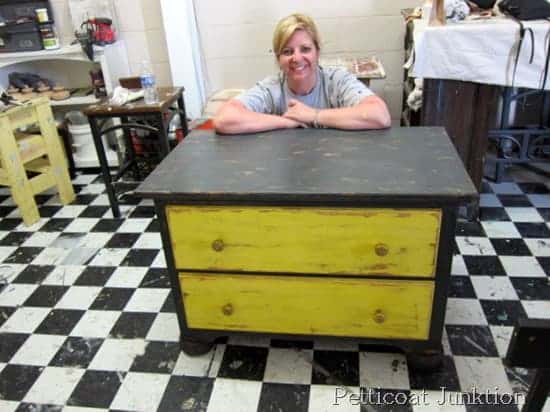 after
Hard to believe it's the same piece, isn't it.
Sue used CeCe Caldwells Chalk/Clay Paint in Vermont Gray for the casing and Carolina Sun for the drawers. She took a short break and ran to Hobby Lobby and picked up the cute knobs. She fell in love with our electric sander so she also got one of those while she was out! The workshop started at 9 a.m. and we finished before 3 p.m. with the happy painters loading their projects for home.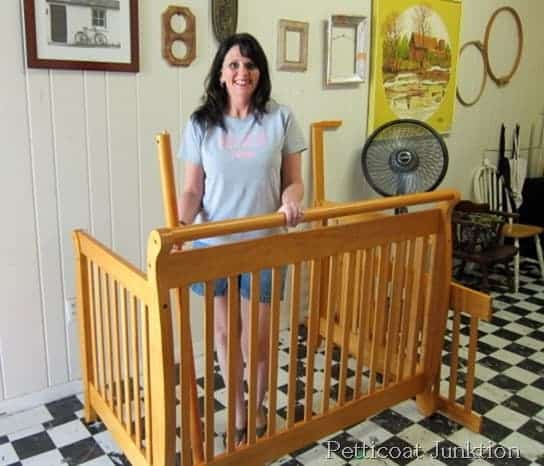 before
Soon to be grandmother Denise with the baby bed ready for painting.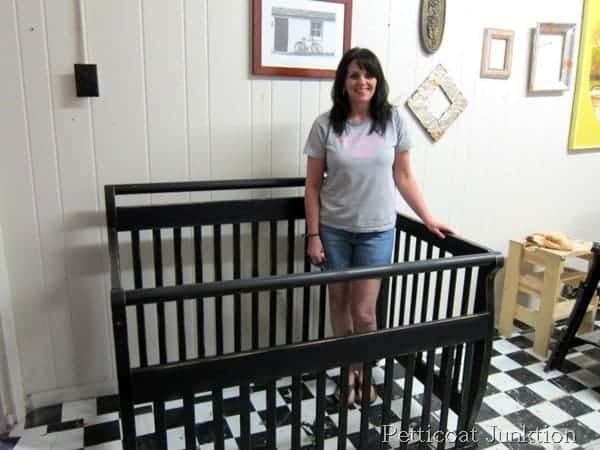 and after
Denise chose Reclaim paint in Licorice.
It only took one coat of the Reclaim to cover the light wood.
Denise distressed the slats and framework of the bed. She used a small block sander by hand.
A hint of the original finish showing with the licorice paint looks great.
photos taken during the workshop…….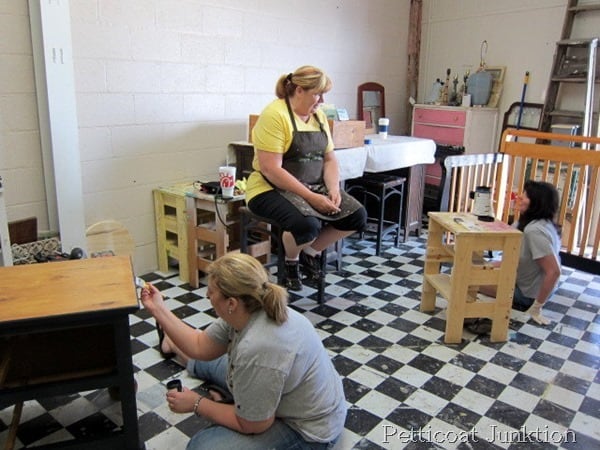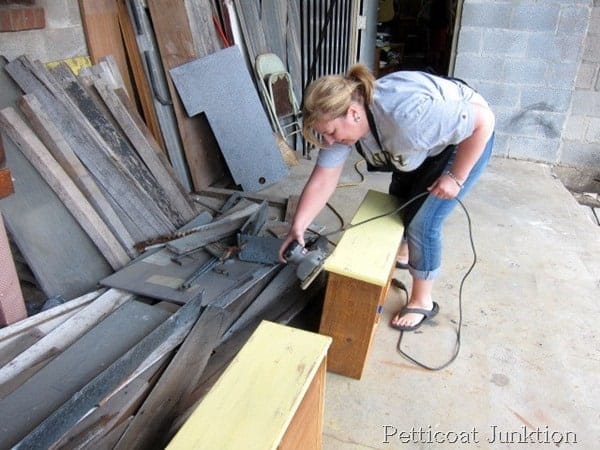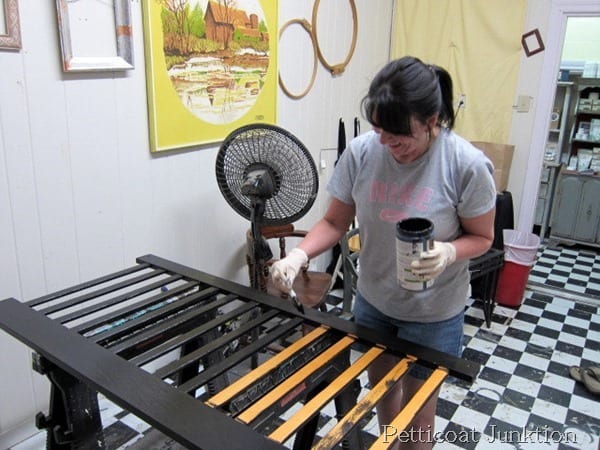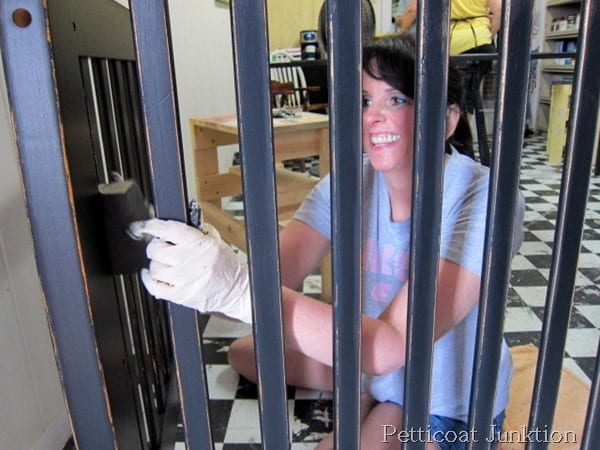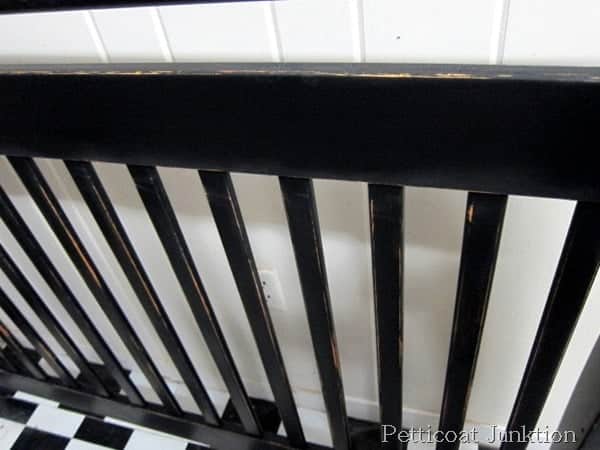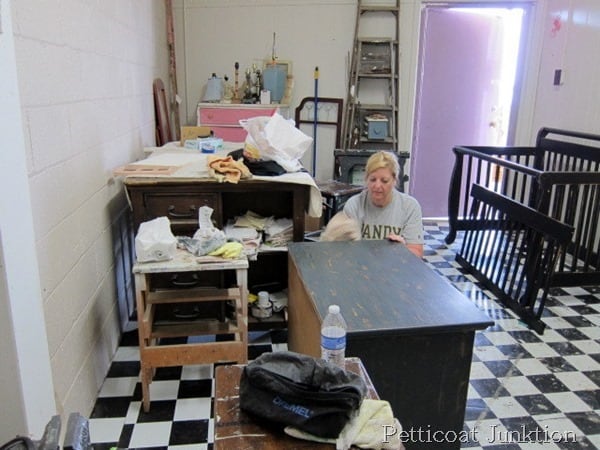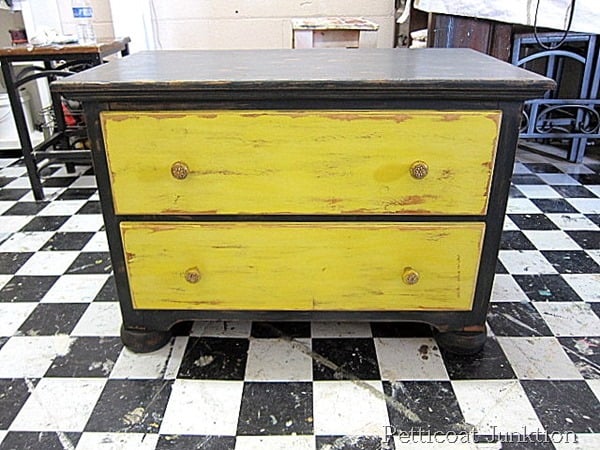 fun, fun, fun
The projects turned out great. Everyone thinks painting furniture is difficult. It's not!
Thanks for stopping by,
Kathy