Try a few turquoise home decor paint projects...or maybe just one. I promise the color will make you smile. When I take a finished project to my booth and the color is turquoise it usually sells pretty fast.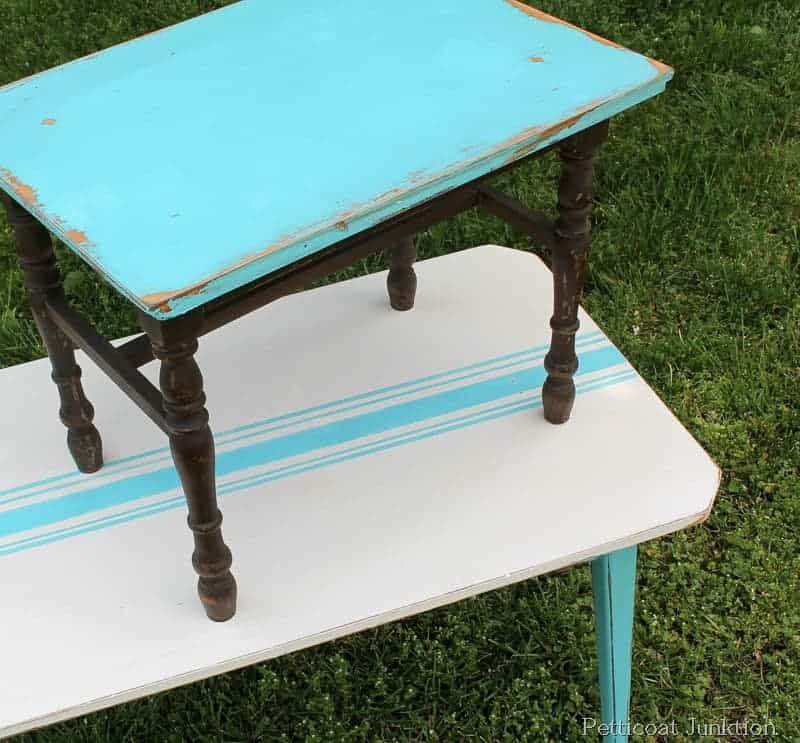 Like the grain sack table and the turquoise top table. They sold pretty fast. Both of these projects were fun and I wish I still had the table on top. I love that little thing.
The JTS and I put it together from reclaimed parts. You can see it here...Grain Sack Table Project.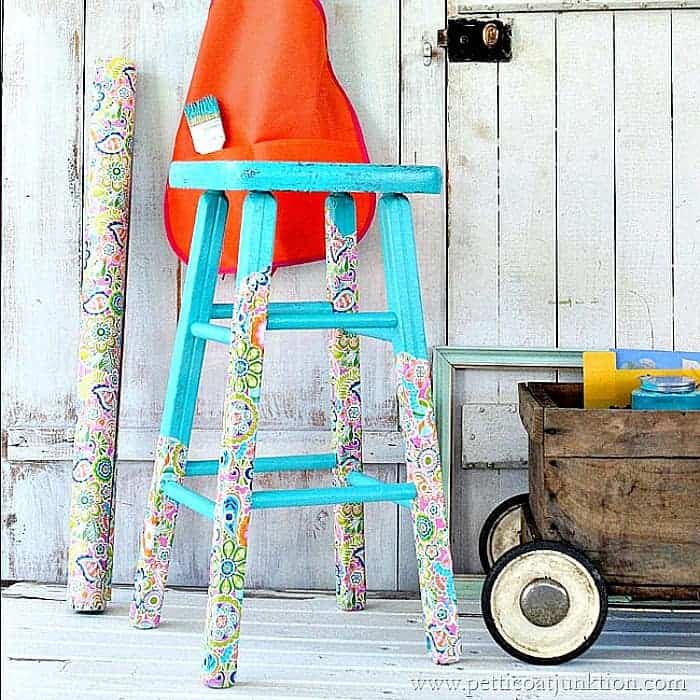 Another fun project is the bar stool I decoupaged with wrapping paper. I just partially covered the legs. It is the cutest thing ever. See it here.....Paper Striped Legs.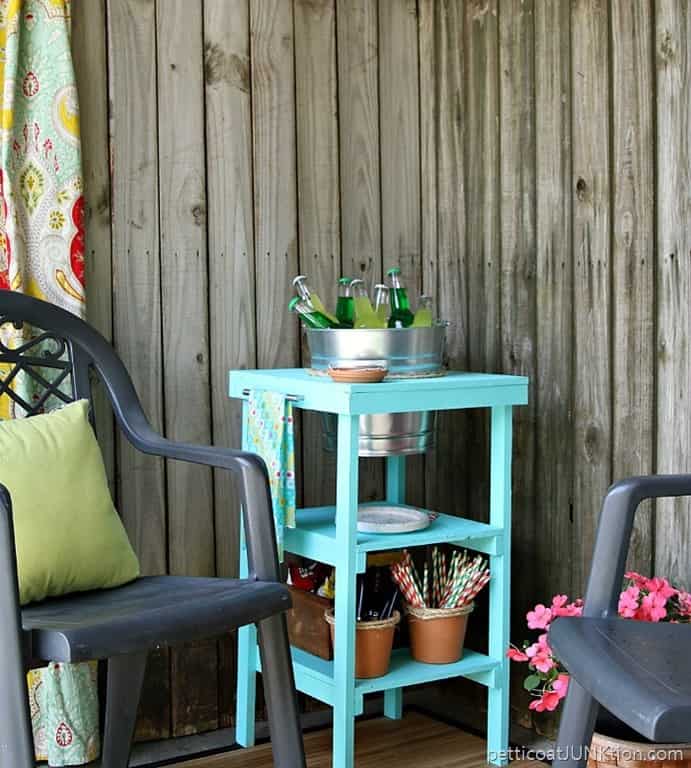 The JTS and I worked together to build this beverage station. It makes me smile.....DIY Beverage Station Build.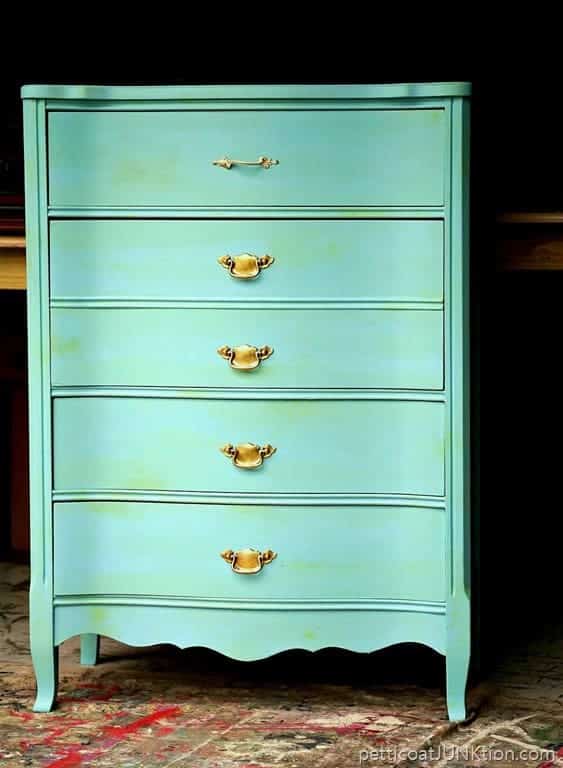 This chest of drawers isn't just turquoise. I did a very light green wash over the turquoise. You can see the details here.....Turquoise Chest.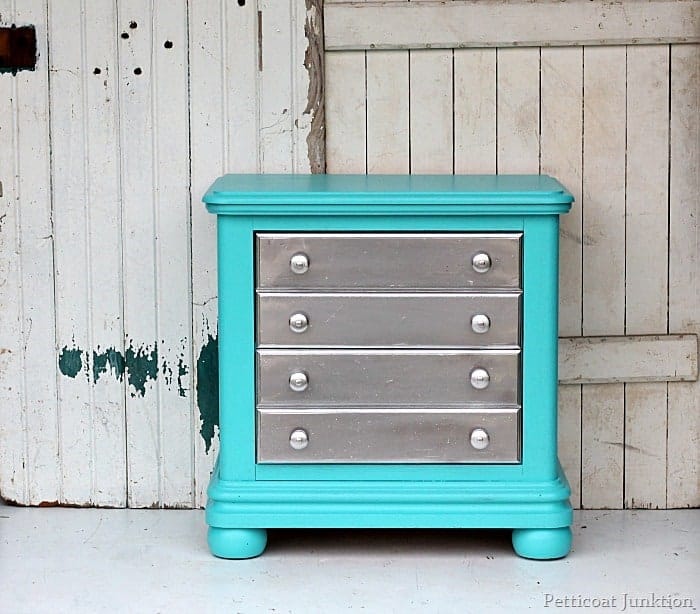 Turquoise looks good dressed up with silver too. The silver on the drawer fronts is spray paint. I know. Hard to believe isn't it. I very seldom use spray paint on furniture but I love this color and brand. You can find the project here....Turquoise and Silver Nightstand.
I painted the mid-century modern blond table for my aunt. It has been in her home since my aunt and uncle started keeping house many years ago. The veneer on the top was a bit damaged.
The blond color worked so well with her furniture and I wanted to save the original blond finish but also update the table at the same time. So just painting the top of the table was perfect.
I really love the table and so did my aunt. I replaced the original knob with one from Hobby Lobby. You can find the makeover here....Blond Furniture Update.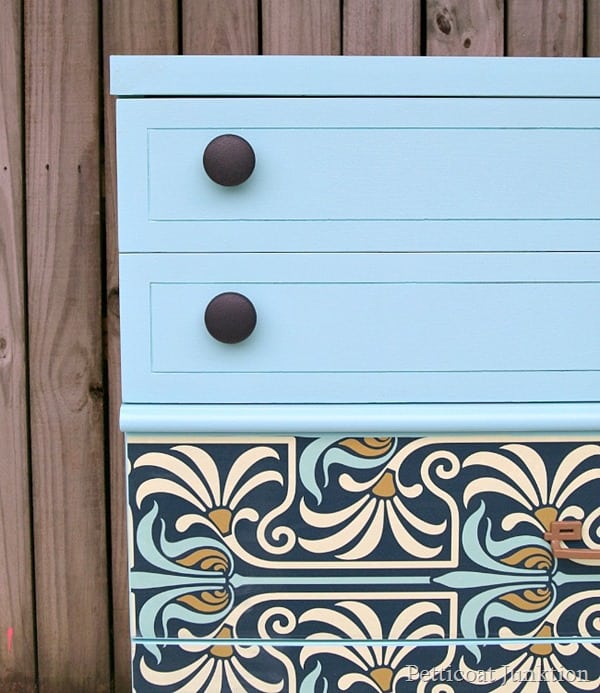 Now this piece is definitely different. I applied wallpaper to the drawer fronts and changed out the hardware. Visit the makeover here and let me know what you think. Wallpaper For Furniture.
Turquoise Home Decor Paint Projects
This is just a small showing of the turquoise projects from my past. Ten more are linked below. Click any of the pink pink links to view the detailed post.
This project is a doozy. I painted a ton of stuff in one day! It's really easy to paint several pieces when you are using the same paint color. 1. Feeling Aqua Blue
Milk paint is soooo much fun. You never know what is going to happen. You just have to go with it.... 2. Miss Mustard Seed's Milk Paint in Eulalie's Sky
A good reclaim project comes along about once a week in the workshop. This is one of the best.......3. Turquoise Chalkboard from Reclaimed Mirror Frame
Painting a bunch of stuff at one time with spray paint......4. 22 Spray Painted Picture Frames
This piece was a custom paint job for a special young lady.....5. Turquoise French Provincial Desk and Hutch
Home accessories are easily updated with paint. And recycling glass bottles instead of tossing them in the landfill is a win-win......6. Turquoise Spray Painted Glass Decanters
You guys know how I love vintage radio cabinets. This paint job was a doozy but the results were worth all the pain......7. Vintage Radio Cabinet Painted in Turquoise and Green with White Accents
Seven layers of paint love......8. Turquoise and Green Sideboard Make A Splash
All out girley with a chandelier stencil inside the cabinet door......9. Stenciled Turquoise Wardrobe with a Surprise Inside!
Do you use turquoise when decorating? I hope you found inspiration in one or more of these projects. Thanks for being here and have a great day, Kathy