Painted Antique Cedar Chest
I used the vaseline paint distressing technique on this antique cedar chest. The red and blue color combo is really pretty.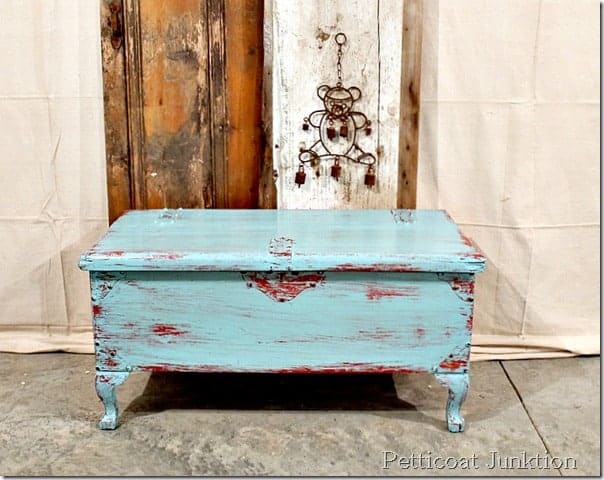 Painted Antique Cedar Chest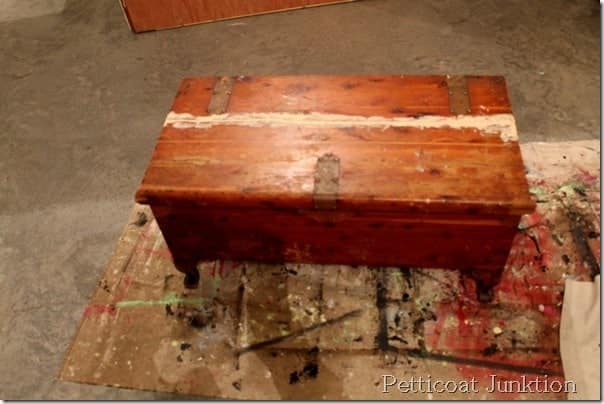 I purchased the cedar chest at the Nashville Flea Market. The top was broken completely down the middle. I probably overpaid  for it, but I liked the legs and the brass details.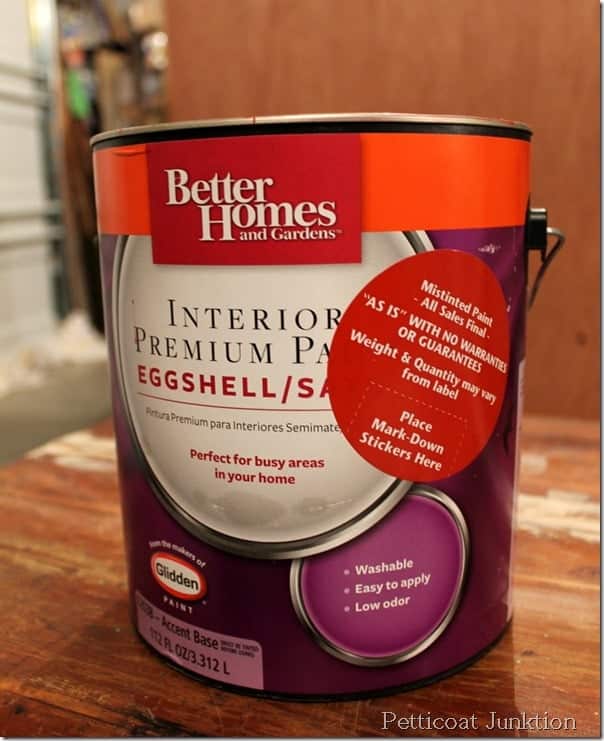 For the makeover I choose this oops paint in cherry red.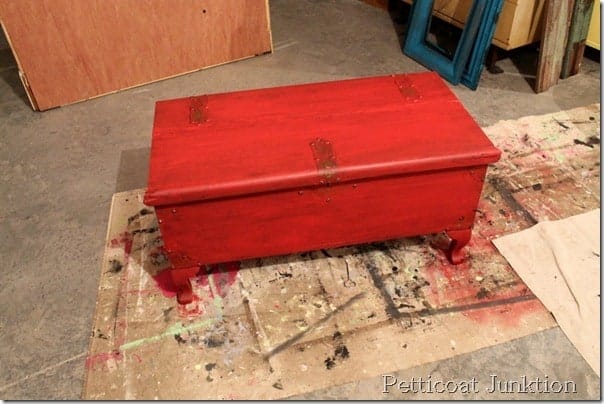 I planned to just paint her red, apply some dark wax, and ta-dah, done. But it was a little too plain for me.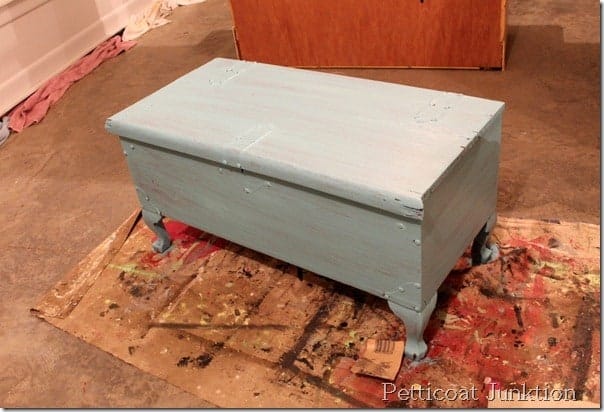 So I pulled out my special mix from the Cherry Red and Turquoise Cedar Chest Makeover.
This cedar chest makeover is the reverse of the Cherry Red and Turquoise Cedar Chest Makeover……turquoise on top and red underneath.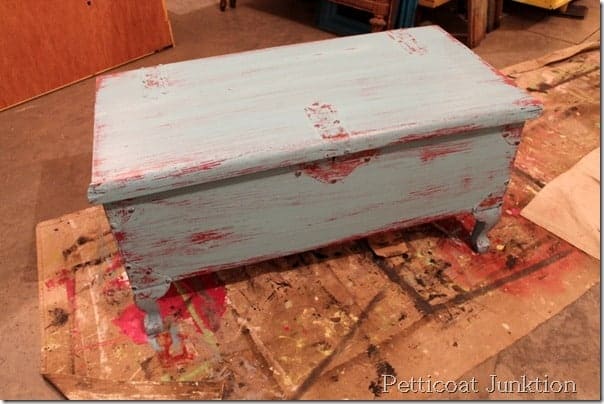 I tried a different distressing technique this time. I used some of my husbands wet cleaning towels, you know the kind that comes in a canister and you open the tab on the top and pull them out one at a time. Some people use baby wipes but they were in the house and these were handier.
I don't think this is what is known as "wet sanding" so I'm calling it "wet cloth distressing" . When the top coat of turquoise was dry I rubbed with the wet towel in strategic places. Sometimes I rubbed pretty hard. I think I let the paint dry too long. Rub the paint off until you get the look you want.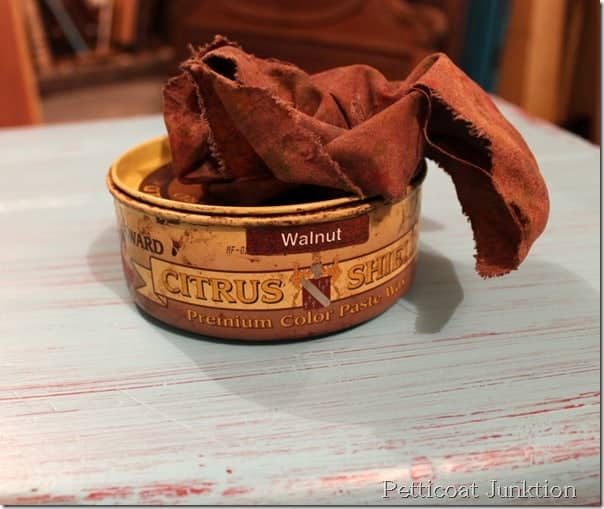 Next I applied a light coat of Howards Wax in Walnut. Gives the chest an aged look.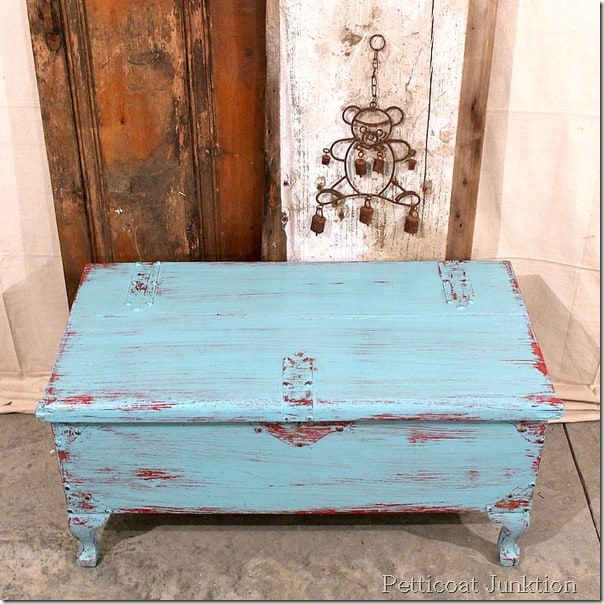 all done
I like the wet cloth distressing, not as messy, but I think it takes longer than using the electric sander.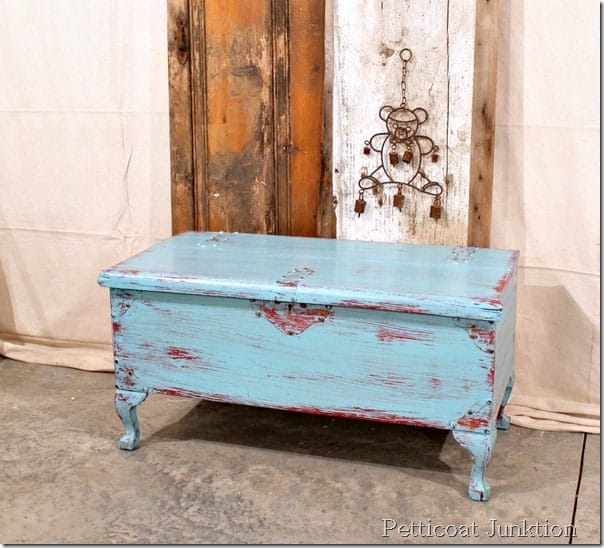 This is a safety alert from Lane.....Since many of our cedar chest products have withstood the test of time and have been in homes for decades, there have been cases where children have climbed inside chests with old style latching mechanisms and locked themselves in, and there have been incidences of suffocation inside chests. As a result of this important and urgent safety concern, Lane has launched numerous successful programs since 1987, all concentrating on lock replacement. However, based on our best records, there are still an estimated 6 million chests owned by consumers that may require the new lock upgrade. Please click here for more information
Have you guys tried this technique? Do you distress furniture? Please leave a comment. I always love hearing you. Kathy