Antiqued Red Cedar Chest
Have you ever looked at furniture in a store and wondered how that perfectly smooth antique looking finish was created? I have. I often shop HomeGoods, Tuesday Morning, and Kirkland's, mainly looking for home décor ideas. I sometimes fall in love with an item but I very seldom buy it. I come home and try to find a way to recreate that fabulous look…..on a budget.
There are a couple of different techniques I use to antique furniture. I don't know that any one technique is better than the other, they're just different.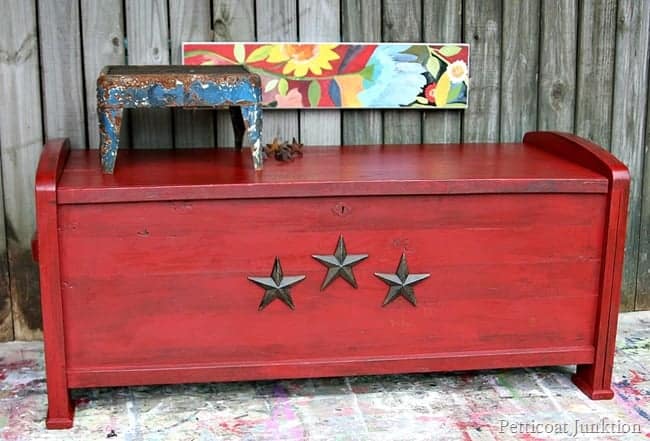 antiqued red cedar chest
Several years ago when we lived in Florida and I started my painting/diy adventures I painted a number of hope chests/trunks/cedar chests similar to this one. The look was very popular and the chests usually sold right away. I antiqued the paint on this cedar chest using a very, very, simple process. I promise to post the how-to next week.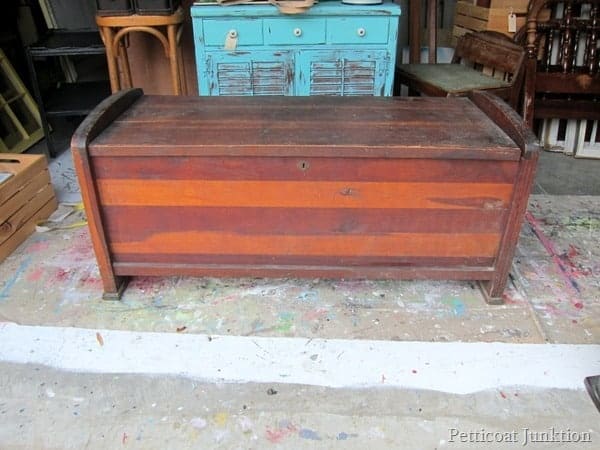 I bought the cedar chest at the Nashville Flea Market. It's in great shape and the wood is really pretty. I planned to clean it up and renew the wood finish with hemp oil. Every time I looked at the chest all I could see was a coffin….I know…I hated to say it….but that's what it looked like to me. I decided to paint it. I know some of you will probably think I shouldn't have and you can tell me…..nicely.
This is a safety alert from Lane.....Since many of our cedar chest products have withstood the test of time and have been in homes for decades, there have been cases where children have climbed inside chests with old style latching mechanisms and locked themselves in, and there have been incidences of suffocation inside chests. As a result of this important and urgent safety concern, Lane has launched numerous successful programs since 1987, all concentrating on lock replacement. However, based on our best records, there are still an estimated 6 million chests owned by consumers that may require the new lock upgrade. Please click here for more information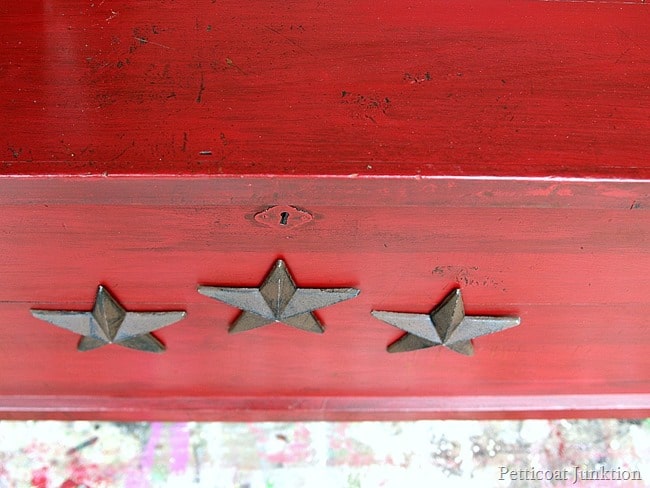 Now it doesn't look like ….well, that word I said earlier. I'm happy with the finished look. The iron stars are nailed on. The stars have a nail on them. Not sure what the proper name is….star head nails?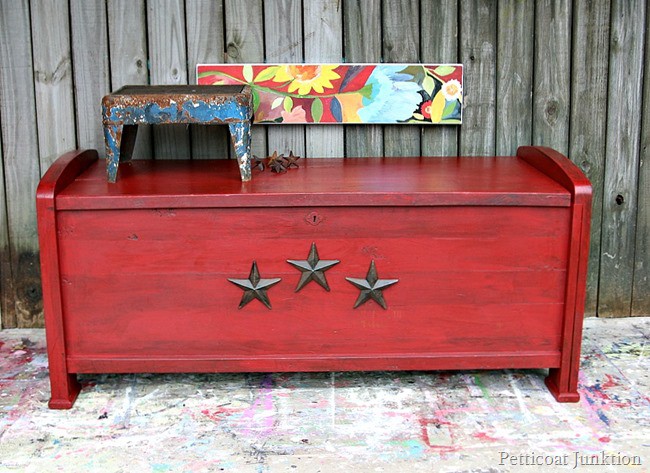 What do you guys think of the project? Have you tried to reproduce a specific furniture finish or look?
I'll post the technique for this finish next week.
update July 8, 2015 Tutorial on this paint finish How To Antique Furniture The Easy Way
Have a great weekend, Kathy