White Shabby Table
Hey Guys! I finally cleaned the  white shabby antique table complete with mouse hole.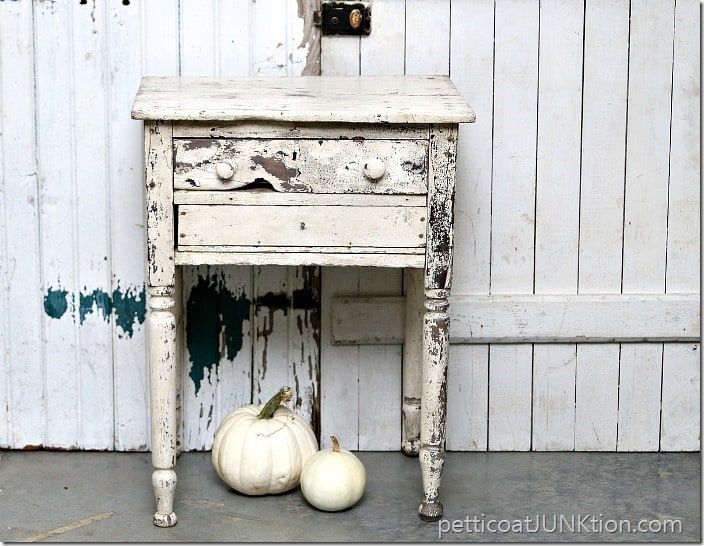 White Shabby Table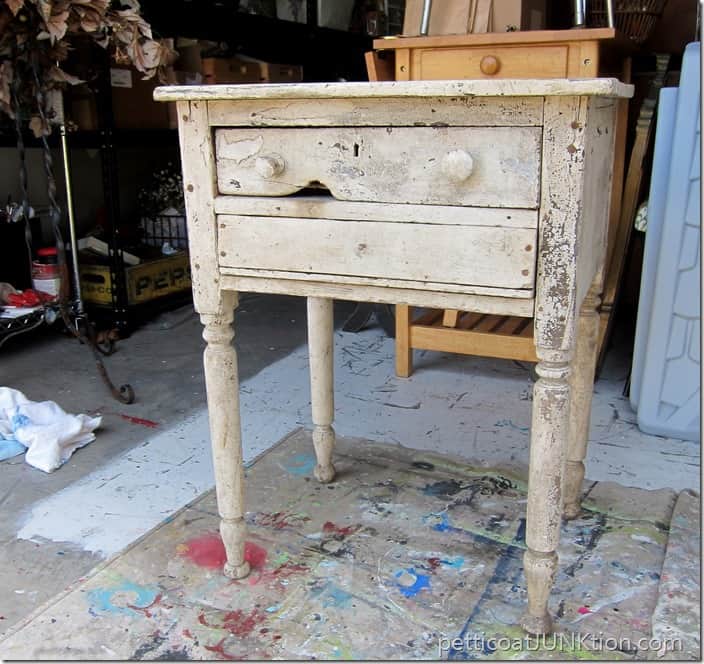 You probably remember I got this piece at My Favorite Junk Shop. It is a dirty mess but I love it at first sight. The paint is alligatored…yes, that's a real term. I found this definition at Benjamin Moore……Alligatoring is patterned cracking in the surface of the paint film that resembles the regular scales of an alligator.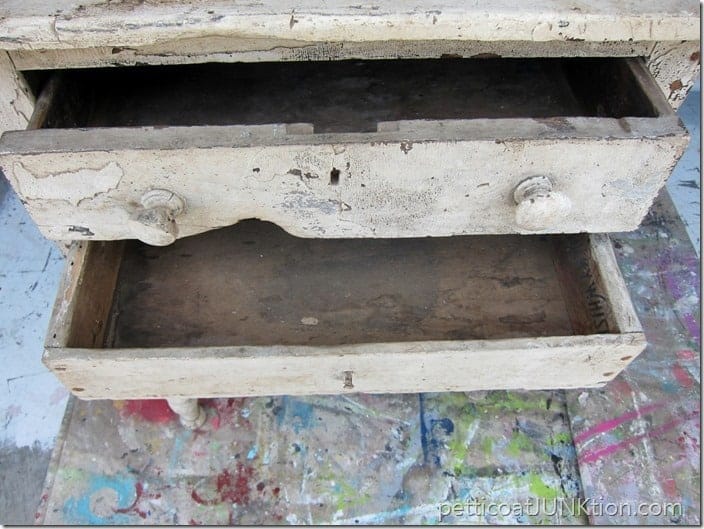 The bottom drawer was remade or replaced at one time. And that was a long time ago. The Taylor liquor crate they used to make the bottom drawer had a date of 1907. How old do you guys think this table is?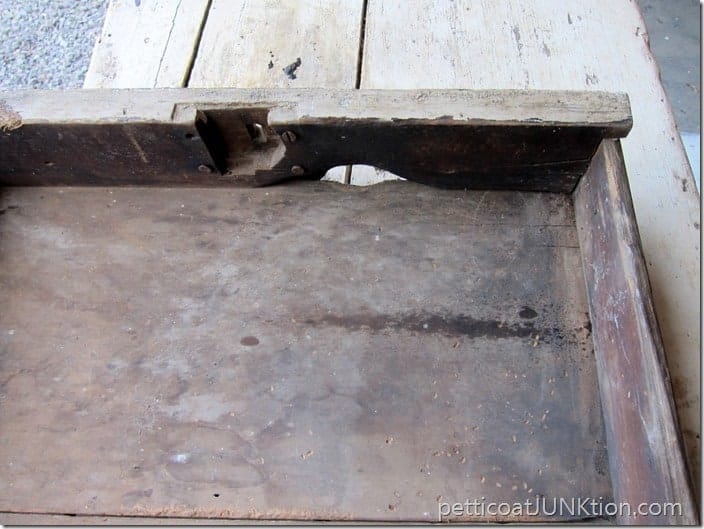 One of you commented on the first post that this was a mouse hole. I had no idea. It's funny because a good friend of ours was in the workshop one day and he commented about the mouse hole in the drawer front. I guess it's a mouse hole. It just adds to the character of the piece.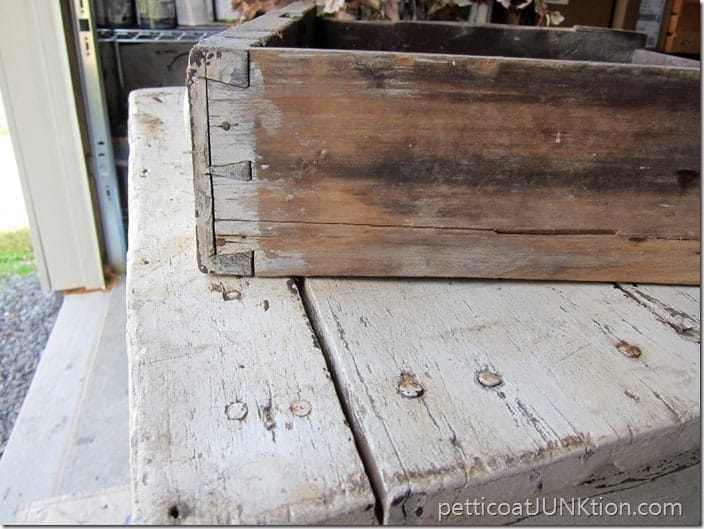 I did a little research on dovetail joints and came to the conclusion that the table was probably built sometime in the last half of the 1800's. Don't quote me on that.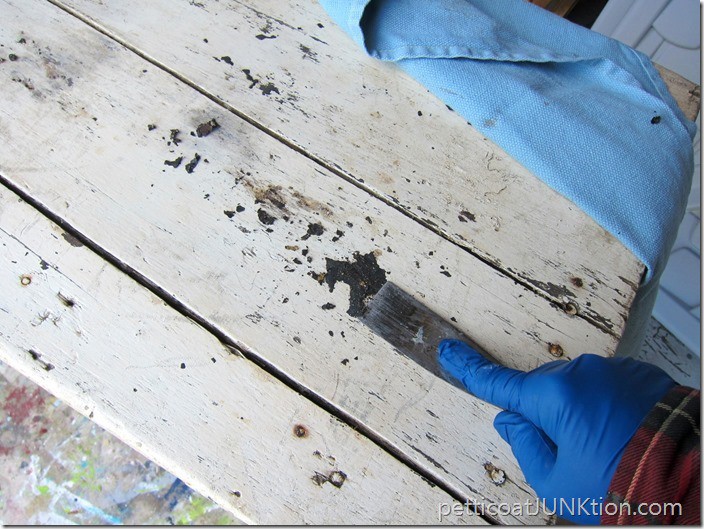 At first glance I thought the dark spots were the original finish where the white paint had chipped off. No. I'm not sure what it was but it was hard to get off and it was a little clumpy. I don't even want to guess what  it was. You see I'm wearing gloves.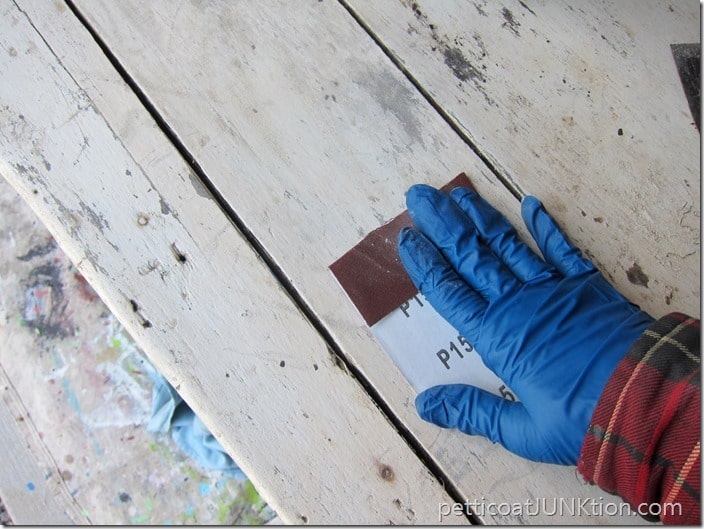 I removed the worst of it with the paint scraper then sanded the paint. To clean the whole piece I used Simple Green.
The inside was filled with dirt dauber nests.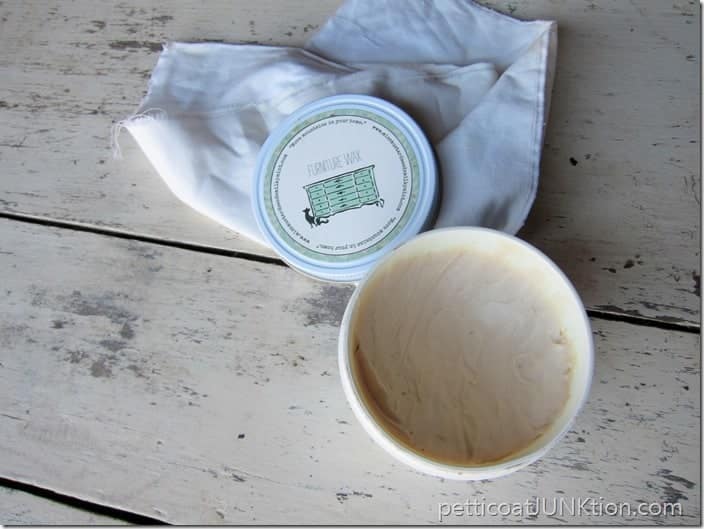 I'm sure the paint is lead based so I sealed it with Miss Mustard Seed's Neutral Wax. The paint wasn't chipping away at all. That stuff is stuck like glue.
It's not everyone's cup of tea but I like the little table. The chair is one of a pair I got at the Nashville Flea Market over the weekend. More on that to come! Thanks for being here, Kathy