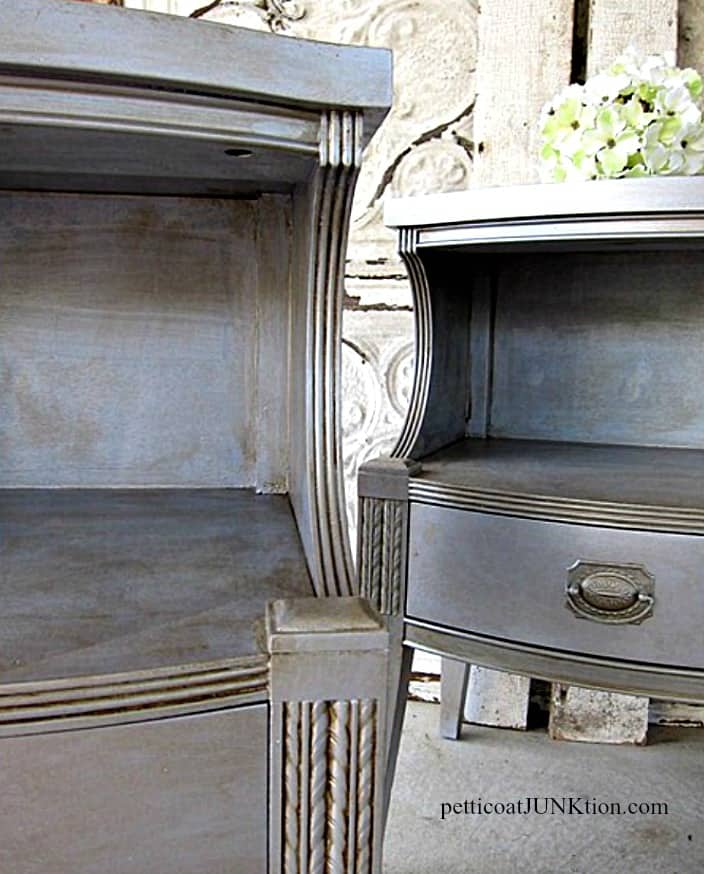 Silver Metallic Paint Furniture Project
Have you used metallic paints? This is my first project using metallic paint and I just have to say…..I love the paint!
It's easy to work with and the finished look is classy or everyday…..depending on the products used.
The pair of side tables were a thrifty find. It's always nice to find a pair of anything.
My charming granddaughter Tenley.  I think she inherited my painting gene.
I am enamored of the silver painted furniture in blogland.  I chose Martha Stewart Precious Metals in Mirror. I was going for Silver but the sample was really dark so I went with the Mirror color.
After 2 coats of  Zinsser Primer and 1 coat of Martha Stewart Precious Metals in Mirror.
Young lady on the right is glowing with
Caromal Colours
Toner  and her twin on the left with just the Mirror finish. I wanted you to see the contrast between the two. I brushed the toner on and wiped it off  with a dry rag in random spots for this  finished look.
The toner definitely takes it up a notch! The finish has more depth and character now.
Two beautiful debutantes ready for the ball!
new tutorial……update Dec. 2013   Complete Toner Tutorial Here
new tutorial  …..update Feb. 27, 2014   Best Antiquing Process For Metallic Silver Paint
Update December 21, 2015. The Martha Stewart Paint is no longer available. I use Modern Masters and you can find it online.
Buy Caromal Colours Toner by clicking the photo below.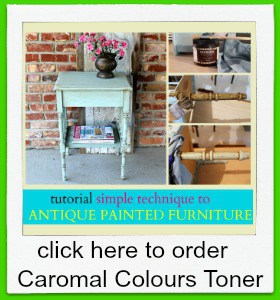 What do you think of the metallic paint? Are you going to give it a try?
See more of my metallic painted furniture with full tutorials by clicking the photos below.
Click here to have Petticoat Junktion updates delivered free!