disclosure: affiliate links may be used in this post.
The past couple of weeks have been extra busy.
But they were fun too, and things are slowing down for me a little.
I take my last college final of the semester today and should finish up all other college stuff by the end of the week.
yea!
Then I start back on Jan. 16….but I digress….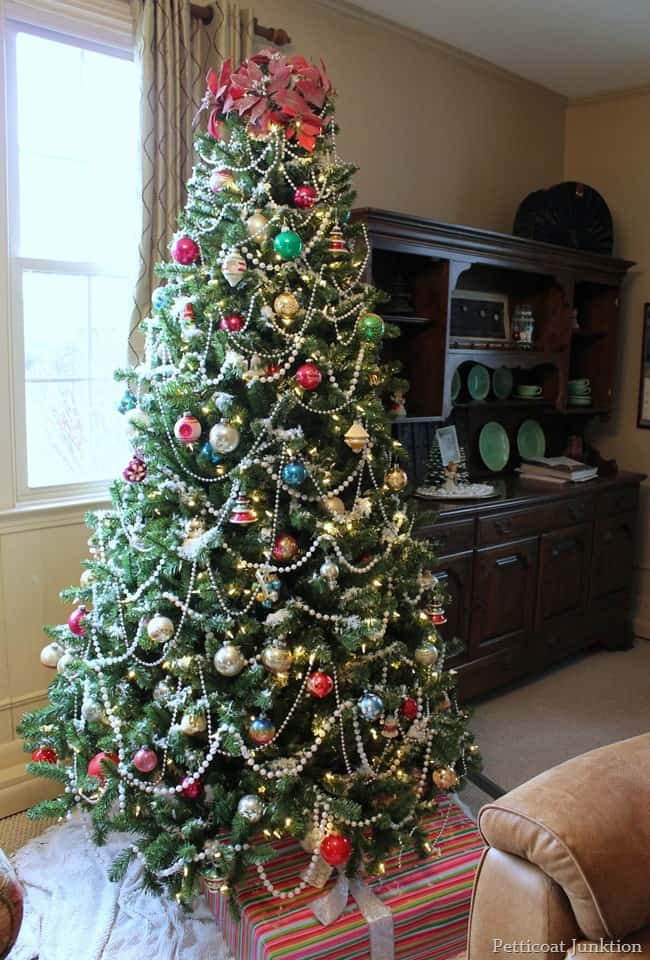 I enjoyed the 12 Days Of Christmas Tour and the Christmas Craft Tour.
I hope you guys did too.
The 12 Days Of Christmas Tour continues through tomorrow and I can't wait to see the upcoming tours!
I promised more photos of my tree and I've probably taken at least 100 photos of the tree trying to get some decent shots.
I need a professional photographer on call.
That would be really nice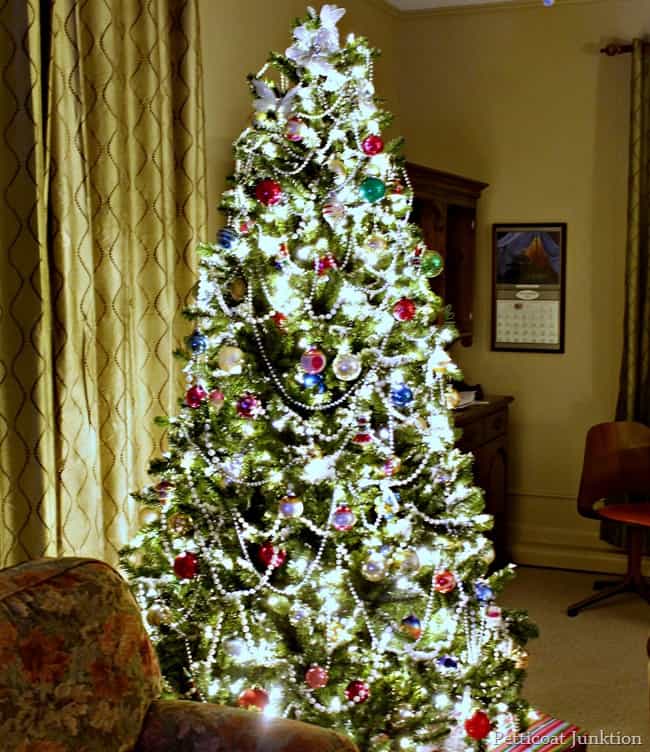 I think I mentioned in my home tour post that we purchased a new tree this year.
Our last tree was probably 10 years old and the pre-strung lights were slowly dying.
The tree was white flocked and had clear lights. I loved that tree.
At our home there is always a debate about the Christmas tree lights.
It seems the guys and the kids (ok, the guys are kids) like the multi-color lights and the ladies of the house like the clear lights.
Well we made everyone happy this year because our tree has both options.
The tree has clear lights and multi-color lights and they alternate every few seconds between the two…..or you can set it to show only clear lights…..or set it for only multi-color lights……awesome!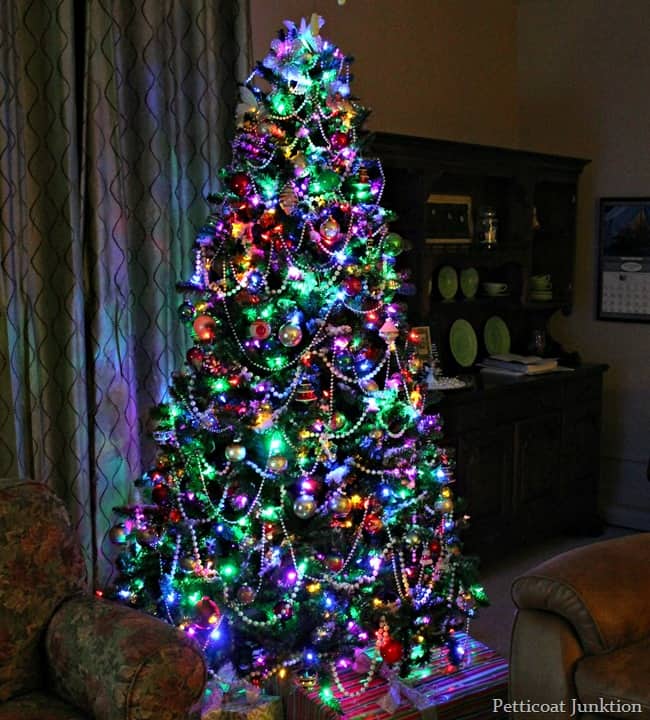 We have the switch set so the lights alternate.
I have to admit I do like the multi-color lights.
It kind-of looks like a Mardi Gras tree doesn't it!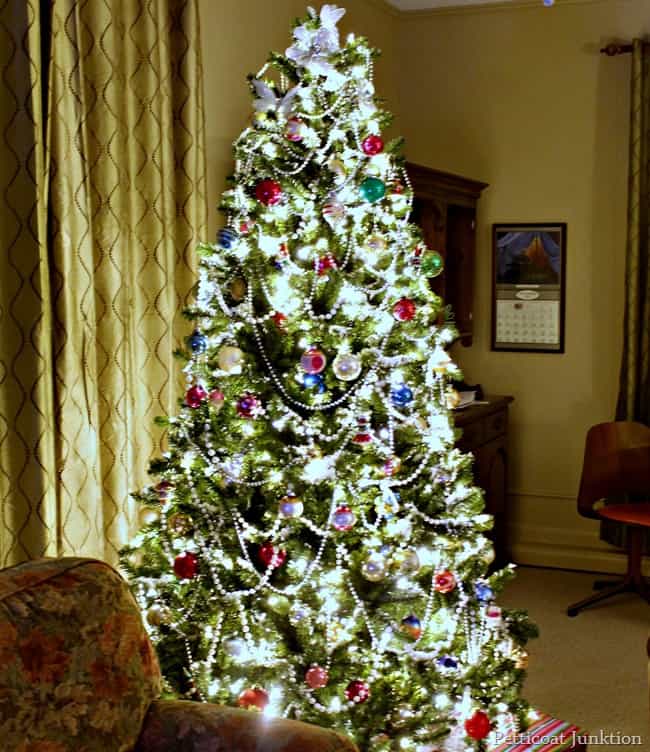 And I like the clear lights.
What type of Christmas tree lights do you like the best?
You can leave me a little note below. I love hearing from you.
You only have to leave your name (first name is ok) and your email address, then your comment.
Your email address will not be shown on my blog.
The links to the Christmas Craft Tour and the 12 Days of Christmas Tour are below.
It's not too late to take the tours. In fact they are up all year!!!
12 Days of Christmas Tour
Monday DEC 2nd
FIRST HOME LOVE LIFE
DIO HOME IMPROVEMENTS
Tuesday DEC 3rd
AT HOME WITH THE BARKERS
RESTORING OUR 1890 VICTORIAN
Wednesday DEC 4th
FRESH IDEA STUDIO
THE GOLDEN SYCAMORE
HOUSE ON THE WAY
Thursday DEC 5th
CURB ALERT
PETTICOAT JUNKTION
Friday DEC 6th
ARTSY CHICKS RULE
RAPPSODY IN ROOMS
Saturday DEC 7th
SIMPLY FRESH VINTAGE
COUNTRY DESIGN STYLE
Sunday DEC 8th
MRS HINES CLASS
SNAZZY LITTLE THINGS
Monday DEC 9th
JUST PAINT IT
THE RUSTIC PIG
JUST A GIRL AND HER BLOG
Tuesday DEC 10th
OUR SOUTHERN HOME
VIRGINIA SWEET PEA
MEEGAN MAKES
Wednesday DEC 11th
SOPHIAS DECOR
A LITTLE CLAIREIFICATION
GIRL IN THE GARAGE
Thursday DEC 12th
MOMMY IS COOCOO
LITTLE MISS CELEBRATION
INSPIRATION FOR MOMS
Friday DEC 13th
MY SOULFUL HOME
CONFESSIONS OF A SERIAL DIYer
LILACS AND LONGHORNS
Christmas Craft Tour
Monday, Dec. 9
Tuesday, Dec. 10
Wednesday, Dec. 11
Kathy
linking to these parties….
DIY Sunday Showcase……Throwback Thursday
Thrifty Décor Chick…..Funky Junk Interiors….Amaze Me Monday