disclosure: affiliate links may be used in this post.
Hey Guys, Today is the first day of the Fall Ideas Tour. It's our fifth year for the tour and it gets better every year. Today's theme is Fall Mantel Displays.
I'm sharing a fabulous Fall wreath on Wednesday. I'll give you a little inside info on the wreath….it involves a purse and buffalo check fabric among other things. That's all the hint you get.

I used to hate decorating my fireplace mantel. I had no idea where to start, what to use, how to put it together, no clue. Through the years I've come up with a system. I first decide on a theme.  For example is it going to be a seasonal display or am I going to feature a favorite décor piece.
Next I decide the color scheme usually going with three main colors. Then I decide what piece will be the focal point of the mantel.
I might have a favorite framed print hanging on the wall or maybe I just picked up a fun junk find that would work for the centerpiece of the display.
Once those decisions are made I shop my house, shed, workshop, for items that fit the theme and the color scheme. I gather everything on the hearth or on the floor around the fireplace.
I place the focal point on the mantel and start adding pieces to the display until I'm happy. Sometimes that might take 20 minutes and sometimes it takes a few hours.
Unique Fall Mantel Displays
I'm going to share 5 of my past Fall mantel displays. Some of the décor is all about pumpkins and the standard Fall colors and a few are definitely not the standard Fall stuff and would work as a display all year round.
The Fall mantel tour with 6 participants is at the bottom of the post. Be sure and take a look at all of the decorating ideas. If you don't have time today bookmark this post for when you do.
Pumpkin Overload Mantel Decorating Idea
This is one of my first mantel displays (that might be obvious). I called it Pumpkin Overload.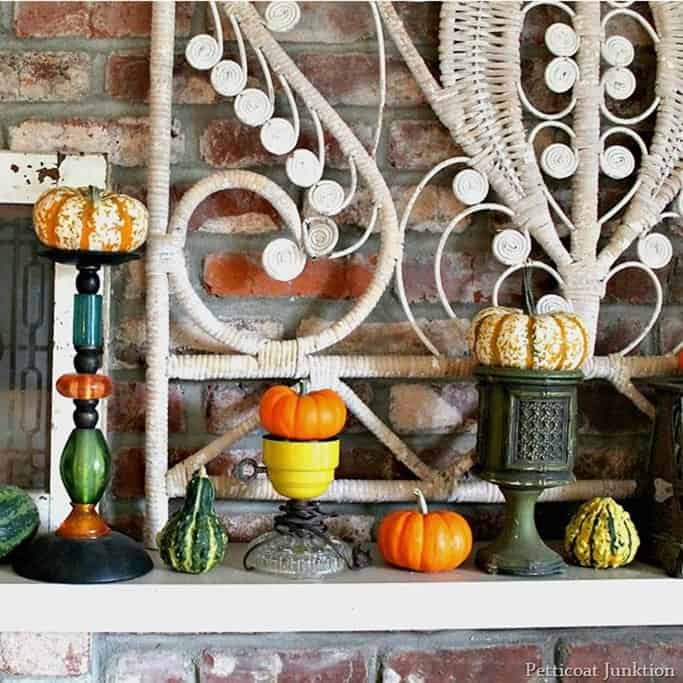 The focal point for this display was a vintage twin wicker headboard. I found the headboard at the Nashville Flea Market and fell in love with it. For $5 it was a must have. The etched glass cabinet doors on either side of the headboard are from the flea market also.
As you can see I went with an orange, green, and yellow color scheme. Most of the items on the mantel are junk store finds and some like the yellow lamp base are vintage pieces. I love all of my junk finds and they make up most of my home décor.
To see the entire post with more details and photos of any of the mantel displays just click on the pink text link name.
Eclectic Fall Mantel Display
I guess I would call all of my mantel displays eclectic because I might place a drinking glass beside a lamp base or a license plate next to a horse farm photo.You just never know.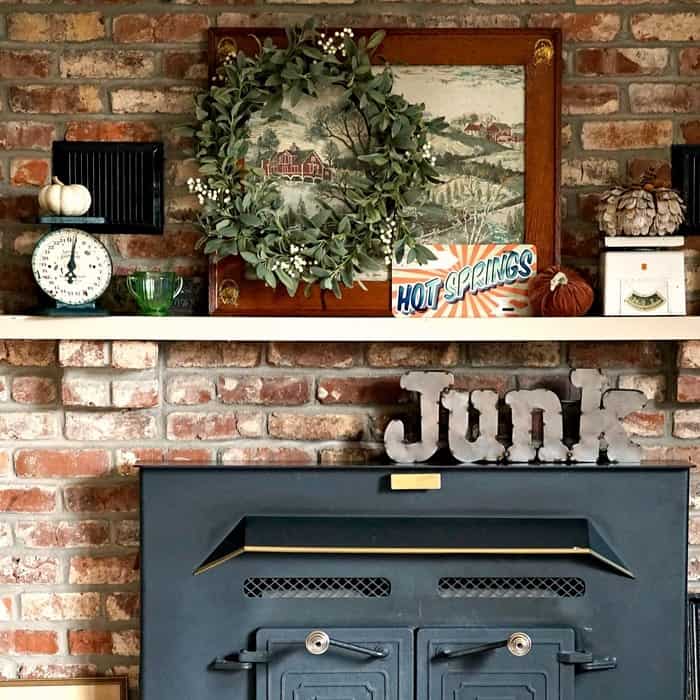 The centerpiece for this display is a framed textile that features an image of a horse farm. That's what I think it is anyway. And then I hung a pretty greenery wreath over the frame.
Next I added the Hot Springs license plate. I had just found it on a shopping trip with my sister to, you guessed it……Hot Springs, Arkansas. The hubby and I got married in Hot Springs over 38 years ago. Seems like yesterday.
All of the other things on the mantel came from the house or my workshop. I collect vintage kitchen scales so they show up regularly. I love the velvet pumpkin I found at a local flea market a few years ago. The new ones are too expensive to buy.
Decorating The Fall Mantel With Thrifty Finds
You can't help but notice the busy brick on the fireplace. The brick has so many colors that your eyes don't know where to look or focus.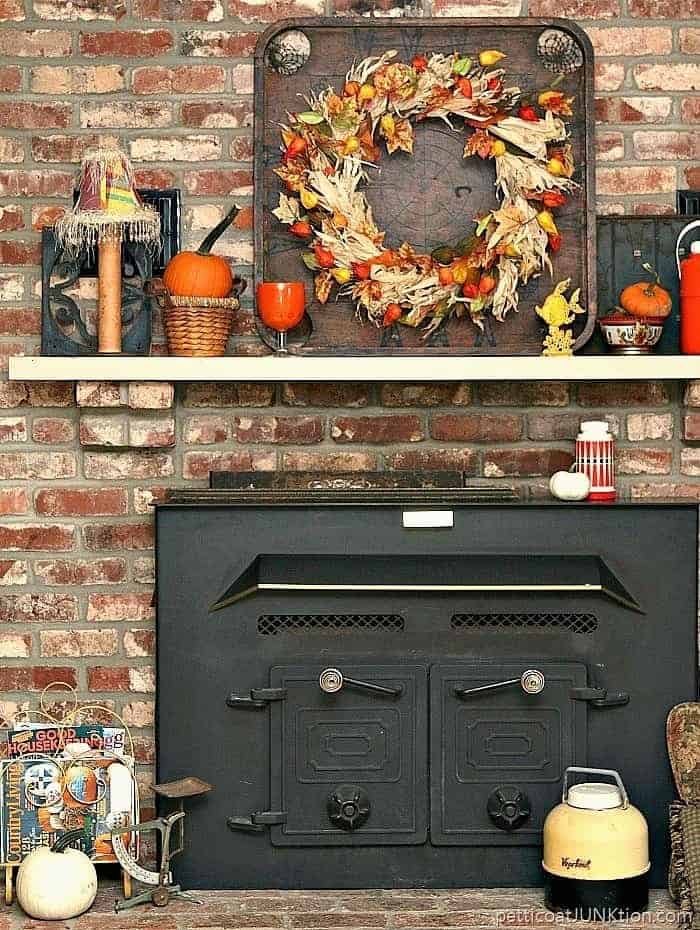 It's almost impossible to use something like a mulit-color wreath against the brick. It just gets lost. I started using shutters, large metal panels, wood game boards, or any large solid color item as backdrops for wreaths. I'm always on the lookout for "backdrops".
The wreath is the centerpiece for the orange Fall mantel and all of the colors would fight with the bricks for attention. Hanging it on the game board table top makes it stand out.
For this display I pulled out all of my vintage thermos together and added pops of orange and vintage metal items to the mix.
Fall Colors Mantel Decor
The next display doesn't have a single pumpkin. Fall mantels don't have to include pumpkins or ghost or witches. Sticking with warm or Fall colors makes any display perfect for Fall.
The framed bird thingy I bought cost less than $4. Since it had a wide dark frame around it, it didn't blend into the brick. The orange metal box was a thrifty buy too at less than $4. . This display is a prime example of shopping the house. The JUNK sign was sitting on top of the china cabinet when I took it down and stood it up on the mantel. The drinking glasses were, well……in the kitchen.
Unexpected Fall Flamingo Mantel Decor Idea
The last one of my mantel displays I have for you is the Flamingo Fall Mantel. It's the most unique as far as Fall mantels go.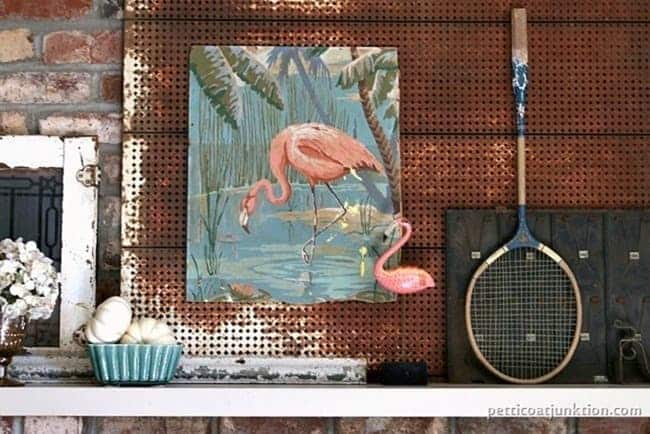 The focal point of the mantel is a large rusty iron panel I bought at the Nashville Flea Market and a paint by number Flamingo print I got for free. It was in the trash if you can believe that! I asked the girl who tossed it if I could salvage it and she said yes. Win-Win.
So the color scheme for this mantel is turquoise, pink and white. My junk treasures I selected for the display are muted colors instead of in your face bold.The pink flamingo on the stand was a $1 purchase.
As you can tell I don't put much money into my displays. You don't have to either. Shop your home. Another plus to shopping your home is that you already love the stuff you have. Put it all together where you can admire it.
Does my mantel decorating system make sense to you? I'm shopping my house and using things I love for the displays. What could be better. A lot of times I sit on the sofa and just smile when I look at the mantel.
Okay, I admit there are times I look at it and think, "What in the world". Then I get up and start rearranging, subtracting, adding, whatever. My décor is always a work in progress.
Leave a note and tell me if you have a favorite Fall mantel or if you didn't care for any of them. Then take the Fall Ideas Mantel Tour below. Oh by the way, I have an awesome furniture makeover tomorrow. Can't wait for you to see it.
6 Mantel Decorating Ideas From The Fall Ideas Tour
Fall Mantels
Postcards from the Ridge / Anita Diaz / Hearth and Vine
Virginia Sweet Pea / 2 Bees in a Pod / Atta Girl Says
Take the complete Fall tour this week as it unfolds
Tuesday – Tablescapes
Sand Dollar Lane / Aratari at Home / Nourish and Nestle
Salvaged Living / Our Southern Home
Wednesday – Wreaths

Petticoat Junktion / Lora Bloomquist / Exquisitely Unremarkable
Bliss Ranch / The Interior Frugalista / Chatfield Court
Thursday – Crafts & DIY

Domestically Speaking / DIY Beautify
Homeroad / Christina Faye Repurposed
not pictured Weekend Craft
Friday – Porches

As always, thanks for being here and have a great day, Kathy