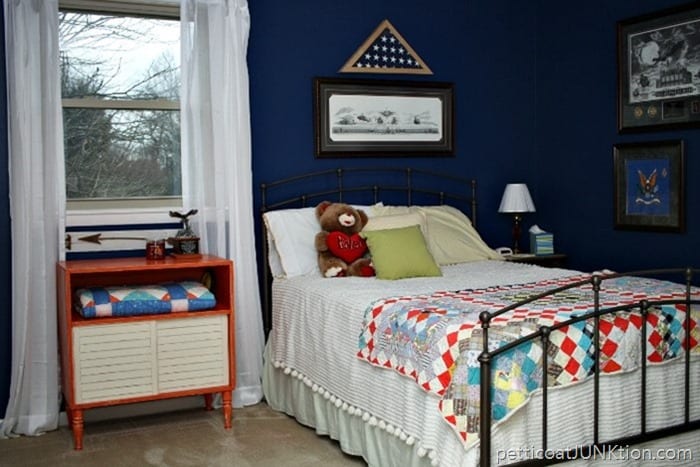 Bedroom Organization
I need to warn you guys ahead of time. There are a lot of photos in this post and some of them are not very pretty. I have several before photos of closets and under the bed things. Just so you know.
Everyone talks about Spring cleaning but I never really got it. If I got a wild hair to organize or clean something I didn't wait for Spring and I also didn't say when Spring came around "Hey, it's Spring. Time to Clean!"
Last January I kept reading all these blog posts about organizing and everyone was talking about this book on decluttering. Well I've never been a fan of how-to books or books on improving your life. Don't know why, I'm just not. But since everyone went so gaga over this book I bought it and read it…..more than once.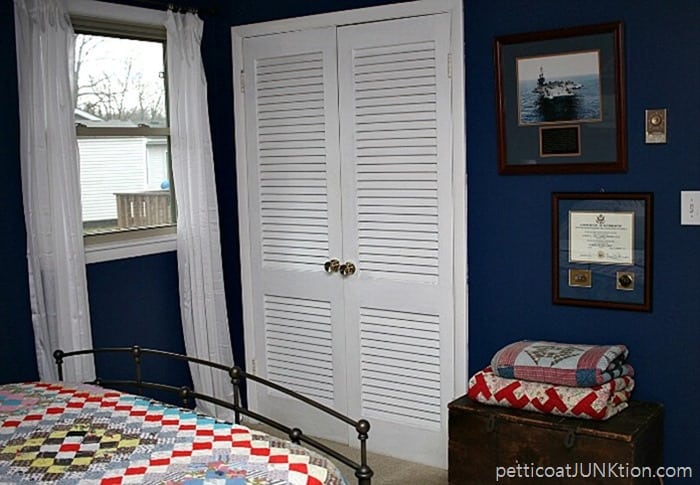 I started decluttering our home last January and I got through all the rooms except the big den. I meant to do it, just never tackled it. The JTS made I don't know how many trips to the Goodwill and to the garbage dump. When I was finished decluttering it was like this big load was lifted. The rooms were so much lighter.
I decided to declutter again this January and February. No, I didn't collect or stash away any thing new this year (except for in the workshop, that doesn't count, insert smiley face), I knew there were things I should have gotten rid of last year and didn't.
I started with the back guest bedroom and that's the one I'm sharing today. The first photo shows the orange piece I added to the room this year.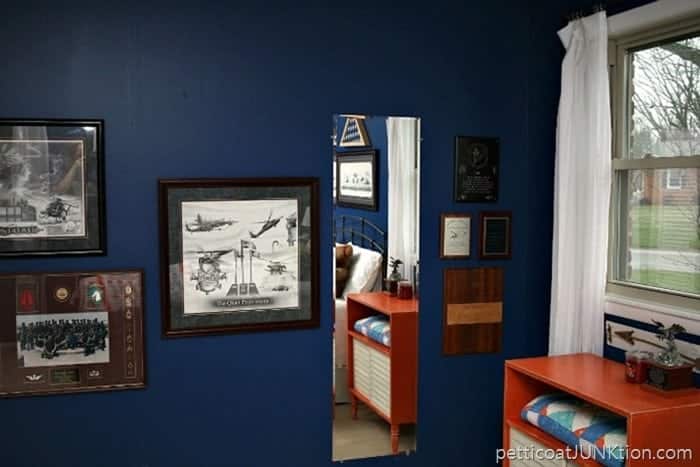 Last year I took out a chest of drawers and moved things around a little. The antique wood chest was moved to a different wall and the orange piece was moved in later.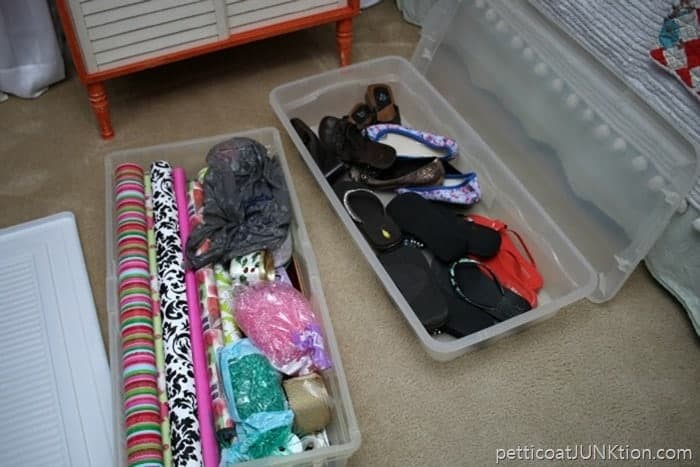 Moving on to this year's decluttering saga. These two storage thingies were under the bed. One holds gift wrap and ribbons and the other is for storing my Summer shoes.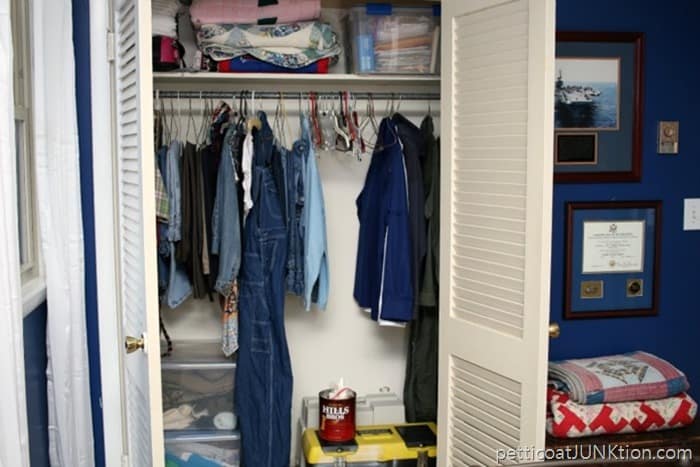 This is the closet. It's not bad but I really needed to get rid of more stuff. There were two storage containers of Summer clothes, a box of paper work, quilts, and a car seat, among other things.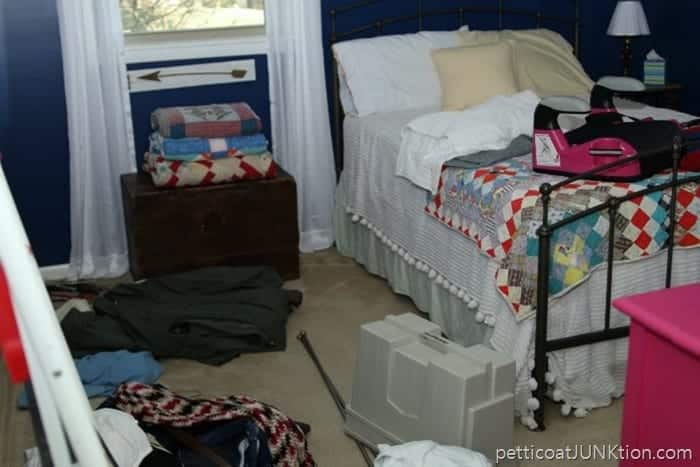 I went through everything in the closet. The different piles of stuff go different places or either to the Goodwill.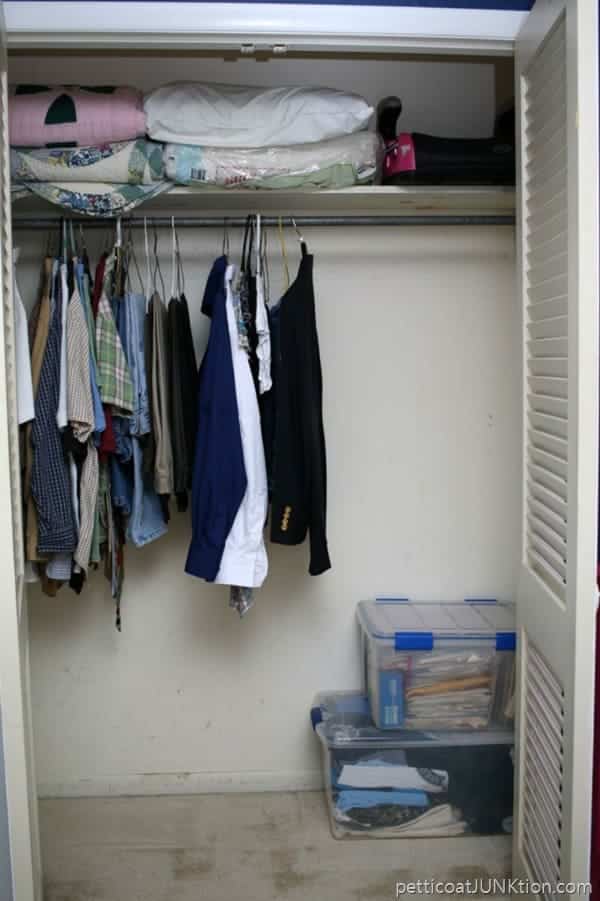 This is how the closet looked when I finished cleaning it out but I wasn't finished.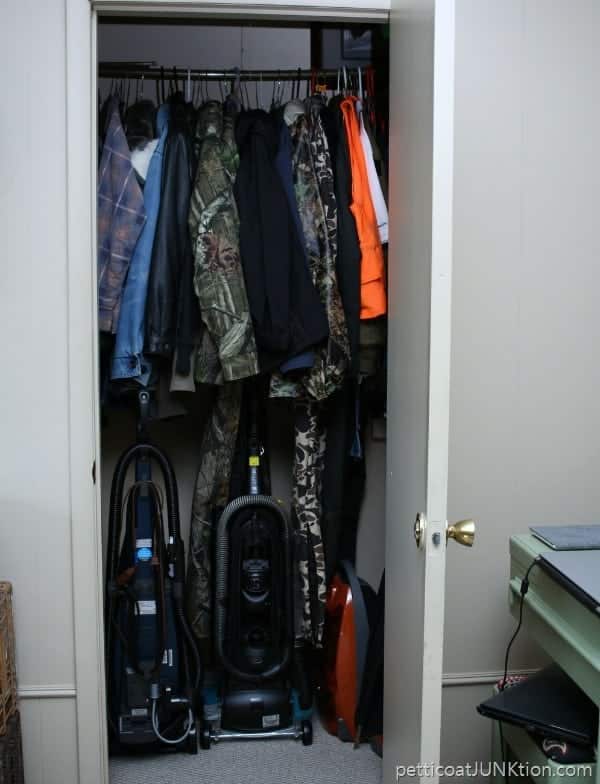 This is the closet in our Den. I decided to move some of the jackets and coveralls to the back bedroom closet. After all it was all roomy now and this one here is a mess.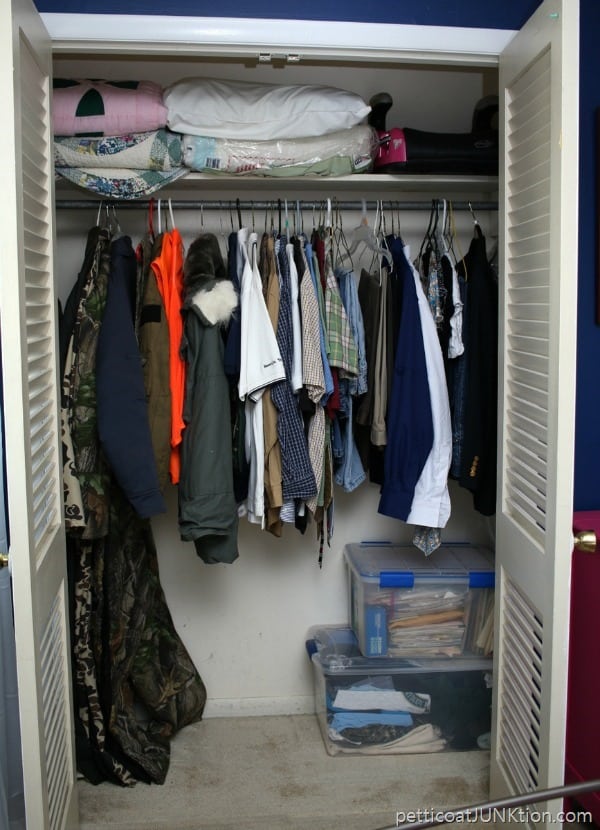 This is how the closet looks now. All done. Our home was built in the 1960's so the rooms and the closets are very small. Our house isn't a mansion but we love it. It's where we raised our kids from the time our oldest was 14 and the youngest was 5. Now they are 41 and 32.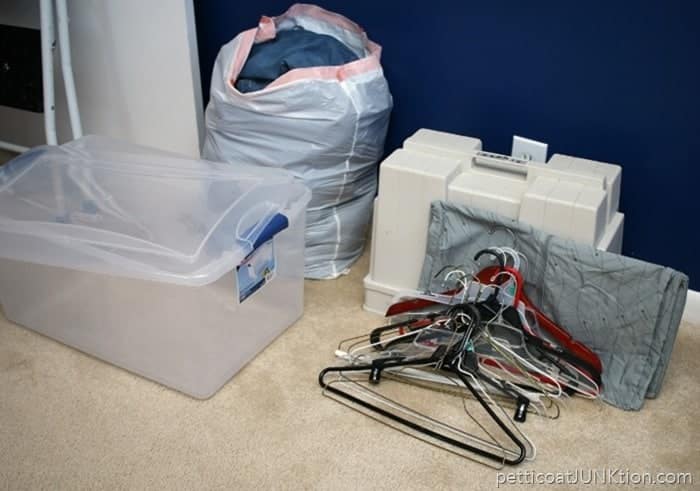 I managed to empty one storage box and get together one bag of clothes for the Goodwill plus a sewing machine and excess hangers. The two storage boxes under the bed are no longer there. The one with gift wrap is in the workshop and the one with my Summer shoes now also holds a few Summer clothes and is under the bed in our bedroom. Now the only thing under the bed is dust bunnies. They have to live somewhere, right?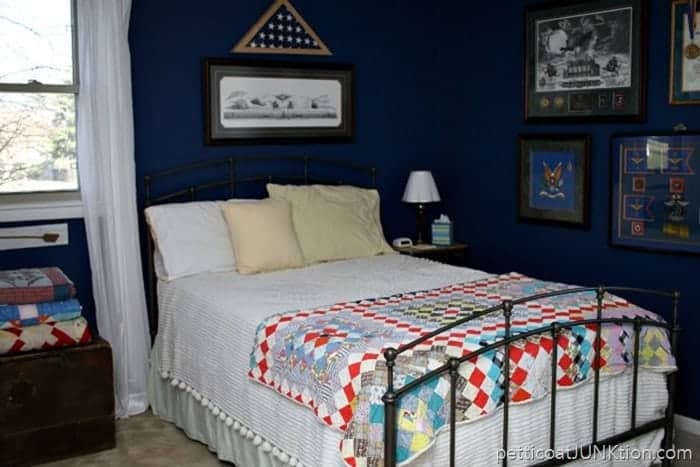 The orange piece of furniture is now in the granddaughters room and the antique chest is moved under the window. So I managed to remove one piece of furniture from the room completely. There is a small side table on the far side of the bed. It holds a lamp, alarm clock, magazines, etc., for guest. The room is perfectly balanced now and doesn't need any other furniture.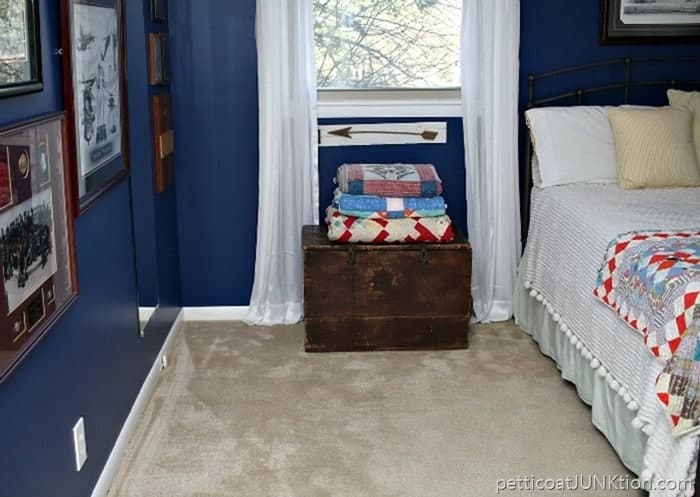 I bought the antique chest when we lived in Florida and I love it so much we hauled it to Tennessee when we moved. The wall on the right is furnitureless. I just invented that word.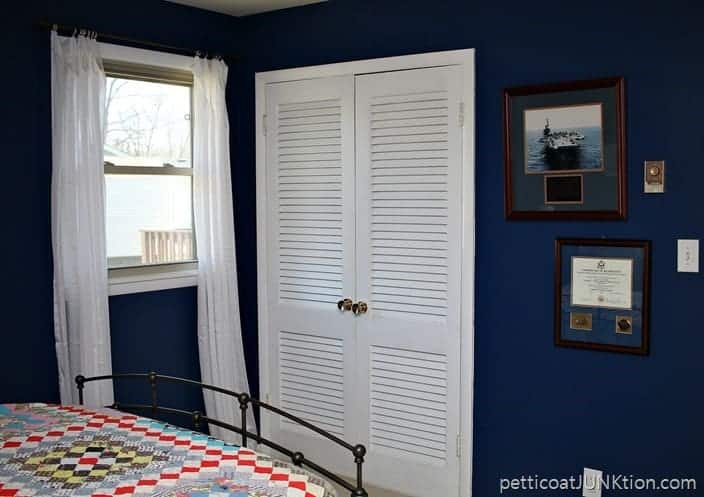 This wall is now furnitureless too.
What about you guys. Do you Spring clean? Or do you just clean and organize when the mood strikes…..like I do.
This is the book I was telling you about… The Life-Changing Magic of Tidying Up: The Japanese Art of Decluttering and Organizing by Marie Kondo. It changed my way of looking at the things I own ……what I need ……and what is just taking up space in my life.
Have a great day. I'll be back tomorrow with a furniture makeover!
Click here to have Petticoat Junktion updates delivered to your email for free!