Let's look at some of my ugly painted furniture makeovers. I have to call my taste into question on some of my furniture makeovers. I look at past projects and cringe or just shake my head. Today you get to see some of my questionable makeovers.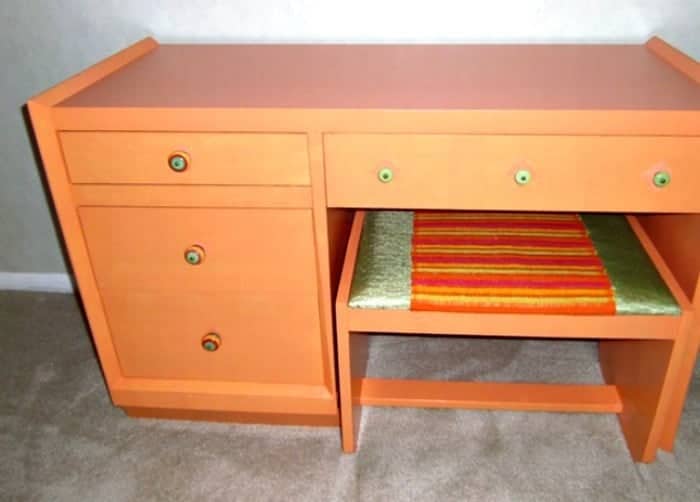 You may not have seen them before because I deleted the posts on most of them. I didn't want to see them anymore.
But just for you I'm sharing. The purpose? To let you know we all have some questionable projects in our past and there will be more in the future. If you don't attempt something you never know how good it can be…..or how bad. But the bad is always fixable.
For those projects where the post is still on the blog the pink text links will take you to the original post.
Most of the photos are bad because of lighting issues or just because I didn't know what I was doing. Click the pink text links if you want to take a look at the old posts.
Ugly Painted Furniture Makeovers
Take a look at this orange desk and seat. You guys know I love orange but this orange is kind of yucky…..no, it's really yucky. Then I made the project worse by doing such a funky layered bench cover. I painted the desk about 8 or 9 years ago. I'm claiming inexperience.
Layered Paint Table
This table didn't look nearly as bad in person as in this photo. I painted about 6 layers of Miss Mustard Seed's Milk Paint on the table and let it chip at will. Then I added a funky hardware plate and knob.
The photos are terrible because they were taken long ago and inside the workshop under very poor lighting.
Shabby Green Bench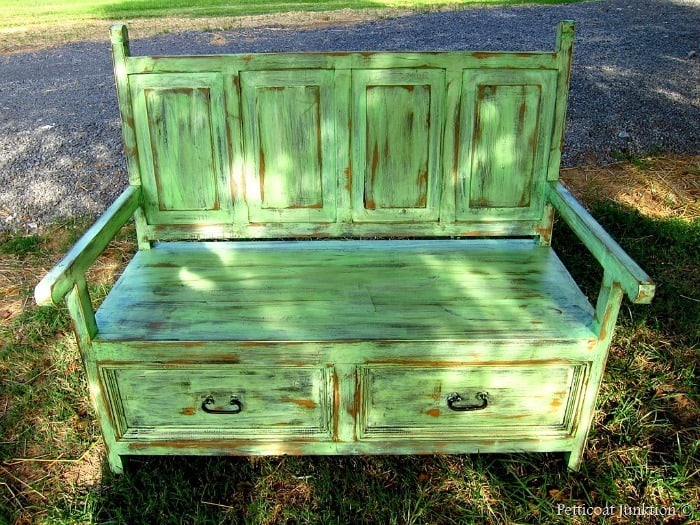 I like heavy distressing but this went a little too far. The wood bench with storage was a piece made in Mexico. The green color is pretty but the distressing not so much.
Purple Furniture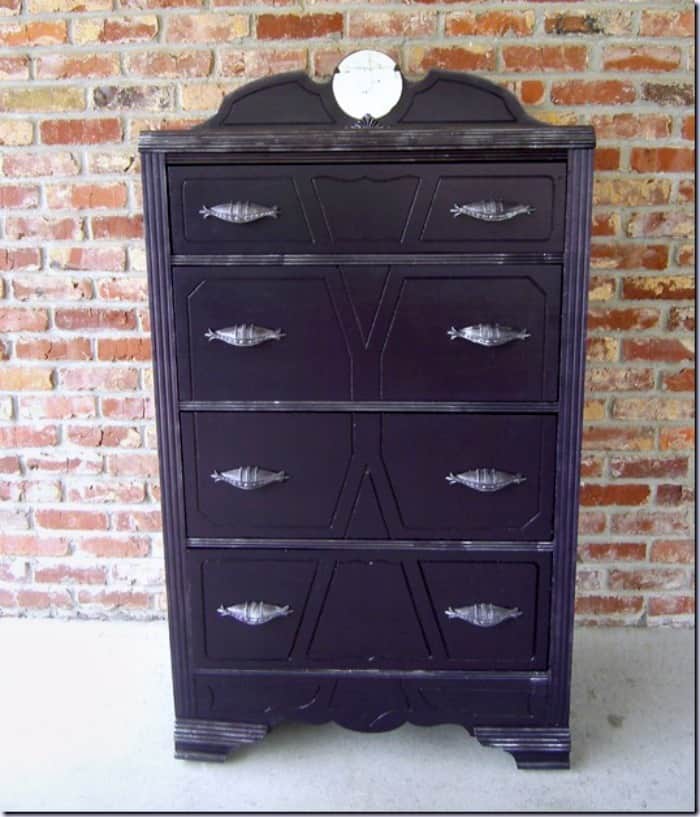 If you're going to paint a waterfall chest of drawers don't select purple for the color. Purple should be reserved for modern kid furniture ……..or maybe not used at all for furniture. Not a fan of purple décor.
Outdated Furniture Style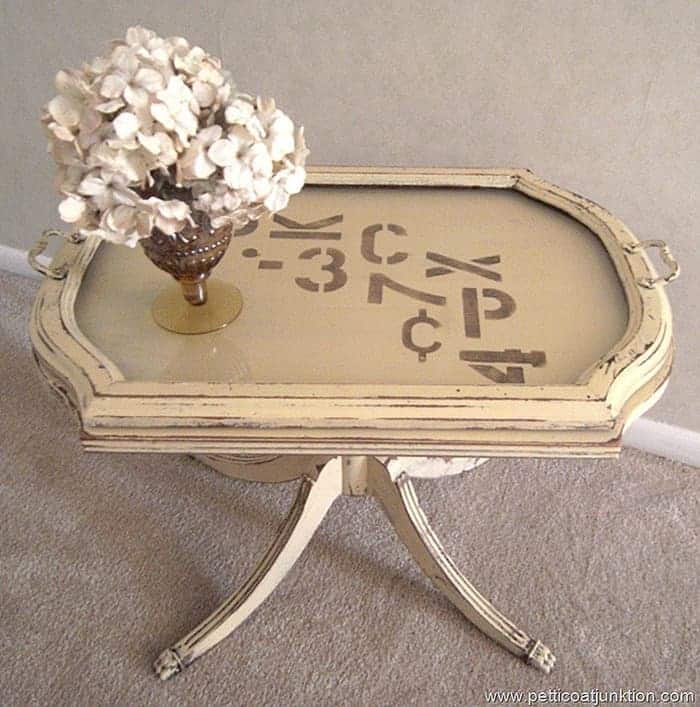 I'm not sure the stenciled number table is a bad makeover just a bad choice for the vintage leggy table. The table had a glass serving tray too which I thought was cool. I never did sell this table. No surprise. I sold the tray and took the table apart.
Too Distressed Furniture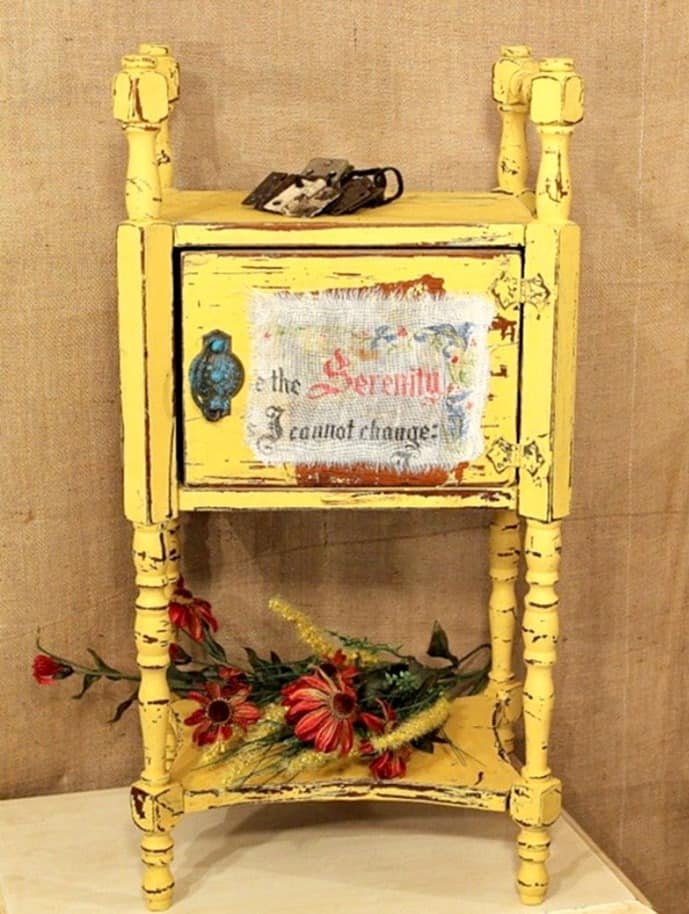 Another "what was I thinking" project. The yellow is Miss Mustard Seed's Paint and the cloth piece glued to the door is part of a fabric wall calendar.
I think I put that fabric piece there because there was a great big spot where all of the milk paint chipped off.
Ugly Color Combination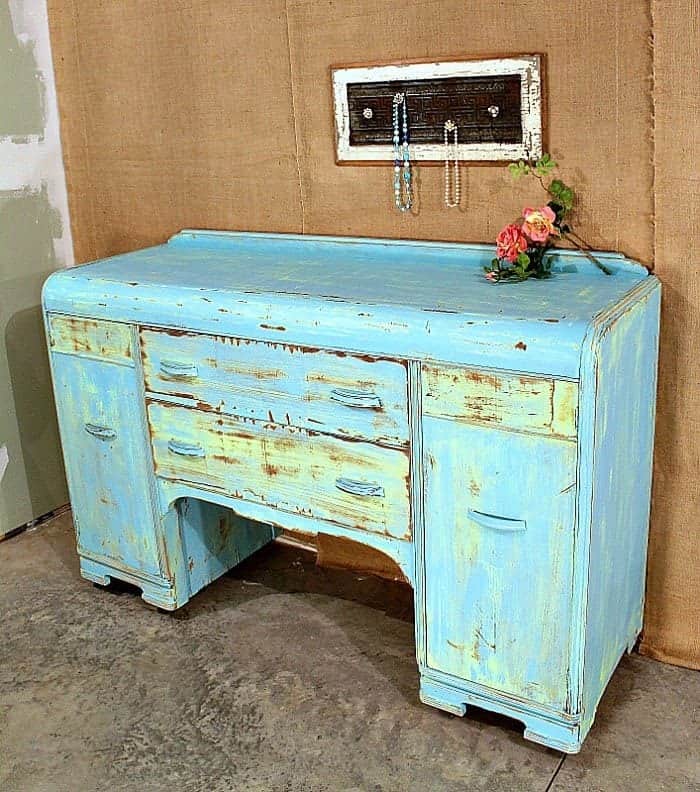 Yes, this vintage buffet/sideboard was really really bad. I don't know hos I put those color combinations together. At one time I did layer a lot of paint on my furniture makeovers and most of them turned out great……not this one.
Overdone Color Block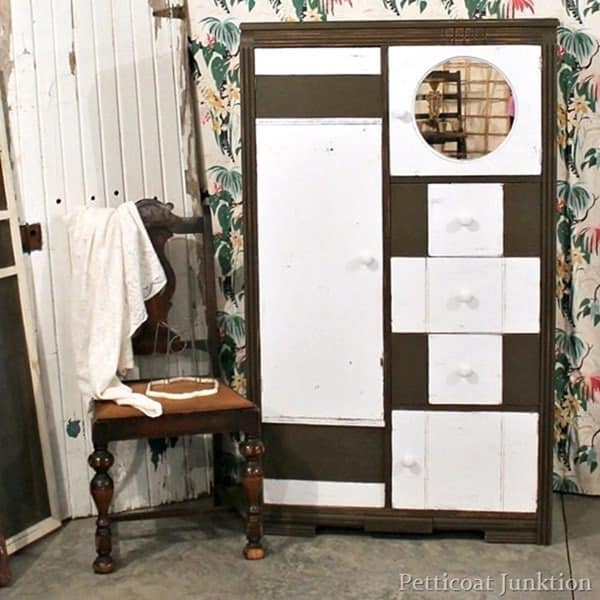 Color blocking on vintage pieces should be outlawed. This vintage wardrobe sold but I'm hoping they were going to repaint it.
Too Fru Fru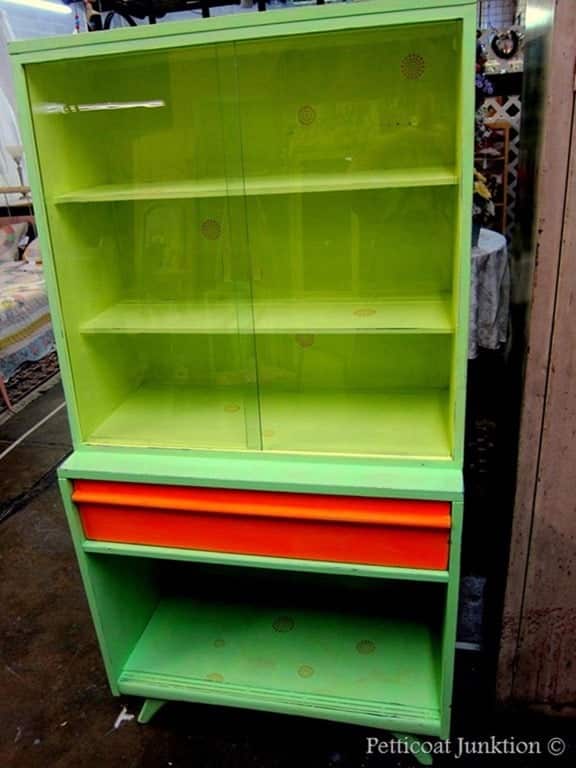 The china cabinet wouldn't be so bad if it wasn't painted more for a kid's room. You don't need furniture with glass doors anywhere near a child.
Wall Papered Furniture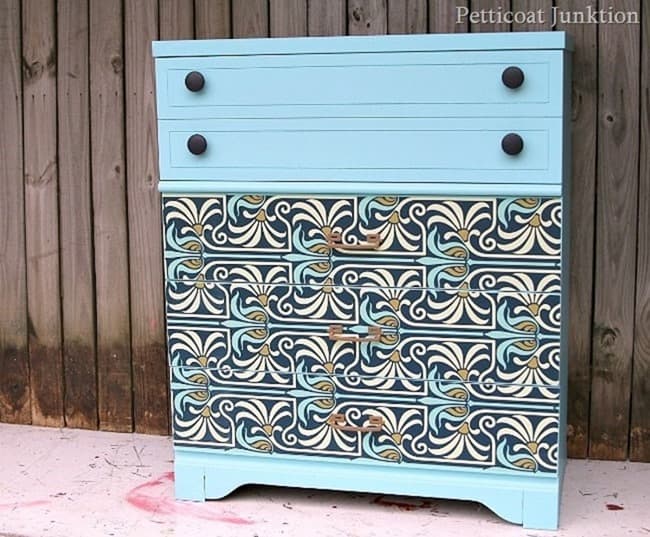 Most readers loved the wallpaper covered chest of drawers but it never sold so I have to think the look was not good. I removed the wallpaper and painted the whole chest white.
Racing Striped Furniture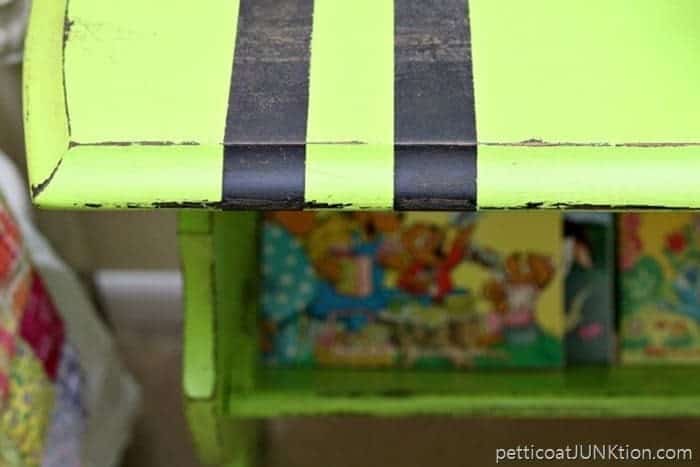 Racing stripes on a small wood table. No again. I do like the green and black color combination. One of my favorite in case you can't tell.
Overly Distressed Beach Style Furniture
The funky nautical style painted piece is too distressed. The color is great and I like the knobs but the distressed paint makes me cringe.
Two Tone Furniture Stenciled And Metallic Paint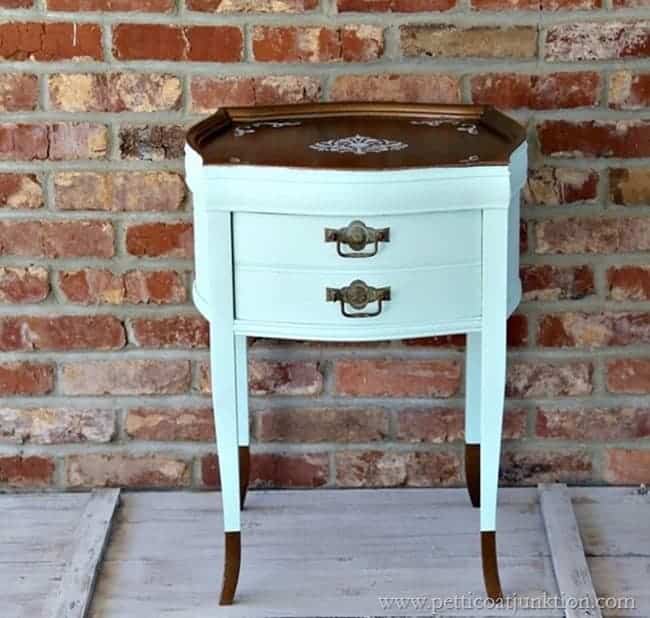 This last project was just too dressed up. The metallic paint, frufru stencil, and paint dipped legs make this table too formal. No one wanted it. I repainted this piece too.
Well, that's a look at a few of my missteps. Did you like some of these projects are were they all duds for you too? Leave a note and thanks for stopping in to see what I'm up to. Kathy