Painting Wood Adirondack Chairs
I won a pair of unfinished wood Adirondack chairs from Thompson's WaterSeal at the Haven Conference in Atlanta. Yea! After spelling Adirondack at least 20 times, naming photos and whatever, spell check still has to correct me.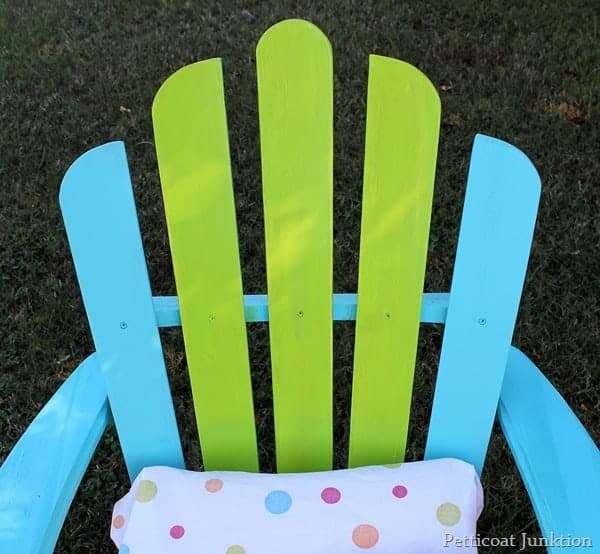 Painted Adirondack Chair
How about those colors! Going for a statement with bold colors.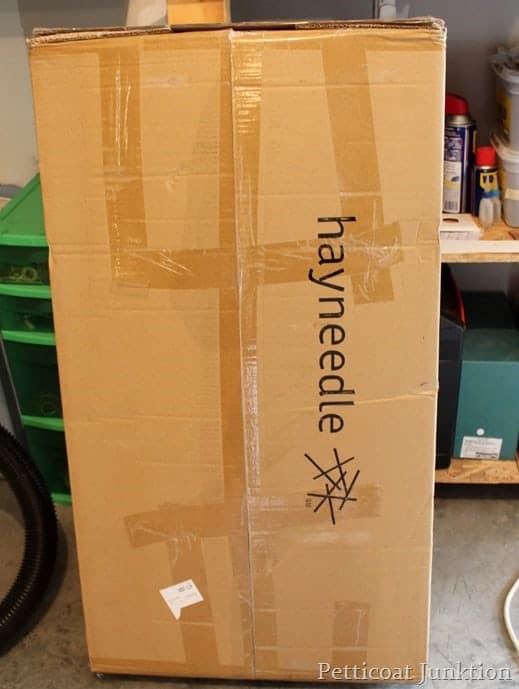 This is how the adirondack chairs arrived. Two boxes. I received them about a month ago but we already had several projects in the works so this one was put on hold. Finally getting around to them.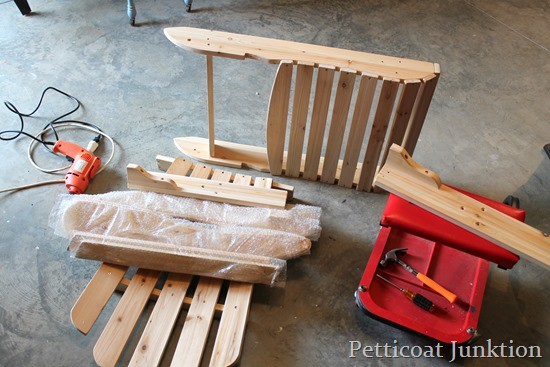 They were mostly assembled straight out of the box, so we ( meaning the JTS) just had to add a few screws and bolts.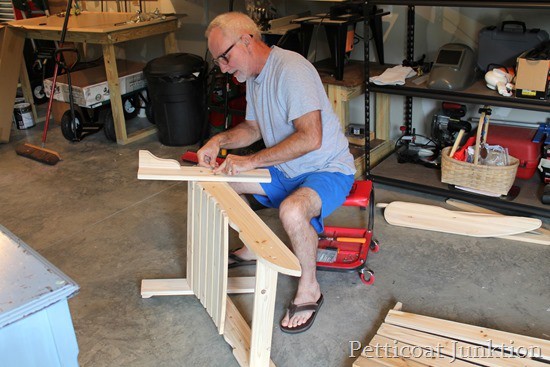 We couldn't find the bag of bolts and screws in box no. 2. They may have been thrown in the trash along with the bubble paper. Who knows! That's ok, we keep a supply of hardware on hand. You can't stop progress.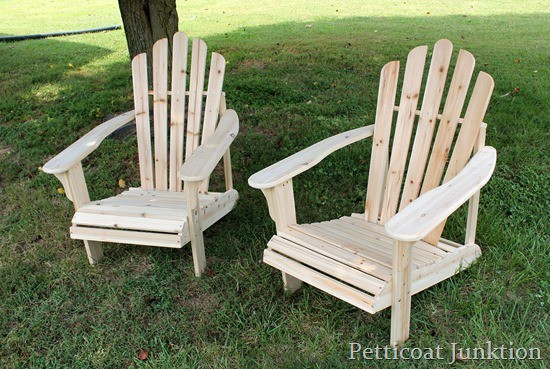 Time involved to assemble them was under an hour….if you don't take into consideration the hunt for nuts and bolts. I painted them with my usual bold colors. You might want to put on your sunglasses. Just sayin'.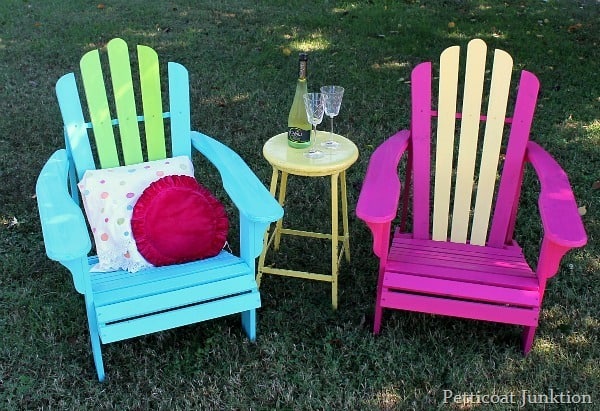 Turquoise and fuchsia are at the top of my favorite color list! I love bright colors and when I wear something bright my husband always says "Where are you, I can't see you?" He thinks he's a comedian.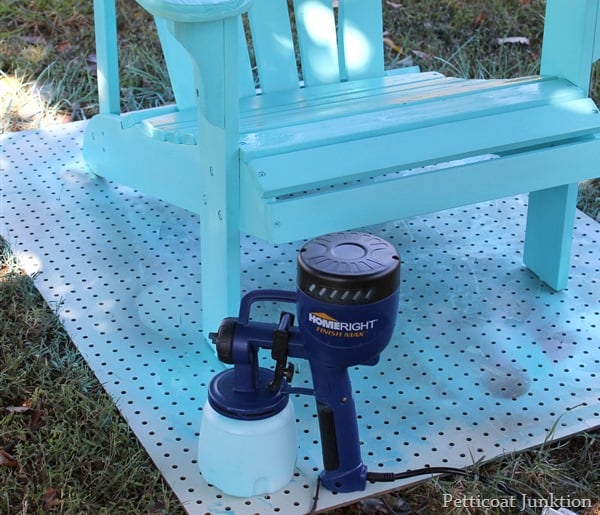 Petticoat Junktion is a participant in the Amazon Services LLC Associates Program. As an Amazon Associate I earn from qualifying purchases.
Since Adirondack chairs are difficult to paint I pulled out my HomeRight Finish Max Fine Finish Sprayer. I used the sprayer for the first time on my Pair of Blush Tables.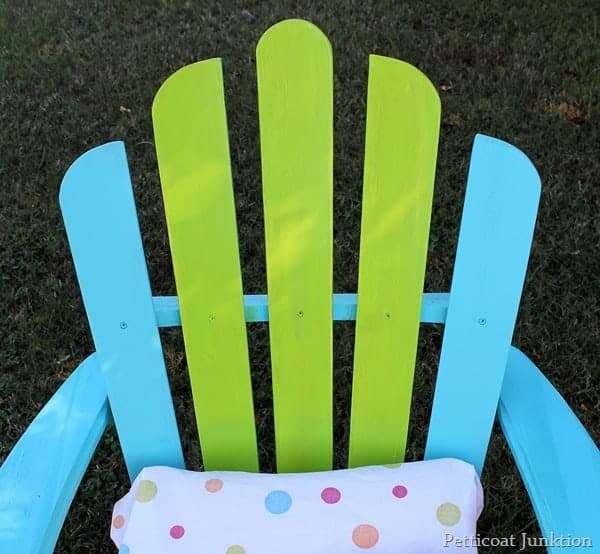 The paint colors are ones I had on hand. I didn't want the chairs to be just one color but I didn't want them stenciled or too over the top so I just painted the three middle back slats in complementary colors. When it comes to paint choices I sometimes change my mind mid-stream.
The slats on the turquoise chair were first brown…..too dull….then a citrusy yellow…..not bright enough……then this in your face green….just right! The thing about paint is that it can easily be changed. Don't be afraid to branch out and do something different. Sorry but when I'm in the change of plan mode (experimenting) I forget to take pictures.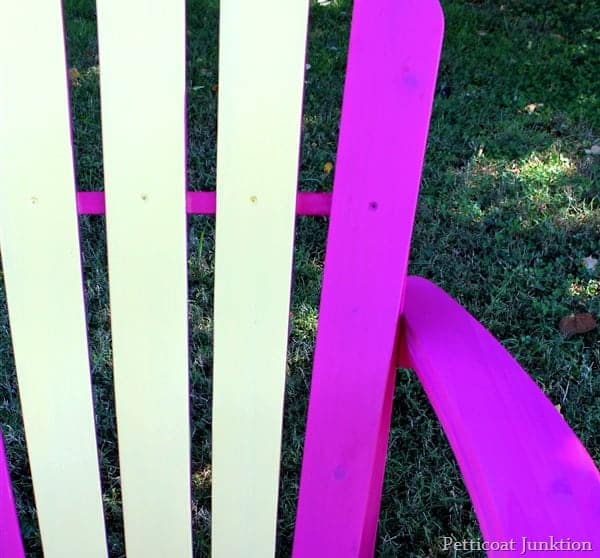 As you can see in this photo I left the paint a little transparent so the knots and wood grain would show through. I was happy with my first choice of the bright yellow paint to compliment the fuchsia.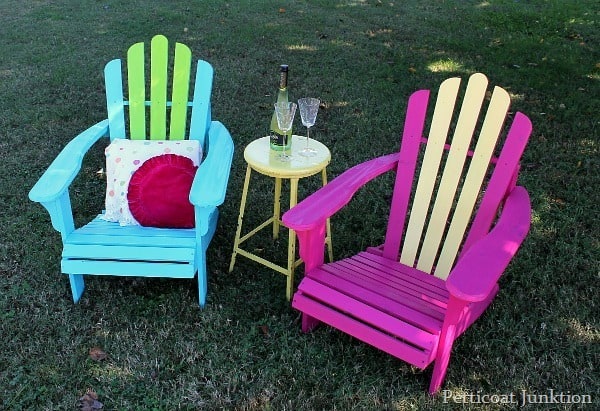 For the staging I grabbed a bottle of wine my nice neighbor gave me for my "retirement" gift. If you consider that retirement means you no longer work at a paying job….then I'm retired. But I do go to college, paint furniture, retail 3 lines of paint, keep my booth full of crafts and junk treasures, and blog full time.
See my brightest project here…Painted Sideboard makes a Splash
Want to sit and relax. Come on over. As always, thanks for being here and have a great day. Kathy
This post first appeared on Petticoat Junktion in 2013. Bringing back some oldies but goodies for those of you who are new here!