disclosure: affiliate links may be used in this post.
Porch Decorating Ideas
I have porch decorating ideas coming from every direction today. I used rubber boots and luggage to decorate the porch….and a vintage paperboard Santa and Reindeer…and a bunch of other cool stuff. 12 of my favorite bloggers are sharing their unique porch decorations and I can't wait to see them. But first let's tour my porch.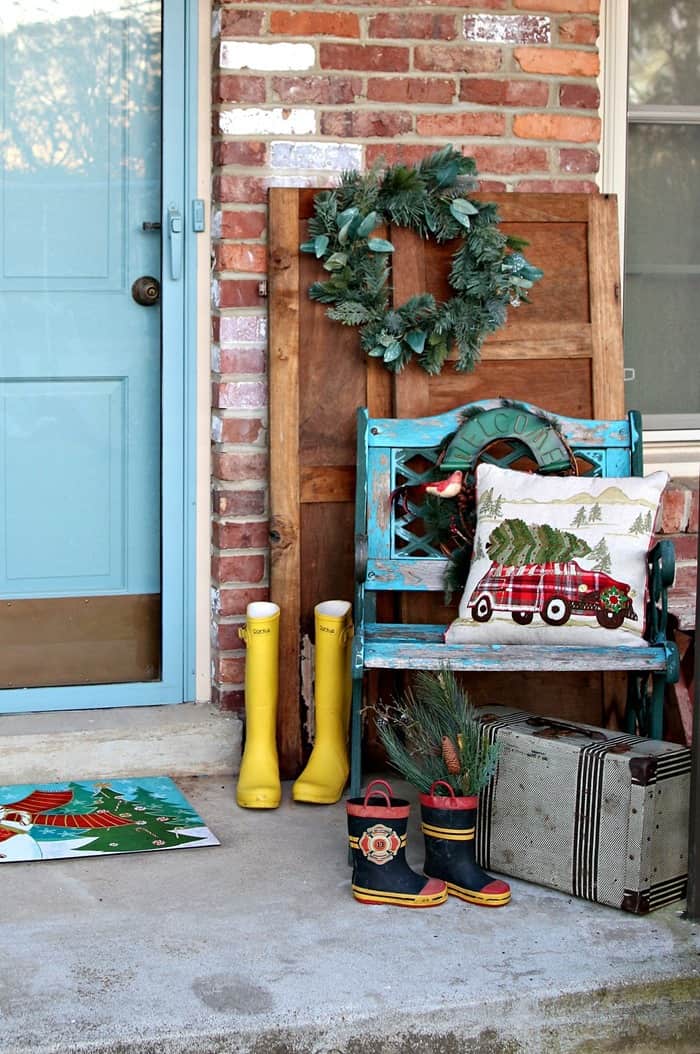 The decorations I used on the porch this year are mainly vintage or just old used stuff….that's my thing. Why buy a bunch of new decorations to be displayed only once a year. I throw in some greenery and maybe a piece or two of Christmas but the rest of it is favorite finds I can use year round.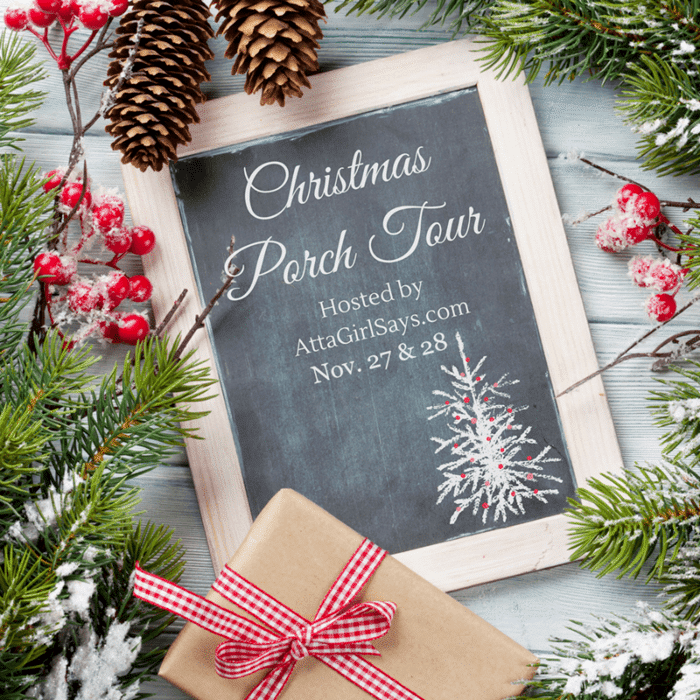 Christmas Porch Tour
The coal scuttle / flower container has a rusted out bottom but that doesn't matter with potted poinsettias. The live tree came from Lowes and the tree topper from the Dollar Tree. I can't get out of that store for under $10 but the upside is I have a bag if inexpensive goodies.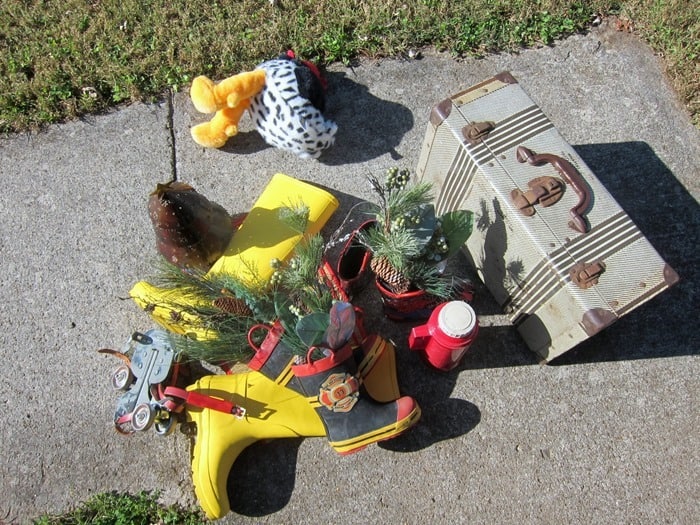 When I start thinking about decorating an area like the porch I first decide on a color scheme. This year I wanted to do something a little different. I decided to use the shabby turquoise chair I found at my favorite junk shop as a starting point and then add bits of yellow to the mix.
The yellow rubber boots are a Goodwill find from a few weeks ago. They aren't my size but the price was 4.99 and if you buy them new the prices is $60+. You guys know I love bold colors so I grabbed them.
I gathered a bunch of my junk finds and lugged them to the sidewalk leading to the porch. Some things I used and some I didn't. Plus I had to make several trips back to the workshop to find the perfect decorations.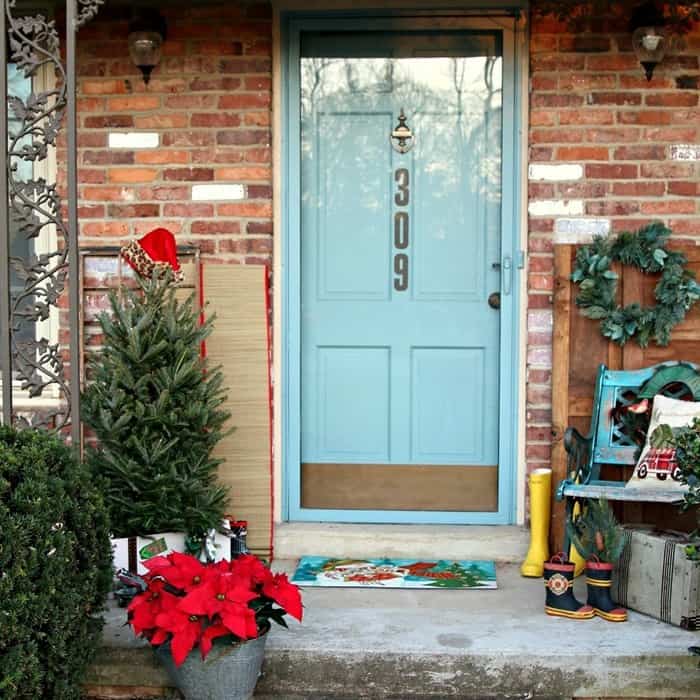 The addition of two sets of boys rubber boots are my favorite thing about the porch. I don't know why. Just love them. They were inexpensive finds from the local thrift store.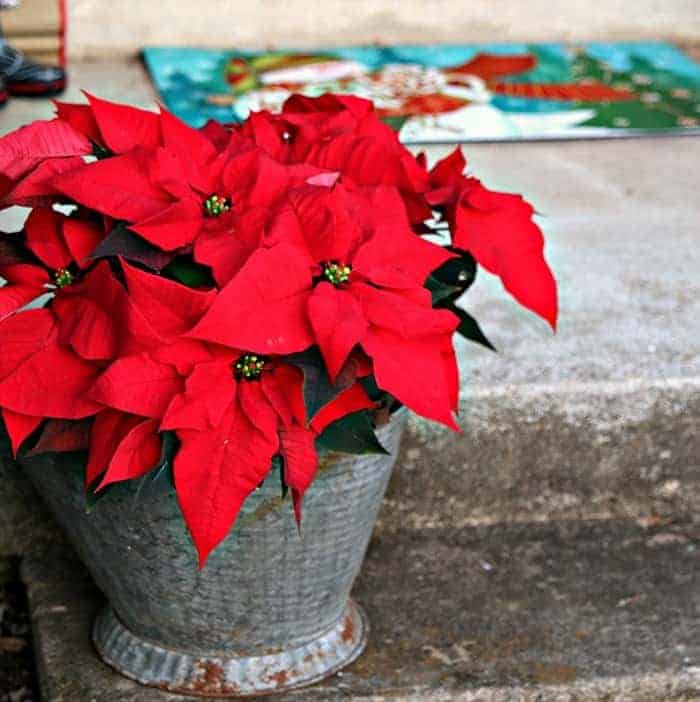 No, I can't keep the poinsettias on the porch when it turns cold.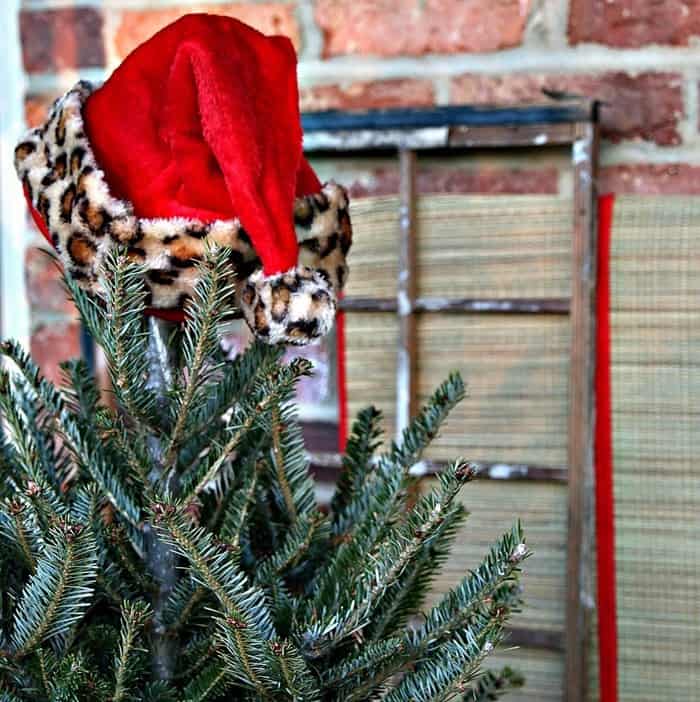 I have a pink Santa hat on my indoor tree.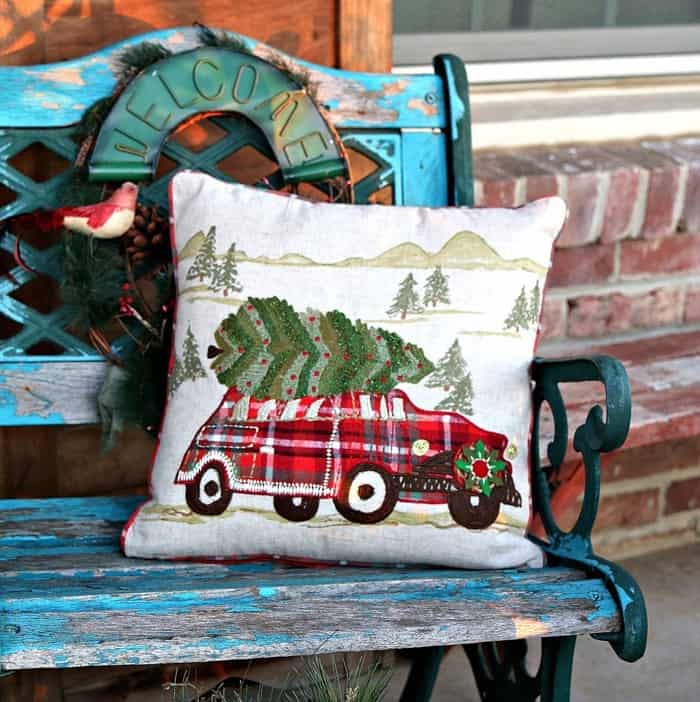 I bought the pillow at World Market last year. One of my few Christmas décor purchases. The welcome wreath is a tad worn. I bought it at a junk store when we lived in Florida.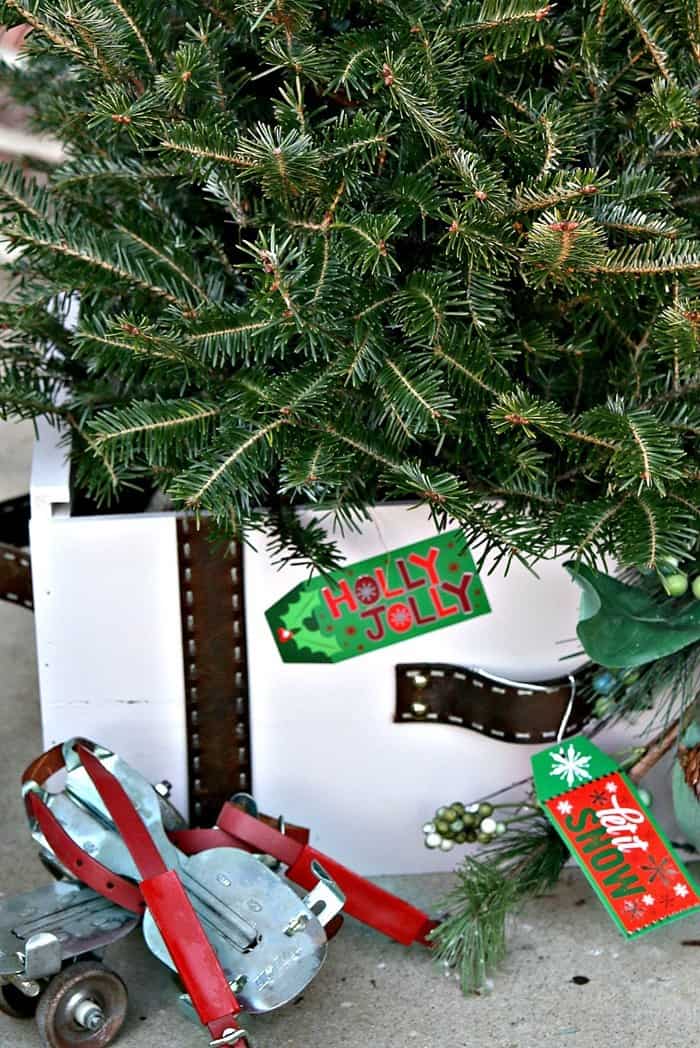 The faux luggage is an unfinished wood box I received from Kilz paint company filled with all kinds of paint goodies. I painted the box with Kilz, Dove Feather color, and added recycled leather belts for the luggage straps and handle. Cute. The box makes a great tree container. The metal skates are another find from my fav junk shop.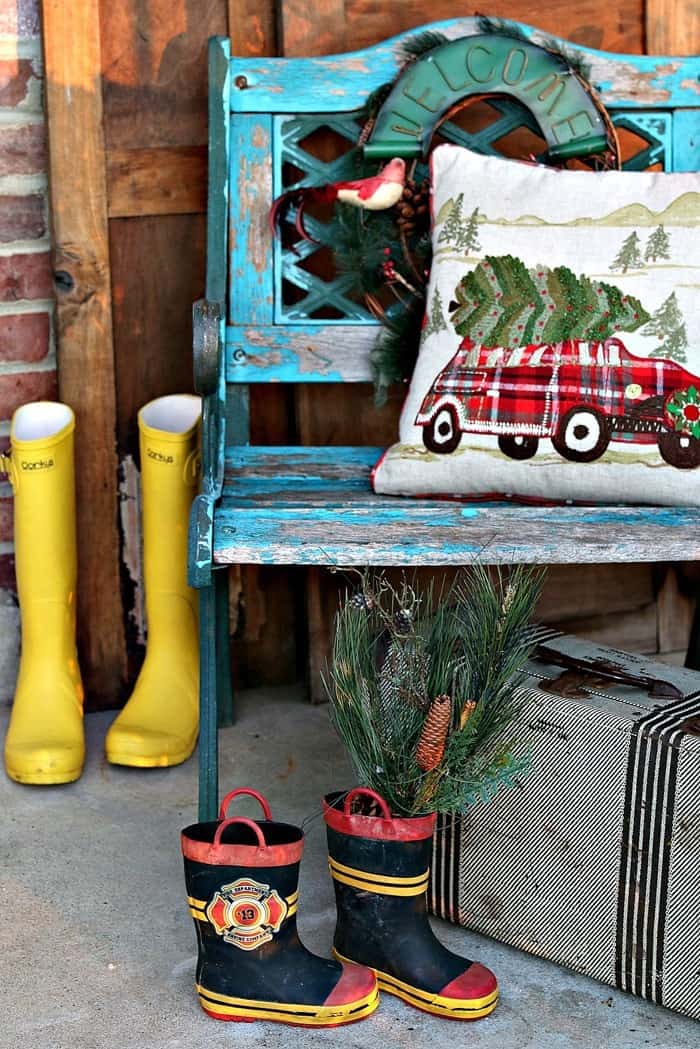 I bought the vintage case at an antique shop for $15. It was filled with vintage Barbie and Ken clothes! I still need to check out prices for those things on eBay. The boots just make me smile.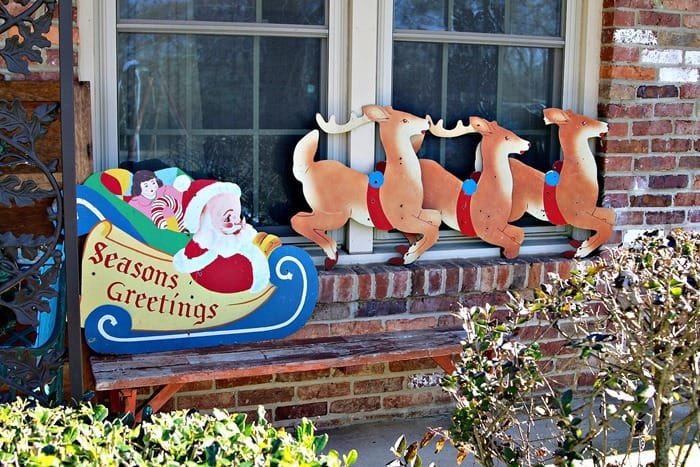 The Seasons Greeting Santa sleigh and three Reindeer are last minute additions. I purchased them at the Nashville Flea Market over the weekend. Miss Sofi and her friends will love Santa.

Porch Decorating Ideas
If you like these decorations you have to see my best ever Christmas porch decor with big plastic Noel Candles, just click here!
That's it for me. Visit my friends by clicking the pink text links below….and prepare to be inspired. Have fun.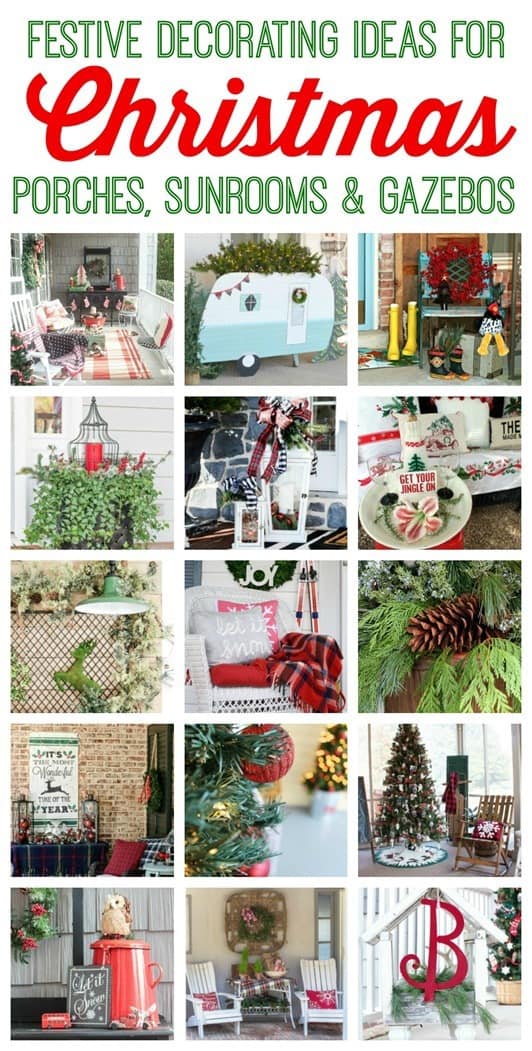 Monday, Nov. 27
Atta Girl Says  | My Thrift Store Addiction | House of Hawthornes | Sweet Pea | Cottage at the Crossroads | Worthing Court
Tuesday, Nov. 28
Petticoat Junktion | Postcards from the Ridge | Robb Restyle | Our Southern Home | My Creative Days | 2 Bees in a Pod | StoneGable