Fall Mantel Display
It's pumpkin time and you can sure tell that from my new Fall mantel display. I"m calling it pumpkin overload.
I think our local pumpkin patch opened this past weekend but I didn't make it out there yet.
I purchased a few small pumpkins and gourds at a big box store a couple of weeks ago.
I used them in my Pumpkin Centerpiece. Now it's just a centerpiece because the pumpkins are gracing the fireplace mantel. I need to make it to the pumpkin patch.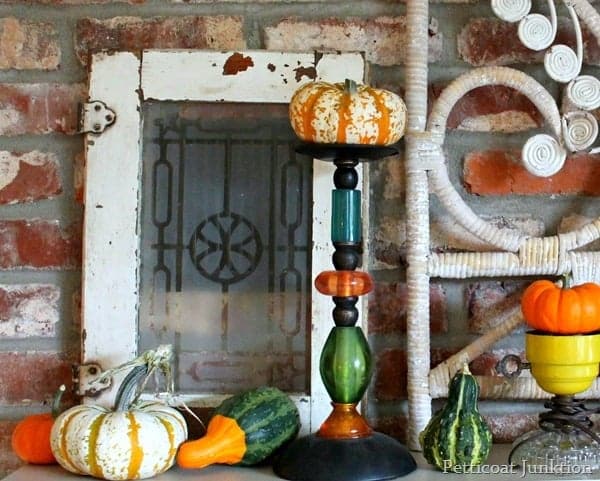 I rounded up some of my junk treasures from the workshop and put together a Fall Mantel display.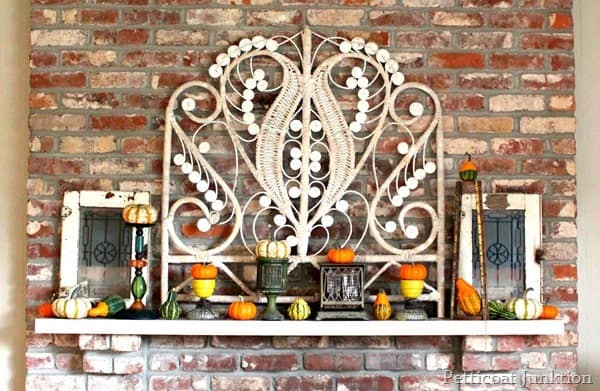 The shabby wicker twin headboard was a purchase from the Nashville Flea Market. a $5 treasure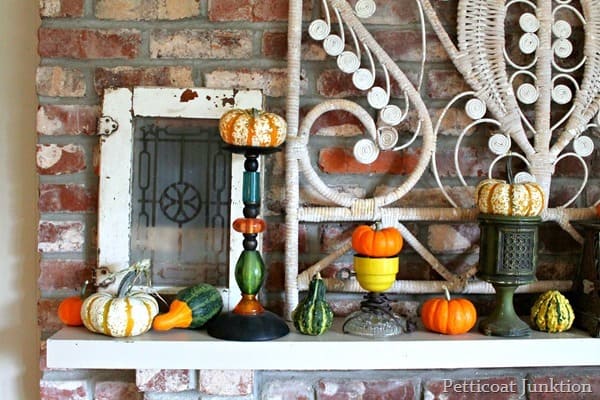 I love the pair of vintage glass and yellow metal lamp bases. I've had them for awhile and haven't decided what to do with them yet. Any ideas? I'll just use them as pumpkin stands for now.
The pair of etched glass cabinet doors also came from the Nashville Flea Market.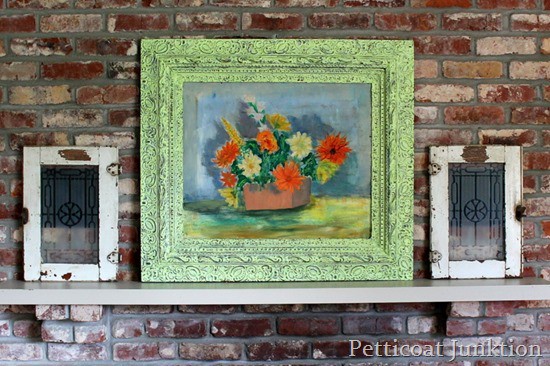 Petticoat Junktion is a participant in the Amazon Services LLC Associates Program. As an Amazon Associate I earn from qualifying purchases.
update: I've learned several things about decorating the mantel since writing this post 5 years ago. See my tips and trick here for ….Choosing a Theme And Decorating The Mantel On A Budget.
They grace the mantel year round. At least for now. The framed oil painting above is one I salvaged and reframed.
Since the bricks on our fireplace vary so in color, I can't use a strong design or anything too busy on the mantel. I usually try to stick to solid colored objects in the displays. W
hat do you think about it?Any ideas for future displays, working with the multi-color brick background?
As always thanks for being here and have a great day, Kathy