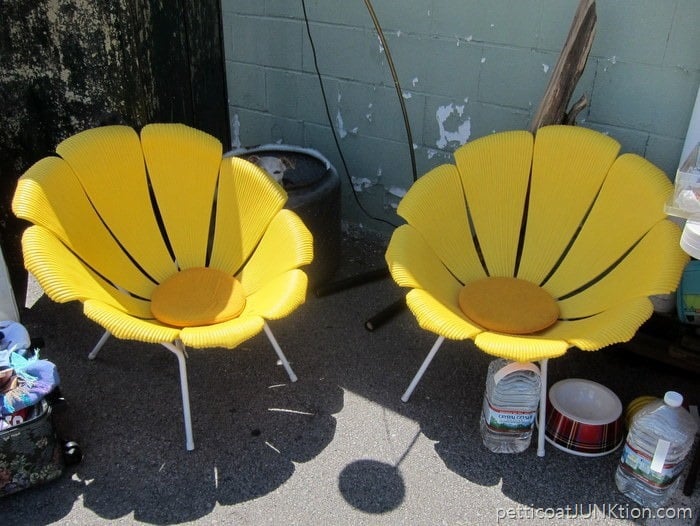 Fun Flea Market Finds
Vintage Yellow Petal Chairs
This post is all about fun flea market finds. Chairs in particular. I'm not sure what to call the chairs in the first photo so I just call them petal chairs. Aren't they cute? I tried finding the chairs on-line but couldn't find anything even close. I did find images of a ton of pretty yellow chairs that had me drooling. You guys know how I love yellow.
The JTS and I headed to the Nashville Flea Market on Friday afternoon. We usually have the granddaughters Fridays after school but the youngest had a T-Ball game Friday night so no coming to grandma's house. We went to see the ball game of course. Four, five, and six year olds are a joy to watch. They don't care about winning the ball game. They just kick-up some dirt or talk to the teammate closest to them.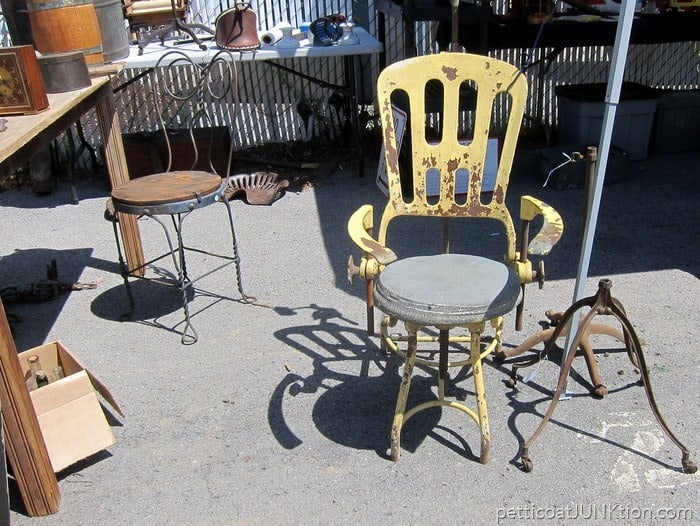 Do you guys know what this chair is? I sure don't. Do you think it could be a medical chair of some kind. I'm probably way off there. Someone help me out.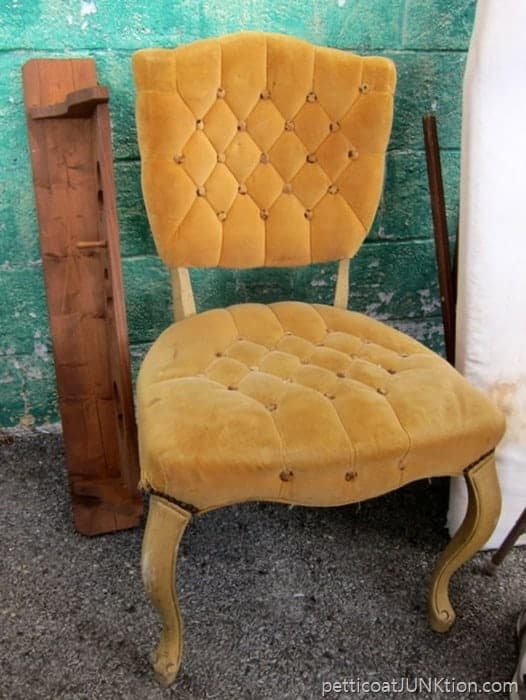 Petticoat Junktion is a participant in the Amazon Services LLC Associates Program. As an Amazon Associate I earn from qualifying purchases.
The velvet chair was a beauty at one time. I don't even mind the goldish color.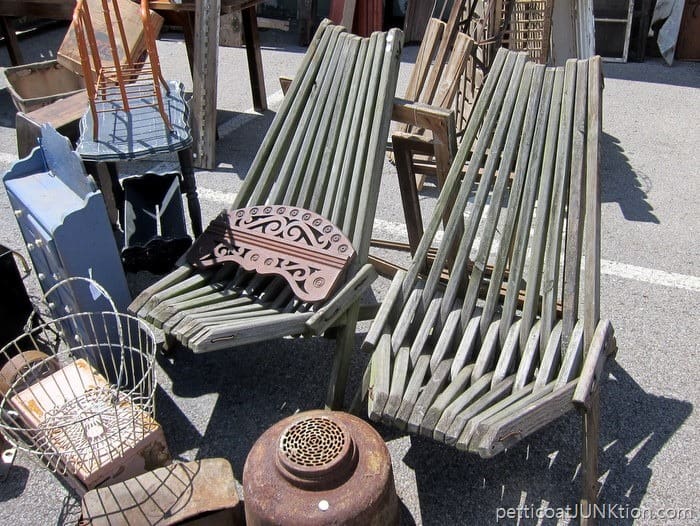 I can't see these chairs being comfy…..even with cushions.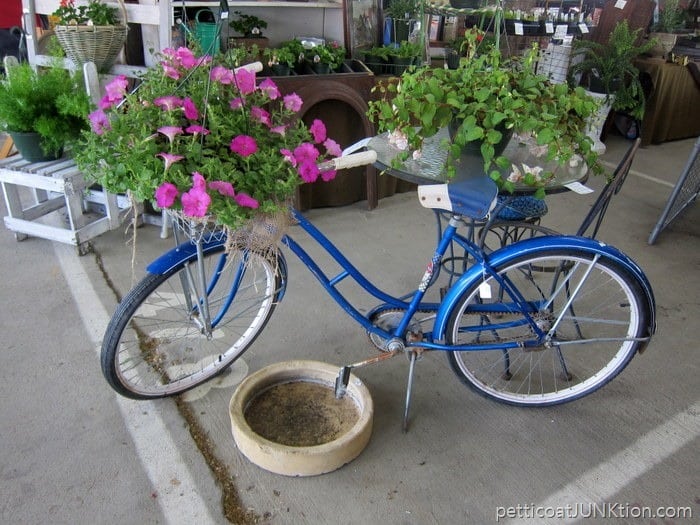 Not exactly a chair but you can sit on it. I took this photo because I loved the display. If I had a bike this is what I would use it for. I learned a few weeks ago what it feels like to ride a bicycle when you're 60 years old and out of shape.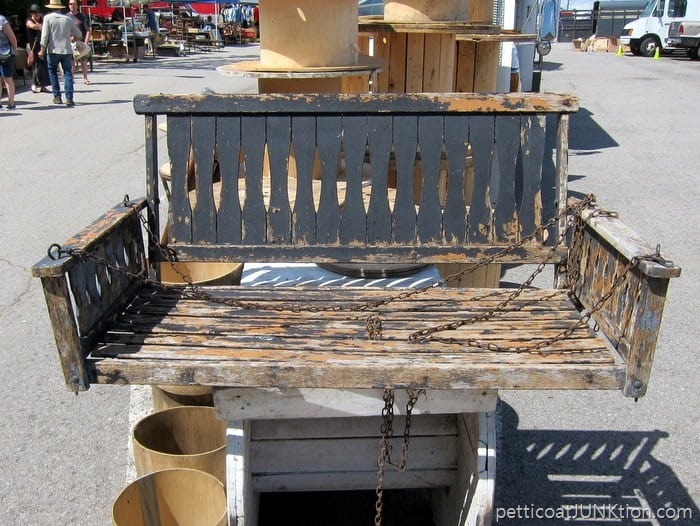 The chippy paint on the porch swing is perfect. We don't have a porch swing but my grandparents did when I was growing up . I loved swinging in that swing.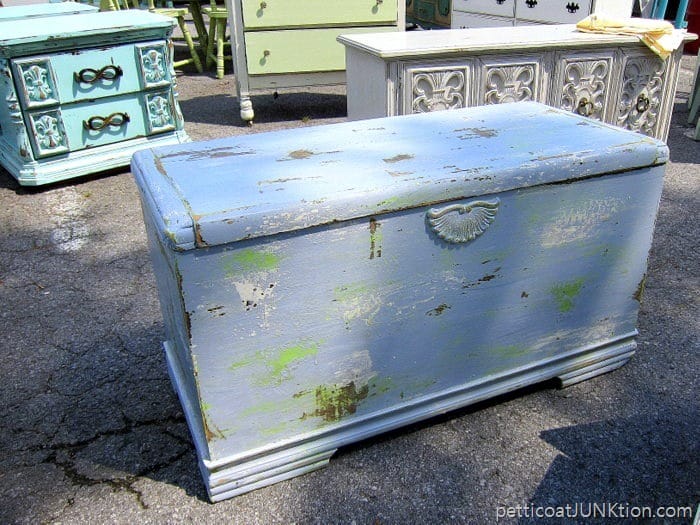 So this post isn't all about chairs. You could sit on the cedar chest. Debbie from Crabtree Corner in Bruceton, Tennessee sets up at the flea market every month and I always stop to see what she's been up to. I love her painted furniture. The paint technique here is calling my name.
Now that you've been on the tour with me….what would you bring home with you? You just get to pick one thing.
Get all the details about the market here……Everything You Always Wanted To Know About The Nashville Flea Market.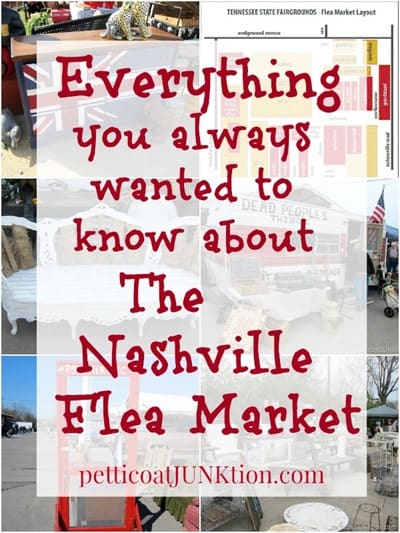 I'm off to school, have a great day!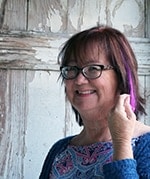 Kathy Owen is the creative guru, content creator, photographer, and worker bee behind the popular Home Décor DIY Blog Petticoat Junktion. She focuses on reinventing found treasures and decorating her home Get all the nitty gritty on Kathy here.