Beyond Paint Furniture Painting Tips
I'm sharing Beyond Paint furniture painting tips and a new Beyond Paint furniture project today. I've painted hundreds of projects using Beyond Paint. You guys have heard me talk about this paint over and over.
I bought a quart of the paint when it first came out in 2011 and have used it ever since. Why do I like it so much? No sanding, no priming, no sealing required. What's not to love about that. I use Beyond Paint for home decor accessories as well as for furniture.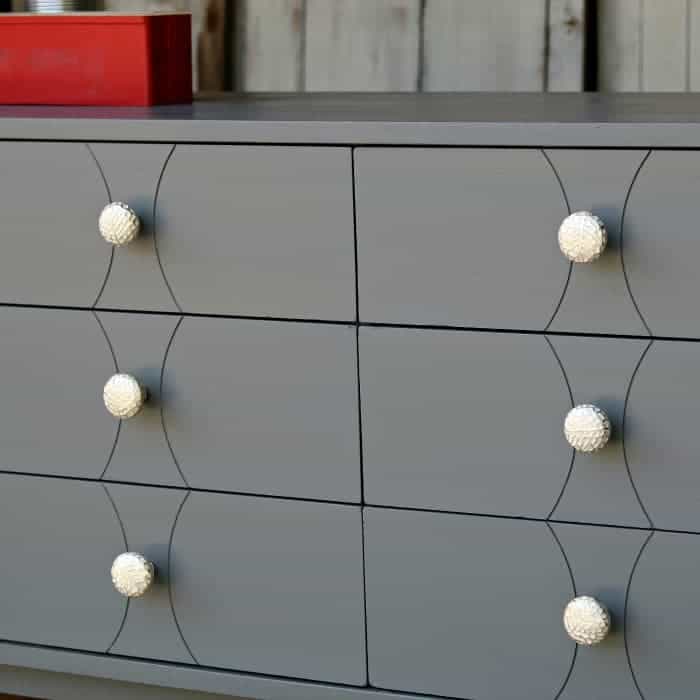 Beyond Paint For Furniture
The paint has new labeling and a new name. Instead of Reclaim Beyond Paint….it's simply Beyond Paint.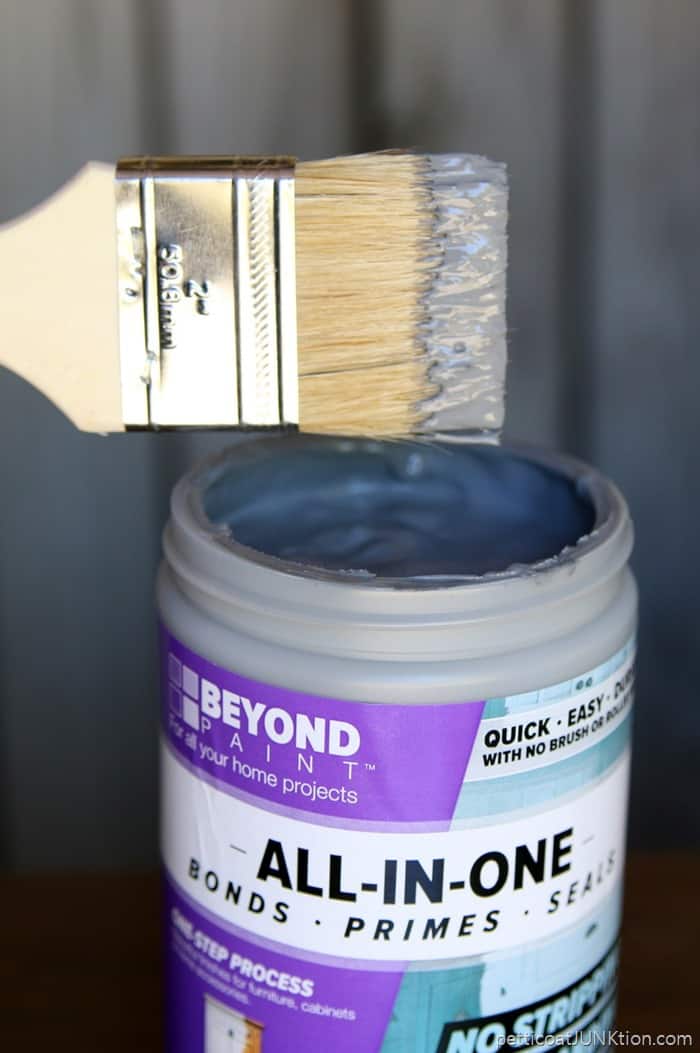 Beyond Paint, color- Pewter
The paint is a little thicker than other paints. It's almost like a gel and brushes on like butter. The sheen of the paint is similar to eggshell, not flat, but not too shiny either. Just right.
You can use a foam roller or brush with the paint. I like to use a roller if the furniture is large and doesn't have a lot of details like carvings, etc.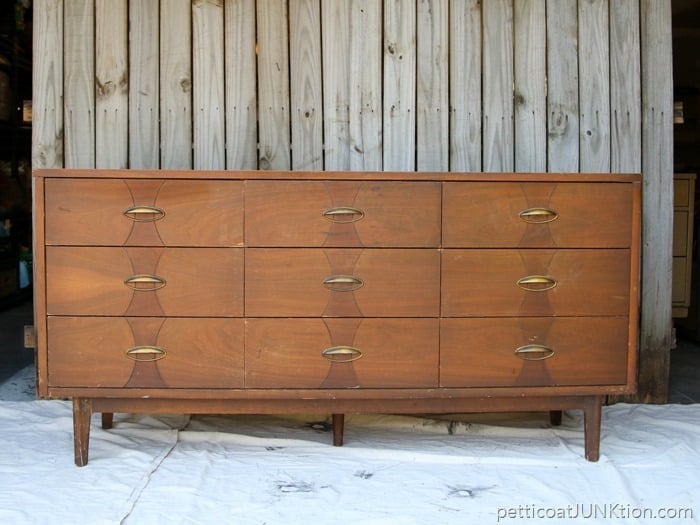 This is my project piece before painting. Yes, it came from My Favorite Junk Shop. I paid $40 for it. Awesome. The dresser was Army property at one time. There was an inventory tag stapled to the bottom of the dresser.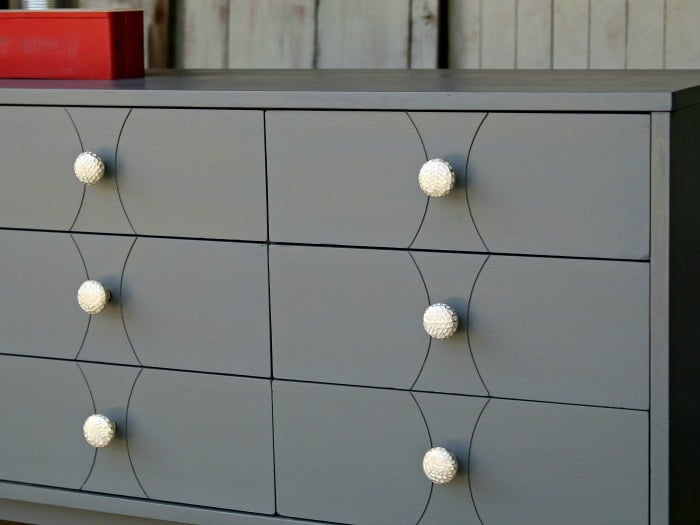 I love the style. Really popular now. Of course an update with paint and new knobs just makes it better.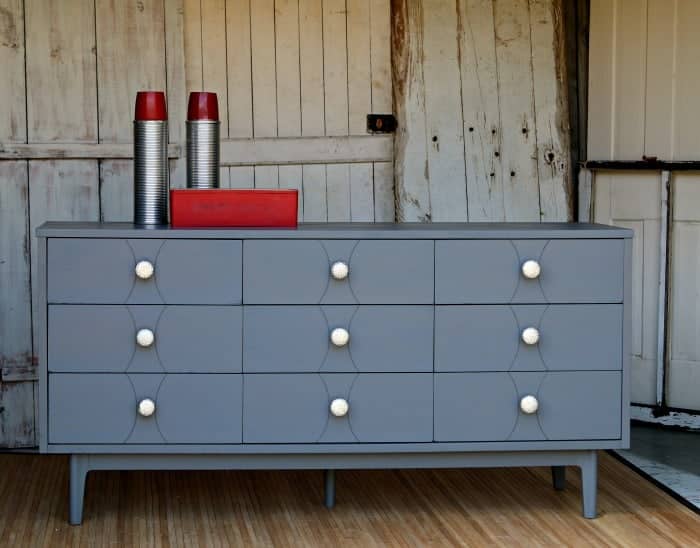 I filled the original hardware holes with wood putty and drilled new holes for the fancy knobs. Who would guess this is the same dresser. I keep calling it a dresser but it could be a credenza. I removed a few metal pieces from the backside so I think it had an attached mirror at one time. So I'm going with dresser.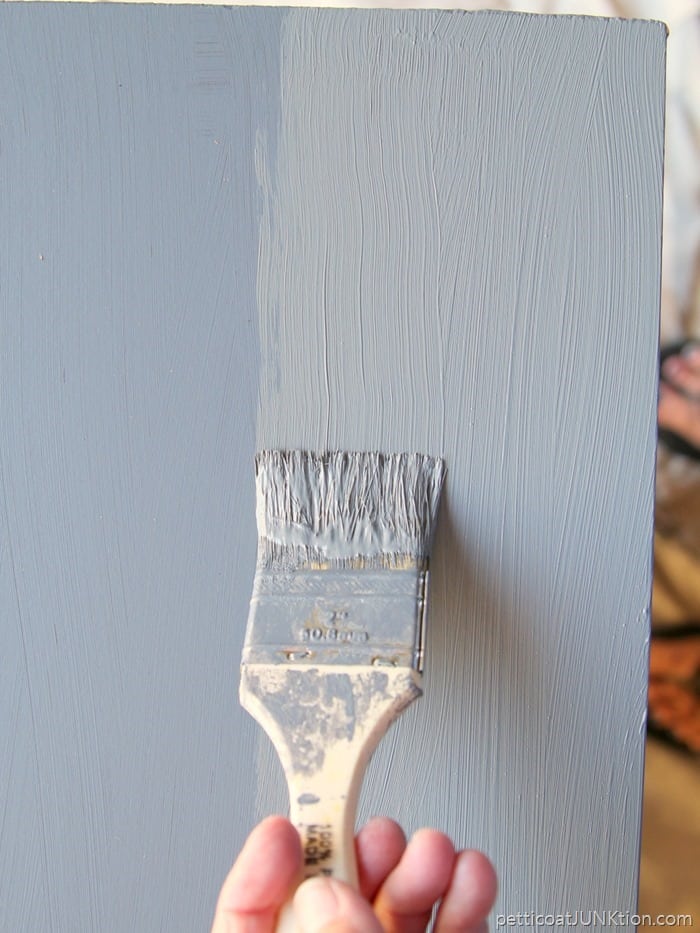 I painted the drawers then moved on to the body of the dresser. I applied two coats of paint. The paint dries really fast and I was able to apply the second coat of paint an hour after the first coat.
I made a short video of the paint process….
Beyond Paint Furniture Makeover Video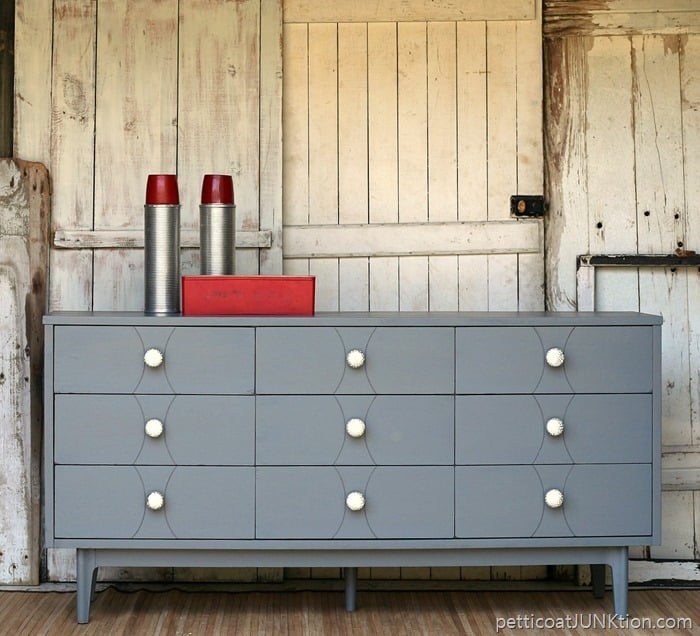 How fun is the red vintage thermos set. I found it at a local antique store and had to have it. I love red. The set was still in it's original brown faux leather case. At $12 it was a deal. The pops of red are gorgeous with the Pewter gray. Christmas will be here soon and I bet the thermos set shows up in my Christmas décor.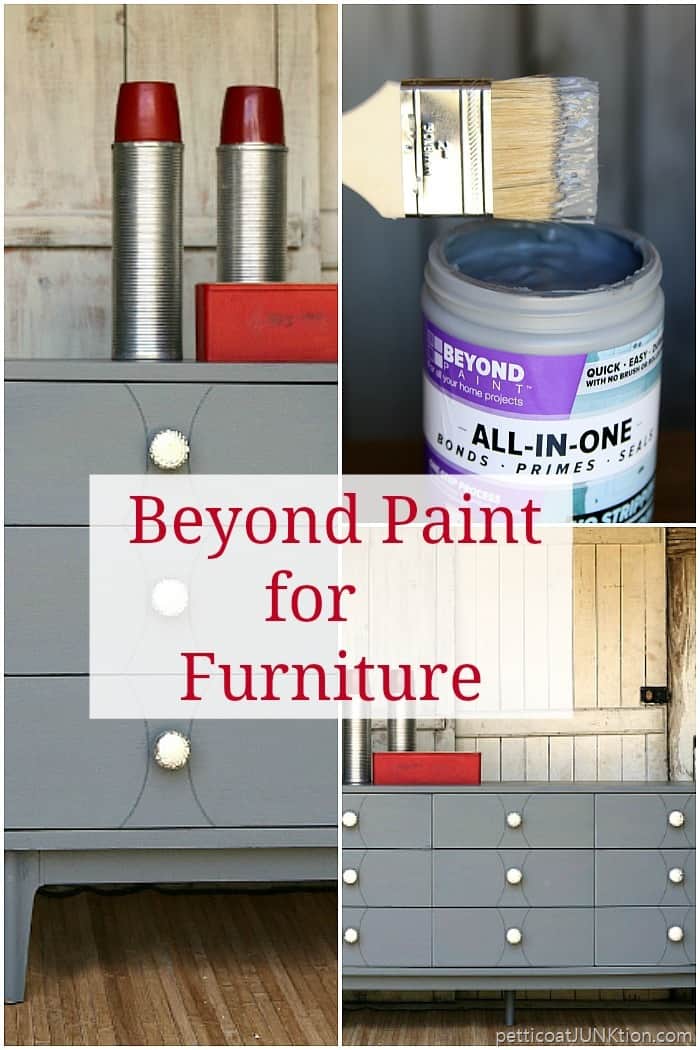 I can see the dresser used as a TV stand or maybe in a foyer……or heck…..as a dresser. I took it to the shop last week. Hope someone falls in love with it and hauls it home soon.
A few of my favorite Beyond Paint projects can be seen by clicking here.....15 Beyond Paint Furniture Projects.
Find Beyond Paint here.
Disclosure: This project is a collaboration between Petticoat Junktion and Beyond Paint. All photos, project ideas, and opinions are my own.