Painted Buffet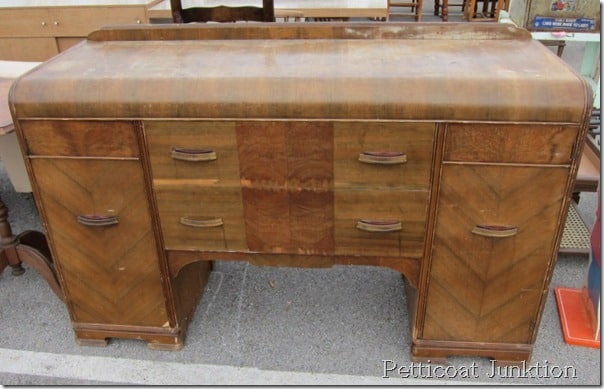 Looks familiar right? I found this soon to be painted beauty at the Nashville Flea Market in January. It was nice and solid except for the fact that the veneer was bubbled or missing in places. I decided to go with it and peel the loose and bubbled pieces off and paint it shabby and distress a lot!
I wasn't feeling up to par today so I spent most of the day being a couch potato, which soooo isn't me. I told you that for a reason. I decided while I was laying around on the couch not feeling very energetic…….. to clean up my picture files and delete my thousands of gigabytes, or whatever they're called,  of excess pictures. Well, you know what happened. I got really carried away and deleted too many pictures. I deleted some folders I hadn't edited yet. So all my pictures during the painting process are gone, not to mention pictures of other projects I'm working on. That'll teach me to be sick again.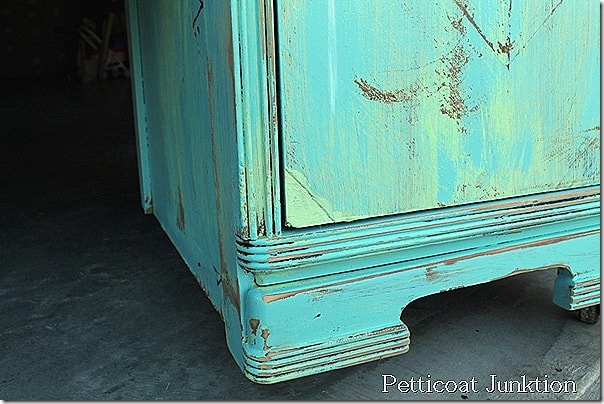 I mixed colors from my paint stash to make a lime green for the bottom coat and an aqua for the top coat. I put a layer of Caromal Colours Chipping Crème between the two layers of paint and then when it was all nice and dry I took my electric sander and went to town. Originally this piece had wheels but they were long gone. I try to buy vintage wheels when I see them so I happened to have some to fit, yea! She rolls really nice.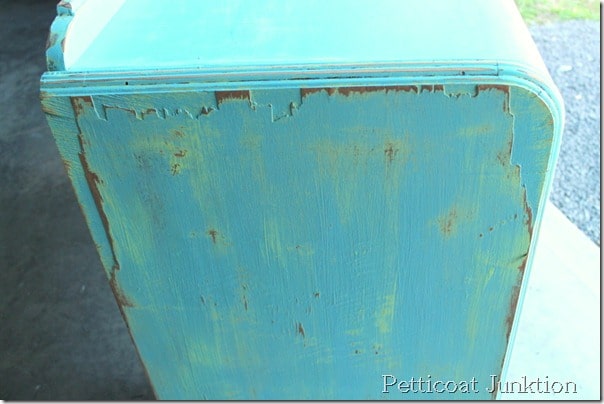 Areas where the veneer was missing…..or where I peeled it off. What do you think? She's certainly a little flashy…..and sassy. Come on, live on the wild side.