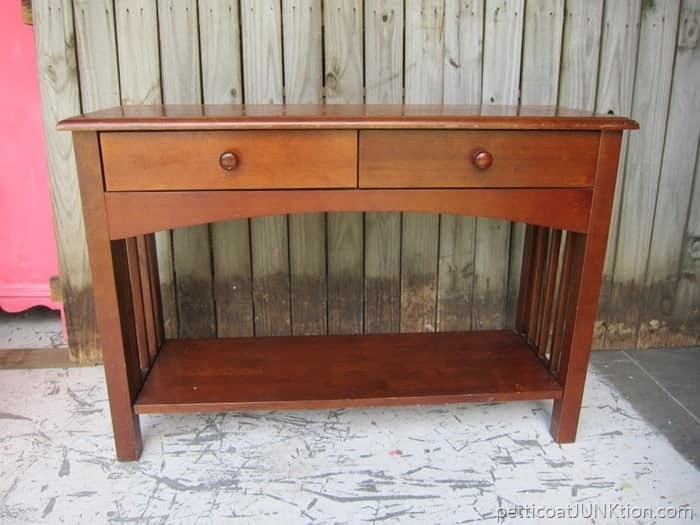 Hey guys. I wanted to let you know about new things happening around the old blog. Also wanted to give another shout out to the Treasured Finds Facebook Group and share some projects in the works. So let's get started. (This post is a little wordy, especially toward the end)
The table in the first photo is a project in the works. I know it doesn't look like it needs a makeover but the top is in really bad shape. Don't worry, I have a plan to save at least some of the beautiful wood finish.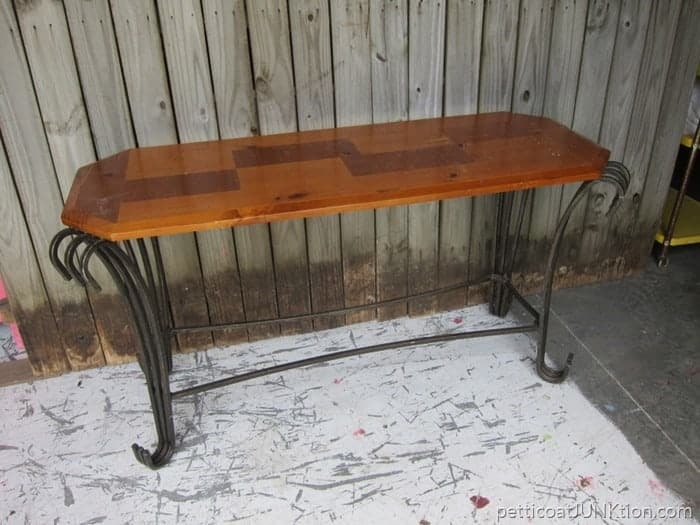 The JTS (aka hubby, aka, Junktion Technical Specialist) bought this table at an auction. I'm not feeling the orange wood finish. I have a plan for that too.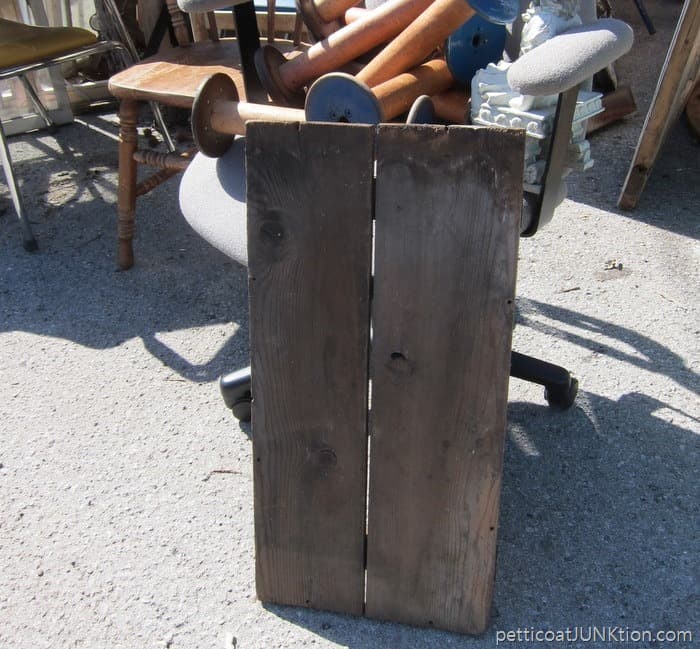 You might remember the box lid from a prior post. It came from my favorite junk shop.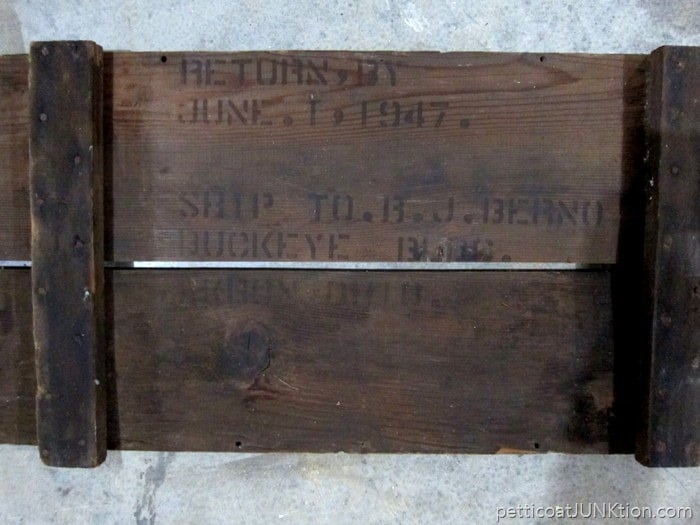 Petticoat Junktion is a participant in the Amazon Services LLC Associates Program. As an Amazon Associate I earn from qualifying purchases.
This is the back side. I love pieces with stamped names and details. This project is already finished and I can't wait to share it with you. I didn't cover the stamped details on the back side. It's been preserved.
Next up…..I've started making video tutorials. Crazy. I really don't like filming myself…hence, the lack of photos featuring yours truly on the blog. My first videos are photo montages of some of my most viewed blog post tutorials. I also have a real video I took at the Nashville Flea Market. I uploaded a few of the videos to YouTube and all of the videos are on Facebook. They are short. I try to keep them 1-2 minutes in length. You can see the videos on my Facebook page by clicking here.
I plan to start making real videos in the future showing step by step furniture makeovers. It's difficult learning all the technology that goes with it. There is the filming and the editing, which are both time intensive and technologically challenging…at least for me. Plus, I can't imagine all the bloopers I'll need to edit out. Maybe I'll have a bloopers only video.
Moving on to the next subject…..the Treasured Finds Facebook group. It's been a busy Summer and posting in the group slowed down a bit the last couple of months. I hope to be more involved with commenting and adding photos of junk finds in the future. I shared a few furniture makeovers from the group last month and you can see that post by clicking here…Featuring Your Painted Furniture Makeovers. You guys are so talented! I'll be showing off more of your projects soon. For those of you who don't know about the group….here is the info….
——–I set up a Facebook group page because I would love to see your finds. If you would like to join the group…..click here – Facebook Group Treasured Finds …and click the Join Group button on the right side of the header. The information about the group and sharing is in the top post. You can share daily,  weekly, monthly, or never. You may also comment on the photos shared just be respectful in your comments. I will need to approve everyone as you ask to join ( I have to do it this way to keep out spammers, really). After you are approved you can start contributing…..thank you! I can't wait for the fun to start!———–
Well, I think that's about enough for today. Hope I didn't ramble on too long. Be sure and check out the videos on Facebook. I make a new one every few days. If you like my Facebook page it might show in your feed….or it might not. Facebook is fickle. Let me know how you like the videos I've already created! Have a great day. See you tomorrow.