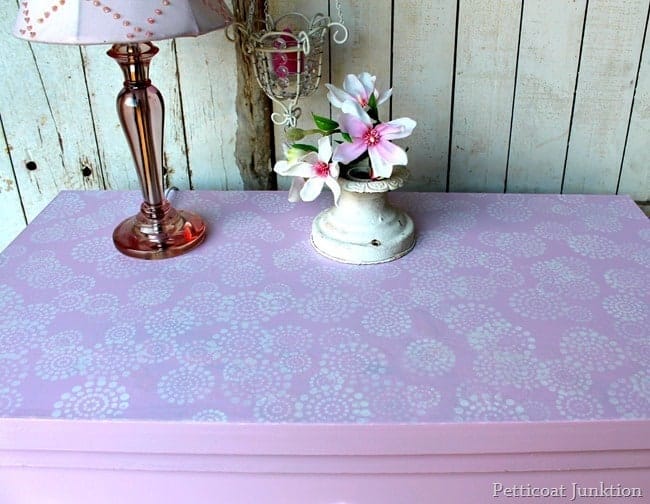 How To Paint MDF Furniture
This is the pretty in pink stenciled dresser I posted about yesterday. Did you know you can paint MDF furniture? The procedure is pretty simple. You should sand any bubbled areas, prime with a good primer, paint with latex paint, and add a stencil design to mask damaged areas. The complete process is shown in detail below.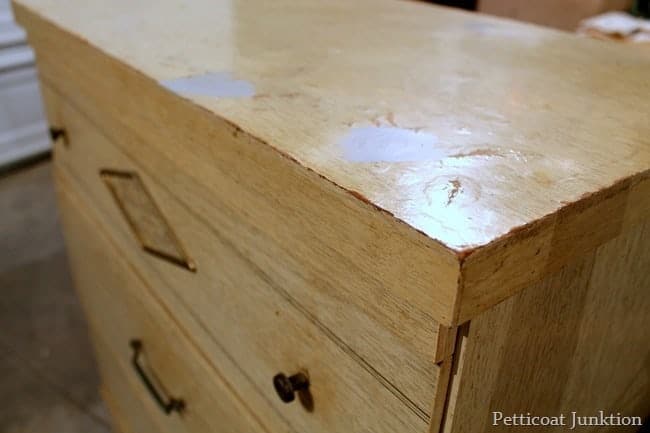 This is the not-so-pretty before picture. I purchased this piece at My Favorite Junk Shop.
It had something sitting on top if it and I didn't notice the damage until we were loading it into the truck. The top of the chest is made of MDF. What that means is….it's not real wood. If it gets wet it bubbles up like this. I don't normally buy mdf furniture, this was a slip-up on my part.
 How to paint damaged mdf furniture….
Step 1. Sanding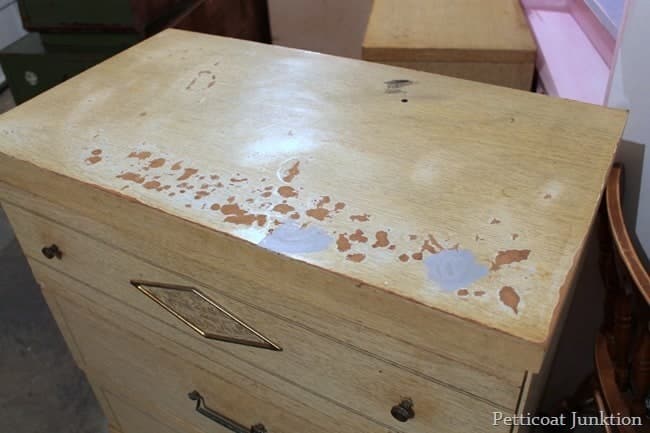 I decided to sand down the bubbled areas and try using a light coat of primer before painting it. I did the sanding by hand. I was afraid to get out the power sander and take off too much stuff.
Step 2 Primer
Then I applied a very light coat of Glidden Gripper primer in Grey. I was afraid to saturate the top too much because it might pouf up again.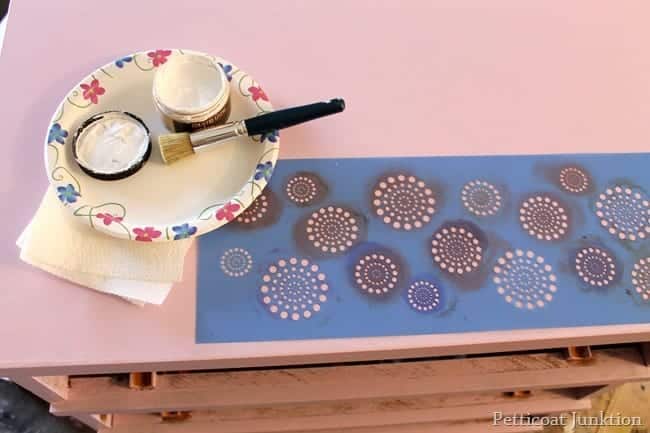 Step 3. Latex Paint
After the primer was dry I put on a coat of the pink paint. I could still see some slightly raised bubbled areas. The bubbles were only noticeable from a certain angle when the light hit them just right. I didn't like those bubbles…..so on to trying to hide the mdf damage.
Step 4. Add A Stenciled Design
Next up was a cute little circle dot stencil. I've discovered stenciling a cute little design can cover up some big flaws.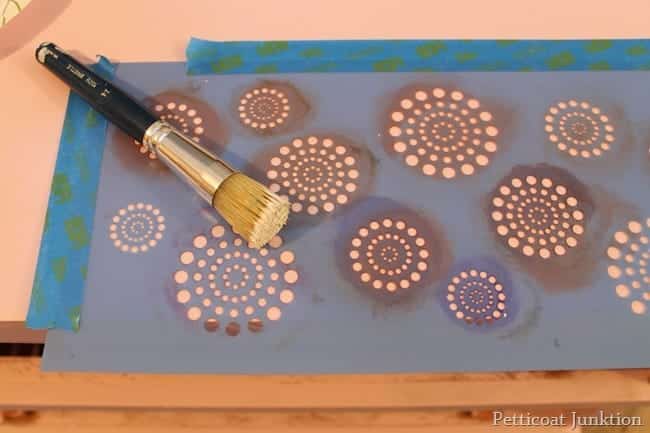 I taped my stencil in place and painted the design with a stencil brush. Remember the secret to stenciling is using a very dry brush. Dip that brush in your paint then wipe most of the paint off with a paper towel. (click the pink words for the in-depth stenciling tutorial)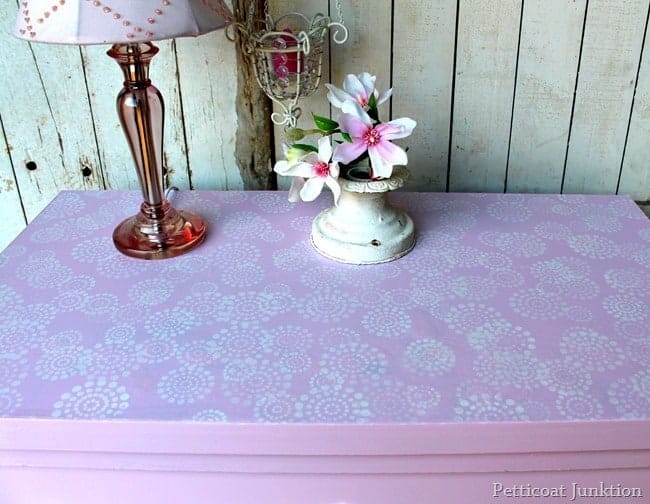 I went a little nuts and did a lot of overlayed circles. I thought it turned out pretty darn cute! You can't even see those little furniture bubbles. But seriously. I probably could have used my sander and smoothed out all those bubbles then primed, but I didn't. Maybe next time.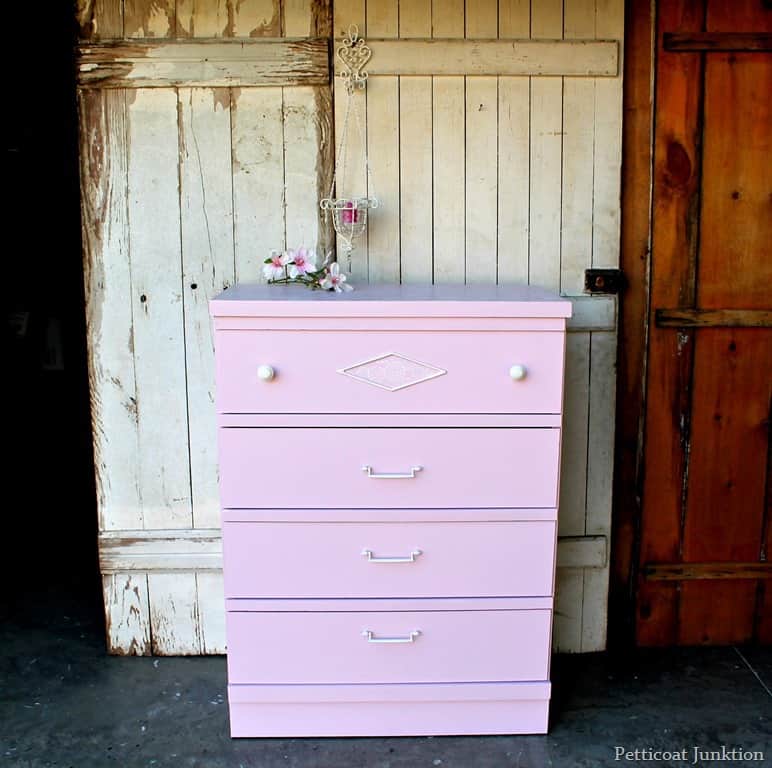 You can see more photos of this piece at Pretty Pink Chest…..just click the pink letters.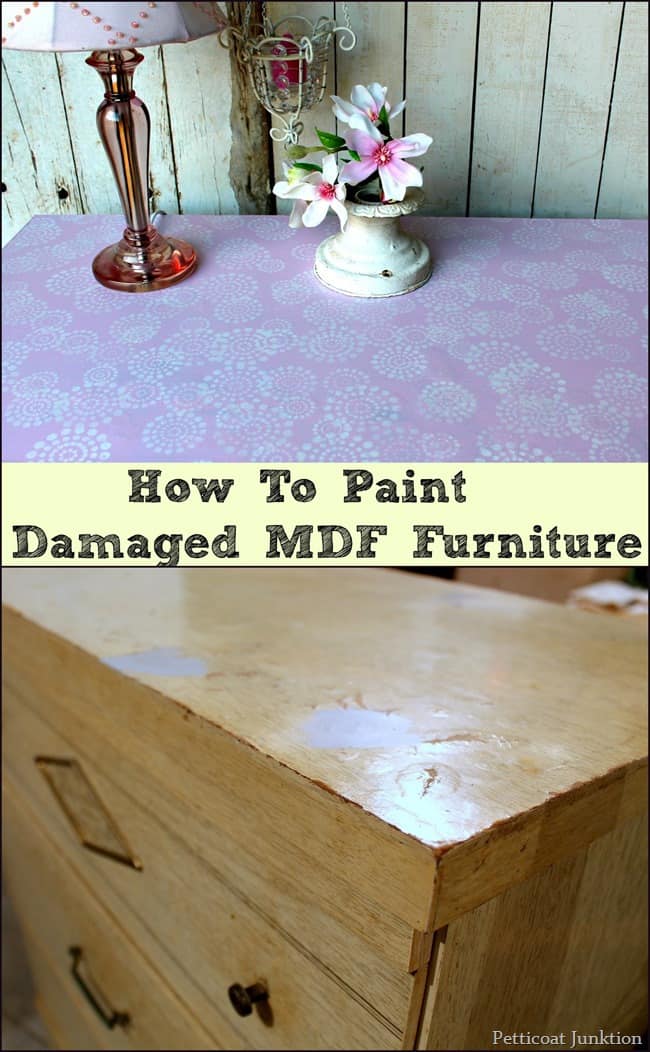 What do you think? Even inexpensive furniture with damaged surfaces can be made beautiful. Do you have any poufy mdf furniture?