Nashville Flea Market vintage finds are the best. I also like all the funky junky stuff available from my favorite vendors.
Wait until you see what I bought this month.You vintage loving guys will swoon. Let me show you what caught my eye first. Building up the suspense for my find…….it's the last photo.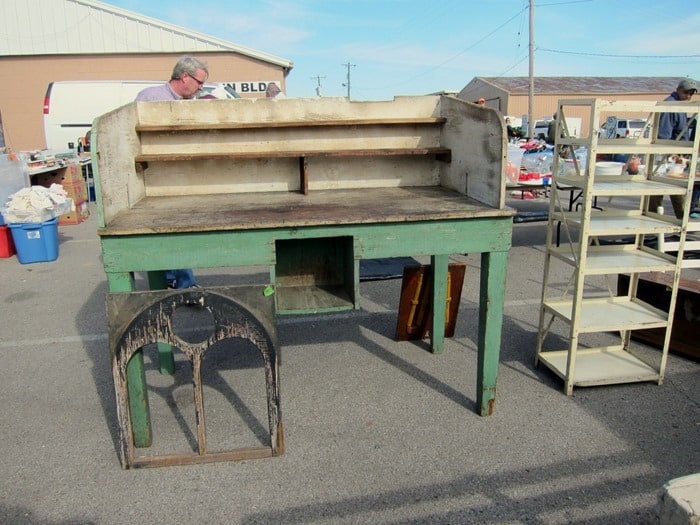 I thought the green worktable with the wood top was very nice but I knew without asking that it didn't fit into my budget. The wood piece in front is even cooler.
But the price on it was $48. Waaayy to high for me. Things like this I can buy at my favorite junk shop for probably $10 or less. I can see that piece repurposed all kinds of ways.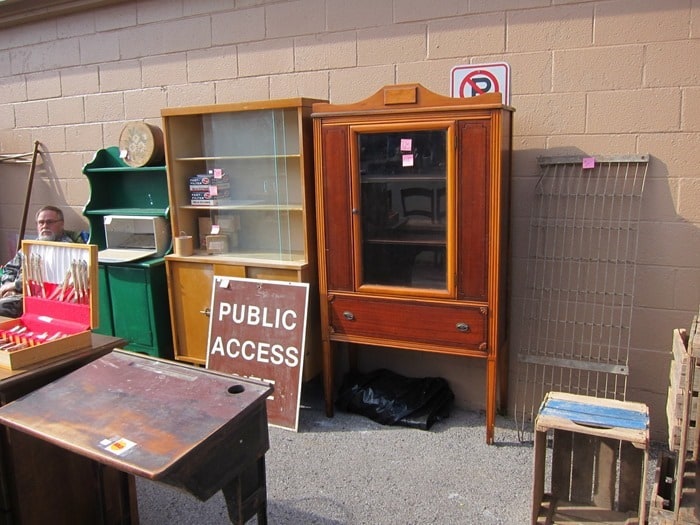 I went back and looked at the three cabinets against the wall 3 times. The prices were really reasonable. I think they ranged from $50-$75. I liked them all but none of them were speaking my name.
I think the fact that I've cleaned up the workshop and am down to only 4 or 5 pieces of furniture is holding me back. I like the much emptier work space. Plus I still have furniture to work on. Not in dire straits yet.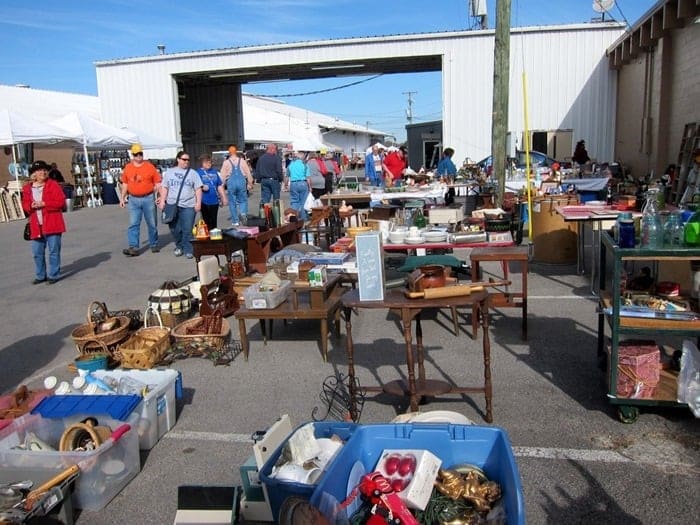 There were a bunch of empty vendor spots at the flea market this month. Maybe they wanted a long holiday weekend.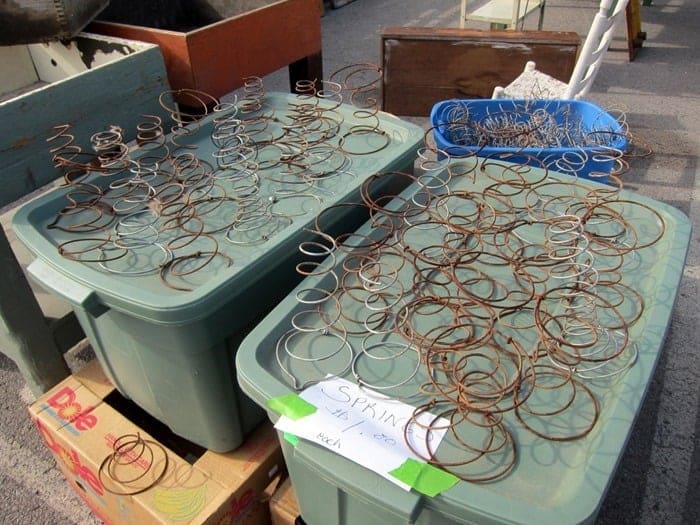 The rusty bed spring coils were calling my name and I should have bought a few. I walked away and then forgot about them. They were $1 each. I used spring coils to display ornaments on my Christmas mantel last year.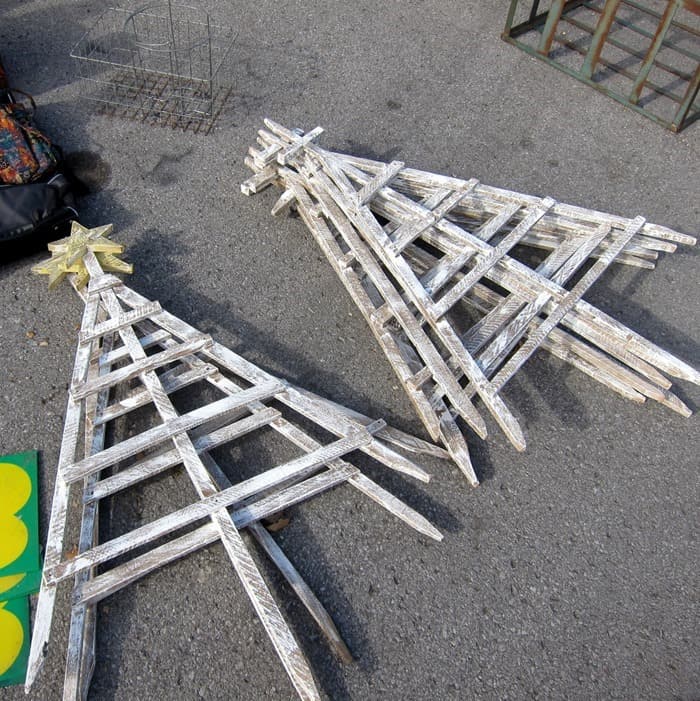 Petticoat Junktion is a participant in the Amazon Services LLC Associates Program. As an Amazon Associate I earn from qualifying purchases.
And how about the wood Christmas trees. Too much fun.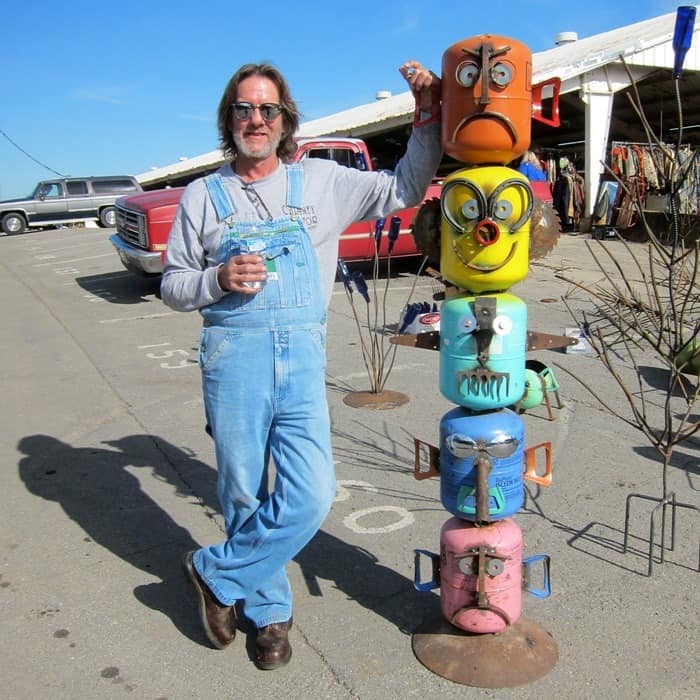 Here is Jimbo. He's always good for a photo op. Garden/yard art is what he does best.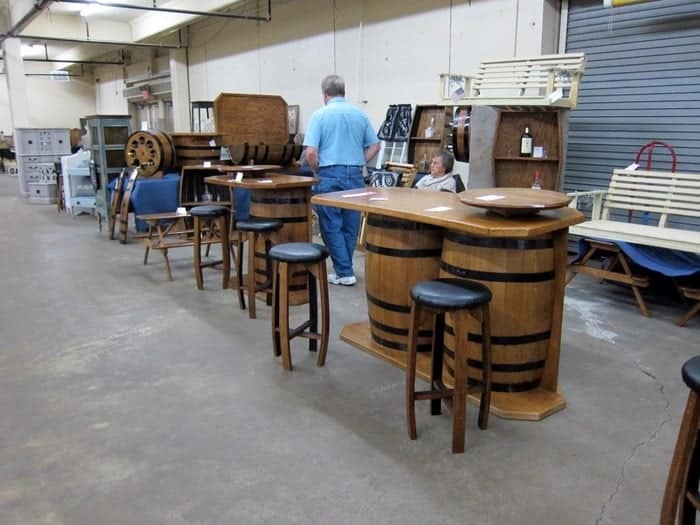 I very seldom shop the buildings but I had to go in for a peek. There are all kinds of things inside like the handmade barrel furniture.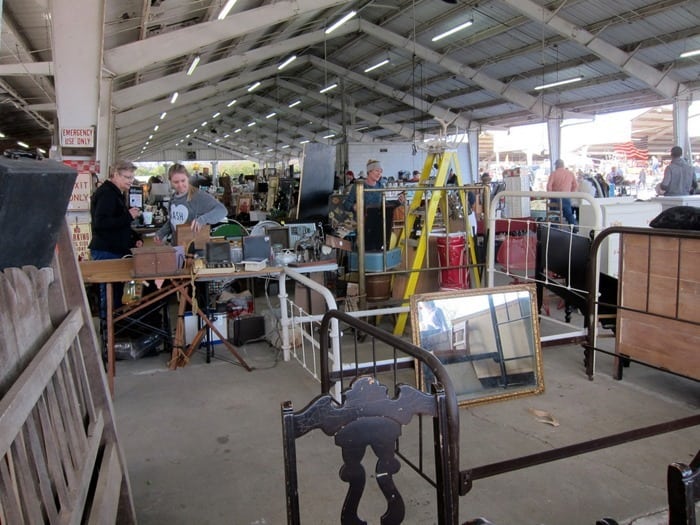 The Nashville Flea Market is a good place to find iron beds. A lot of times when I find the beds there are no rails. These have rails.
Another of the vendors and I'm sorry but I don't know his name. I talk to him every month too! He has a unique vision when putting vintage and antique things together. That bench he's sitting on is pretty cool.
And here I am….with my cool vintage find. The vendor I bought Santa and his sleigh and 3 tiny reindeer from came all the way from Buffalo New York.
The set was beat up and one of the reindeer lost part of an ear along the way. Santa and the reindeer also seem to be bullet riddled. At least that's what I think those holes are.  But I still love them. I paid $20. If you stop by tomorrow you can see what I did with Santa and his reindeer.
For all the details about the Nashville Flea Market click here!
Hope you have a great day! Kathy