You might want to put on your sunglasses. Just sayin'.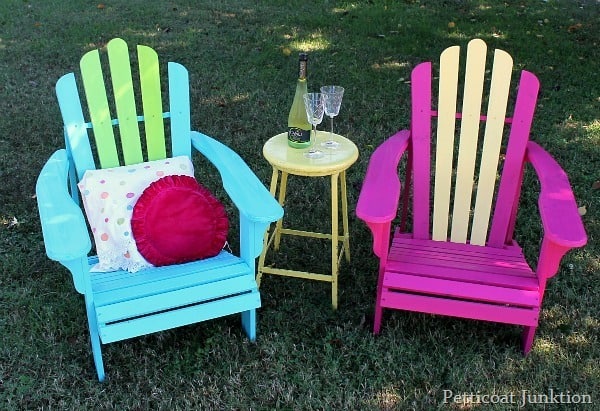 See, I warned you.
Turquoise and Fuchsia are at the top of my favorite color list!
I love bright colors and when I wear something bright my husband always says "Where are you, I can't see you?".
He thinks he's a comedian.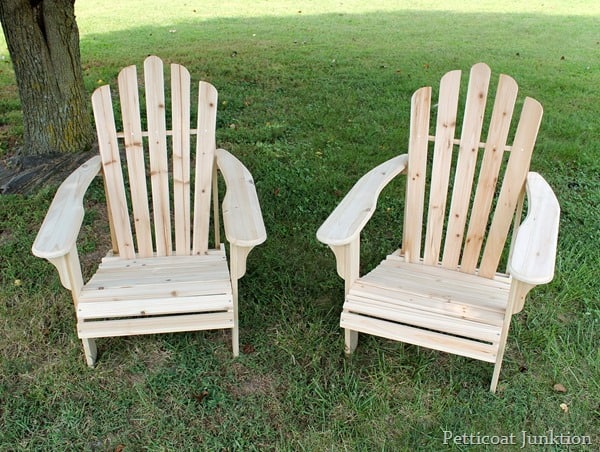 You guys might remember these Adirondack chairs I won at the Haven contest.
I asked for opinions on painting vs staining and the consensus was paint.
That was a crazy question for me to ask wasn't it!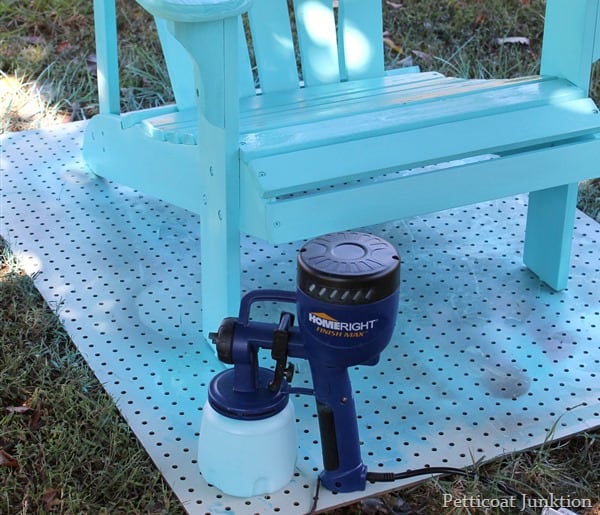 So I painted them.
Since Adirondack chairs are difficult to paint I pulled out my HomeRight Finish Max Fine Finish Sprayer.
I used the sprayer for the first time on my Pair of Blush Tables.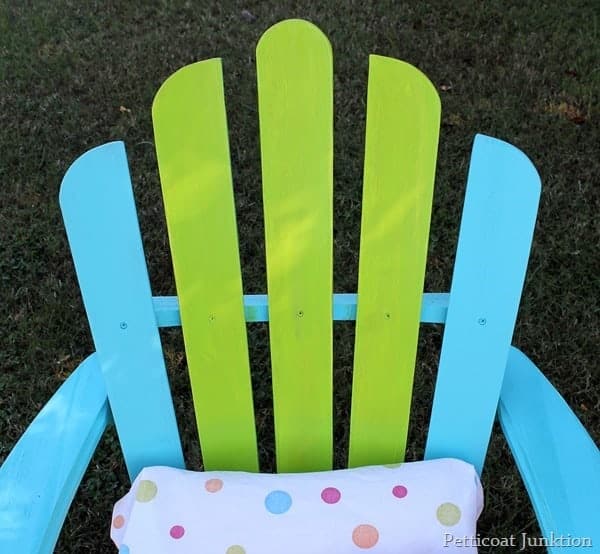 The paint colors are ones I had on hand.
I didn't want the chairs to be just one color but I didn't want them stenciled or too over the top so I just painted the three middle back slats in complimentary colors.
When it comes to paint choices I sometimes change my mind mid-stream.
The slats on the turquoise chair were first brown…..too dull….then a citrusy yellow…..not bright enough……
then this in your face green….just right!
The thing about paint is that it can easily be changed.
Don't be afraid to branch out and do something different.
Sorry but when I'm in the change of plan mode (experimenting) I forget to take pictures.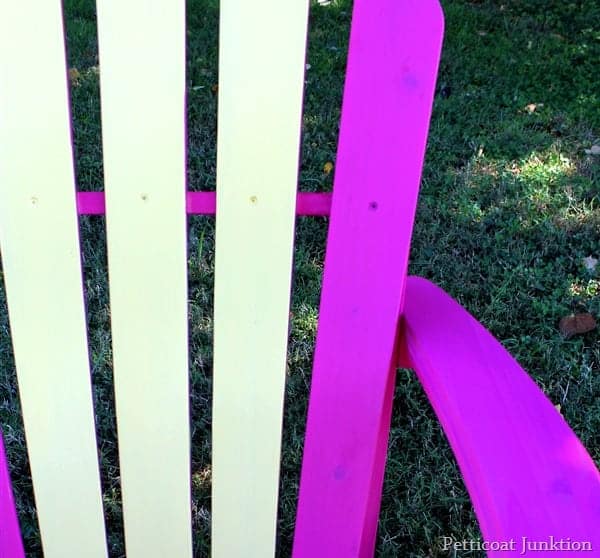 As you can see in this photo I left the paint a little transparent so the knots and wood grain would show through.
I was happy with my first choice of the bright yellow paint to compliment the fuchsia.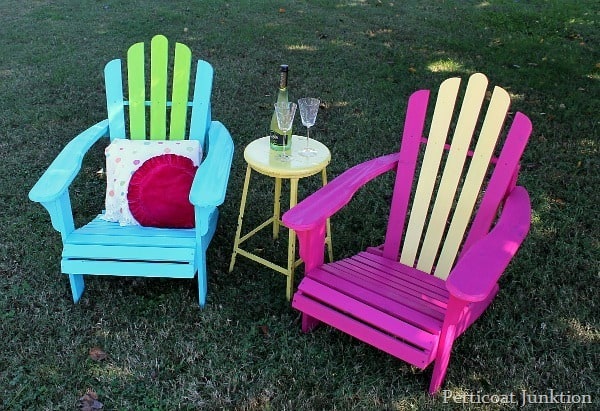 For the staging I grabbed a bottle of wine my nice neighbor gave me for my "retirement" gift.
If you consider that retirement means you no longer work at a paying job….then I'm retired.
But I do go to college, paint furniture, retail 3 lines of paint, keep my booth full of crafts and junk treasures, and blog full time.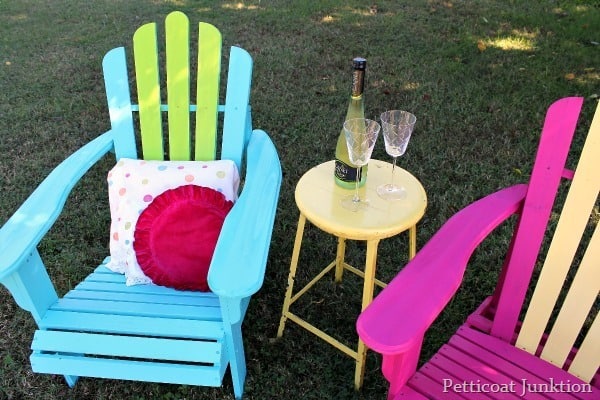 Want to sit and relax. Come on over.
The Finish Max worked just as well the second time as it did the first time. I love it.
I only talk about paints, products, and tools on my blog that I like and that I use.
I wanted to share a couple of things.
recent comment from a reader……
I enjoy your post—informative, detailed and not always promoting any particular product/website unless one you use and like. I like your stating certain brands/colors used in your painting.
excerpt from a recent email…..
First of all- as far as I'm concerned- your site is the most helpful- the least 'advertisey' and- well I love your taste.
I've received several comments and emails along these lines in recent days.
I don't want to be one of those blogs that is always having a gift card give-away, promoting a new product every day, or only writing a post because they have to for a brand.
I trust you guys to keep me straight
You can leave a comment below.
If you don't have a blog….that's ok…you only have to leave your name (first name is ok) and your email address, then your comment.  Your email address will not be shown on my blog. It is to prevent spammers from leaving comments.
Thanks for stopping by and have a great week,
Kathy
Follow….
On Facebook Petticoat Junktion
On Twitter Petticoat Junktion

linking to these parties….
Miss Mustard Seed
DIY Sunday Showcase……Throwback Thursday…Thrifty Décor Chick
Funky Junk Interiors…… Savvy Southern Style…Shabby Creek Cottage
Tags:
adirondack
,
chairs
,
fuchsia
,
homeright finish max
,
painted
,
turquoise