disclosure: affiliate links may be used in this post.
Best Vintage Finds Make It To The Porch
My vintage treasures make a big showing when it comes to the Christmas porch decorating . Anytime I decorate the porch it's going to be with inexpensive junk finds. There's no need to go out and spend a ton of money on cookie cutter decor.
Like most of you I drool over all of the beautifully decorated homes I see on other websites, Pinterest, etc. That's only normal. But…..you can make your home just as beautiful by working with what you already have or by picking up a few inexpensive items at the thrift store.
Always go with things you love. Your decor will be YOU, not someone else…..and it won't look like a store display. Blah, blah, blah. I'll get off my soapbox now.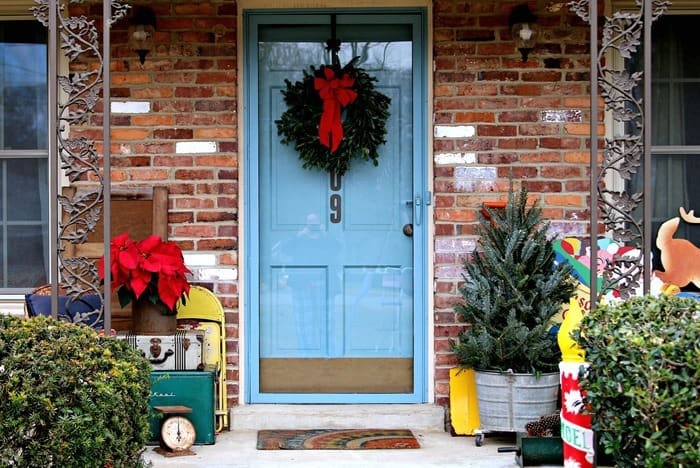 Christmas Porch Decorating
Today is the first day of the Festive Christmas Porches Tour. What a great way to start the week.
Just look at all that porch love. Links to my fellow bloggers are at the end of the post.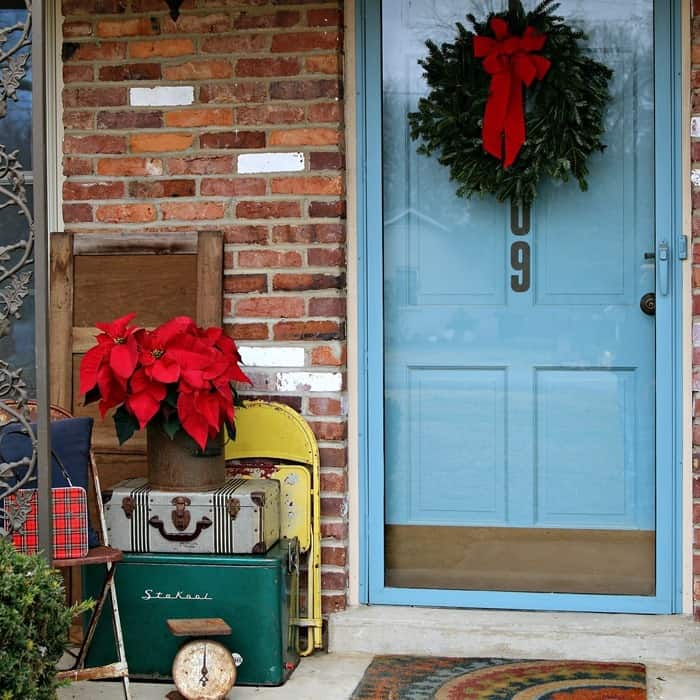 A few years ago it would have taken me hours and hours to decorate the porch. Now I guess I kind of have a feel for what works. I decorated the porch this past Friday and it only took about an hour.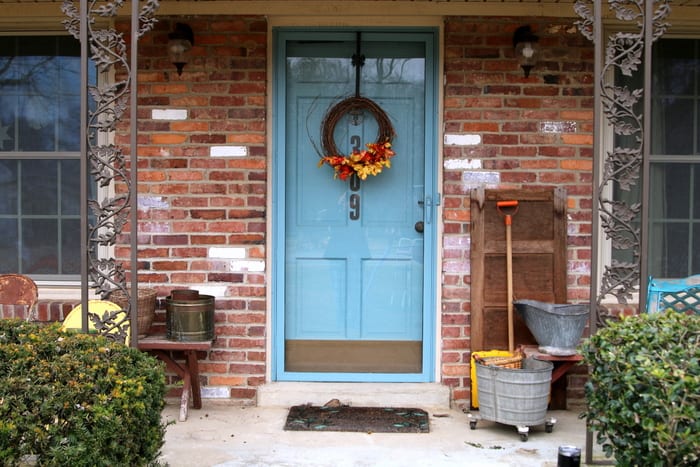 I started decorating the porch for Christmas by removing all of the Fall decor….except the wreath. Forgot that. I left all my rusty, junky, pots on the porch. I needed a few of them for the new plants.
Then I gathered everything I thought I wanted to decorate with and started by adding one piece at a time and changing things to suit me as I went along.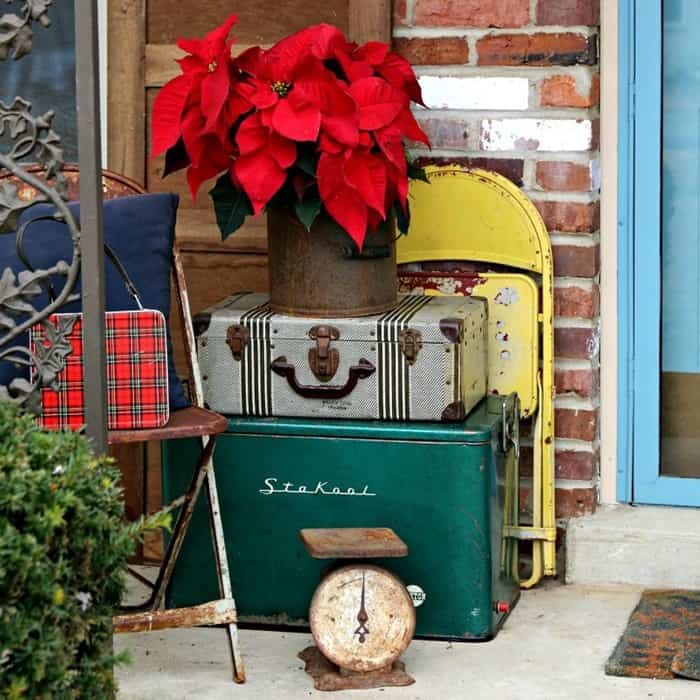 I'm in love with that StaKool metal ice chest and it only cost $10 at My Favorite Junk Shop. Who could turn down that deal. The cooler is spotless inside, no rust at all and it's not stinky either.I did a little research on the cooler and it was made in the 50's by Coleman.
The rusty metal star chair came from the junk shop too. I bought the pair of yellow kids chairs from the shop where I have my booth. I forget where the vintage scale came from but I think it was an estate sale.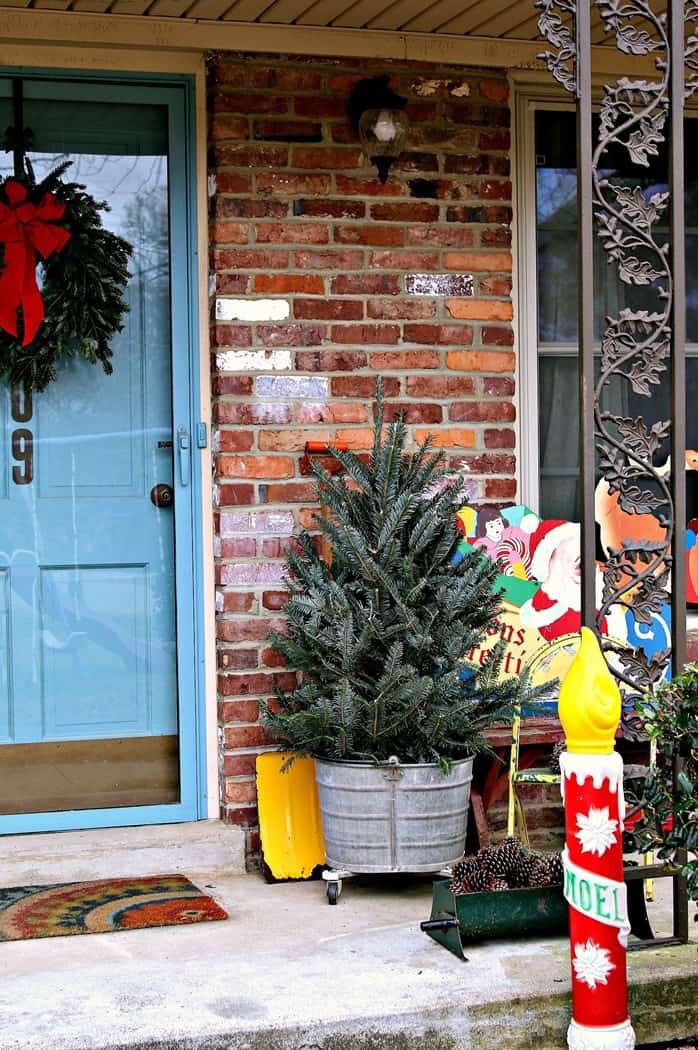 How about that galvanized mop bucket as a Christmas tree stand/container? I like it! I bought the mop bucket at an auction and I think I had to pay $30 for it. A bit over my budget by worth it to me. The NOEL candle came from the Nashville Flea Market.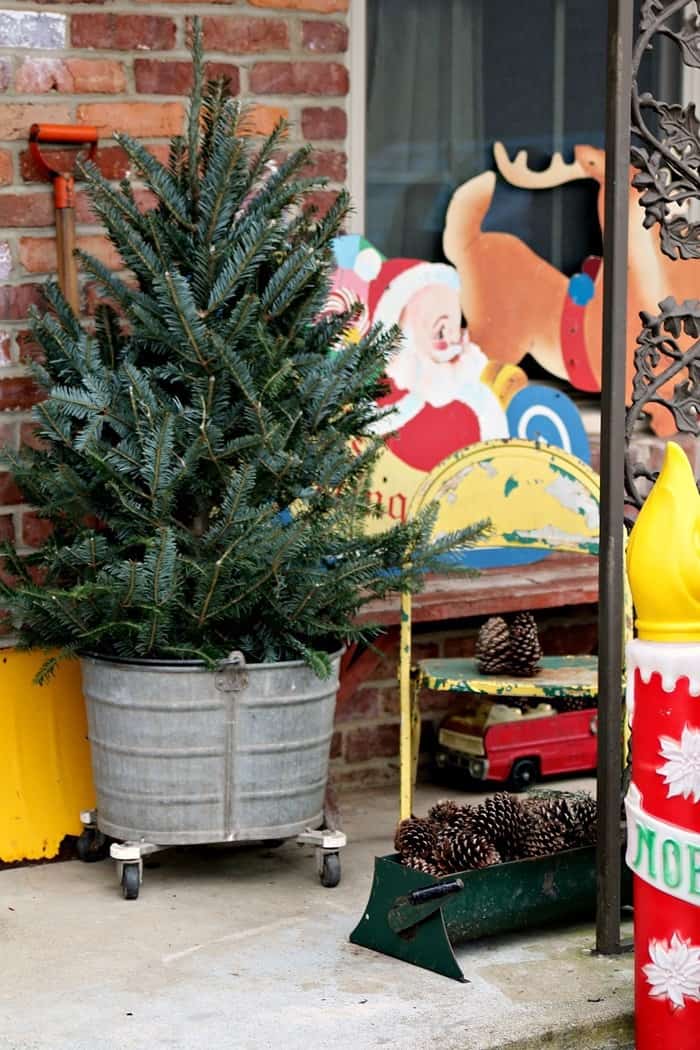 I like to have a live tree on the porch along with Poinsettias (when it's not too cold). I bought two trees and two poinsettias at Home Depot. The other tree is at the back door. Oh yeah, I bought the fresh wreath at Home Depot too….only $6 bucks.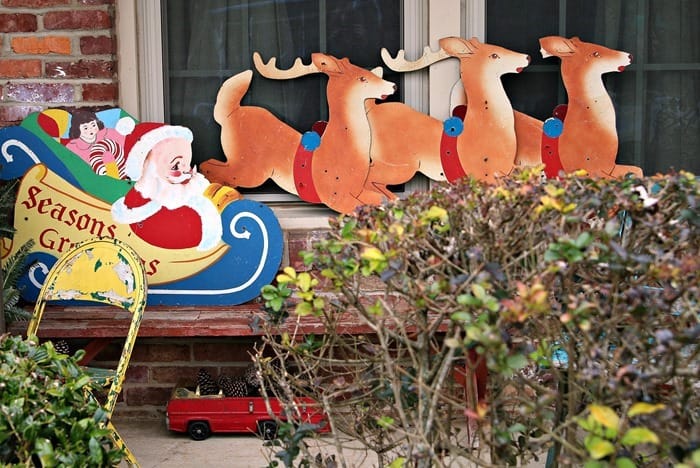 The Santa and Reindeer had me at hello. I spotted them at the Nashville Flea Market last year. They came from Buffalo New York and only cost me $20.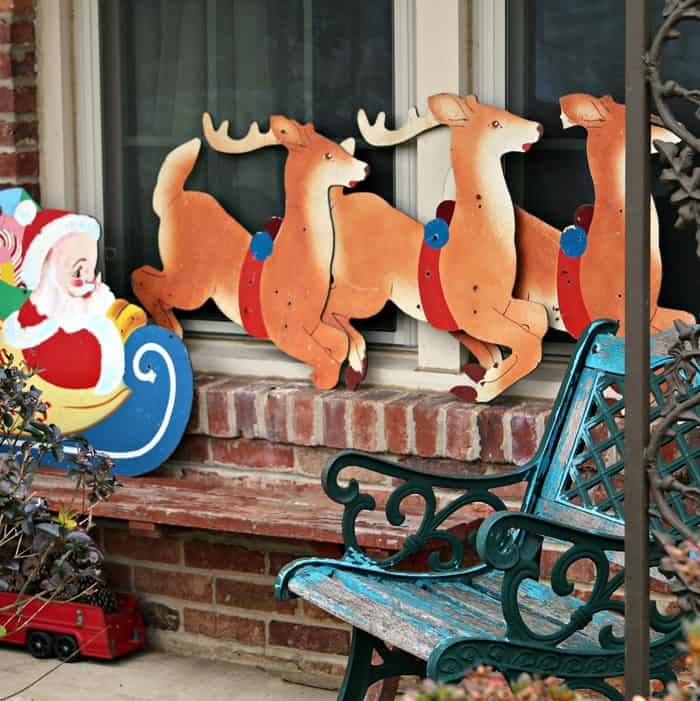 The pieces are pretty beat up but hey, adds charm right? It looks like someone used the Reindeer for target practice.
The shabby turquoise and green chair and the rough bench came from the my fav junk shop too.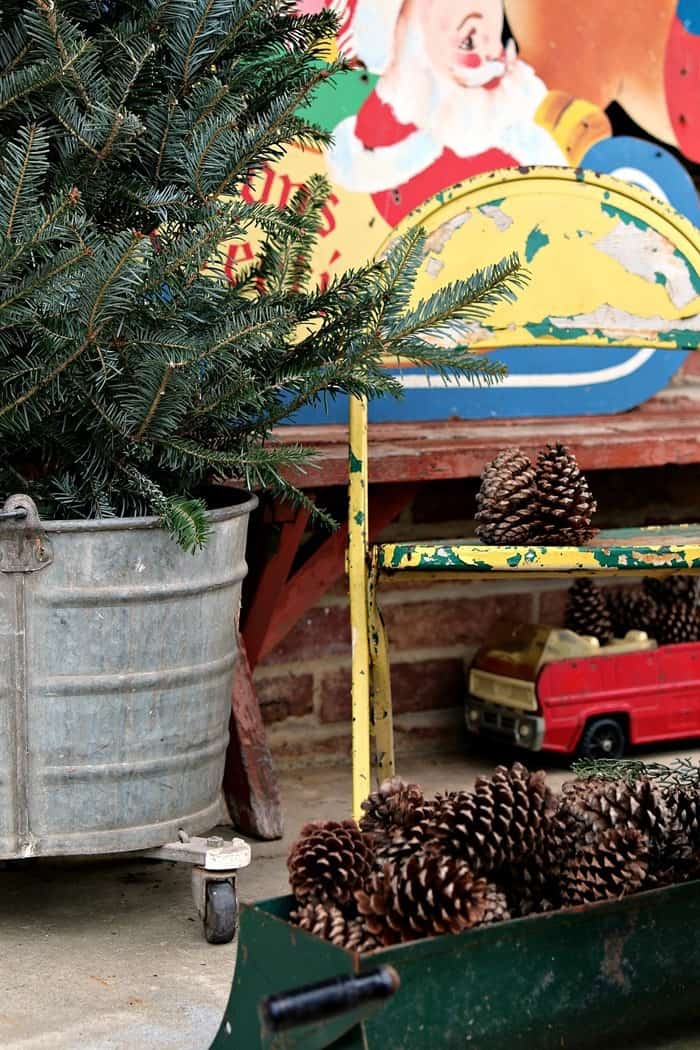 I filled the green log roller and the red Tonka fire truck with pine cones I picked up on my parents farm in Arkansas. Always nice to have a bit of home.
The plaid lunch box is an auction buy and the rusty bucket holding the poinsettia came from the flea market. As a rule I don't pay much for rusty buckets and other junk containers. Once they get too holey or start falling apart I toss them.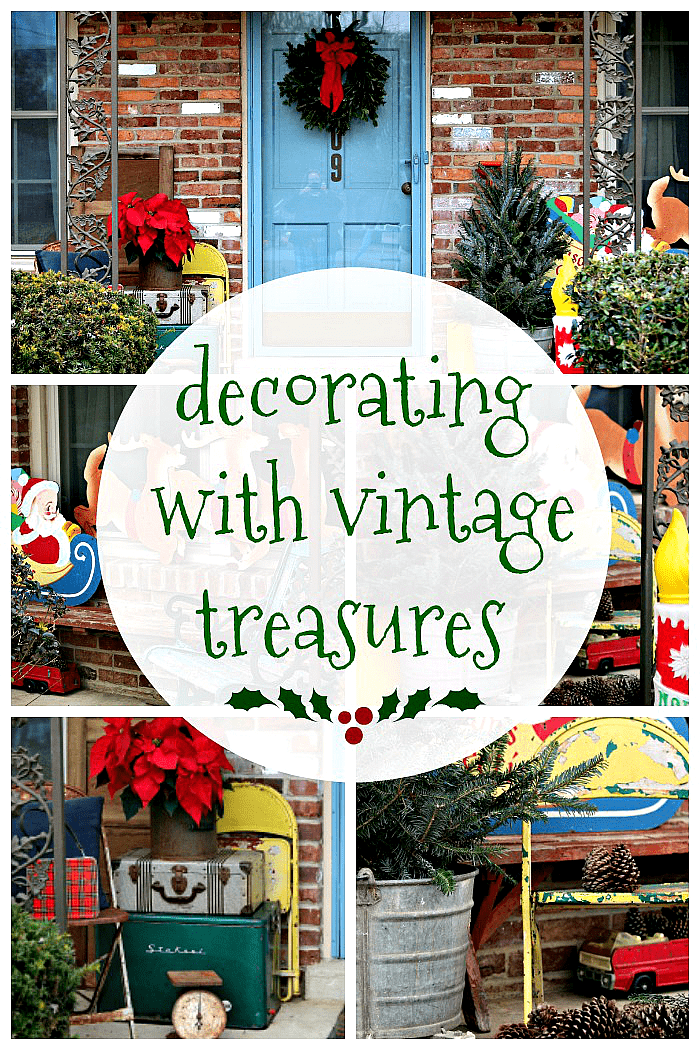 What is your decorating style? Do you decorate with vintage finds, family heirlooms, new stuff? What part of my porch did you like the best?
I think the porch with it's new (used) decor turned out pretty good. Leave me a note before you take the tour.
Christmas Porch Tour
If you don't have time to take the complete porch tour today be sure and bookmark this page so you can tour later. Follow the links below for the Christmas porch tour lineup, featuring 18 home decor bloggers.
Monday, Day 1
My Thrift Store Addiction // Postcards from the Ridge // Cottage at the Crossroads
Petticoat Junktion // House of Hawthornes // DIY Beautify
Tuesday, Day 2
Sweet Pea // Duke Manor Farm // StoneGable
Sand Dollar Lane // Atta Girl Says // Our Southern Home
Wednesday, Day 3

North Country Nest // My Creative Days // Worthing Court
2 Bees in a Pod // Major Hoff Takes a Wife // Craftivity Designs
As always, thanks for being here and have a great day, Kathy