Take your Fall porch or deck decor to another level using natural materials. Yes, Fall is almost here, and soon, it will seem like every step, stoop, and entryway is adorned with cheerful pumpkins, rustic straw bales, and colorful mums.
As the leaves change and the air gets crisper, it's the perfect time for sprucing up the front yard for the fall season. If aspiring decorators want to adorn their porch or deck this autumn but adding those few extra decorative elements isn't in the cards this season because of budget constraints, decorating can be done without breaking the bank. In fact, with a bit of creativity and some eco-friendly materials, a cozy, inviting space can be created that won't harm the environment or homeowners' wallets.
Read on for some budget-friendly ideas for decorating that involve growing and gathering materials to get the look of an autumn oasis. There's no need for a complete renovation or even new porch furniture for those looking to give their porch a new lease on life this season.
Why We Can Never Resist a Charming Fall Porch or Deck
Many of us can't help but feel a spring in our step as the season of pumpkin spice lattes, cozy sweaters, and family trips to the apple orchard draws near.
We can often feel ready for a change at the end of a long summer, so lighting spiced cider candles and bringing out the fall decor can "give us a project and a purpose" and give us a sense of being on a path of "positive change and growth" when we may be feeling burnt out or a little disappointed after the previous season, New York neuropsychologist Dr. Sanam Hafeez noted.
Dr. Hafeez shares that "a fresh look can be very therapeutic," and nibbling on an apple cider donut while planning how to decorate the porch with bright mums, lanterns, and seasonal pillows can mean more for us than just a prettier view from the street. For many people, engaging in these traditional fall rites of passage signals the start of a season of normalcy, routine, and the comfort of the familiar.
It's possible, though, that it's not just what the autumn decorations symbolize that boosts our mood, but the decor itself that positively impacts our overall mental health. According to a 2020 study, orange and yellow colors are closely associated with a sense of joy, amusement, and general feelings of positivity. So there's yet another reason we all feel so drawn to the idea of decorating our homes each autumn with pumpkins, sunflowers, and other pieces inspired by the colors of changing leaves - these things and their bright colors may actually be making us happier.
When homeowners decorate their homes with colorful natural materials, it's visually appealing and eco-friendly. It's like nodding to Captain Planet while channeling their inner Joanna Gaines. When the season ends, cleaning up is almost effortless. Natural, organic materials can be tossed into the compost pile.
It's a win-win situation that can be another factor in contributing to the happy vibes of the autumn season.
Grow: Porch and Deck Decor Staples
For those who feel a surge of joy at the thought of the approaching fall season, growing and gathering their own decor can be an excellent, hands-on way to feel fully immersed in celebrating the season with outdoor living, as well as a way to save a few decoration dollars to put towards household necessities and your basic everyday costs.
Before getting started with taking advantage of any new decorating tips, wise homeowners should be sure to rid their front porch, walkway, and steps of pests by giving everything a good sweep and using insect control methods like this homemade ant killer if necessary.
Iconic Pumpkins for All Your Porch and Deck Decorating Ideas
A recent study reports that the pumpkin seed market will grow by over one billion dollars by 2027 as growers and retailers cash in on the popularity of this festive squash's seasonal appeal and nutritional value. What can't a pumpkin do? They're a crucial ingredient in fall treats, their seeds are a healthy snack, and their iconic status as a fall decorating staple can't be denied.
Although pumpkins are set to become even more widely available thanks to advances in organized retailing, this wholesome fall favorite can also be grown in your garden quite easily, and having so many readily available may be just what is needed to inspire homeowners to make all their country porch dreams come true. There's just something about growing pumpkins in a pumpkin patch and heading out to it one crisp fall morning to load up the wheelbarrow for a day of fall decorating.
Joyful Sunflowers Are a Nostalgic Choice
Many people eagerly await the arrival of cheerful sunflowers on local farm stands, but some don't realize that sunflowers are some of the easiest flowers to grow. Planting sunflower seeds is a nearly fool-proof method to add a joyful touch and positivity to any vegetable garden or landscaping.
It's no wonder sunflowers are such a fan favorite. When gardeners are ready to bring their sunflowers' sunny disposition inside or onto their porch, they simply need to cut a few stems and place them in a vase.
Decoration Ideas Using Corn Stalk Bundles
Corn stalk bundles add great autumnal texture to a front porch and create a harvest-like atmosphere for any entryway.
While transporting multiple cornstalk bundles home from the farmer's market in their vehicle might seem a little impractical and cumbersome for many aspiring porch decorators, using their own corn stalks for fall decor by cutting the stalks left over in their garden after this year's sweet corn harvest might be a little more convenient.
It's crucial that gardeners sharpen their pruning shears before they cut through the thick stems of the corn stalks, before bundling them up in groups of three or four. Corn stalk bundles can then be tied with a linen or burlap ribbon and attached to a porch railing for a charming and nostalgic effect.
Because of their tall, upright shape, corn stalk bundles take up almost no square footage and are perfect for small front porches and those that are more grand.
Fall Decorating Ideas Using Autumnal Wheat
Most gardeners in modern times probably don't consider the possibility of cultivating wheat in their garden, but it might be worth a thought, at least for the decorating possibilities. This multipurpose and aesthetically pleasing grain can be utilized for many traditional autumnal decorating ideas, such as creating a picturesque Thanksgiving table with a row of classic wheat sheaves adorning the center or a stunning wreath made from wheat hanging on a front door.
As the legendary fashion icon Coco Chanel once said, "Fashion fades, only style remains the same." Similarly, the timeless beauty of wheat's golden hues and delicate texture will elevate any home decor with its understated elegance.
Cheerful Mums Add Color and Class
If a porch full of happy chrysanthemums in bloom and bursting with color seems a little beyond the budget based on the prices consumers have seen at local garden centers, homesteading expert Anna Chesley of Salt in My Coffee has an intriguing option, especially for those who love gardening.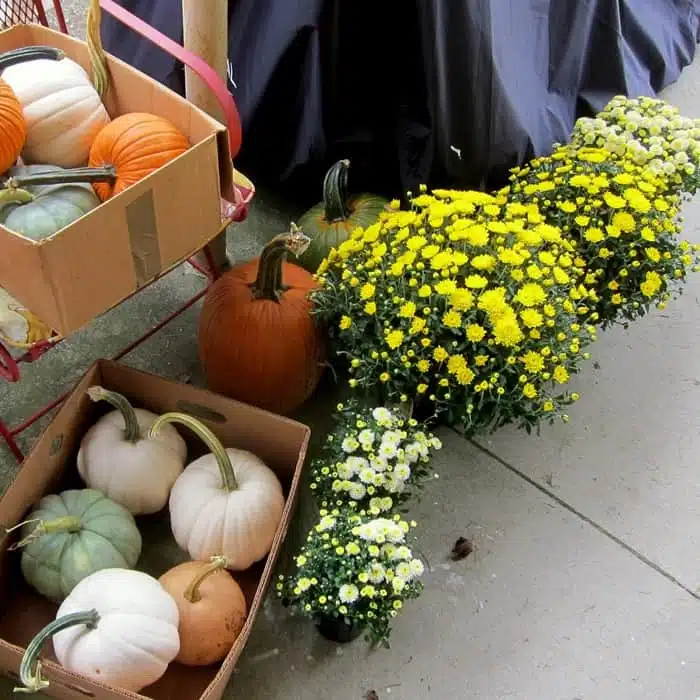 "Snag a couple of cute chrysanthemums when they go on clearance at the end of the season, and use them to propagate dozens of gorgeous new mum plants for next year," she advises. It sounds too good to be true, but she assures homeowners it is possible. "Just snip a couple of inches off the tip of every stem, then root the cuttings in water or damp seedling mix. Once they have roots, just pot them up, and watch them grow! Chrysanthemums root easily and grow quickly, so it's very possible to turn one 50-cent mum into 50 big beautiful plants by the time next fall comes around!"
Gather: Foraged Fall Decor
Colorful Leaves and Branches
Autumn leaf-peepers can keep the fun going by bringing along their pruning shears on their fall forest hikes. When it comes to branches of fall foliage, the bigger, the better. Even if aspiring decorators don't have any brightly colored trees growing in their yard, they can clip a large branch or two and place them in a vase or bucket of water next to a front door for a hit of autumnal color.
Tall Grasses: Gathered or Grown Natural Materials
Adventurous decorators who live near lakes, creeks, or even a tiny ditch might find themselves looking at the tall grasses and reeds that typically grow near these bodies of water a little differently during the fall season.
These grasses are versatile styling elements and can be used for fall decorating indoors and out.
If they don't have access to naturally occurring tall grasses, they might consider growing pampas grass in their gardens to enjoy while they are actively growing during the summer and to incorporate into their decor later during the fall months.
As Melissa Pino of Planet Natural suggests, "Create a large and eye-catching bouquet of pampas grass stems to place in a tall vase or floor-standing pot. Mix pampas grass with dried flowers or foliage to add color and depth."
The height of tall grasses like pampas makes them an excellent substitute for corn stalks on a front porch if autumnal corn stalk bundles are hard to come by in certain parts of the country.
Pino adds, "The natural element adds warmth while still being neutral enough to be enjoyed year-round." Homeowners may be tempted to leave the grasses out to enjoy during the winter months, too.
Clever Textural Porch Decor Items, Dried Blooms
Inventive decorators can look to nature for the best design ideas and consider using more unusual natural fall elements to create an attractive, creative, and engaging display.
Searching creekbanks and ditches will reveal staghorn sumac "horns" and other dried wildflowers and seed pods to add to a creative fall porch display or to be tucked into jars for an authentic farmhouse look.
Other dried blooms like hydrangeas and even end-of-season sedum flowers can be foraged from the garden and mixed into a garland for a railing or a wreath on the front door, along with other foraged and found greenery for an autumnal porch decor scheme that is both festively-inspired and free.
Find my favorite Fall Decor on Amazon here.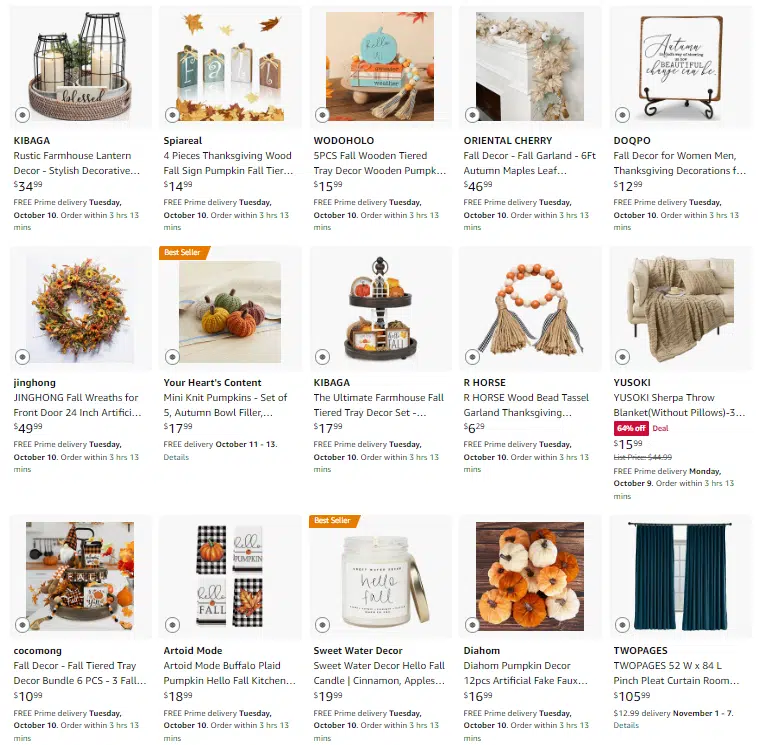 This article originally appeared on Wealth of Geeks.
Courtenay Hartford (The Creek Line House)
Courtenay Hartford is the author of creeklinehouse.com, a blog based on her adventures renovating a 120-year-old farmhouse in rural Ontario, Canada. Courtenay shares interior design tips based on her own farmhouse and her work as founder and stylist of the interior photography firm Art & Spaces. She also writes about her farmhouse garden, plant-based recipes, family travel, and homekeeping best practices. Courtenay is the author of the book The Cleaning Ninja and has been featured in numerous publications including Country Sampler Farmhouse Style, Better Homes and Gardens, Parents Magazine, and Real Simple.