disclosure: affiliate links may be used in this post.
How to Antique White Furniture
Hey Guys! White furniture fits just about any decor and I'm white paint is the pick of the week. This is day 5 of white furniture week. Today the project is antique white furniture. The is one of my favorite furniture painting techniques.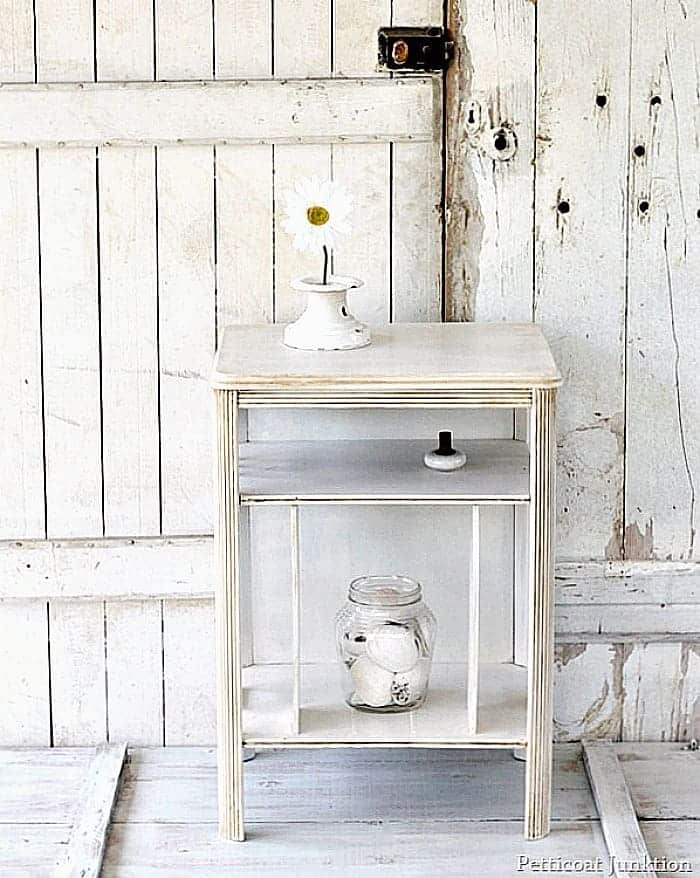 Table With Antiqued White Paint
The white paint on the table above was toned to give it an aged look.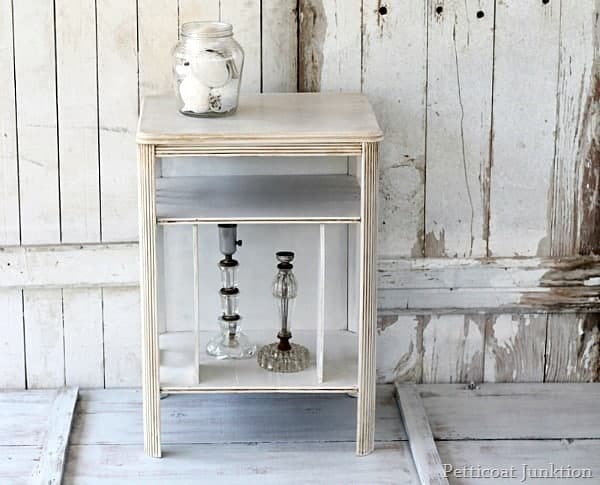 Antiqued White Furniture
The toner gives depth to the painted finish and keeps it from looking plain jane.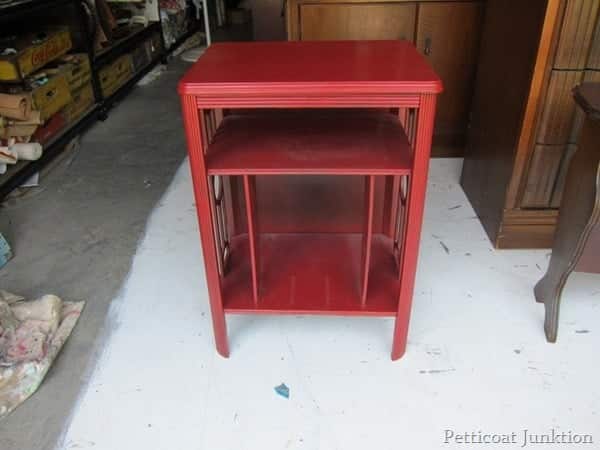 Yet another table from our den.
No the den isn't just a room full of tables…although it would appear that way.
I spray painted this table many years ago.
Before I was a real painter (insert Kathy smiley face)
Time for a change.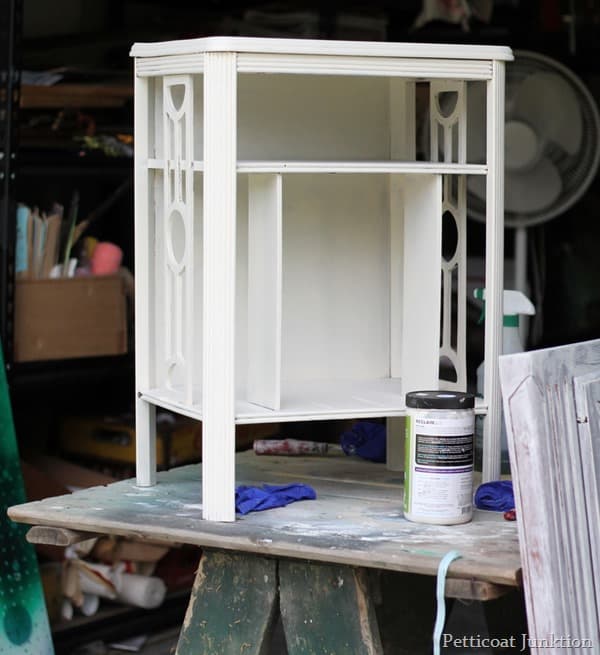 You know….all 4 tables in the 5 days of white furniture were hard to paint.
I knew they were going to be….I mean…..look at all those cut out side details.
I started to use my paint sprayer and do them all at once.
It would have been quick and easy.
But there's something about brushing the paint on and just letting your mind wonder.
This table got a coat of Reclaim off-white also.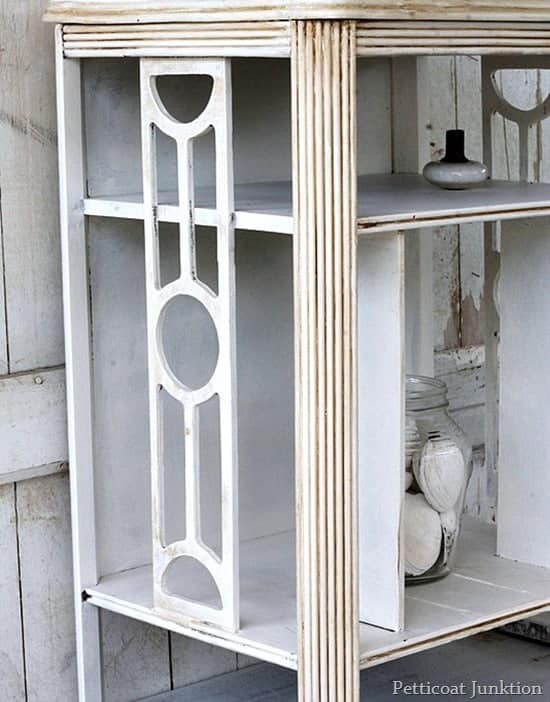 I only applied the Caromal Colours Toner to the front legs, top edges, top, and shelf fronts.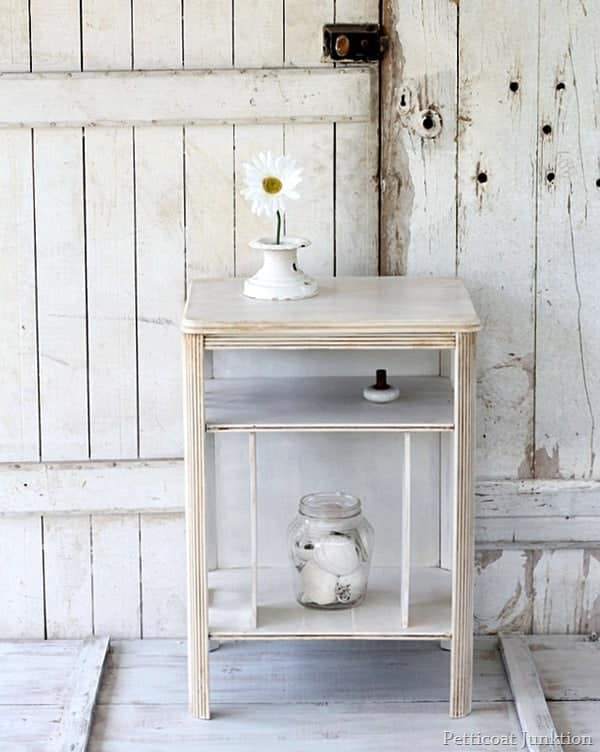 Isn't it cute!
Last day of the white furniture marathon.
If you missed Day 1- Day 4…..
Day 1 Shabby Chic Table / 5 Days Of White Furniture
Day 2 Cottage Chic Magazine Table / 5 Days Of White Furniture
Day 3 MMSMP Cedar Chest / 5 Days Of White Furniture
Day 4  Table With Antiqued Effect / 5 Days Of White Furniture
Find more Reclaim Beyond Paint projects here …15 Reclaim Beyond Paint Furniture Makeovers.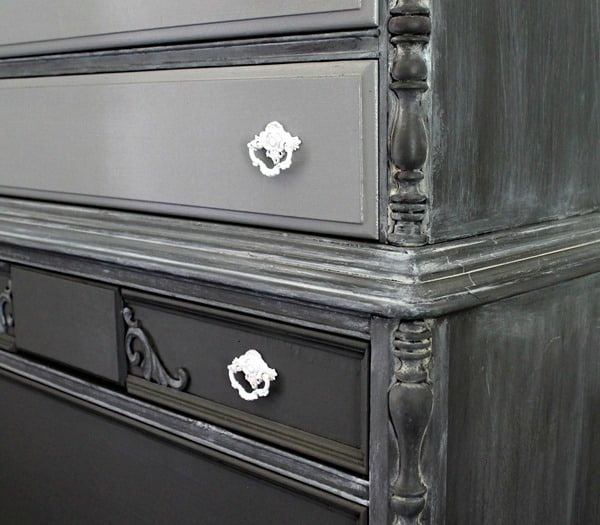 Paint reviews and how to  purchase on Amazon…. Reclaim Beyond Paint
As always thanks for being here and have a great day, Kathy