I have hundreds of latex paint furniture makeovers under my belt. What's not to love about latex wall paint furniture makeovers.
You can buy latex paint at your local hardware stores and the color selection is endless. Latex paint has improved so much in the past few years. It even comes with primer built in. I use it all the time. Don't let anyone scare you away from regular old latex wall paint on furniture. It works great.
Latex Paint Furniture Makeovers
These are just a few of my favorite Latex Paint Furniture Projects. Click the pink text links to see the complete tutorial. I hope one or more of the tutorials inspire you or helps you in some way.
And as always feel free to leave questions in the comment section or email me at [email protected]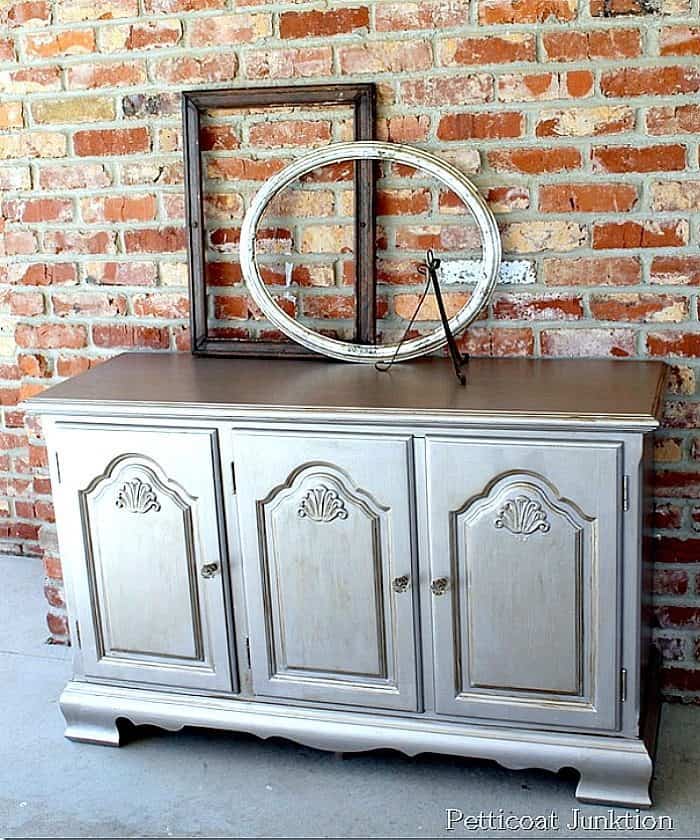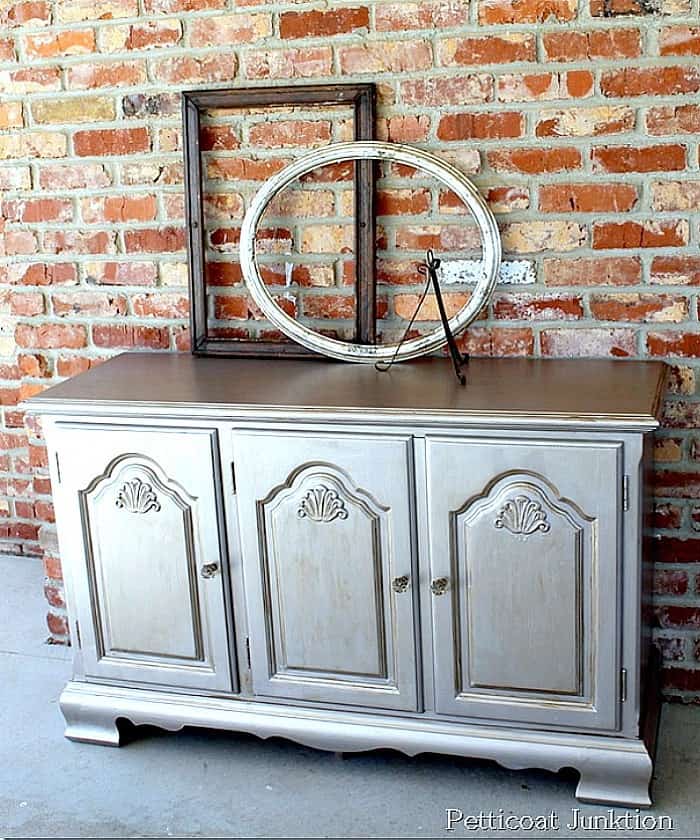 I love metallic paint. You can use it in any room of the house. You can dress it up and you can also use it in a comfy, cozy, casual room. The piece above is painted with Martha Stewart Special Metals and they don't make it any more. I recommend using Modern Masters Metallic paint.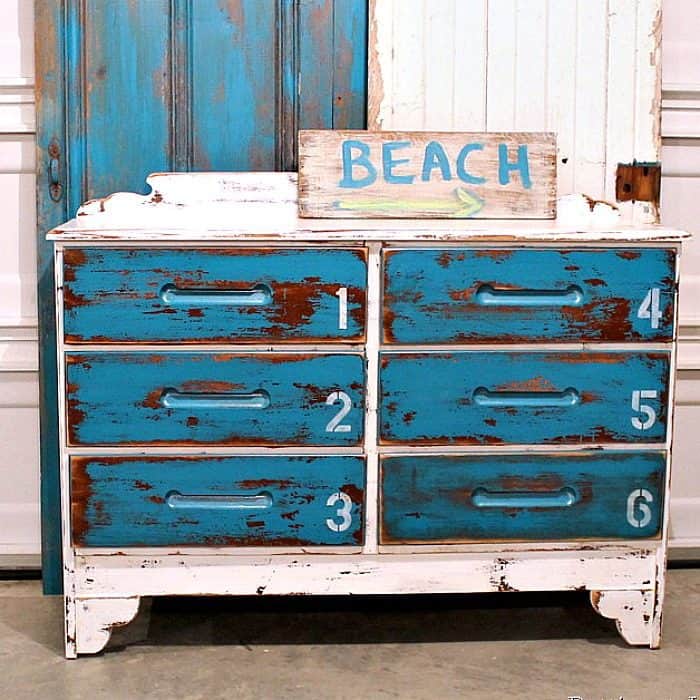 Distressed to the max. This one may not be for everyone. The stenciled numbers were an afterthought. A good one.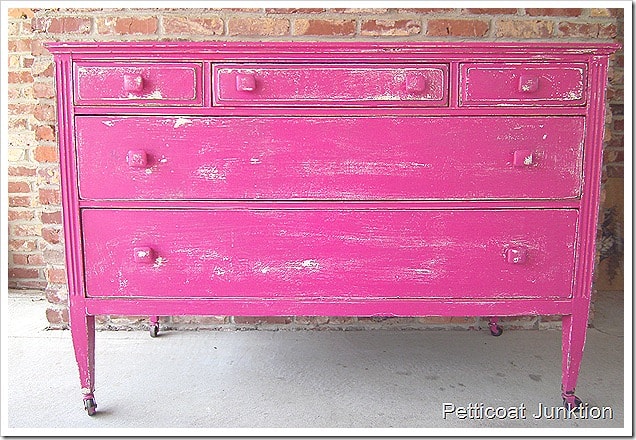 I wish I could tell you the color of this paint but I can't. This project is from my beginning days of blogging and I didn't note the paint color. I've recently tried to find a similar color and I may have…..stay tuned.
4. Yellow Credenza. This piece started life as office furniture. It looks much better now.
5. Gray Furniture for the Boys. Custom painting is not for the faint of heart. I have to say that all my customers have been really easy to work with and happy with their painted furniture.
Petticoat Junktion is a participant in the Amazon Services LLC Associates Program. As an Amazon Associate I earn from qualifying purchases.
I hear horror stories from some custom painters. The gray set of bedroom furniture got a bit of yellow paint on the backs of the bookcases for pizazz.
6. Sassy Green and Turquoise Buffet. This is one of my favs.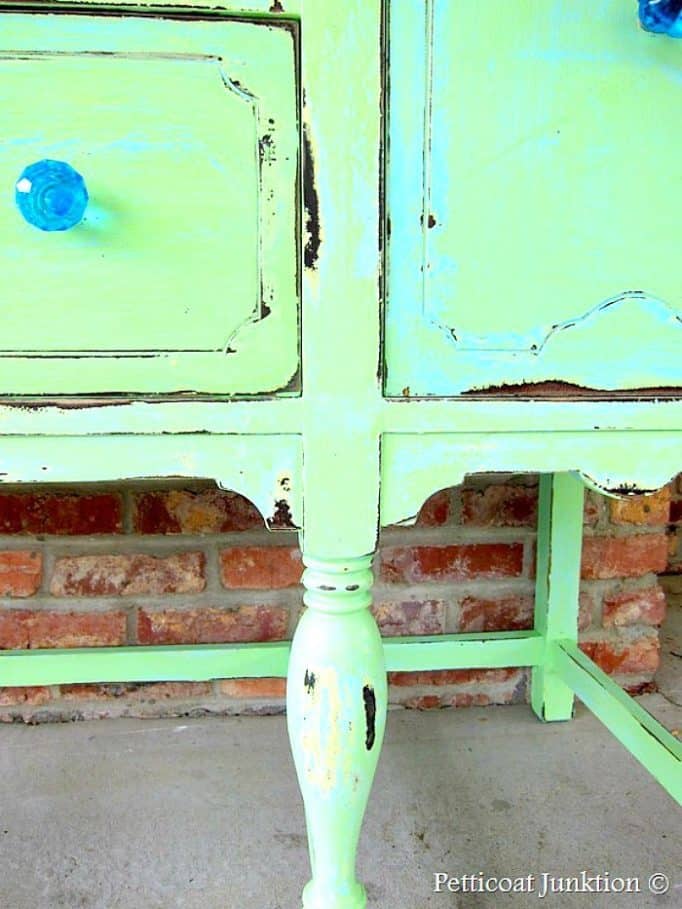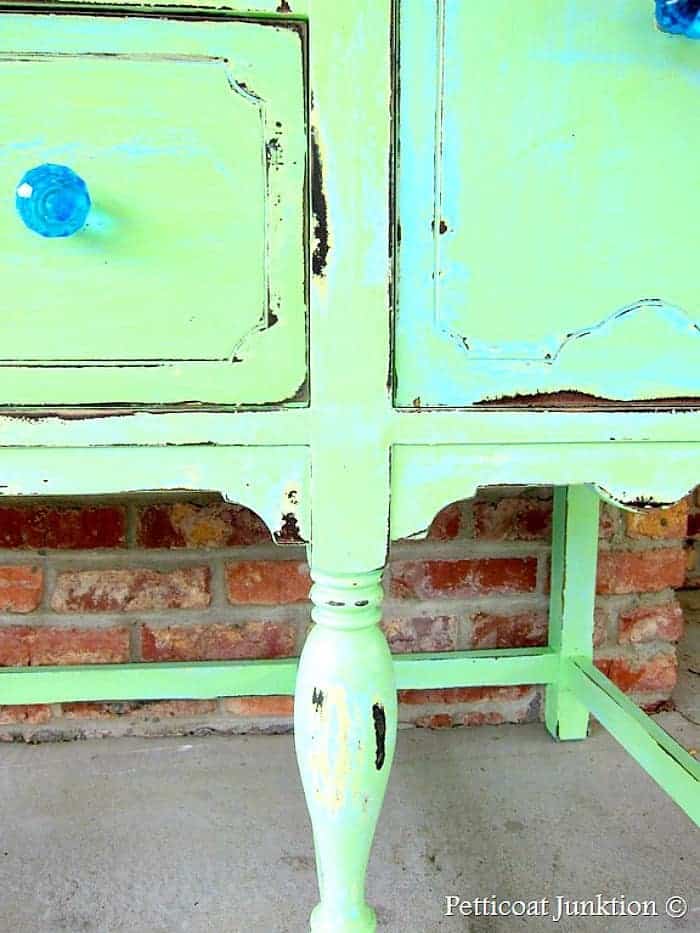 I've never been able to repeat the look. One of a kind for sure. The buffet sold the same day I took it to the shop.
7. Fuchsia Going in Circles Desk. Fun and colorful. The desk is painted a bold fuchsia or hot pink and the drawer fronts are decoupaged with fabric.
8. Stenciled Turquoise Wardrobe. This piece got stenciled inside and out. Perfect for any one, young or old.
9. Red Cedar Chest Antiqued To Look Old.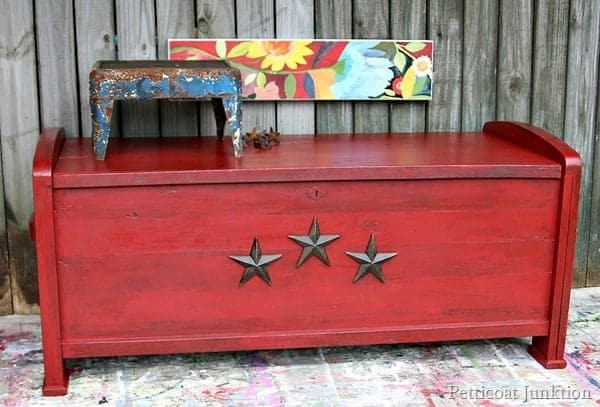 Red is one of my favorite paint colors. I mixed this color myself from leftover paints. I loved it so much I took a sample to Home Depot and had them mix a can of latex paint in this color. I call it Junktion Red. You can find the custom mix color code on my blog post here….Petticoat Junktion Red Custom Paint.
10. Dreamy Blue And White Bedroom Furniture. More custom furniture. These pieces were for a young lady going off to college.
11. Diva Glam Makeover. I love this fuchsia color and I've used it more than once. In this post I also show you how to use a paint sprayer to apply clear sealer to the finished paint project. Easy Peasy.
12. Nautical Style Furniture Makeover. The chest looks pretty with the red stripes and blue knobs.
13. Vintage Dresser Stool. Well, the white latex paint is pretty but the fabric I used to re-cover the stool seat is even better. Red and white, that's all I'm saying.
14. Coastal Chic. Nothing classier than simple white. Wicker and white paint go together like peanut butter and chocolate. The wicker chest would be perfect in a beach house or in a little girl's room anywhere.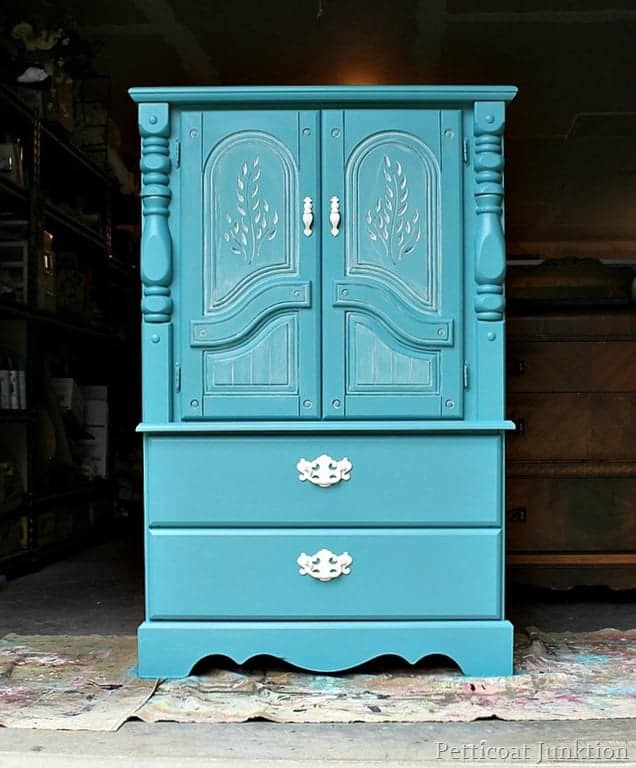 15. Blue Paint & White Wash Chest. What a pretty blue. The detail doors on the top part of the chest called for something extra, make those details pop. White wash was the perfect answer.
16. Highly, Highly Distressed Chest. Yep, this one stirred up some controversy but I was patting myself on the back. I never know what a project will look like until I'm finished. Sometimes I'm happy with the results and sometimes not.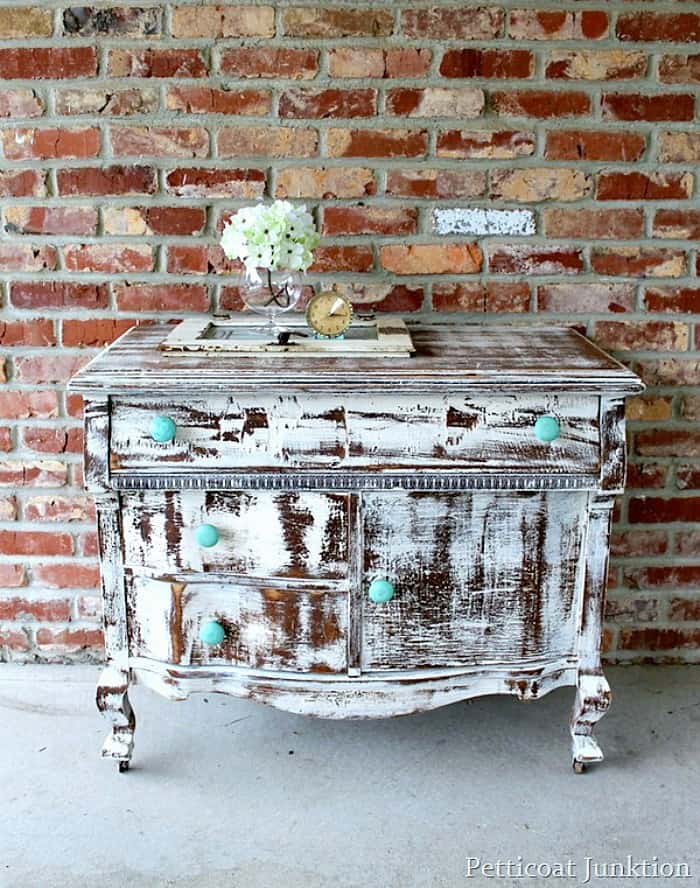 I've repainted furniture I don't know how many times because I didn't like the finished product. This one I loved but others didn't. To each his own.
Depending on the original stained or painted finish I might decide to prime the furniture before painting. I made a short video showing how and telling you why to prime. See it below…….
How To Prime Furniture Before Painting Furniture With Latex Paint
I made my own custom mix latex paint color for our master bedroom furniture and you can see it here.
Read my top reasons for using latex paint here….10 Really Good Reasons To Paint Furniture With Latex Paint.
You can go to any hardware store and purchase latex paint. You may have latex paint left over from home improvement projects.
If you haven't yet painted a piece of furniture and are maybe scared to give it a try, grab that leftover paint and a small piece of furniture and go to work. Let me know how your latex wall paint furniture makeovers turn out!
Next up….my project featured in a magazine. Yipee!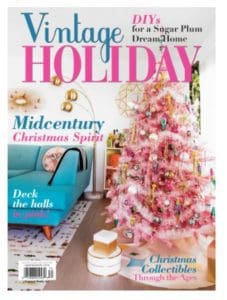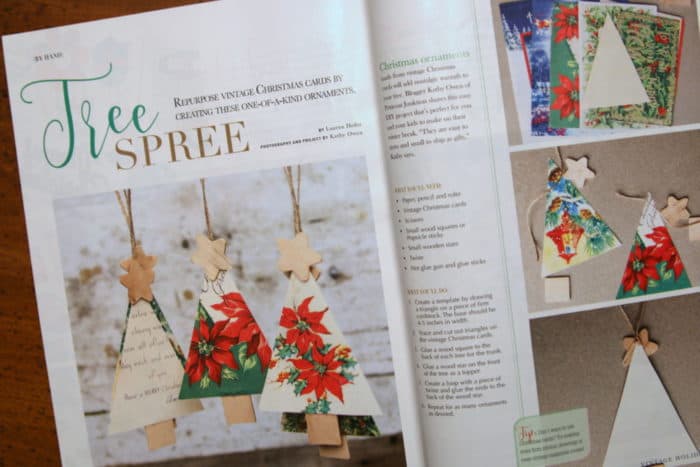 The Christmas ornaments I made from vintage Christmas cards are featured in this month's Vintage Holiday magazine. I made the ornaments a couple of years ago and the editor of the magazine contacted me to ask if they could feature it and if I had the original project photos, yes and yes.
Would love to hear your views on latex paint and your favorite furniture paint. As always thanks for being here and have a great day, Kathy