Painted Sideboard
The painted sideboard is sporting my favorite color combination. I'm not sure which is the proper furniture term for this piece. It could be a buffet.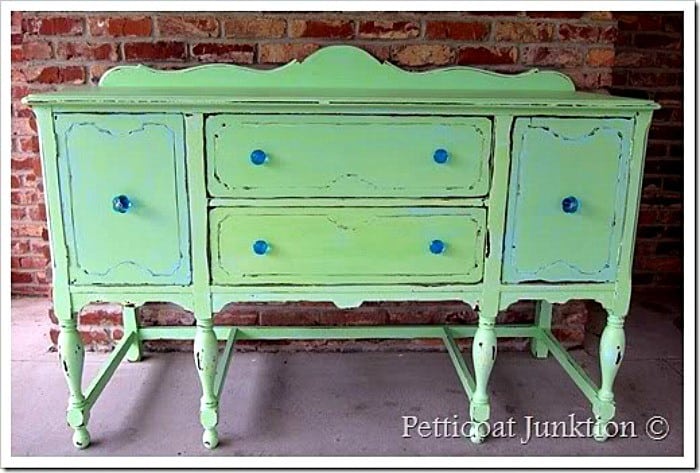 Turquoise and Green Buffet / Sideboard
Yeah, she's flashy, splashy, sassy, and a little classy. She makes me smile.
She makes my customers smile. That's the highest compliment I can get.
She doesn't photograph well. I know it's me. I've said before, I'm not a photographer. But, it always seems that my favorite furniture makeovers are the least photogenic. Makes me crazy!
Pre –Splash/Sass
These pieces are hard to find....at least at a price I want to pay. I would paint furniture like this everyday if I could. The shape is perfect and what about those legs. I'm a leg girl!
Aqua blue as basecoat and my favorite citrusy green as the topcoat.
I called this makeover the turquoise and green painted sideboard buffet server. I'm not sure which furniture description is the best so I went with all three!
moderate distressing (maybe heavy to some)
knobs from Hobby Lobby..I love Hobby Lobby knobs because they are almost always on sale for half price. Can't beat the price.
I took her to the shop Friday and Sara suggested we leave her on the dock at the front entrance to You Never Know. Lots of people came by and paid her compliments. Jennifer snapped her up before lunchtime. She made Jennifer smile too.
Do you like the color combo. I love green and blue together...all shades.
Thanks for taking the time to stop by.