Ideas for wood cedar chest makeovers using paint. Everything from two tone paint finishes to re-covered fabric topped chests, to heavily distressed or layered paint. Find it all here.
13 Wood Cedar Chest Makeovers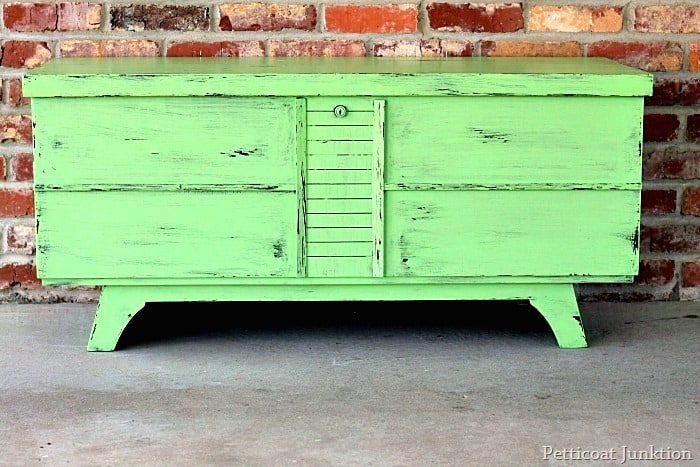 I like cedar chests because they have so many uses. You can use them as coffee tables, blanket storage, foyer pieces, toy chests, behind the sofa storage (me), bedroom catch-all (me), etc. I went back through all my posts and I've painted or made over in some way or another 13 cedar chests…..some more than once. There are a number of them from 2011 and 2012 and I forgot how much I loved those makeovers. Click any of the orange text links to see the complete makeover.
The first chest is a layered paint project. I layered green paint over black and then distressed the green paint. Green is one of my favorite colors and back a few years ago for a period of time it is just about the only paint color I used.
This is one of my favorites because it's red. I antiqued the red paint and added iron stars to the front of the wood chest. I stole this technique from a friend when I lived in Florida. I don't know how many wood trunks and chests she painted red, antiqued, and added stars to.
Before I painted the cedar chest it looked kind of like a coffin. It definitely needed a new special look.
I bought this cedar chest over 7 years ago and I still have it. It was painted when I bought it and I've painted it a bunch of times myself. White here , Dark Green here ,  Black here , Light Green here. It is currently black and we use it as a clothes catch-all in our bedroom. Do you guys have a place in your bedroom where you pile up clothing.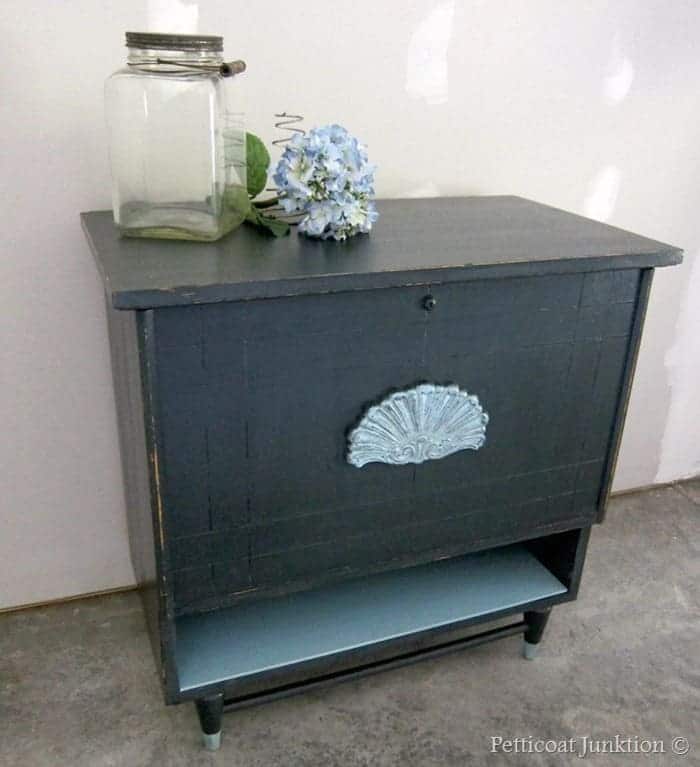 4. Tall Lane Cedar Chest.
I bought this cedar chest at the Nashville Flea Market. It was a unique piece, tall and narrow compared to other chests. It had a Mid Century modern look. We added a shelf and scroll work to the piece.
Looking at the photo now I see I totally ruined the Mid Century vibe with that curvy wood detail. Too bad.
I also added a scalloped wood detail to this chest. But that's okay because it was a plain chest to start with. It needed something. The wood detail was it. That's what happens when you buy about 10 of those at the flea market. The pink color is perfectly girly.
This cedar chest not only got two layers of paint it got stenciled too. I used a pretty Martha Stewart Stencil (stencil on Amazon here, affiliate link).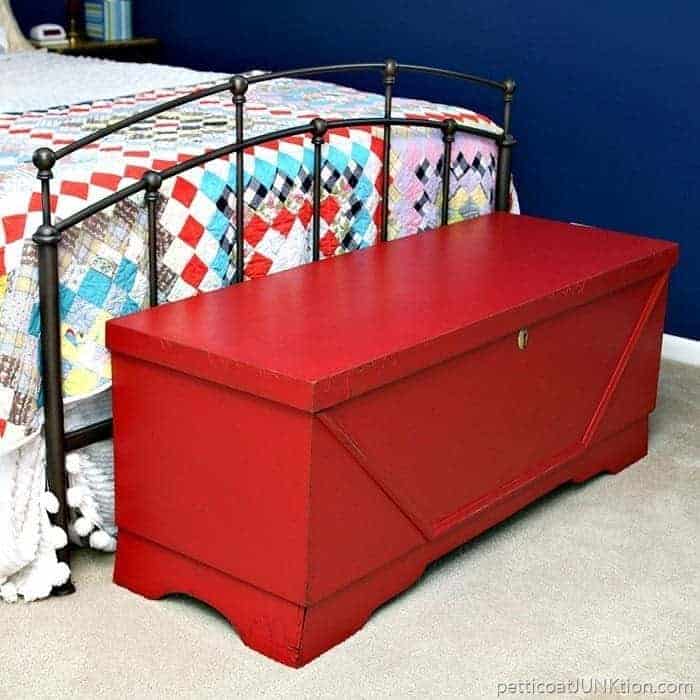 I painted this project for Behr Paint and the original post is on the Behr website in the Designer Series. That red is too pretty. The chest got a light distressing on the edges.
In this post you will learn how to stencil like a pro. Stenciling with more than one color on a design gives it depth and a designer look. The wood cedar chest came from my favorite junk shop. and it didn't have a top. I used Home Decor Chalk Finish on the chest.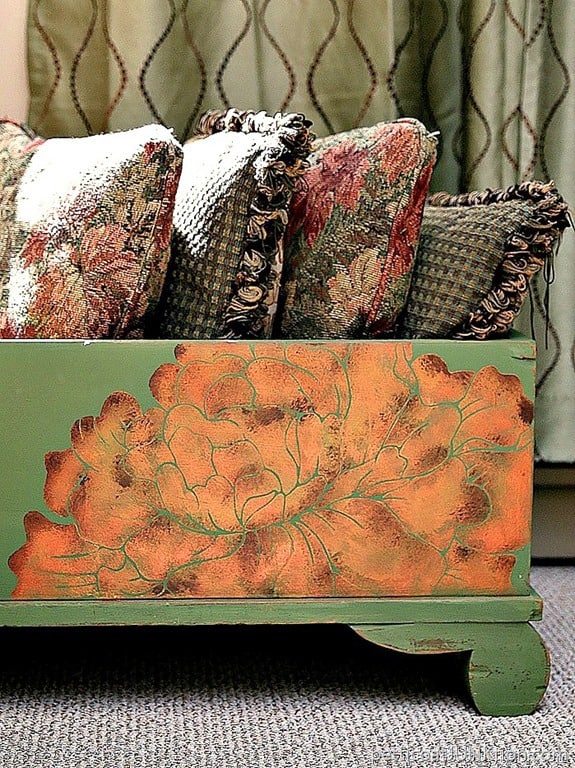 This chest was a little bit country. I removed some of the curvy wood details and changed out the hardware. I painted the bottom white to accent the original stained finish of the top. Much better now.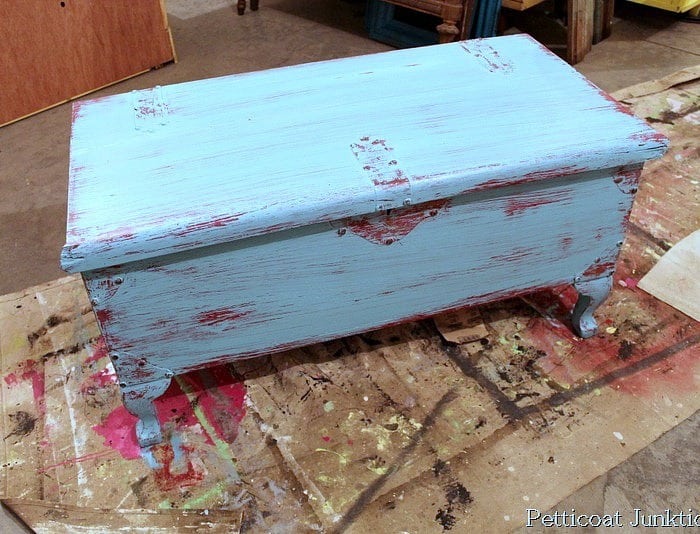 This is another layered paint project using Vaseline. This time I used red as the base color and turquoise for the top coat. No stencil this time.
The neutral color I chose for this cedar chest would fit in any color scheme. It's kind of taupy and kind of gray. I forgot the color name!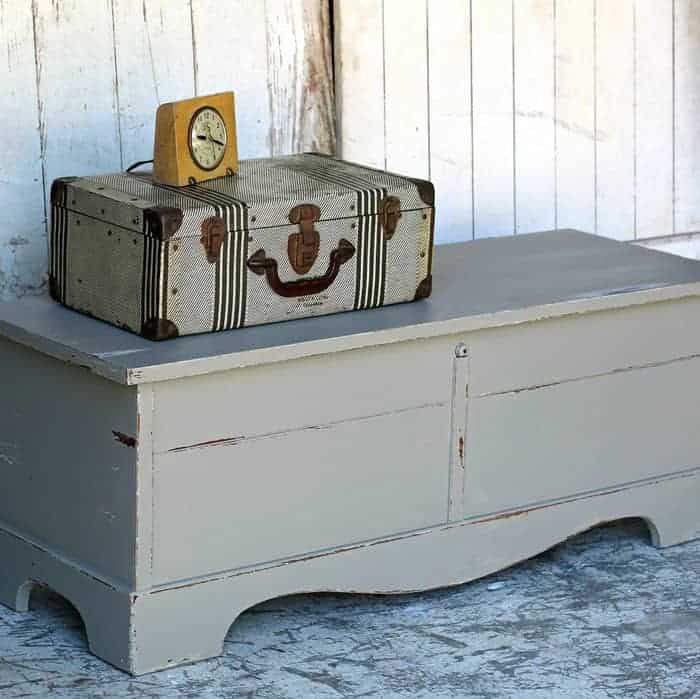 What a fun project. I did a lot of work on this antique cedar chest. It had really pretty wood trim and I didn't want to paint it. I painted the rest of the chest white and used a kitchen sponge and baby bottle brush to age the paint. Really.
I made a video tutorial of the Vaseline Paint Technique below....
How To Distress Paint Using Vaseline
No paint here. This is my cedar chest the hubby and kids bought for me many years ago. The top is padded and I changed out the fabric (for the second time). Did you know you can take the cedar chest tops off and change that fabric? You can. I show you how in this post.
This is a safety alert from Lane.....Since many of our cedar chest products have withstood the test of time and have been in homes for decades, there have been cases where children have climbed inside chests with old style latching mechanisms and locked themselves in, and there have been incidences of suffocation inside chests. As a result of this important and urgent safety concern, Lane has launched numerous successful programs since 1987, all concentrating on lock replacement. However, based on our best records, there are still an estimated 6 million chests owned by consumers that may require the new lock upgrade. Please click here for more information
Find my latest cedar chest makeover with gold metallic paint here....How To Use Metallic Gold Paint to Highlight Painted Furniture.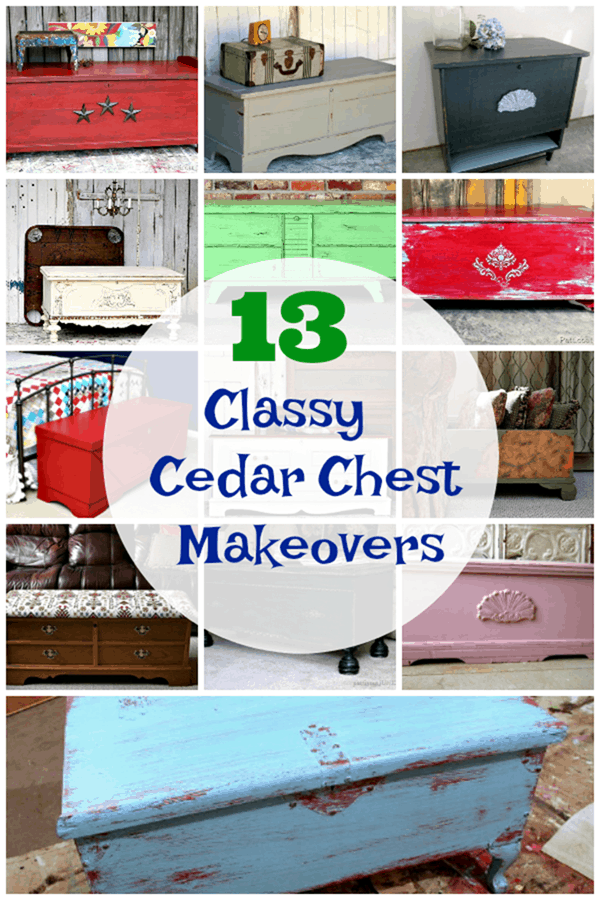 Wood Cedar Chest Makeovers
Do you have a cedar chest you want to paint? There are all kinds of Lane Cedar Chests, homemade cedar chests, or just plain old wood trunks for sale at local flea markets. If you don't have a wood trunk or cedar chest go shopping!
Which was your favorite chest makeover? Tomorrow is Furniture Fixer Upper Day so there is a new furniture project from me. It's a doozy. I haven't got even a little peek at my friends makeovers yet. I can't wait. See you tomorrow. Have a great day, Kathy